Supported By Lull
A Gen Z'ers Guide to Maximizing Your "Me" Time
Take your self care routine to the next level with the ultimate form of rest and relaxation.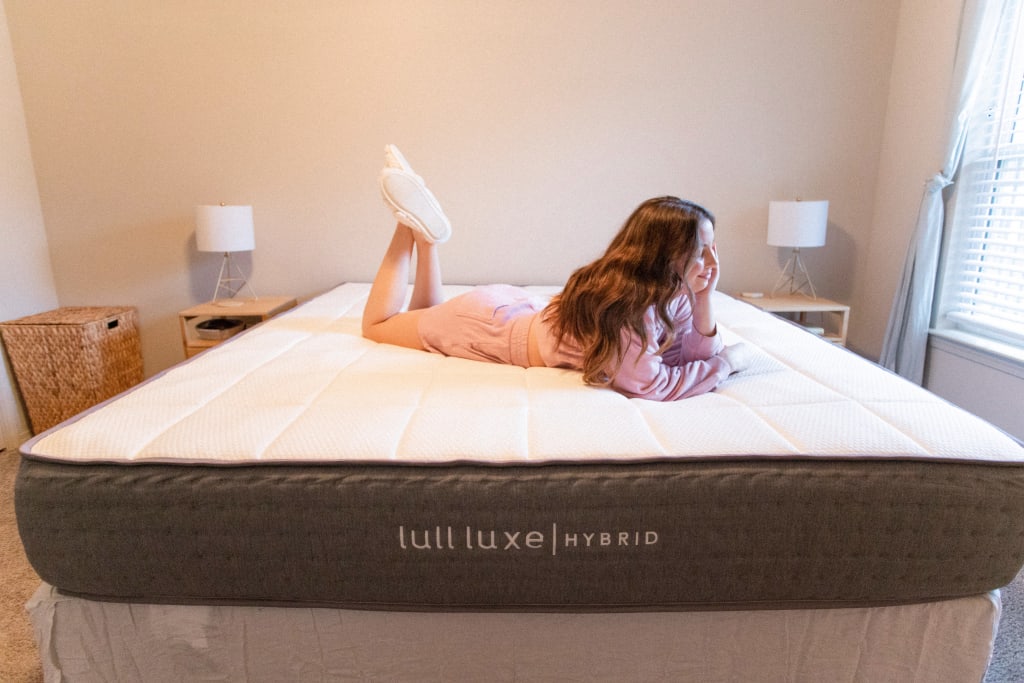 In this fast-paced world that never seems to slow down, it's easy to get overstimulated with the never ending amounts of social media content to consume, the influx of notifications and texts, and the mile long to-do lists. Rest usually gets shoved to the bottom of the pile of priorities, even though it's crucial for survival. You can't pour from an empty cup, so start making your self-care time a priority to feel well-rested and recharged! My ultimate must-have for self-care and rest is my Lull Luxe Hybrid Mattress. Here are 3 of my favorite ways to relax on my Lull bed:
1. Sleep, sleep, sleep, and then sleep some more…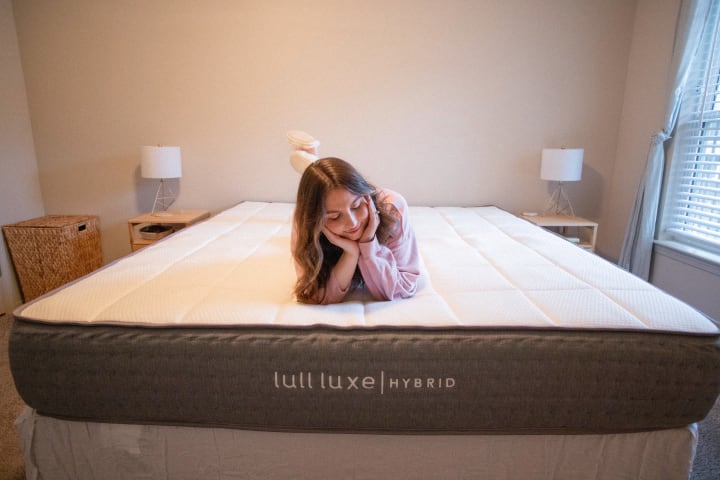 This tip might seem obvious, but is usually easier said than done: SLEEP!
As much as I love sleeping, the act of falling asleep was never an easy task for me before I upgraded to a Lull mattress. I had many restless nights tossing and turning, and sometimes it would take me hours to finally drift off into a deep slumber. My husband actually suffered from a back injury a few years ago while playing baseball, so his sleep has suffered from the injury. Unfortunately, he would also wake up in discomfort periodically and instead of feeling rested and refreshed in the mornings, he would feel exhausted and less motivated. He is also very hot natured, and will constantly wake up sweating during the night, so this combination resulted in dreadful nights of sleeping for the both of us leaving us restless and irritable. Over the years, it has become normal for both of us to have sleepless nights just trying to get comfortable and STAY comfortable. So together we both struggled with getting a good night's rest on a daily basis, and since sleep is a crucial part of a healthy and happy lifestyle, we knew we needed to make some adjustments in order to improve not only our quality of rest and sleep, but our quality of life.
We looked into many different mattress companies, in search of the perfect mattress that's comfortable, yet supportive, and doesn't sleep hot. We decided to go with the Luxe Hybrid Mattress from Lull.
2. Create a truly relaxing space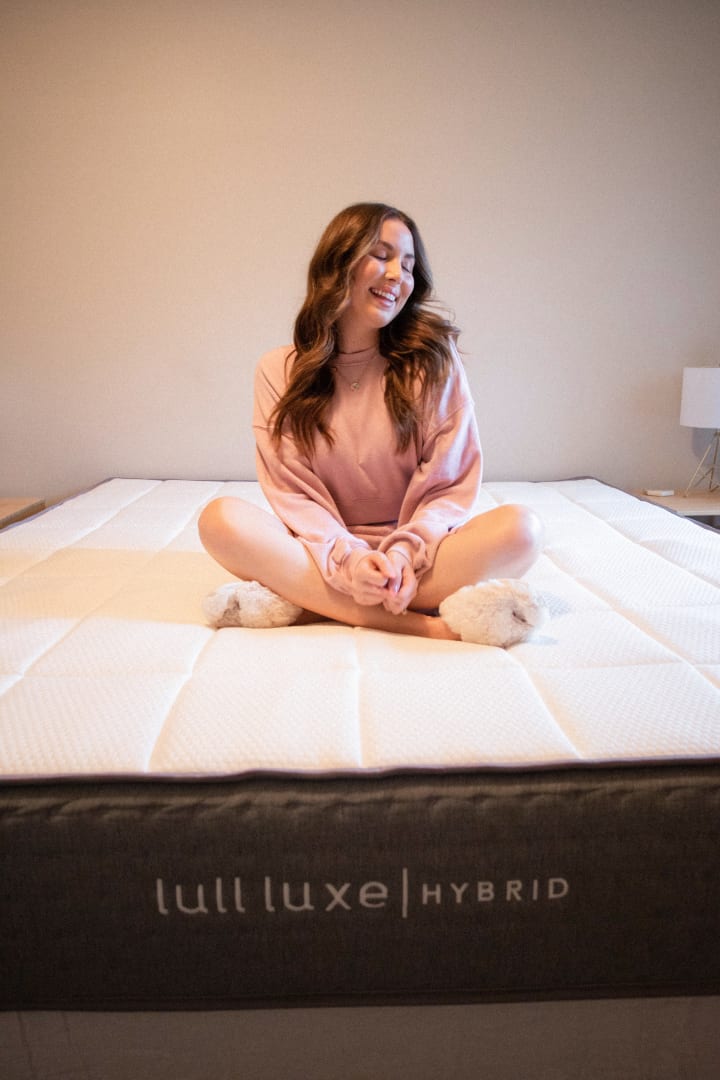 After reading tons of positive reviews, we recently decided to try out Lull's Luxe Hybrid Mattress to see if it was really worth the hype and could improve the quality of our sleep. After just a few nights of trying out our new Lull mattress, we were completely blown away by how effortlessly we were able to fall asleep and stay asleep through the night, and as a result we woke up feeling rejuvenated and ready to conquer the day. The comfort level of the Lull Luxe Hybrid is truly unmatched. It's made with premium memory foam and individually wrapped springs — I just knew we were in for a treat. The mattress has the perfect amount of support for my husband's back, and was even designed to ensure proper spine alignment, but is still so comfy and cozy with just the right amount of firmness.
This was exactly what we needed for the both of us, so that I can fall asleep easily, and so that my husband has enough support. It really is the perfect combination and we feel as if we are getting the best of both worlds. We truly feel like we are staying at a luxury hotel every single night on our Lull mattress, and we are both so impressed with how drastically our sleep has improved. We have already noticed the difference in our moods and energy after making the switch. Now we are able to go to bed confident that we will be able to get a solid night of rest and wake up feeling recharged and ready to go. Investing in a quality mattress is an essential key to getting a high quality night's rest.
3. Get comfy and cozy on your new mattress!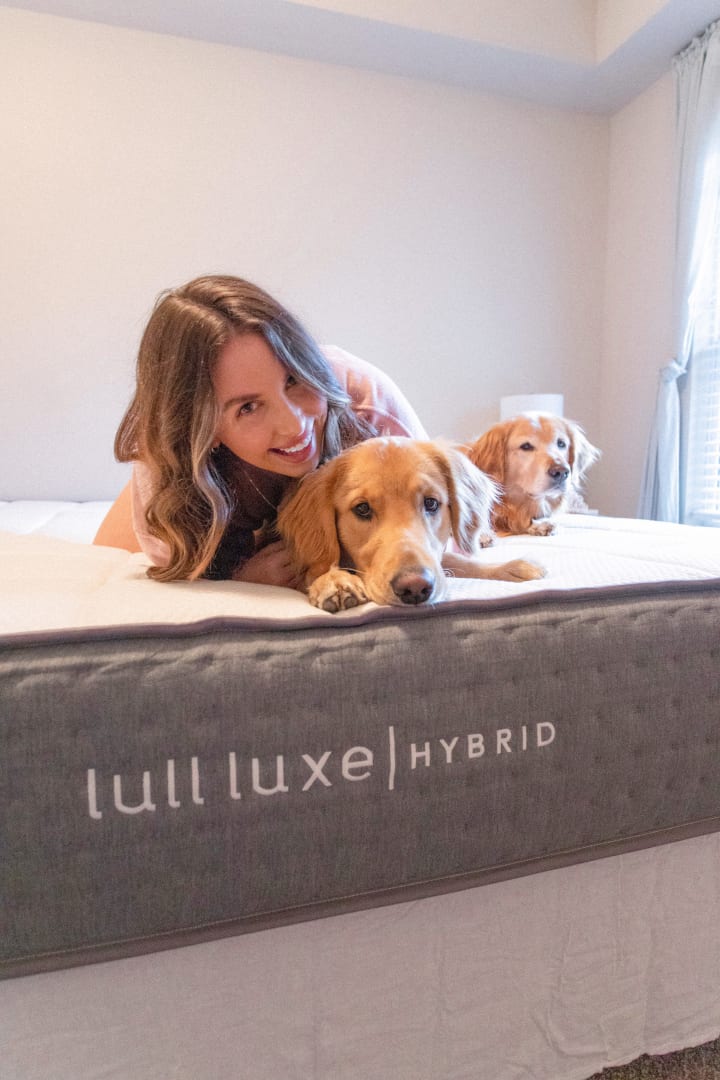 Even if I am not sleeping, I love to use Lull's Luxe Hybrid Mattress to just cozy up with a good book, a cup of coffee, a hydrating face mask, my favorite candle, and just treat myself to some self-care time. I always put my phone on "do not disturb" mode so I can block out the outside distractions, and this truly makes for the best rest! Self-care should feel relaxing and allow you to recharge. I love to make my environment as comfortable as possible so that there are no stressful factors and I can focus on "me" time. Having a Lull mattress definitely adds an instant element of coziness to my home.
We also are big fans of the cooling gel technology within the Lull Luxe Hybrid Mattress since both me and my husband tend to get too hot during the night, and I think this has also been a huge factor in the improvement of our sleep quality. The individually wrapped coils promote airflow to help regulate body temperature. It allows us to stay cool and comfortable all night long. My husband no longer wakes up covered in sweat thanks to the cooling gel technology, and the breathable surface.
Lull makes the mattress buying process extremely convenient, by offering free shipping and returns. The mattress arrives in a box and the installation process is quick and easy. After taking it from the box, the plastic wrapping can easily be cut off, and then just unroll and unravel. We enjoyed setting it up and watching it rise! The set-up time took less than five minutes altogether. Lull wants to make sure you love your mattress, so they give you 365 nights to try your new mattress from the comfort of your home. If you aren't satisfied with your mattress during that time, they will refund the full price and arrange for a free pickup. This should definitely help you sleep easy at night knowing that you can try out one of these amazing mattresses with no financial risks if you decide it's not a good fit for you, but I am confident that you will love it as much as we have.
Elevate your self care routine to the next level with the ultimate form of rest and relaxation, and let Lull's Hybrid Luxe Mattress melt away your worries so you can focus on getting the most out of your YOU time!