5 Ways to Get Running
Start running, go the distance, and stick to the pavement.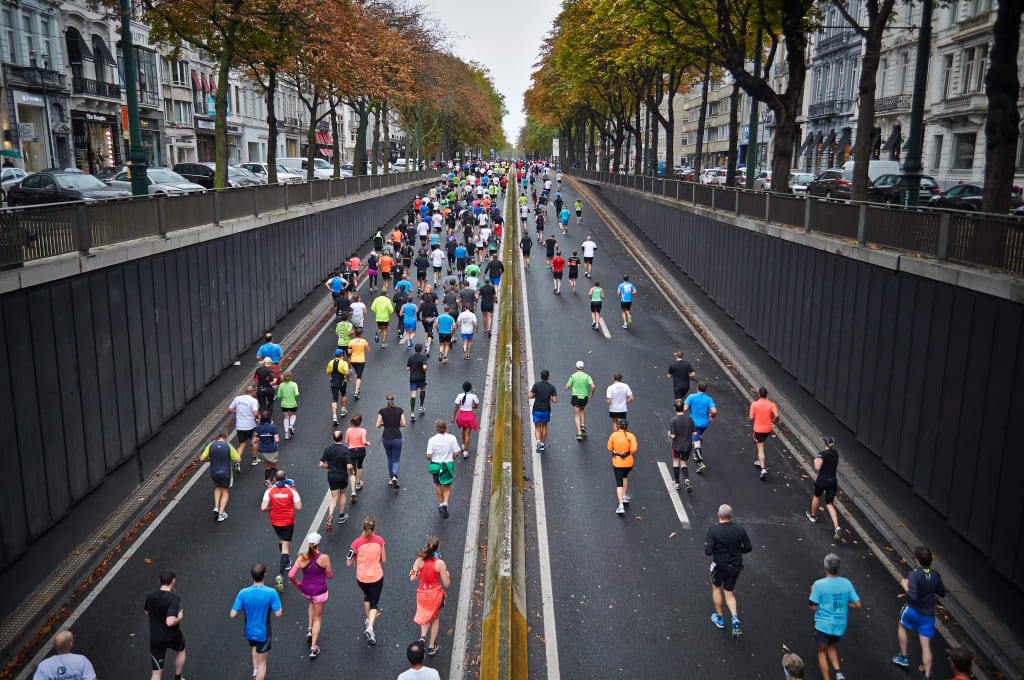 Running is a great form of cardio and can be an awesome way to improve your mental, physical, and social health. It shouldn't be your sole type of exercise, but it's up there for overall benefits for you. That being said, running is often hard to get into and stick with for some. Here are five ways to get into running and stick with it!
1. New to running?
Join a running group. Many running stores, outdoor stores, and local fitness businesses have free running groups for the community. Even better, some of them have low-cost running clinics where you have access to an instructor for a number of weeks up until a race goal. Places like the Running Room, Mountain Equipment Co-op, Lululemon, etc., have community running opportunities at affordable costs. You meet new people and have others to hold you accountable. There are also different level and distance groups to help you fit where you are comfortable.
2. Having a hard time keeping running in your schedule?
One way to avoid this is to sign up for a running group like I mentioned above or just find one running buddy. The other way is to see what options are around in your workday: Take a short jog on your lunch break or wait out the traffic on the way home from work and go for a run first. Another way to keep it in your schedule is to focus on one day per week, rather than multiple days, to get one good run in. Whether it's 10, 15, 20, or 30 minutes, make sure you do it once a week. Keep yourself accountable by telling your partner or roommates, writing it on your calendar, and putting it in your phone on a running app when you are done.
3. Find the running environment you like the best!
Trails or pavement? Some people prefer the quiet of the trails in a forest, others prefer the stability of flat ground with the pavement. Running where you are benefiting the most mentally is important, so this is a habit you want to keep engaging in.
4. Gear up!
Did you start running in old worn-down sneakers? Are your feet always sore or getting blisters? Go invest in a nicer pair of running shoes. If you are not running marathon distances, your shoes will last hundreds of kilometres. It is equally important to be running in the right clothes. If you are over heating in the summer due to the material, or freezing in the winter because you don't have the right weather-appropriate materials, you are not going to be motivated to keep going out. In the summer, stay cool by buying dry-fit materials, avoiding cotton, and staying hydrated with a bottle or water pack on you. Sunglasses are also key! If you live in a climate with winter (Keep in mind I am Canadian, so I'm talking snow on the ground, wind chill, blizzard polar vortex winter weather), you need to be protected and warm! Layers are key here. You want breathable warm socks (think smart wool), a base layer tight and an over layer windbreaker material for your legs, a breathable long sleeve shirt and a coat for your upper body, mittens (I have a pair that have fingers, but have a pullover to make them into mittens made out of wind resistant material), a neck warmer/balaclava/head wear like a hat or headband—a lot of heat can escape from your head—and, of course, sunglasses! Eye protection is just as important in the winter as it is in the summer; snow is very reflective and harsh on your eyes.
And last, but not least…
5. Do you think your fitness levels are holding you back?
Don't worry about only running on your endeavor to be a runner. Working out, at home or a gym, with weights is also important. This goes alongside your mindset. You don't need to be in shape to start running, and running can be your momentum to get in shape if you want it to be. Anyone can start running. Sometimes it is as easy for running for 20 minutes, walking for one minute, running for one minute, and gradually increasing in the number of minutes you run for.
You can do this! Running is easy, and all it takes are your own feet and motivation to get going.