5 of the BEST Fitness Apps of 2018
Ranked by Personal Experience/Research and Ratings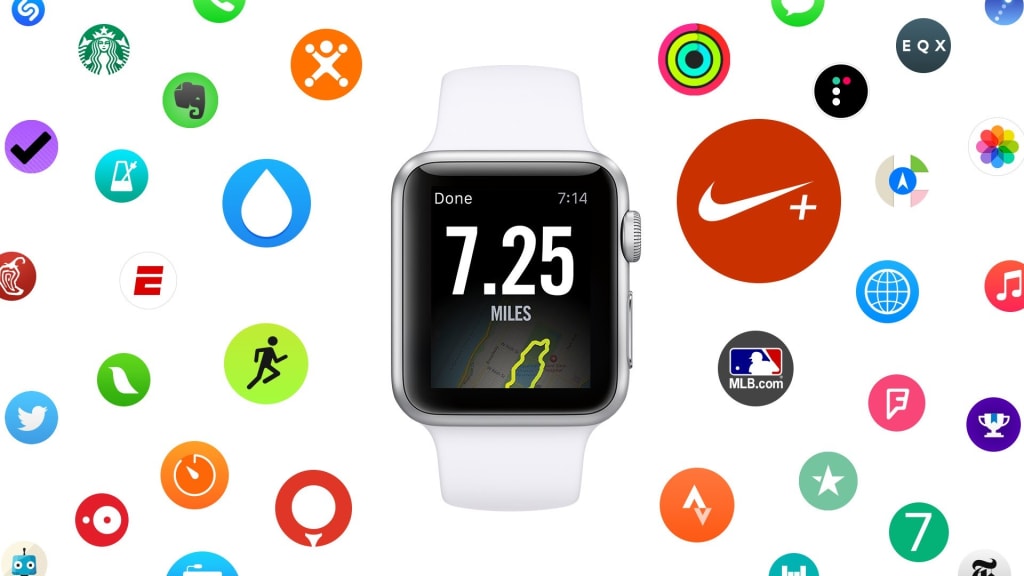 Tired of those few extra pounds? Ready to work on that summer body that you see on Instagram that you have been drooling over? Swearing you will start your diet or start going to the gym at the beginning of every week. Well here are a few things to make that easier and will make you actually want to get off the couch. These are five of the best fitness apps of 2018 to help you reach your goals! (Just a side note before reading, these apps all have a free trial but some do require buying memberships, etc to gain access to some of the workouts—just look up the apps on your app store and it'll give you more detailed information!) Also PLEASE take the time to read the last one even if you don't read the others but you should if you're serious about getting into better shape!
1.My Fitness Pal
Rating: 4.7/5
First the app is specifically for you. What your goal is (lose weight, maintain, or gain). What your weight is vs where you want it to be, your height, gender etc. Depending on what your goal is it then tells you what you calorie intake should be for the day. You can keep a journal of what you have eaten and it gives you the exact calorie count which is super helpful. It has recipes made for you. It keeps track of your progress so you can see whats working or what isn't so you can make adjustments as needed. It has reminders which is super helpful, and challenges which make it fun and motivational. It provides exercises/workouts that are right for you. The best part is, you can even connect to your fit-bit or Apple watch or even a few other devices (you can also download the app on the apple-watch which I have and it is so much easier and a great feature.) This app has GREAT ratings and I can see why. It has worked for me and it will work for you!
2. SWORKIT
Rating:4.7/5
A lot of people swear by this app as well. I have personally never used it but I have done a lot of research and some just work different for others. This app can help if you want to get stronger, leaner, fitter, and even more flexible (also provides yoga and stretching routines). One feature that I know people really appreciate is the guided video workouts. This app is good especially if you are a beginner in the gym or just simply never heard of some of the exercises. It shows you exactly how to do them. This app also is fit just for you. You can choose your level of difficulty on certain exercises, what body parts you want to target specifically, and how long you want your workout to be and it gives you the perfect workout for your body and allotted workout time to get the best results. Of course there are some glitches to this seemingly perfect app as is on any other. But I say it's definitely worth a look!
3. 8Fit
Rating:4.5/7
This app is relatively similar to the two above but this offers you a meal prepping feature. They cater to what your exact goals are instead of just meal prep in general. It then basically gives you a grocery list of the things you will need and makes going to the grocery store ten times easier! Some complaints are that the portions that are given for one person can feed sometimes two to three people. But the recipes are delicious, big variety and obviously very healthy. (also works for vegetarian, exclude certain foods like allergies and paleo too!) A lot of people have reported that the workout and dieting plans it gives you are effective, cheap, and long lasting!
4. Touch Fit
Rating 4.7/5
Anyone else HATE doing the same workouts over and over? Gets boring right? You need that switch up sometimes because you are going to start dreading the gym or getting that workout in everyday even more. That's Why I love Touch Fit and so do others. Every day it gives you different workouts but made specifically for you! After each exercise it gives you the option to make comments on it whether it's working for you or what you like or dislike so the app knows whether or not to give it to you again in future workouts. You can also choose anywhere from 10-60 minute workouts so it knows which exercises or workout would be best for the time that you have. Like some of the other apps it has guided videos on the exercises and also the voice of world-renowned MMA fighter George St- Pierre. He gives motivation and pushes you through your workout. These workouts are what helped him defend his Many World MMA Titles. And they are guaranteed to help you defend that summer body you want to get and keep! Now this app is $4.99 BUT it has very few cons/bad reviews but I understand for beginners trying out some others for free first. It's definitely worth the few extra dollars if you have been working out/you're not a stranger to the gym and weight rooms it's something worth looking into, and always fun to switch up your workouts sometimes!
5. Fitocracy
Rating:4.3/5
Last but definitely not least, Fitocracy. This app unlike some of the others it has a community of 'Fitocrats' who (sort of like a social media network) post their workouts for the day or what works best for them. There is even a chat feature so you can ask others for advice or anything you want! Seeing what others are doing, chatting, and just the presence of others doing the same thing as you gives you motivation. There are expert trainers who provide workouts that will help you reach your goals. You can easily track your workouts. This app makes exercise fun. You can earn points, unlock achievements, and many other features. This app was named App of the Year by Men's Journal and Mashable's Top innovation in health and fitness. Also used by people whose body and personalities we idolize like Miss America and many others! If they swear by it why shouldn't you? It's also been featured by CNN!
Thank you for taking the time to read this or even skim through, but I really do hope that this helps you and gives you the motivation you need to get up off that couch and start working towards the body you've always wanted!
fitness
Typical college kid studying Veterinary Medicine but on the side im a total fitness junky. I love most things that your usual college kid does. I will probably write mostly about fitness but im sure i'll have a few other topics in there too
Receive stories by JoAnna Morealnd in

your feed