5 Healthy and Proactive Ways to Manage On-The-Job Stress
Tips For Tackling Work-Related Anxieties and Stressors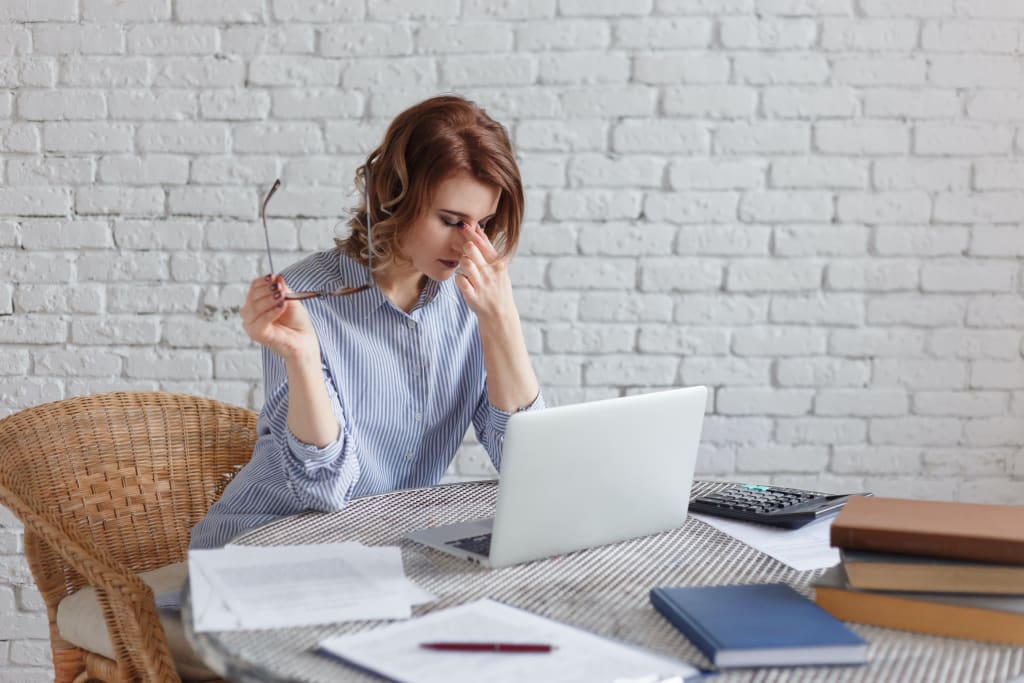 If on-the-job stress has you feeling burned out and overwhelmed, you're not alone. A survey conducted by the American Psychological Association showed that as many as one out of three US employees deal with chronic stress at work.
Not only does all of this on-the-job stress add up to millions of dollars in lost wages and medical bills each year, but it also has a major impact on the quality of life of American employees, both at home and at work. Most likely, quitting your job isn't an option, but what can you do to manage on-the-job stress?
Let's take a look at five healthy and proactive ways to cope, reduce work-related burnout, and take back your life!
1. Leave Your Work at Work
Having a balance between your home and work life is crucial, so you have to learn how to leave your work at work. When you're at home, focus on enjoying your downtime and spending time with your loved ones. When you're at work, focus on your job.
Many of us are guilty of bringing our work home with us. But that means you're still stressed out when you get home… and you're still focused on your job, rather than yourself. Once you get home, let go of all things work.
Enjoy a nice dinner with your partner, watch a funny movie with the kids, listen to some soothing music, or go for a walk in the fresh air to help you relax. Fun and relaxing activities that have nothing to do with work are great for managing job-related stress.
2. Talk It Out
There are some times where you simply can't leave your worries from work at the door. You may resist talking to your partner, friends, and family about work-related problems because you don't want them to worry for you. But talking to those who are close to you about your anxieties and stresses is a healthy way to unburden yourself and find solutions you may not have thought of.
Sometimes, a sympathetic ear is all you need to put a problem into perspective. The people who are close to you know you well, and they care about what's bothering you. Talking to them about your on-the-job stress can help cope and maybe even find a solution.
3. Take Time for Yourself
Do you have a favorite hobby? Do you love a good movie or book? We all have our favorite activities and interests! Whatever you enjoy, find the time to indulge your own interests when you're not at work. Spending time with loved ones is important, but you have to take time for yourself, as well.
Taking a walk through your neighborhood or a local park in the early morning or evening, enjoying the peace and fresh air, can be wonderful for managing stress. Find activities that relieve burnout and leave you feeling renewed and ready to head back to the challenges at the office.
4. Get Away Whenever You Can
Sometimes, the best way to recharge your batteries and get rid of stress is to get away from it all for a little while. Yearly vacations should be a priority, but it doesn't always have to involve expensive travel. Unplug whenever you can but planning weekend getaways and day trips with your family.
Planning these outings is part of the fun and having something to look forward to is great for your mental outlook. It's a super healthy and fun way to unwind, relax, and re-energize your body and mind so you can head back to the rate race with a healthy mindset. Just be sure to remember to leave all that on-the-job stress behind you!
5. Practice Self-Care
Many of us are guilty of being too busy to take care of ourselves, but self-care needs to be a priority. Sleep, exercise, and good nutrition help you maintain both your mental and physical health. In fact, exercise actually encourages the release of mood-boosting hormones! And, that doesn't mean you have to resign yourself to going to the gym every day if it's not your thing. Get those endorphins pumping with any activity you enjoy, whether it's walking, swimming, kayaking, or dancing!
Good nutrition is another key aspect of self-care and coping with stress. Eating a healthy diet of whole foods, including lots of fruits, veggies, lean protein, and healthy fats is extremely important. "Sometimes, the body needs a boost of nutrition to overcome illness or stress," says Dr. Miriam Rahav, whose clinic offers IV drip fluids for nutrition and wellness. "Much of our health and wellness depends on our inner balance of hydration, vitamins, and nutrients."
In addition to exercise and nutrition, getting proper sleep is essential for good self-care and managing stress and burnout. Lack of sleep contributes to an inability to focus, mood swings, and a general feeling of being run down. Eight hours of uninterrupted sleep each night should be a priority for every adult.
Final Thoughts
While there may not be much you can do to control on-the-job stress while you're at work, there are a lot of healthy and proactive ways to manage it during your off-hours. The key is to figure out what works for you. Most importantly, don't let work or stress take over your personal life!
About the Creator
Nicole is a content creator who spends her time writing about everything, including beauty, health and wellness, pet care, music, movies, and TV. She writes for various blogs and loves using her insight to help any audience!
Reader insights
Be the first to share your insights about this piece.
Add your insights