20 Selfcare Tips to Help You Beat the Blues This Winter Season
Seasonal Affective Disorder (SAD) is a type of depression that affects many people during the colder months. The reduction in light and chilly blasts of freezing weather and snow can leave us feeling a bit down. Here are 20 tips to help combat winter blues.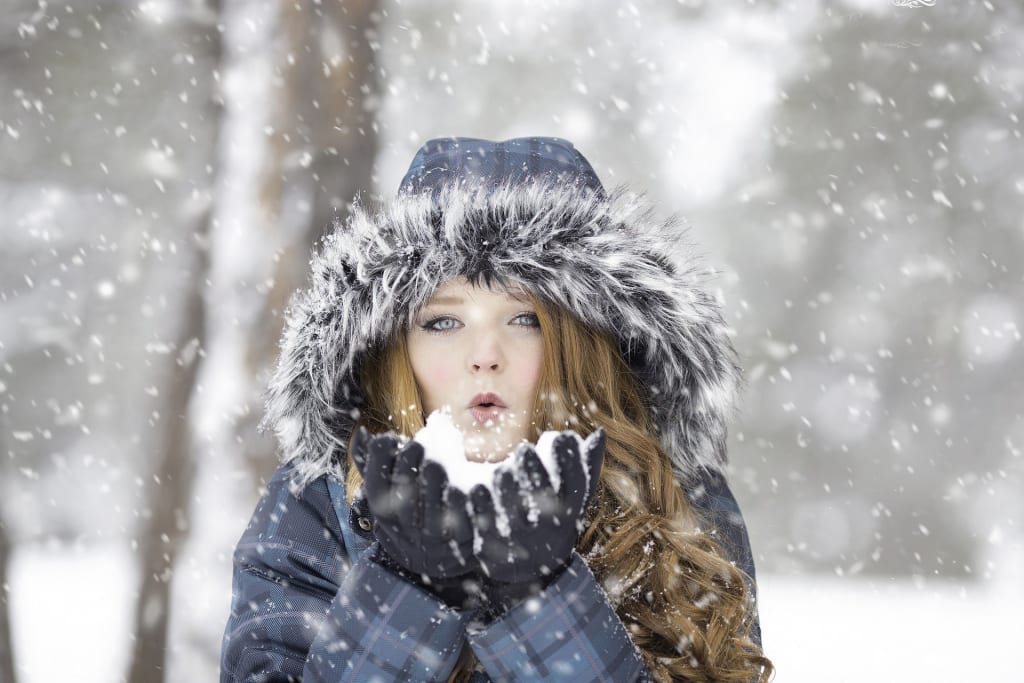 Courtesy of Pixababy
Winter blues. Bone-chilling cold and a wave of low energy. Some people experience seasonal affective disorder (SAD), a type of depression that occurs during the winter season. Symptoms of this unfortunate malady include weight gain, feeling sluggish or tired, oversleeping and changes in appetite. SAD is different from other types of depression because it occurs during seasonal changes and is most noticeable during the winter months. If you feel incapacitated by feelings of depression, you should visit a mental health professional. However, if you are simply experiencing mild winter blues, here are some tips and tricks that improve your mood and even your quality of life.
20. Get Some Sun
The winter months are dark and dreary, especially November. Most people spend the small hours of light indoors at home, school or the office. It's understandable, you have things that require your attention and you can't just frolic in the sun all day. You can spend at least 20-30 minutes outside each day. You can do this by walking to and from your destinations. Leave the car behind and take a stroll - if the weather permits. Breathe in some fresh air. Bask in the glow of the sun.
19. Take Some Vitamin D Supplements
This tip is for those of us who live in cold, dark climates. The sun rarely visits and its intensity is diminished during winter. So, you need to get your vitamin D in some how. Vitamin D is needed to help us absorb calcium so we can develop bone strength. You can turn to supplements for that. In addition to taking supplements, you can also eat fatty fish - such as salmon, egg yolk, mushrooms, tofu and orange juice.
18. Sip On Some Tea And Hot Chocolate
When it's cold outside, nothing beats some tea and hot chocolate. Any warm beverage works wonders when it's cold outside. You can even spruce up your tea and hot chocolate making skills by tinkering with new recipes.
17. Moisturize, Don't Be Ashy
Without a doubt, most if not all of us, suffer from intense dry skin during winter months. Hands, lips and feet can sometimes crack if they are not given some intense hydration. Stock up on lotions and moisturizers. Do lip scrubs and slap some lip gloss on. We cannot neglect our skin during this time. If your moisturisers are not doing an amazing job, you can add a non comedogenic oils to them and mix well. Moisturize immediately after getting out of the shower, lotion your feet, cover then with socks before going to bed, moisturize your hands after washing them etc. These steps could be the difference between healthy happy skin and itchy, dry, blistering layers of ash.
16. Get Cozy
Perch yourself by a fireplace or heating system to get some warmth. Wrap yourself up in your favorite blanket, throw on your favorite sweater, wiggle those toes in some thick socks and kick your feet up. You can watch TV, knit, play video games, read or do whatever you do to relax. Take some time to do your hobbies and spend quality time with yourself or others. Comfort is key for peace of mind.
15. Get Busy With Home Decor Projects
If you are a festive person, get some Christmas decor and get busy. It's possible that you will be inside for most of the season, so you want to make it as warm and welcoming as possible. If Christmas decor is not your thing, you can do simple things such as cleaning up, wiping and dusting so your place looks sparkly and beautiful.
14. Keep Busy
While you should take some time to chill and relax during winter, it's also good to keep busy. A fine balance between the two is vital to keeping you engaged. Start new projects if you have time. You can also start planning for the next season during winter. Make a list of goals and objectives for the future. It's tempting to just sit around during winter and ignore a glaring list of things to do. Don't make that mistake!
13. Enjoy Winter Events And Activities In Your Town Or City
Get out and get social..if that's your thing. There are so many winter events that are put on by your town or city. Find out what these are and participate. In many cases they are free. You can have fun without burning a hole in your pockets.
12. Socialize With Friends And Family
Have people over, attend holiday parties, go on outings. Even if you are an introvert or a loner, it's nice to chill with people, even if it's a small group of three or less people. You will find that your mood is elevated after such hangouts. It also goes without saying that you should also limit your time around energy drainers. These are people who are the embodiment of negativity, drama and stress. You need to protect your peace and energy. If you are a negative nelly or energy vampire, try to tone it down, meditate, relax and stay away from people who are trying to be zen. Harsh but true.
11. Journal
It's always a good idea to keep a journal no matter the season. During winter, you can use a journal to track, identify and remedy your moods and triggers. When you are planning or evaluating your life, it helps to have a journal nearby. Journaling not only allows to have a tangible copy of your thoughts and plans, it's also a therapeutic process. You get to free up some space in your brain. Journaling can reduce stress and anxiety and improve feelings of well-being.
10. Have Hot Showers or Warm Baths
Enjoy some well deserved relaxation with a steamy shower. It can boost your mood, lower your blood sugar, relieve muscle tension and sinus/congestion. It can also warm you up on those really cold days. An important point to note is that you shouldn't indulge in all that heat immediately before or after you step outside and get blasted by the cold.
9. Be Thankful
We all have problems and they are all valid to us. However, it couldn't hurt to take some time to evaluate our lives and find things that we are happy with and grateful for. Gratitude can be healing. Some self-reflection and thankfulness allows you to see that even during hard times, there are things that can still put a smile on our faces. You can take it a step further and extend those feelings to others by letting them know that you appreciate them and their presence in your life. They will feel better and so will you. Nothing beats seeing a smile on the face of someone you just complimented.
8. Read!
Get a book - audio book, ebook, paperback or hardcover, it doesn't matter. Books open you up to so many different worlds. You can get lost in a story, you laugh, cry, get angry or anxious.
7. Set Clear Emotional And Physical Boundaries
The winter season comes with lots of social and family gatherings. You may not always get along with the people you see once or twice a year. You can control how you react to negative encounters. People can say whatever they feel but their opinions of you are none of your business. Do not concern yourself with people's negativity. If someone makes you uncomfortable let them know. If they continue to violate, remove them and their influence from your life.
6. Learn A New Skill
In case the weather is horrible and you are confined indoors, take up a new skill or hobby. You can make use of the alone time by doing something that you have always wanted to do. Learn to play an instrument, take up knitting, dabble in writing or painting. By the time fall rolls around, you will be well on your way to being a pro. You will feel accomplished.
5. Try New Foods
Add some spice to your life by trying foods and cuisines you've never had. It is okay to be a cautious eater but it can't hurt to venture out of your culinary comfort zone every once in a while. Exploring new foods may open you up to new flavours you will grow to appreciate. Food is such a huge part of our lives and you would be doing yourself a disservice if limited yourself to the foods you've come to know and trust. Now, it's okay to start out at the milder end of things. For example, if you normally only eat chicken, you may not want to try pickled pigs feet off the bat. You may want to try having quail or duck for example.
4. Participate In Winter Sports And Events
Ice skating, snowboarding, tobogganing, ice fishing and cold swims are winter activities for the outdoorsy types. It's snowing, the world has not come to a halt. If you are adventurous and live for thrills get out and have some fun. Winter facilitates some beautiful conditions for some truly thrilling activities. Don't miss out by staying inside.
3. Get Some Sleep
Now earlier, I mentioned that over sleeping is a common symptom of seasonal affective disorder. So, it might seem odd that sleep is being listed as a way to combat the disorder. Well, sometimes we feel like we need to squeeze as much productivity as possible out of days - that's especially true for busy people or type A personalities, but we do our bodies great injustice by pushing it to the point of extreme exhaustion. No matter the season, you need to get the proper amount of sleep. The number of hours you need to sleep in order to be refreshed can vary from person to person. So, know what works best for you. If you do well with 8.5 hours or 7.5 do that. The main thing to note is that most people need 8 hours of uninterrupted sleep to be our best selves. Stay warm and get some rest.
2. Meditate
Meditation is helpful for so many things, winter blues is no exception. Take up yoga, mindful meditation, transcendental meditation, spiritual meditation or whatever type you are interested in. Getting centered can help you keep those negative feelings away. Meditation is a great way to boost your mood, break some sweat (yoga) and unlock positive emotions that have been kept captive by the change in season.
1. Vacation Vacation
If you can afford to travel to a warmer climate and you have the time, do so. Pack your bags and head on out. A change of scenery can work wonders for not only your mental health put physical health as well. There are some people who notice that despite their best efforts they always get sick during the winter. A tropical vacation, with some sunshine, fresh foods and sea air and green meadows may be your remedy.