Your Go-To Guide for Creative Gift Giving
This season, give gifts that spark joy.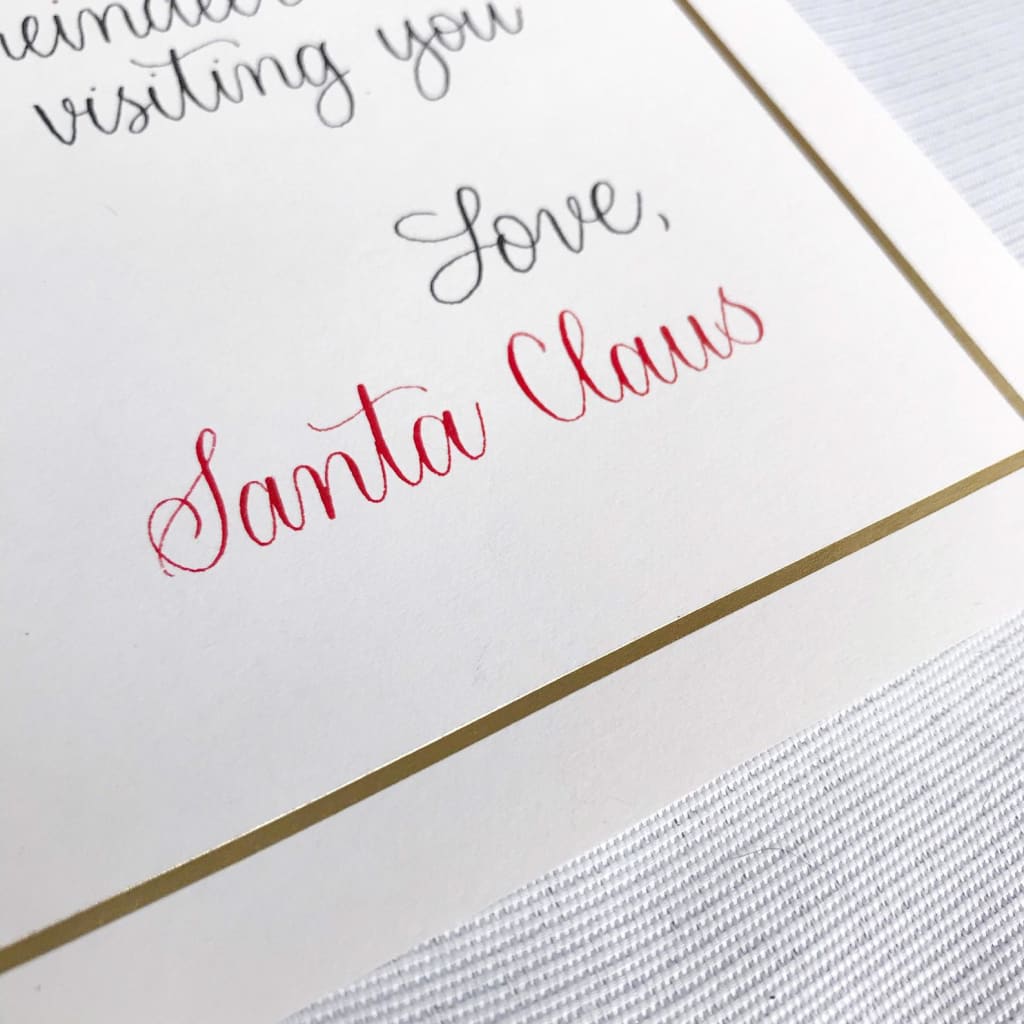 Customized Santa letter from Clover Hand Lettering Company (Etsy)
If you're here for advice, congratulations: you're dangerously close to becoming a last minute holiday shopper! Maybe it's part of your annual tradition, or maybe 2020 just got the better of you. I'm not here to judge. But before you start panic buying, remember -- contrary to the commercials and crowded displays, nobody actually needs a budget bath set that smells like rubbing alcohol and plastic. And unless your loved one requested one, for the love of all things holy, do not buy them an electronic toothbrush.
I mean it.
You're better than that.
1. Shop small.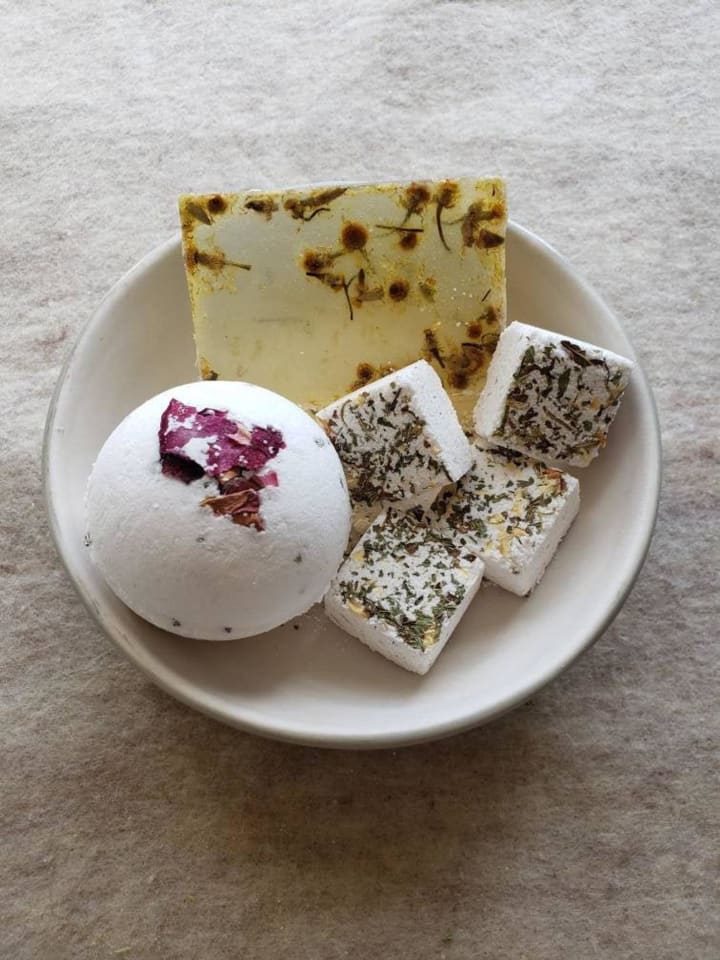 If anyone has found a way to flourish this year, it's the creatives. It's almost a certainty that at least one of your Facebook friends started a side hustle recently, whether to fill their free time or as a new means to support themselves. Either way, shopping small means not only are you giving an amazing, one-of-a-kind gift, but you're literally keeping someone else's dreams alive with every purchase.
Some of my personal favorites from friends and family:
Rose Anna Chicago - Herbalist Allison Grabarczyk makes her gorgeous, spa-and-showcase-worthy bath products from organic, sustainably sourced goods. Proceeds from her sales often benefit local charities like the Dovetail Project, which provides young minority fathers professional and parenting resources as well as outreach programs for education and employment.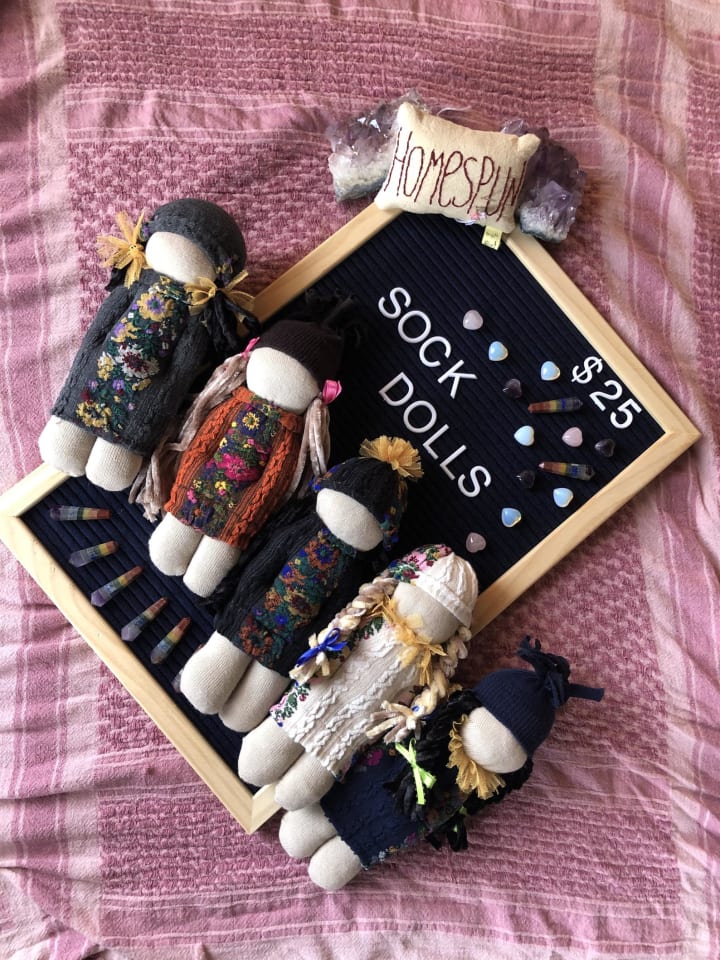 Native Sun Essentials - These adorable sock dolls provide both a visual and tactile focal point to make your loved one's next meditation session a little less fidgety. You can opt to include a chakra crystal, amethyst, or opalite with each one. (Plus, they're about the cutest things I've ever seen.) I'd go so far as to spritz them with lavender for an extra-sensory experience.
Clover Hand Lettering Company - Normally providing gorgeous hand-written placecards, invitations, etc., for events and special occasions, Clover Hand Lettering is offering adorable custom letters directly from Santa this season, complete with beautifully wax-sealed envelopes. (Tip - once your little one's finished reading, sneak it away to frame!)
2. Support a cause.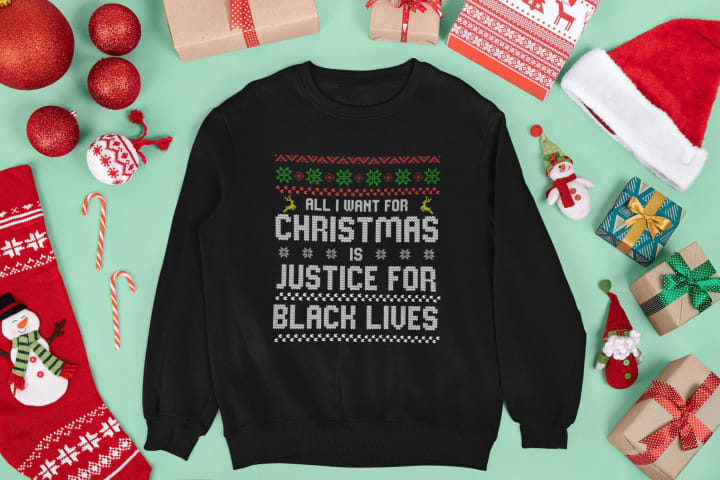 In case you missed the email, apathy is so far out of fashion. We're here to help save the world. Fortunately, there are plenty of companies happy to share their wealth with the causes they support. This list of minority-owned storefronts should help get you started spoiling your favorite fashionable activist:
Fluide: A genderless makeup company? Shut the front door. Fluide was founded in 2016 with the intention of running a "community based" beauty company. Their products are cruelty free, paraben free, and entirely vegan, while representing all skin tones, ethnicities, and gender identities. They even sell biodegradable glitter!
RXBXL: Not only will this Black owned clothing company let them make a statement during the family's Zoom dinner, but they'll be pleased to hear every Christmas sweater purchased benefits The Innocence Project, a foundation focused on overturning wrongful convictions and actively reforming the justice system.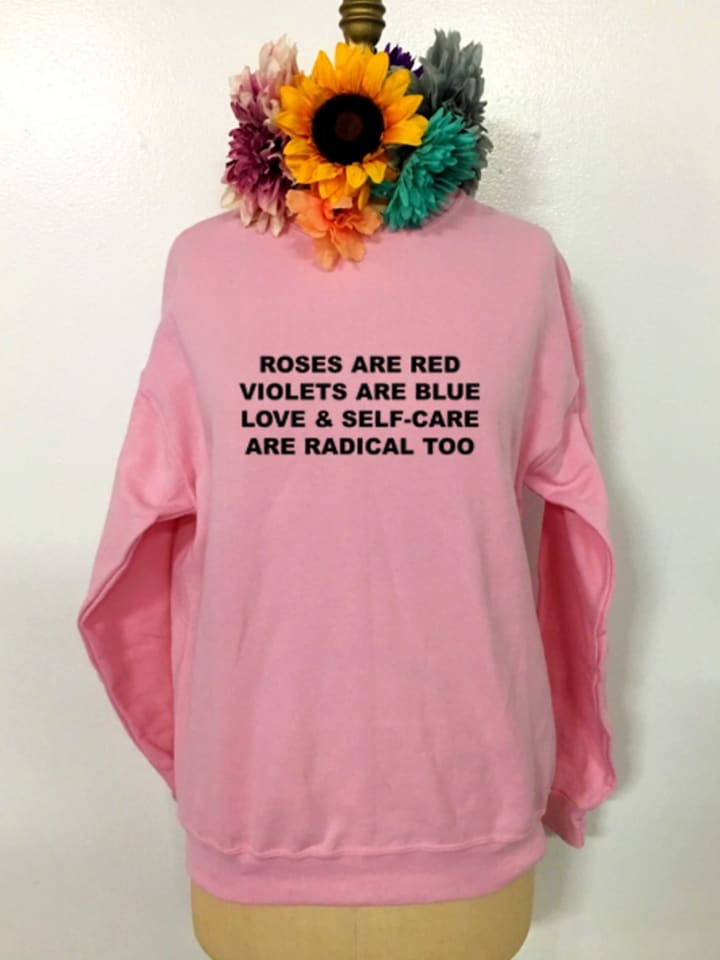 Splendid Rain Company: A no-nonsense, pro-Black fashion brand founded by nineteen year old Olatiwa Karade, Splendid Rain's mission is to inspire conversation about race, heritage, and systematic oppression. With slogans like "Worthy of Humanity" and "Stop Inviting Them To The Cookout", every shirt is a protest piece in and of itself. (Due to the pandemic precautions, some shipping from Splendid Rain may be delayed.)
Nalgona Positivity Pride: NPP is a grassroots organization that provides education and support for Bipoc suffering from eating disorders and media-propogated self-esteem issues while working to dismantle white supremacy. In addition to their current stock of unapologetic pro-body gear, their past collaborations include the National Eating Disorder Association, The Body Is Not An Apology, and Trans-Folx Fighting Eating Disorders.
3. Share an experience.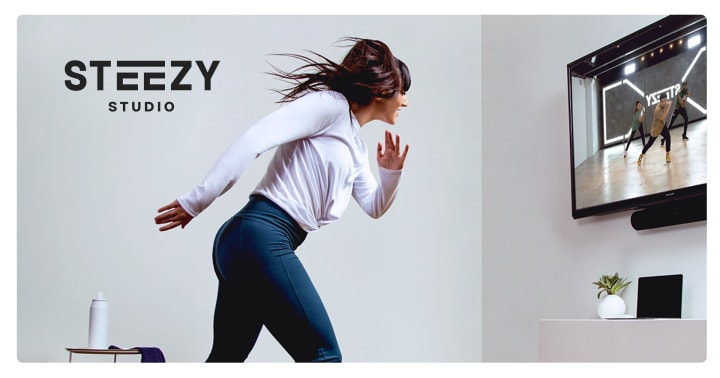 Thanks to the digital age, there are plenty of ways to spice up quarantine that don't involve the words Netflix or chill. Venues across the world are hosting their own ticketed virtual events, from Nailed It!'s hands-on home baking competition to the Kennedy Center's digital stage for opera, theater, and more. Good thing we're all experts at Zoom now.
That dance class your spouse wishes they had time to take? Steezy Studio will provide at-home digital dance instruction for just $20 a month. If they're interested in a variety of new skills, consider MasterClass, where each course comes with its own famed instructor, ranging from Neil Gaiman to Wolfgang Puck. Both are available for desktop and mobile devices, making it possible to learn at home or on the go.
On the other hand, if you're stressing over the specifics, why not pick out a subscription box instead? All you need to know is the recipient's interests and their address, and you can send them a curated box (or three) of new products to sample. Not only will they know you care about their favorite hobby, but you won't have to stress about shipping, and you'll have something to talk about on that next Zoom -- speaking of nailed it, am I right?
These are some excellent options:
- Goddess Provisions ($33/month) delivers herbal teas, oracle decks, crystals, and more to your favorite witch's doorstep. Not only will you make someone's Yule season brighter with this gift, but Goddess Provisions will plant a tree for every purchase made.
- Fresche Box ($10/month) is the more masculine counterpart to ipsy's renowned makeup sampling: Fresche boxes include grooming products like beard balm, skincare, and shaving oil. Each month includes at least five sample-sized items based on the personalized profile you provide.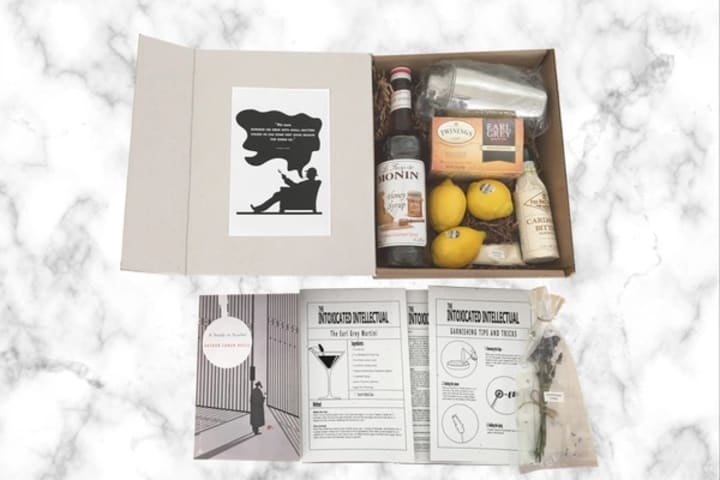 - The Intoxicated Intellectual ($45/month) is the book club we all wish we were invited to, delivering a classic novel each month along with instructions and ingredients to make an accompanying themed drink. (Recipient will have to provide their own liquor.)
- Turntable Kitchen ($25/month) wants to promote good taste in and out of the kitchen. They'll deliver a monthly combination of curated, seasonal recipes, a sampling or two of exotic ingredients (previous boxes included organic barley flour and French sea salt with lavender), a digital mixtape, and - best of all - a limited edition, 7" vinyl record. Turntable's records are exclusive to their boxes, and are often an artist's first release. Excuse me while I treat myself. (It's okay. I've been good this year.)
4. Get connected!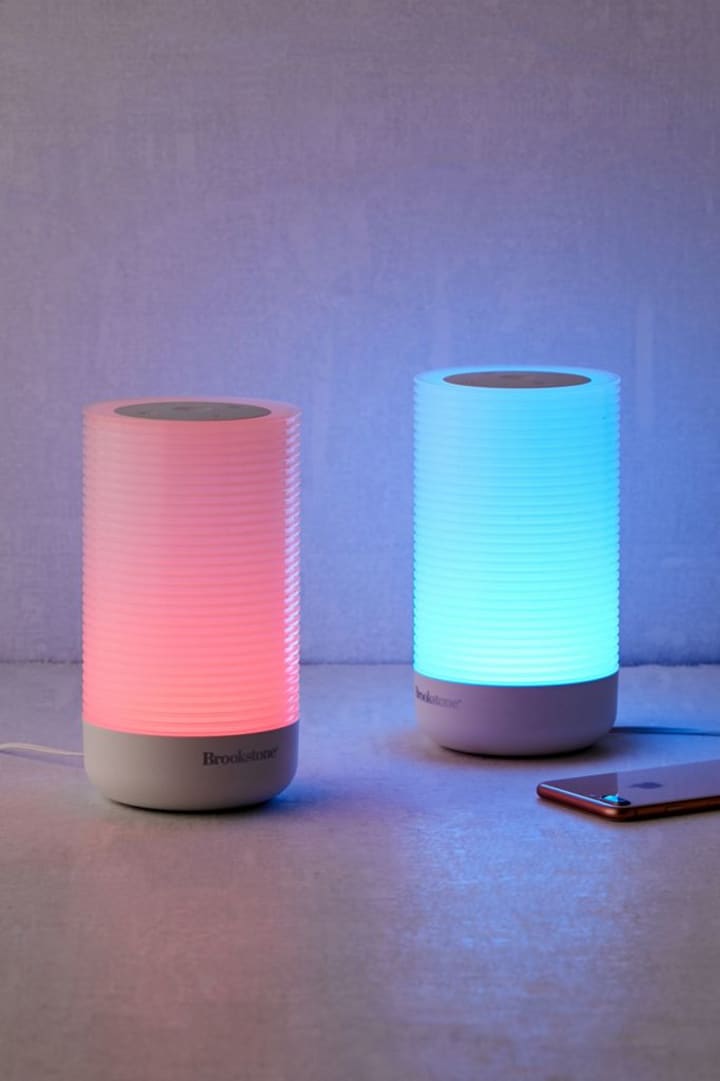 Let's Face(Time) it: we could all use some togetherness to close out this year. Surprise your friends and family with gifts that literally let them know when you're thinking about them. I picked up an Alexa Show for my parents to make video calls more convenient, a decision I might live to regret while raiding the fridge in my unicorn onesie.
If having your family drop in on you digitally doesn't sound ideal, don't worry - these lamps from Brookstone are a decidedly less intrusive display of love. Just touch your lamp when you're thinking of your loved one. Their corresponding lamp will light up -- and so will they.
Similarly, the Bond Touch bracelets connect via app to light up and vibrate when you send a message. Options include location sharing (down to the weather) and a countdown to the next time you see each other. The app also allows you to send secure, encrypted messages, including pictures, protected by a pin of your choosing. Even if you can't check your messages right away, there's something sweet about the bracelet building up anticipation.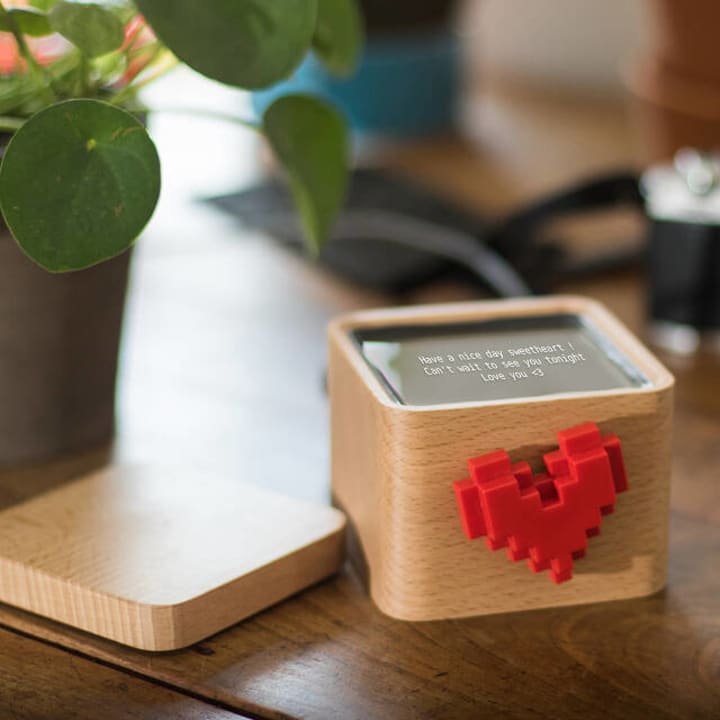 This Lovebox Messenger from Uncommon Goods was designed by designer Jean Gregoire as a unique delivery method for long-distance love notes. Download the app, send your message, and the box's heart will spin as an adorable notification. Messages are displayed on the mirrored inner screen. If that isn't cute enough, spinning the heart will flood your app with hearts.
What else goes a long way on a short budget? Drop a card in the mailbox with a simple, heartfelt note. They make for wonderful surprises and keepsakes.
5. Reach out.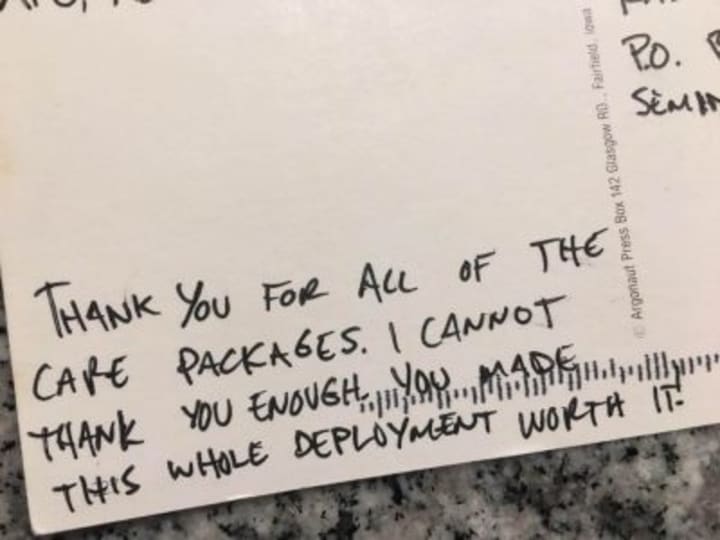 If you've already breezed through your gift list, reach a little further - it's also an invaluable time to show your appreciation to first responders, frontline workers, and servicemembers. There are plenty of ways to do so that won't cost you a dime -- or require you to leave quarantine.
- Take a break from TikTok to upload your favorite Christmas carol performance (lip syncing counts!) to Instagram reels with the hashtag #CarolForACause, and TJX Retailers will donate $10 to Feeding America, up to $1 million.
- For every stream of Kane Brown's song Homesick (Veteran's Version), Crown Royal will donate a care package to a deployed member of the US military, and $1 to Minority Veterans of America, up to $100,000. If you don't love country, mute your computer. The robots don't care if you actually listened.
If you want to be more hands on, you can also check for care package preparation events through Packages From Home and Crown Royal here, although the annual events are limited due to Covid-19 precautions.
- Lastly, Paper Bridges is a nonprofit organization providing emotional support to orphans with the help of international letter-writers. You can submit a digital letter or write one by hand, and embrace the lasting impact of a simple act of kindness. Your message will be delivered to a child who might otherwise feel overlooked this season.
My last tips are simple, and far from seasonal: give and receive graciously, and be generous with your thank-yous.
Of course, it should go without saying that the best part of the holidays isn't the gifts at all. It's embracing the chance to let people know how much you love them.
Get to it.
About the Creator
Laura Presley is a firm believer that magic is real and birds are not. She lives and works in Ohio with her husband, their brood of wildlings, and their excessive number of rescue animals.
IG: @makeshift.martha
Reader insights
Be the first to share your insights about this piece.
Add your insights