Using the Power of Tik Tok to Reunite a Child with a Toy
Can Tik Tok create a cherished moment of viral sentimentality?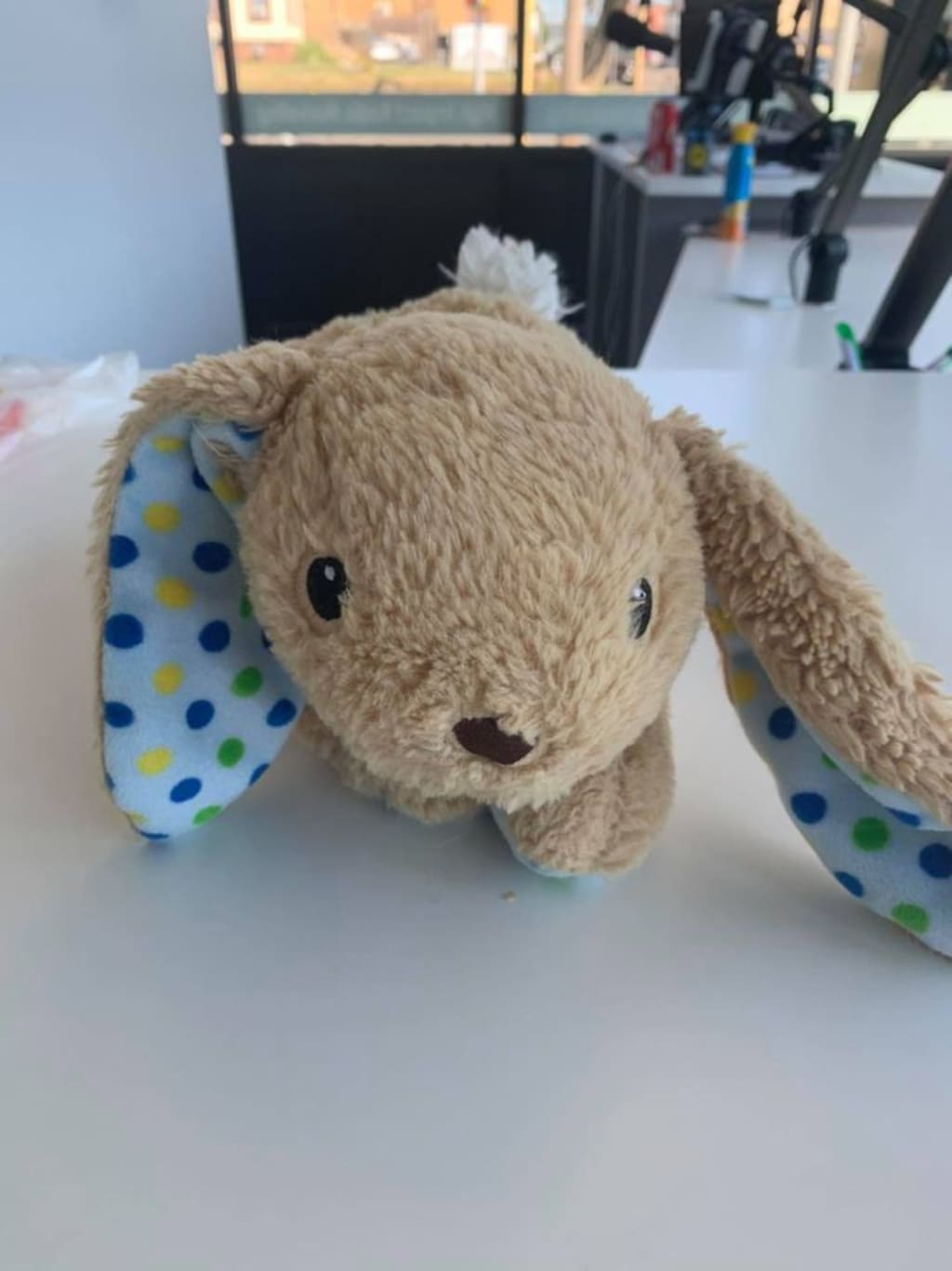 Meet Floppy the Radio Rabbit
It was a normal Friday as I sat in my talk radio studio in Kewanee, Illinois. I was working on a news broadcast when I looked out my window and saw Floppy. My radio station, WKEI Am 1450 in Kewanee, Illinois, sits on the Corner of one of the busiest intersections in our town. Across the street, I saw a stuffed rabbit lying on the ground and my heart broke for a moment before I leapt up, ran to the door, dodged into traffic and grabbed the stuffed bunny several feet before a Fed Ex truck was going to unknowingly run over it.
I have an 8 year old God-Daughter by the name of Charlotte. Charlotte is the light of my life, my littlest best friend. Because of her, and memories of my own childhood in the distant past, I am well aware of the relationship between children and stuffed toys. When Charlotte was four years old she would enact a ritual of choosing which stuffed animal would have the privilege to join her on car rides. This was no simple choice. Being a sensitive and thoughtful stuffed animal lover, Charlotte made sure no stuffed animal felt left out of the chance to be next to her.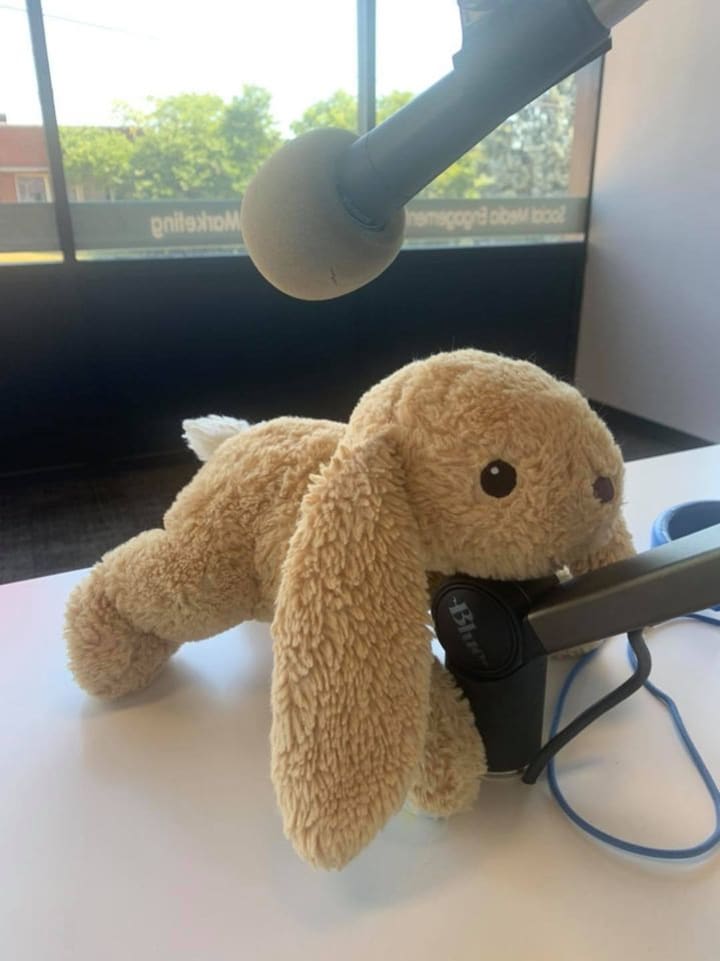 The ritual would last until her father would get that sound in his voice that meant there was no longer time to wait. The chosen stuffed toy would be clutched closely, hugged tightly and if lost, the terror that would flash across her young face would match that of any horror movie character encountering Freddy or Jason Voorhees. It wasn't just a toy, it was the loss of an imaginary friend.
So, that's why I, when I saw this floppy eared, light brown and polka dotted, bunny lying in the street my heart broke. I imagined my Charlotte losing a Floppy. I imagined what it would have been like to be a small child and lose something that I had invested my emotions and imagination into. With that in mind, I could not let Floppy be run over in the street or left to be picked up and disappear into oblivion. Someone cared enough to carry this stuffed toy with them wherever they were going and the loss was likely being felt.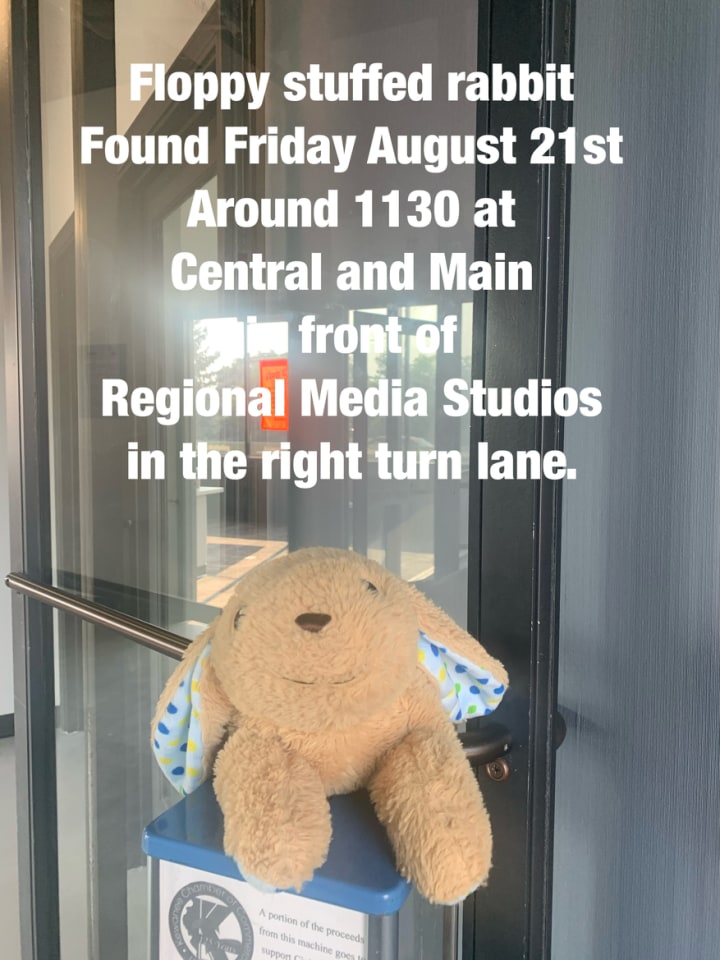 My first venture was to put out a call via my radio station and our affiliated social media. I made videos on Facebook and shared them on my personal twitter and the station twitter. It didn't work. No one claimed the stuffed toy that I dubbed temporarily as Floppy. I made Floppy my co-host of my other radio show, a Country Music request show on Hog Country 102.5 WJRE. Floppy was a hit with the audience but it still didn't help us find his family.
That's when I decided that, at 44 years old, and with absolutely no idea how it worked, I would sign up for Tik Tok. My God-daughter is a huge fan of Tik Tok, something that has caused me consternation. I am not a big fan of her Tik Tok presence. I don't like that she makes videos for songs that have dirty lyrics that she's too young to understand. Nevertheless, that's where her generation is and I figured, if I am going to find Floppy's owner on Social Media, Tik Tok would be the place to go.
It turns out, it's shockingly easy to make a Tik Tok video. It takes minutes to finish one and sharing it is quite simple for all social media platforms. I decided to use the Tik Tok editing tools to create a station tour for Floppy. I snapped photos of Floppy all over the station acting as if he were my co-worker. I added text indicating that we were searching for his lost family and I promised that Floppy was getting plenty of love and treats while in my care.
After assembling my video, I found the absolute most perfect song. The country music trio Restless Road recently teamed up with rising star Kane Brown to make a song called "Take Me Home." I teamed up the images of Floppy's journey at the radio station with the song "Take Me Home" and I could not have been happier with the result. In just 15 seconds I told the entire story of Floppy and how I was trying to reunite a stuffed rabbit with it's family.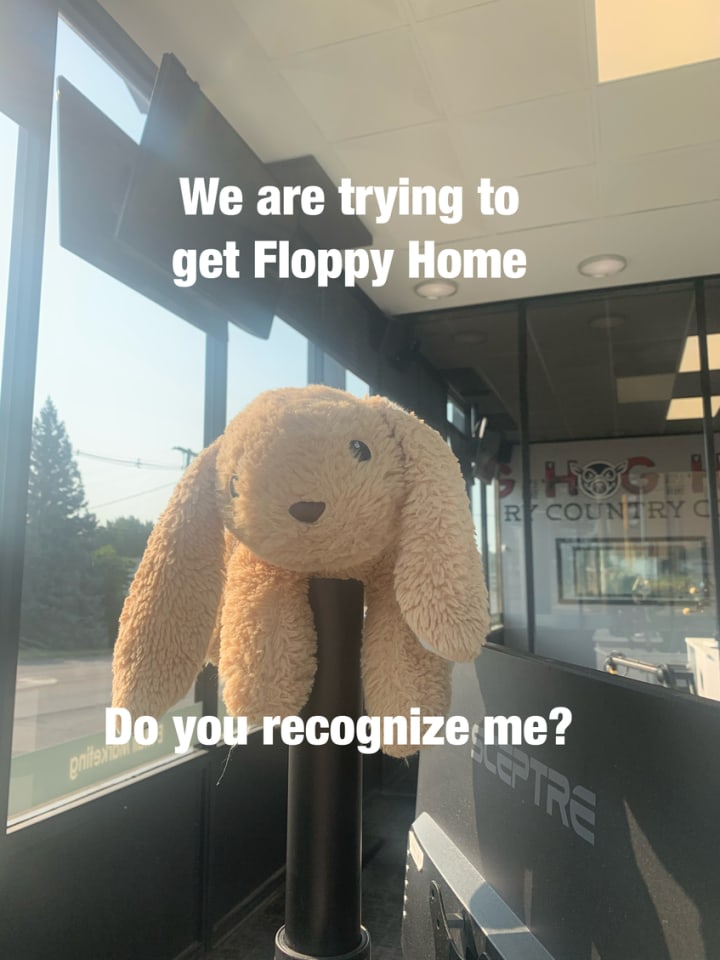 Sadly, this did not work either. The video has received about 100 views and only 2 likes. I would be lying if I said I wasn't disappointed by the lack of virality on this video as I was convinced how heartwarming this was and assumed it would be embraced. I imagined it reaching the owner and creating a sequel video of the reunion of Floppy and his family. I still hope that might occur but it seems less and less likely as each day passes.
It's been one week as I write this since I found Floppy and three days since my Tik Tok gambit came up short. Perhaps telling you this story and showing you my video of Floppy might help spread the story further and give us one last push toward a happy ending. Admittedly, my hopes aren't high after a full week with no luck but, I am not ready to give up on little floppy or on Tik Tok for that matter.