Trends That will Shape The Grocery Industry in 2023
Grocery Mobile App Development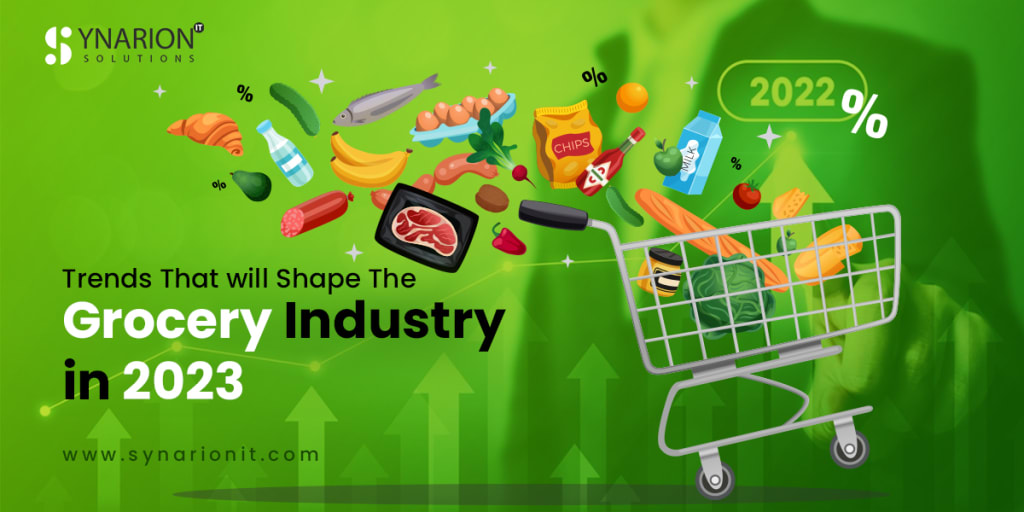 Evolution of Grocery Shopping
Initially, whenever we thought of buying groceries we thought of heading to the local market to fulfil our needs. The grocery industry has changed drastically now. There are supermarkets at almost every other corner and they have all kinds of products that you could possibly need. There are grocery apps that delivers products within an hour. A lot of grocery app development has taken place over the last few years. Earlier, customers needed to order their products 2-3 days prior to when they wanted it delivered. Now it's delivered within an hour or half of ordering. It also has a wide selection of products like cereals, pulses, snacks, beverages or dairy products. It basically has everything that could be used in a household. With the development of technology, life has become a lot easier. You don't have to drive a mile or two and go to your local market for your everyday needs, they are just one click away. With the introduction of UPI and online payments, you can even go cash free and you don't have to go through the hassles of carrying cash or coins every time you head out. The biggest pro of grocery delivery app development is that companies offer the same products for lesser price than supermarkets. This attracts more customers and they shop online for all their day to day needs. There are always some offers going on in grocery apps that you won't always find in the supermarkets.
Trends responsible for shaping the grocery industry in 2023.
Demand for faster delivery- They way people used to shop grocery has changed. Now they are used to fast delivery of all their grocery needs but with time they would want it to improve even more. A lot of customers might expect their order to be delivered within half an hour or 15 minutes. Retailers continuously search for ways to expand their delivery options. The grocery businesses that deliver products at the earliest and show accurate real time delivery status will gain public favour.
Expandability of the business- After the pandemic, a lot of customers have gotten used to getting their groceries delivered to their homes. Operations should quickly be scaled to meet consumer expectations. Companies that are not prepared to handle large scale deliveries and changing expectations of consumers will have a setback in this business going forward. Grocers need to build more warehouses and make sure that all their teams are coordinated to deliver the best consumer experience. They can even integrate softwares related to delivery management in their present systems. The companies that follow these strategies will have an upper hand over their competitors
Introducing delivery management softwares- These softwares offer thorough route planning, communication, updates regarding dispatch of orders and analytics that helps grocers control and coordinate their delivery operations and streamline dispatches, drivers and order deliveries to the customers. The software integrates well with the present infrastructure and helps in facilitating the best experience for the customers, helping in the overall development of the company and boosting sales. Accurate routing system helps analyse customer's address, delivery time, driver's availability and the capacity of the vehicle. All these factors together allows companies to experiment with new delivery models and choose the best one that fits their requirements. A very important part of delivery management improvement is better driver-customer relationships. The contact information of the delivery person should be provided to the customer, so that they can take updates regarding their orders. The delivery person should be soft spoken and respectful when they are talking to the customers. This creates a good impact and helps the company receive positive feedbacks from their customers. All the queries and problems of the users should be resolved at the earliest.
Rescheduling deliveries- Customers often feel the need to reschedule their deliveries as they might not be available at the time it is supposed to be delivered. If the order is packed, it should be kept aside and delivered at the next date which the customer has requested. This helps reduce extra costs of logistics and helps you provide the best customer service and leaves the customers satisfied.
Using digital marketing to promote your company- This is the best and easiest way to promote your products or services online on various social media platforms. Digital marketing helps grow brand awareness, create a large customer base, generate leads and increase sales. With the use of the correct marketing strategy, digital market exposes you to potential customers from all over the world. It helps increase brand recognition and adds to the overall value of the brand.
Eco-friendly and sustainable products- Measures should be taken to make sure that the products your company is selling is eco-friendly and sustainable. Your company should take part in all the 'go-green' initiatives. This means manufacturing products that are biodegradable and environment friendly and which won't harm the planet in the long run. People are starting to get environment conscious, if your company promotes or manufactures sustainable products, it will help attract more customers towards your brand.
Due to increased inflation, people have turned towards supermarkets for meal kits or ready to cook options. They are constantly finding ways to save money by buying products available on deals or offers even if it means buying it in bulk. Superstores have many varieties and 50,000+ products. In the upcoming years, the varieties are only going to increase as people are continuously looking for change. Strategic partnerships with other large scale grocery companies can help enhance your brand value and image. If your business is a small scale start up company, then you can sell your products on apps like Blinkit or big basket. These companies already have a huge customer base so you won't have to spend a lot of money on advertisements. Grocers should always try to reduce prices and come up with offers or two-in-one deals. They can also start loyalty programs, rewards members with special club cards and perks. This helps elevate the overall customer experience. With the introduction of vegan and gluten-free products, supermarket chains are gaining more and more popularity. Almost everyone is opting for healthier food options in today's world that is high in protein content. The modern food industry is really competitive, the marketing team should come up with new creative and unique ideas and should follow the ongoing trends to stay relevant in the industry. They should always lookout for their competitors and analyse their strategies which will ultimately help them get influenced by their strengths. Customer preferences keep changing depending on their needs. Nowadays, everyone is inclined towards leading a healthier lifestyle, they look for fat-free dairy products. To increase their protein consumption, they turn towards superfoods like quinoa, flaxseeds, chia seeds, etc. These products if marketed the right way, have the potential to attract a large number of customers. People are also looking for chemical free, unpolished and unprocessed foods. They key is to understand the needs of the audience as it is the customer's desire that leads them to the decision making process of what they are going to buy from the supermarkets.
About the Creator
We are the top Mobile App Development company in India, expertise in Grocery App Development & Fantasy Sports App Development. We present high-quality results as the world's best and leading mobile app development company in Jaipur, India.
Reader insights
Be the first to share your insights about this piece.
Add your insights