Top 10 Farmhouse Porches!
Get ready for some front porch and front door inspiration, because these 10 are beautiful!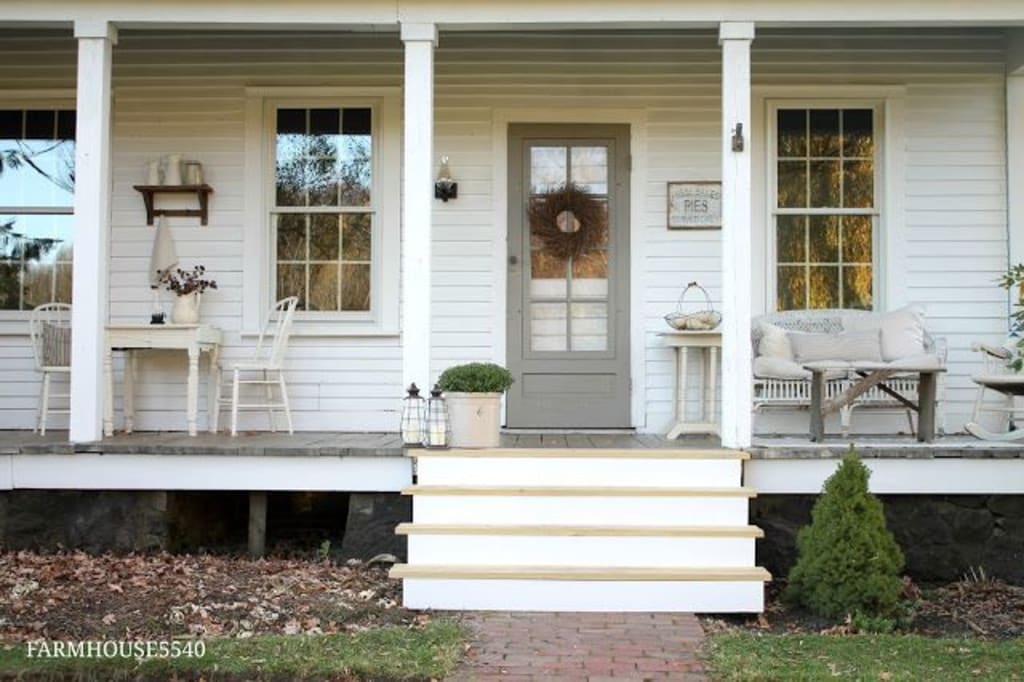 Photo from Farmhouse5540
One of my favorite features of a classic farmhouse is the front porch, even better if it's a large wraparound porch. The front porch can really set the tone for a whole home. If it's cozy and welcoming, it can make the house feel instantly warm and happy. If the porch isn't well kept and doesn't seem to have much personality, it can make the home feel cold and not cared for.
Just like we talk about first impressions when meeting someone in person, a porch allows you to set a good, or bad, first impression of your home for visitors. And we all want to make a good first impression right?
Although, the ability to make a beautiful front porch can sometimes be out of our control. If you don't have a real porch, maybe you just have some steps, then you can really focus on the landscaping leading up to the steps, or maybe put up a cute wreath on the front door! If your porch is small but you still have one, you should definitely focus on creating a symmetrical design on both sides of the front door, this will make the space feel cozy and complete.
One last thing before we get into some beautiful front porches. Decorating your front door area doesn't just have to be reserved for the holiday seasons. Yes, it's the most fun to decorate for Halloween, Thanksgiving, Christmas, and Easter. But, we shouldn't forget that we can decorate no matter what time of year! After Easter passes and we put our bunnies back in their boxes, you can still take advantage of the beautiful Spring and Summer seasons to fill your porch with fresh flowers, bright colors, and fun! You can check out these easy & budget friendly farmhouse Dollar Store DIY projects that can help give you ideas!
Let's explore some of the most beautiful farmhouse front porches and get some inspiration for when we have one someday!
This gorgeous front porch from Chelsea makes us feel right at home! We love the symmetry of it, that is a key of a great front porch in our opinion! It can help focus the eye on the front door and makes you feel more welcome. Plus, how cute are the double rugs and that address sign?
We could just sit in those rocking chairs and watch the sunset for hours! Doesn't it look so warm and inviting? In addition to the gorgeous porch sitting area, you really can't beat that view! Definitely a classic farmhouse porch!
Wouldn't you just love to have this gorgeous wrap around porch? This looks like the perfect spot for a family BBQ or Fourth of July party! The stonework is an added bonus, it looks beautiful!
We are just obsessed over this pink door! What do you think? We also love those lanterns and those galvanized metal planters! We think a unique color, like this light pink can really freshen up an older porch or an older home, plus it makes your curb appeal much more fun!
Galvanized metal planters like these two in the photo above are great for a farmhouse, they really give off that rustic country charm!
Now this is a GRAND porch! I really love the difference in the shape of the porch, on the left side it's a rectangular shape, and on the left we have the curved porch. It really fits well with the fun shape of the home.
This large porch would also be great for some rocking chairs and a table! I could see setting up a few rocking chairs and side table on the curved part of the porch. I could just sit out there with some sweet tea and good friends!
This porch looks so cozy and beautiful! We love the black fans, the wood ceiling, and those gorgeous hardwood floors! The color scheme of white, black, and the natural wood make this porch feel so welcoming and cute!
Who else just really wants a porch swing right now? This swing looks so comfy with those pillows! I could just see curling up here with a nice hot drink on a snowy day or warm summer evening!
Now this picture doesn't quite show the actual porch, but just look at that view! Plus, what's cuter than opening your front door and seeing a cute little calf coming to say hello!
This one isn't a front porch, but we just couldn't pass up sharing this gorgeous backyard patio area! We love the brick fireplace and all the comfy seating areas!
A quick little tour of this beautiful farmhouse front porch! What do you think of this one? It gives us such a great homey feel, we love it!