10 Dollar Tree Farmhouse DIY Projects!
You won't have to break the bank to get some adorable farmhouse charm in your home with these DIY projects!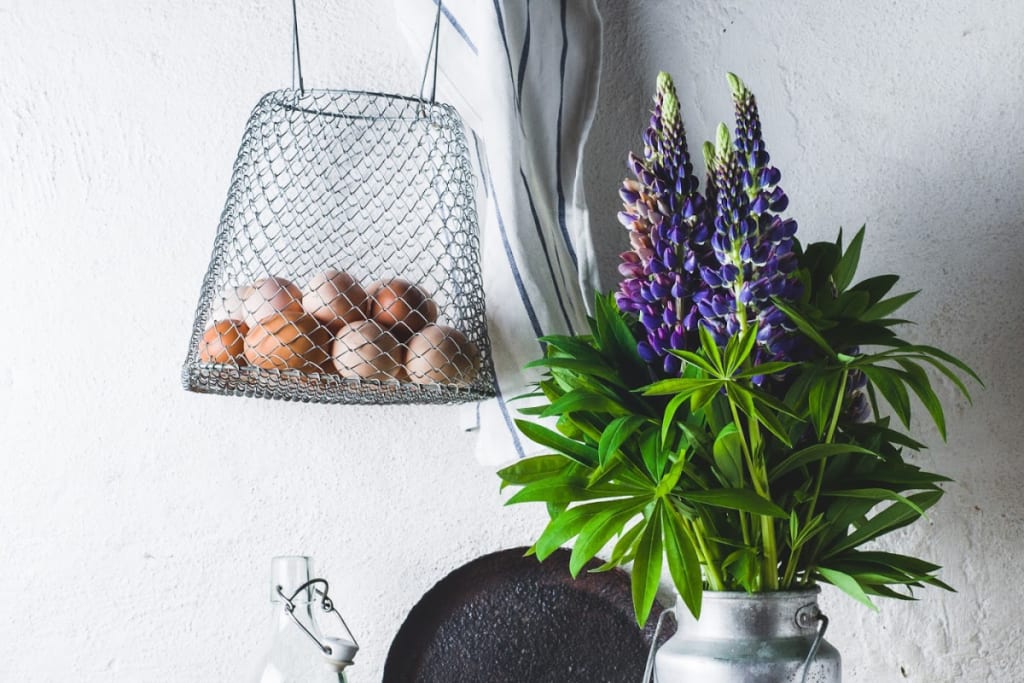 You don't always have to go out and spend a lot of money to get beautiful decor pieces in for your home, and this is especially true when you are looking to add some farmhouse charm to your space! We've gathered some awesome and pretty easy farmhouse DIY tutorials that will let you get crafty and add beautiful farmhouse touches to your home!
There are other advantages to DIY as well, you will feel a better connection to your pieces because you built them yourself, and you'll love to show them off even more! Plus, it can be a more eco-friendly way of decorating your house, as you can probably re-use a lot of the things you have at your home already in the DIY project!
Enamel Mug Organizer
We definitely fell in love with this cute DIY enamel mug organizer as soon as we saw it! It's so flexible in that you can use it to store basically an endless combination of small items! It can also be useful in different parts of your home, it could be a pencil and pen organizer in a home office, nails and screws near a workbench, or in the kitchen for spices or bar ware!
This is also quite an easy and simple DIY project, all you need are the enamel mugs, the blackboard labels, and some chalk or a blackboard pen! It gives an instant farmhouse/rustic feel and we couldn't love it more!
DIY Farmhouse Style Basket
We LOVE this DIY tutorial to make this cute farmhouse style basket from North Country Nest! We've looked around many stores for these kind of baskets, and some of them can cost upwards of $50! We like the idea of a dollar tree DIY much better! Plus, it's a little more fun!
These baskets have such a nice farmhouse touch, plus they can be used in almost any room of your house! Use them in the kitchen to hold paper towels or fruit, in the bathroom for toilet paper, or around the living room magazines or blankets! All you need for this DIY project is the black wire basket, some twine, and a glue gun!
Dollar Store Farmhouse Signs
We absolutely adore farmhouse signs, we try to put up as many as we can around the house, especially during the holidays! This DIY tutorial is an excellent way that you can get the same farmhouse signs, but for so much cheaper! Plus, with this you can totally customize the saying and the frame!
These also make great gifts for your friends and family! You can make them for a birthday, the holidays, or our favorite idea, a housewarming gift! There's nothing that makes a home feel more cozy than a cute sign.
Other than being a great decor piece, this DIY tutorial in particular really lets you exercise your creative side, which is great for your mental health. It's a fun project to do if the weather is poor outside, or as a whole family! Let the kids have fun painting and decorating their own signs, it will be a cute piece to put in their rooms and a great memory all at the same time.
DIY Farmhouse Candles
These candles are just so cute! I wanted to include this DIY tutorial in this list as I haven't really seen these types of candles in many photos or articles, and I think they are a really good idea, especially around the Fall time! I love how they are wrapped in twine with the buffalo check bows.
Just make sure not to use real candles for this one, we don't want the twine going up in flames!
DIY Cookie Sheet Sunflower
How cute is this sunflower for the summer and spring? This would be perfect to put on a metal pole and put in your garden or your yard! Just head over to your local dollar store, pick up the necessary parts, and you'll be on your way to creating this cute and rustic sunflower!
$3 Tea Towel Ladder
This is another really unique idea that we haven't seen before! These DIY tea towel ladders are a great and stylish way to display cute tea towels in your kitchen! Usually we just hang them on the oven handle, which is perfectly fine and quite practical, but this DIY ladder allows you to change up the location, or even display multiple tea towels at once!
Along with being practical, this is also one of the easiest DIY projects that we've found, so we KNOW that anyone can do this!
Farmhouse Tiered Tray
We all love tiered trays, they are one of my favorite farmhouse decor pieces! But like many other cute and popular decor pieces, they can be quite pricey at stores when buying new! Thus, we LOVE this dollar tree DIY tutorial!
DIY Wood Block Calender
How cute is this wood block calendar? This is a super fun DIY project if you have a Cricut, and you can customize it perfectly to fit your style!
Click here to shop the range of Cricut tools!
Coastal Farmhouse DIY Decor
We love this collection of DIY tutorials to give your home that perfect coastal farmhouse look on a budget!
Dollar Tree DIY Mug Rack
And last but not least, this gorgeous DIY mug rack! This is perfect for showing off all of your Rae Dunn mugs! I especially love the garland added to the rack in the video above, such a cute farmhouse touch!