Top 10 Apps To Improve Your Brand's Instagram
Instagram allows you to tap into a huge market of potential customers but, creating high-quality content can also eat away at your time and resources. Luckily, there is a solution—apps.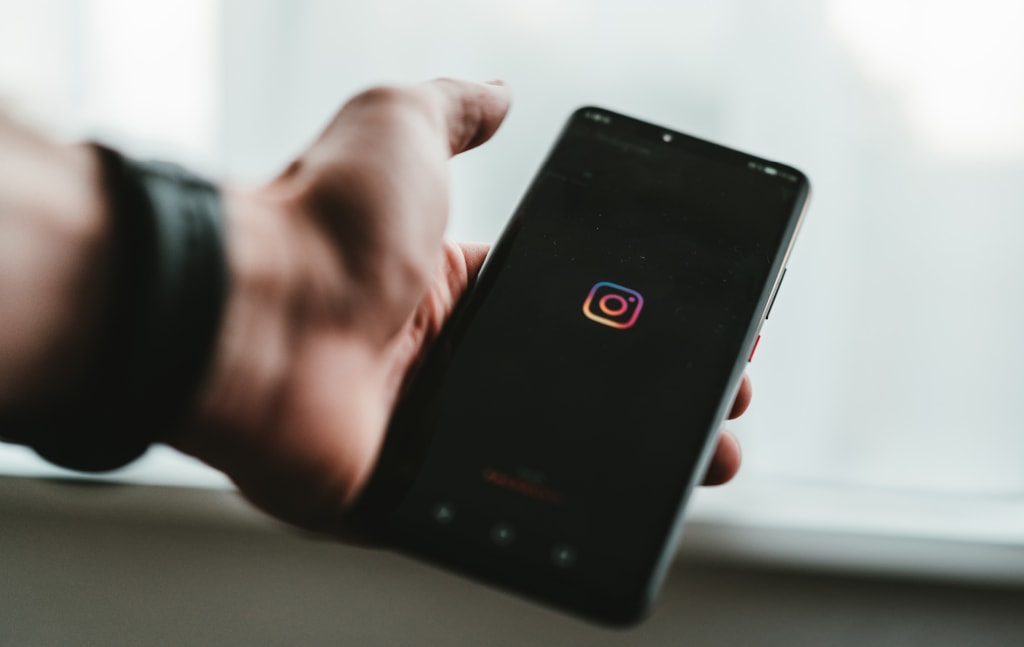 With over 1 billion users, the majority of E-commerce customers spend their free time on Instagram. It's where consumers are hanging out, so it's where you should be cultivating your new and existing customers. Instagram allows you to tap into a huge market of potential customers but, creating high-quality content can also eat away at your time and resources. Luckily, there is a solution—apps.
At Seller's Choice, we're always researching and implementing new ways to improve our clients' digital marketing and customer outreach efforts. Third party apps, like the ones below, have been instrumental in helping us achieve outstanding results.
Below are some of our favorite Instagram apps to streamline your social media content marketing.
Instagram For E-commerce
Instagram is one of the most popular platforms today, with 8x more engagement than any other social media platform. 60% of Instagram users follow and interact with brands and 46% have purchased a product they found on Instagram.
Instagram is one of the strongest ways to improve the visibility of your brand and products. You can create a consistent brand identity that promotes the lifestyle surrounding your products. This helps you connect with your customers on a deeper and more engaging level.
With Instagram, you're not just selling a product—you're selling an image.
Instagram is more than just a photo and video sharing app. It's a way to generate and share content with your customers. Some e-commerce stores even utilize Instagram to build a library of content that they can leverage on their websites.
For example, a clothing company is displaying a dress on their Shopify website. Underneath the typical product page (with the pictures, sizing, and details of the dress) is an Instagram plugin. This shows Instagram pictures of people wearing that dress. This helps show the fit and style of the dress as well as how similar shoppers are wearing it.
‍It's important to use Instagram to build a brand identity and demonstrate the lifestyle behind your products. For example, Kylie Jenner posts pictures of herself looking gorgeous and fashionable on her Instagram, amidst pictures of her cosmetic and skin collections. Potential customers can see her feed and think that if they buy her products they too can have a lifestyle like a Kardashian.
Instagram Creates a Social Community Around Your Products
It's time to start leveraging Instagram for your E-commerce business.
But how can you quickly implement a high-quality Instagram strategy? (Psst, it might be something to do with apps…)
Below are the top 10 best apps for Instagram business to take your page from social media to social branding!
1. VSCO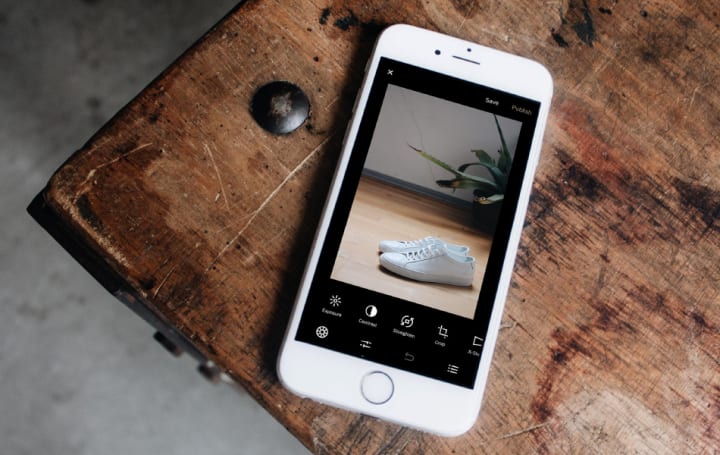 VSCO is one of most popular Instagram photo editing apps, generating the "VSCO girl" meme and 200 million #VSCO hashtags. The photo editing and Instagram filter app is so popular that it has attracted its own community (which can be a market in and of itself).
It has far better filters than Instagram itself but is also a really good photo-editing app in which you can improve your photos by playing around with features like saturation, texture and color.
But there's more: the premium version of VSCO ($19.99/year) is a great video editing app which lets you edit videos in the same way as photos. You can also add the same filters, giving you greater consistency across your content. And there's lots to choose from with 200 preset filters.
2. Snapseed
Snapseed (from Google) is another great free option for photo editing. Snapseed has fewer filters than VSCO but a better and easier-to-use editing suite. In particular, Snapseed is good for fixing up specific parts of your photos, allows you to add text and has a HDR tool to help you with adjusting lightness and darkness.
Snapseed includes Snapseed Stacks, which lets you save groups of filters as templates, that you can apply across a range of photos, helping you with the consistency of your photos (and branding).
3. Boomerang
Boomerang is one of the best Instagram video editing apps and a good option for creating short videos for your Instagram stories.
A "Boomerang" is a short, moving picture that plays on a loop. It's a great format for an E-commerce brand because you can quickly and easily show your product in use. For example, if you sell sunglasses, you can take a short video of someone putting on their sunglasses. Boomerang will show them putting on and taking off their glasses in a loop.
Boomerang is one of the easiest ways to show your products in action, so customers can envision using the product in their own lives.
4. Hyperlapse
Quality videos show your business's dedication to providing valuable content to viewers and are all the more important with the rise of IGTV (as well as, of course, your Instagram stories).
Hyperlapse is another Instagram video editing app that helps you create high-quality time-lapse videos to use on Instagram and Facebook. It offers stabilization technology to keep your videos clear no matter the action. You can speed up the video by 12x, meaning you can cram a lot of content into a short (and postable) video.
Hyperlapse can be used for lots of things—for example, time-lapse videos of products being packaged are big for E-commerce companies. This is because these videos are a great way to show off your products and prove their quality to your customer. There is an emotional aspect too: the customer imagines that the product is being packaged for them. With a great video of your product in motion, you'll quickly attract sales conversions.
5. Layout
Layout is one of the best layout and collage apps for Instagram which includes high-definition collages as well as distinctive filters.
Layout can help you create a unique brand look for your Instagram page. You can use consistent filters and layouts to build a visual identity.
Why is consistency so important? One of the most important aspects of Instagram marketing is consistency. You want to build a steady visual aesthetic on your page. For example, your pictures may all show the same key "influencer," the lighting may always be white and bright, or you always list your website in the lower right-hand corner of the image.
6. Over
Over is a text and design app. Over came to fame as an app to add text to your pictures and it still does that very well: the app has lots of great fonts for you to use, and you can import your own fonts, or even your entire brand suite, making it easy to produce branded content.
In addition, Over works great as an instagram collage app or design app (an alternative to Layout). It has a large library of customisable content, including original artwork and the tools to edit this (for example, blending images, creating layers and masks).
7. Repost
Repost for Instagram allows you to share videos and photos from other users' pages. You simply copy the "share URL" and open Repost. It's an easy way to repost content while attributing appropriate credit.
Sharing and reposting content from similar accounts is a great way to create relationships within your industry. If you repost an influencer's content and tag them, they'll get a notification and impression of your brand. They may comment, like, and follow your brand. And we all know how important influencer marketing is.
Repost is also a great way to make the most of user-generated content. User-generated content (UGC) is a must-have because it makes your brand seem more trustworthy and authentic, especially among the younger generation: 86 percent of millennials think that UCG is proof of a brand's quality. And with UGC, you always have images to share with your followers without spending a lot of time building a large volume of quality content.
‍8. Sprout Social
Sprout Social is an app you can use to schedule your Instagram posts. With Sprout Social, you can bulk schedule your photos and videos and utilize optimization algorithms to generate the most engagement from your social audiences.
Other super handy features include conversation management tools and Instagram analysis.
Select one of 3 plans that suits your needs; then, try that plan for free with a 30-day trial to see if it's right for your business. Each plan has unique features at different rates:
Standard: $99 per user per month
Manage 5 social profiles; gain access to an all-in-one social inbox; publish, schedule, draft, and queue posts; utilize their social content calendar; review management; profiles, keywords, and locations monitoring; tasking and social CRM tools; group, profile, and post-level reporting; paid promotion tools to boost Facebook posts; iOS and Android mobile apps.
Professional: $149 per user per month. Includes everything from the standard plan, and more.
Manage 10 social profiles; competitive reports for Instagram, Facebook, and Twitter; incoming and outgoing message content tagging; custom workflows for multiple approvers and steps; scheduling for optimal send times; response rate and time analysis reports; trend analysis for Twitter keywords and hashtags; paid social reporting for Facebook, Instagram, Twitter, and LinkedIn; Helpdesk integration.
Advanced: $249 per user per month. Includes everything from the Professional plan, and more.
Manage 10 social profiles; message spike alerts for increased message activity; digital asset and content library; chatbots with automation tools; saved and suggested replies; inbox rule builder for automated actions; automated link tracking; twitter surveys to define CSAT or NPS.
9. Later
Later is a scheduling and marketing app similar to Sked Social (and it has a free version). Later is very easy to use as you can schedule posts using a content calendar that allows you to actually visualize how your content will appear (and figure out whether it fits in with your brand).
Another useful feature of Later is Saved Captions which allows you to save groups of hashtags that you are likely to use again (a little bit like Snapseed's Snapseed Stacks) and helps you create a hashtag strategy.
10. Iconosquare
Iconosquare is one of the best Instagram analytics apps. The data-driven app can help you monitor metrics such as comments, likes, and followers (including data that can help you create buyer personas).
‍However, the best thing about Iconosquare is that it monitors your Instagram account in relation to your competition and can show how you're faring against similar brands in metrics like engagement and community growth.
All of these statistics are conveniently placed on a single, easy-to-use, dashboard.
The one downside is Iconosquare isn't free: it costs $29/month.
The Bottom Line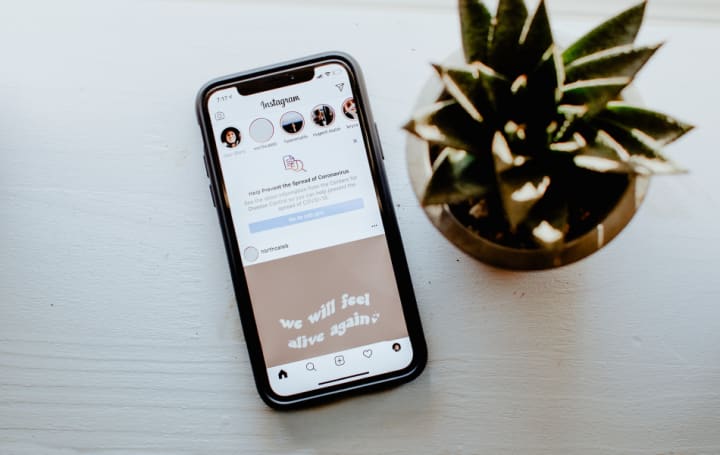 Instagram can help increase your visibility, acquire new customers, grow your customer loyalty, and, ultimately, convert sales. With quality posts and engagement, you can transform your E-commerce business from a store to a brand.
Did we miss any apps that have helped you grow your business? Let's get in touch and discuss!
list
About the author
Seller's Choice is a digital marketing solution provider dedicated to the interests, growth, and profitability of e-commerce brands.
Reader insights
Be the first to share your insights about this piece.
Add your insights