Perceptions of a Desk
Defining Success in a Non-Profit World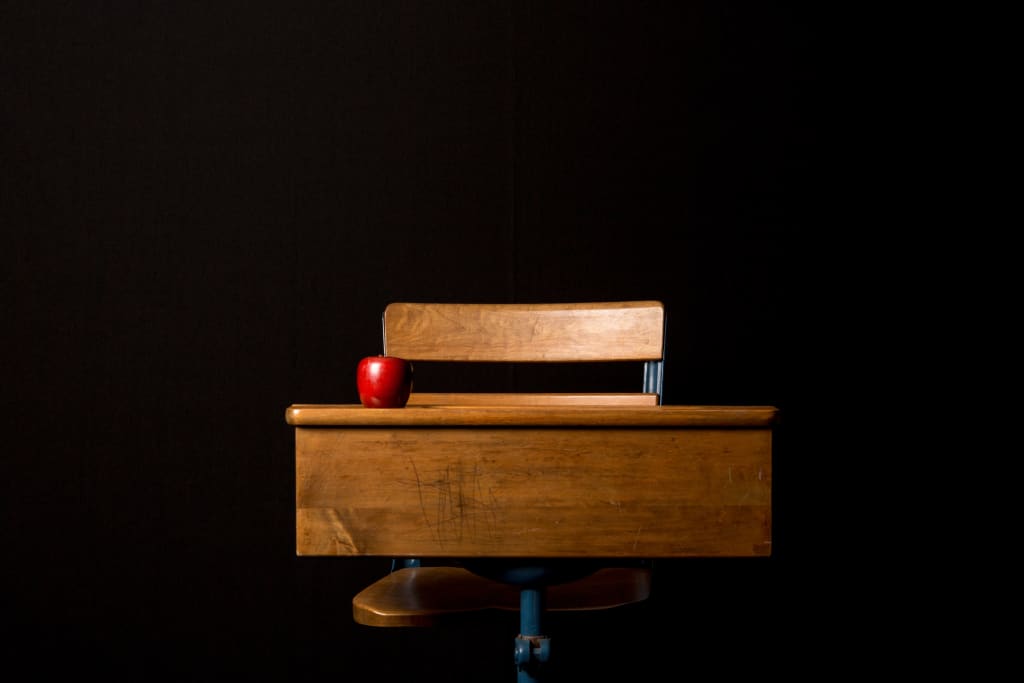 Success, the word that seems too unattainable. The striving word of our past, present, and future. But how in our society have we defined success and why is the pressure for the "desk" so apparent?
Our life seems to be center around moving from one achievement to another, gaining promotion after promotion. Growing up, we're given a desk to help us write training us in our education. The level of success set for us in the classroom comes to an end when we walk across the stage, or so we think only to realize that the promise of a more successful life has yet to be attained. The question is, can we find it?
Is success simply based on what we do? Is that the way it's supposed to be? Who sets these standards of success, me or my surroundings?
The journey from college to my first "grown-up" job was life changing. Excitement built as I walked in on that first day ready to conquer the world because I had a desk. Step back all evil doers! I thought my journey of "success" had ended. How many people could say they had a desk? Looking back, I realized that most people have a desk and it wasn't as exciting as I thought. In my naiveness, my standards of success had been revealed, standards that had been modeled by my surroundings. Images of successful business men and women seated behind a desk ready to take what comes.
My world quickly fell back into reality as I began to realize that my sparkling red tape dispenser was no different from a black one and that sitting at a desk from 9-5 wasn't about the image my office revealed to others, but about what I was doing within the confines of my office. Was I doing my job to the best of my abilities? Was I leading in kindness and for the well-being of the organization?
The pressure was on to do the best that I could at my job. In wanting to do so, I set such high expectations for myself that I ended up suffering from anxiety and depression. I felt like a complete failure. This feeling led me to hate my job because I felt that I could never do anything right or successfully.
Through the journey, I have begun to look at success in a different way. No longer is it something that I can never achieve but rather it is the examination and acceptance of success in even the little things. Success, for me, focuses on personal and professional goals set for myself. It is the tiny things I do to make up for the bigger picture.
The first thing working in the non-profit world taught me, was while I may have a job title, there will always be a day in which I may have to step into another role, be a team player. Versatility is important in work, not only because you may have to fill in for others in the office, but it helps you learn how your organization runs. This allows you to see the bigger picture.
As I sat in work meetings week after week, I loved hearing about what others were doing and when I contributed to these meetings it helped the group understand the work I was doing and vice versa. The team dynamic changed the more I relied on others and had shared experiences.
If the team is doing well, then the organization morale itself will increase. There's something about having happy employees that make the work place better (And yes, this is obvious), or so we think. But what happens if you work somewhere that is constantly putting stress on you? Do you often find yourself answering the phone or emails off the clock? Never shutting down your "work" self?
Setting up boundaries in the work place is so important for your emotional and even professional well-being. Perhaps you have a habit of helping others in the office so much that you cannot get your work done, maybe it is time to say no. Putting too much on your plate only stresses you.
I'm still learning how to set boundaries and for everyone, they look different. Consider sitting down and self-evaluating yourself in the workplace. What are some things you can do to set up healthy lines in your organization?
Time management is vital to the working force of today. I alleviated so much stress simply by learning to write a list of things to do and using a planner. It brought such satisfaction to check things off of my list at the end of a long day.
My first job taught me that success is more than achieving the next desk. For me, success was finding the strength to set up boundaries, to learn how to listen and to be versatile. Success for me constantly changes with the different steps I'm taking and daily I am learning new skills to bring to the work place. Instead of chasing down visions of grandeur and the ideal success story, I prefer to meet goals that allow me to feel accomplished and know that the work I'm doing is meaningful.