Lets Do Something New
My first time attending a Dance Program Ever.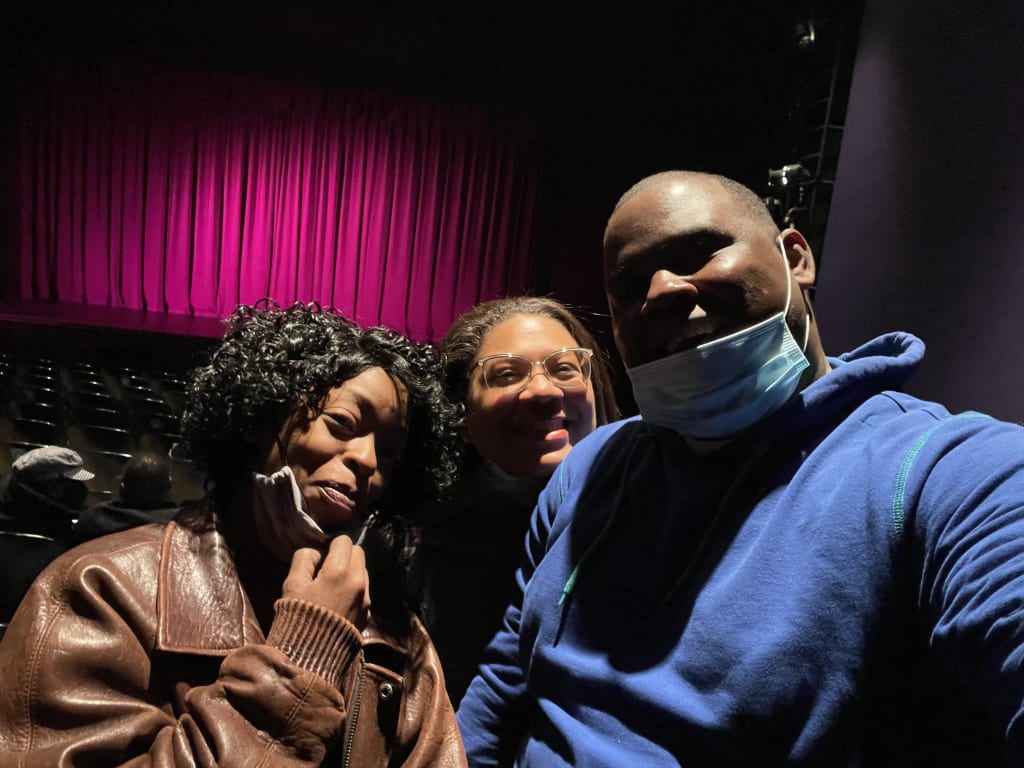 Inside The ODU Theatre 11-20-2021
👋🏾 There, my fellow people of the God Sparing Internet, What's Gucci?? . Here was are; at least at the moment of this posting, looking down the barrel of the second greatest holiday in American Culture. Thanksgiving.. Thats right my friends, Its three days in counting. Waiting patiently for the kin folks to begin stinking up our abodes with the smells of Turkey, Ham, stuffing, and other deliciousness, forcing us to retreat to Sewer deposit room. How about Black Friday? Anyone trying to checkout some of them deals in these streets? -or- does the pandemic still have ya broke? According to the site finder, "28% of American adults, or an estimated 72.4 million people, plan to shop end-of-year sales like Black Friday this year." Mostly Women, 29% saying they plan to make a purchase compared to 27% of men. Could it be because the men are broke from their ladies? 🤷🏾‍♂️ People between ages 35 and 44; or 34% plan to be about that shopping life, Meanwhile, just 24% of those ages 25 to 34 and 65 are like bring me the leftovers, I can make meals for at least the next week.
Ah HOLD UP, HOLD UP…... What about the games?
National Football League ON Thanksgiving🦃Day
Bears at Lions (Thursday, Nov. 25 at 12:30 p.m. ET on FOX)
Raiders at Cowboys (Thursday, Nov. 25 at 4:30 p.m. ET on CBS)
Bills at Saints (Thursday, Nov. 25 at 8:20 p.m. ET on NBC)
NCAA Football ON Thanksgiving🦃Day
#12 Ole Miss Rebels vs. Mississippi State Bulldogs Thursday, November 25 at 7:30 pm
Tuskegee vs. Alabama St. Thusday, November 25 at 3:00 pm
Fresno St. vs. San Jose St. Thursday, November 25 at 7:30 pm
I think that will be enough to keep the men folks occupied, and dare i say distracted, while the stomach rumbles; all that is this weekend coming, what about what went down this weekend past? For me?? The wife, Aunt went to the Old Dominion University (ODU) 2021 Fall Dance Concert. Please forgive me, I won't say much more, because I am still not completely sure I understand what all went down. But I do wish to give a shoutout to the Old Dominion University (ODU) Dance Program, which I found out falls under the Department of Communications and Theater Arts; I know pointless information, meaning nothing much except my wanting to share; but to button this up, the event was completely awesomesauce. It's a version of sports, believe it or not, that I wish to look further into. Professional Dancing is the wife's passion, one I hope, pray, and speak, she will find a supporting, or coaching role in; and it gives me more reason to hang around the college more, than just for the Men's sports if ya will.
Matthew and I have a believe vowed. Yeah, we probably should make sure of that before we cement it in stone, but for the remainder of this show, unless we move to a different part of the world. We will support and defend; no I will take this to a whole new level. I am going to clean out my closet; and any sports related clothing, or memorabilia, that doesn't champion our teams, will be, in the words of Matt Hardy, from Impact Wrestling.. DELETED.. So for the record, and you can hold me for certain to this. Our teams are….
Old Dominion Monarchs
Nebraska Cornhuskers
Miami Hurricanes
Clemson Tigers
And Finally to my wrestling friends. Those who gave peacock the 9.99, because you ain't bout that commercial life, to watch WWE Survivor Series. I hope it didn't leave ya feeling some type of way. Twenty Five years of The Rock, celebrations going on all over yonder, Vince McMahon out here in these wrestling streets flaunting one of Cleopatras Eggs, all this here, and to this point, not one view of the Brahma Bull. **Sigh** 🤷🏾‍♂️ I guess something is going down soon, So Ya know how that goes..
HOLD UP HOLD UP AGAIN.. Please Tell me, Y'all have seen Red Notice? Whatcha not fin to do is tell me, I saw a movie before y'all did. You owe it to yourselves to open ya Netflix's and checkout this funny piece of cinematography. It has everything from One Liners, to the greatest heel turn in all of Hollywood. Like I said, do ya self a favor, and get over to check it out. So why y'all go handle that piece of business, I'm a as they say, just make myself small getting ready, to kick off what believe will be the greatest week of 2021. This week in sports, entertainment, all that, and who share the duo's stage will present us with awesomesauce that we have never ever seen before.
UNTIL NEXT TIME - ❤️EDB
pop culture
About the author
Blogger👨🏾‍💻 Vlogger🎥 Podcaster🎙Life Enthusiasts!!! On mission to prove one can do what they believe despite what anyone says.
Reader insights
Be the first to share your insights about this piece.
Add your insights