Klass Reviews
Tales of the Fae - S1 The Shadow's Sister & S2 Lord of Storms by Kate Seger
"I absolutely love this author and all of her work that I have read so far! This tale just keeps you itching for more. I can't wait for episode 20 to come out." (https://www.amazon.com/gp/customer-reviews/R2FKACKRIQKGX3?ref=pf_ov_at_pdctrvw_srp).
Story synopsis - "Blood magic rains down on a war-torn Court of Sky. A storm of war unlike any the Ethereal Realms has seen is brewing. When the noose of Fate tightens around their necks, two must step into roles they were never born for - a prince, wild and untried, and a girl born of shadows, fighting for the wrong side. They have seen the future written in the stars. But can they change the course of destiny?"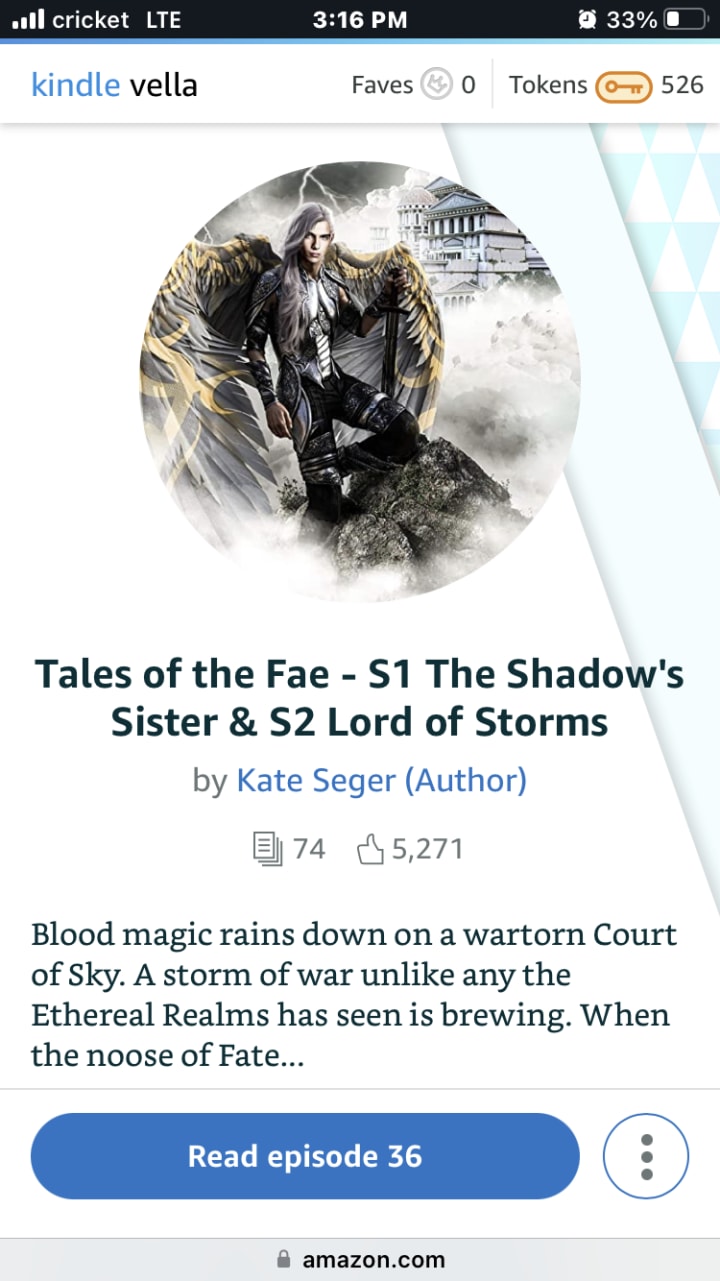 This is a screenshot of the series I am reading by Kate Seger. Note: This is not her only work that I read. Each work is individually discussed in a separate review for my audience. As you can see, I am on episode 36. This series is in the same genre that I primarily write in, so it makes it an easy read for me because I really enjoy writing this sort of content.
Kate Seger is a master at her art and disserves more positive recognition for her work in my opinion. She writes other genres that I enjoy reading, but do not write myself, and no matter which genre we see her write, she always does it better than most of the authors out there known to the public. Yes, I would say that Kate Seger is one of the most underrated authors out there and that anyone who reads her work will find out as I have as a reader, that she should be known to a larger audience than she currently is.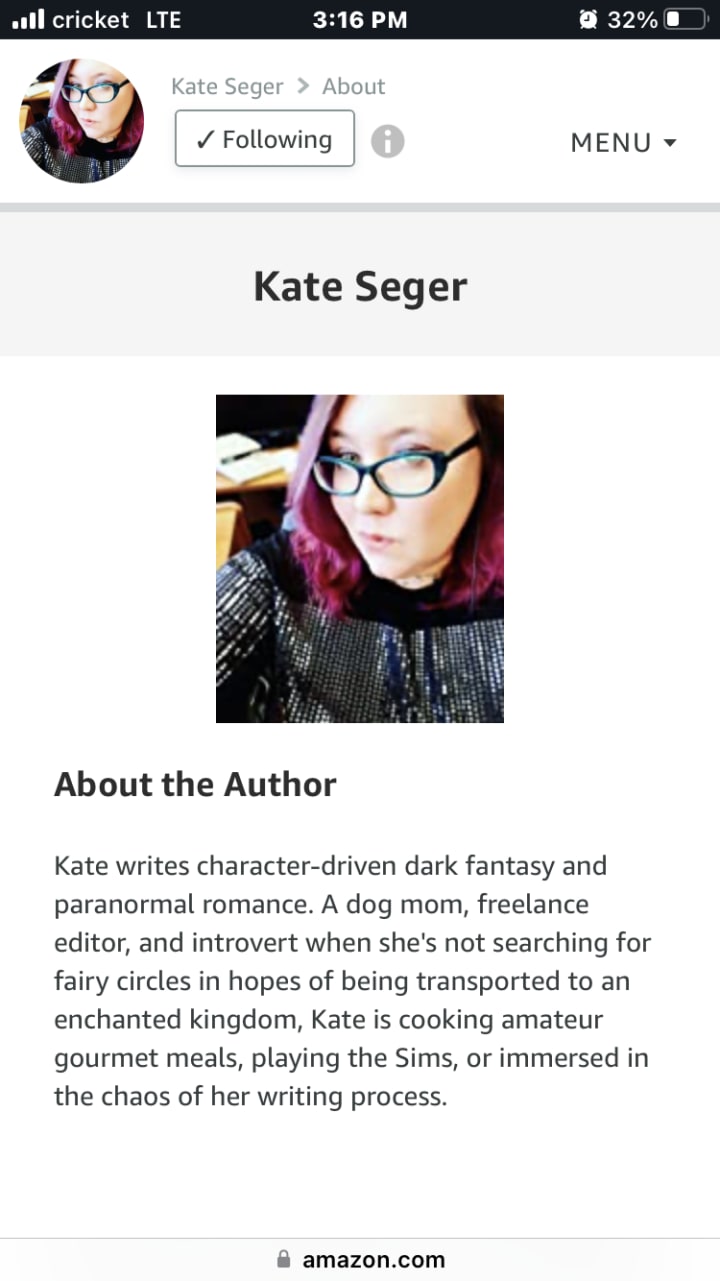 This author has an Amazon profile that fans can follow for updates. Kate Seger keeps her readers entertained and coming back for more. This piece of ongoing work is one that deserves Ten-Stars if it were possible, but I had to settle on the best option available on Amazon, a Five-Star Review Rating.
This author can also be found on various Social Media platforms such as Instagram, Facebook, TikTok and Twitter.
While this story is just one of her amazing projects, she has others, many others. Expect me to write more about this author in the future due to the quality content she releases to her public. I have found one of her other projects under a very different genre is currently one of my favorites to read.
If you are a reader of any genre, you will enjoy the work of Kate Seger. If fantasy is your thing, then be sure you look up this Kindlevella project and be sure to follow the story for updates. That is one of the great functions of the Kindlevella platform is that it updates those who follow the stories on new episode releases.
Each episode keeps you wanting to read more. As a traditional table-top role-playing gamer, this content is what I look for in the content I read and enjoy. Kate Seger delivers excitement, adventure, and well-developed characters that create story continuity. Without story continuity, we have poor story flow which I have never seen by this author in any of her works. She is my number 2 recommended author for readers.
Readers will find this author to have a variety of various content available in several different genres. All of which are excellent quality works within all the genres she writes.
If you are an author looking for book reviews, reach out to me on my Social Media platforms or here.
About the Creator
I have a passion for writing. As a published author for nearly two decades, it pleases me to have a platform such as Vocal to share my works for free.
"I never apologize for who I am!"-W.S. Klass.
Reader insights
Be the first to share your insights about this piece.
Add your insights