Jerrick CEO's Week in Review: 01/27/20 - 01/31/20
A weekly recap of the most relevant news, updates and insights from Jerrick, Vocal and across the industry.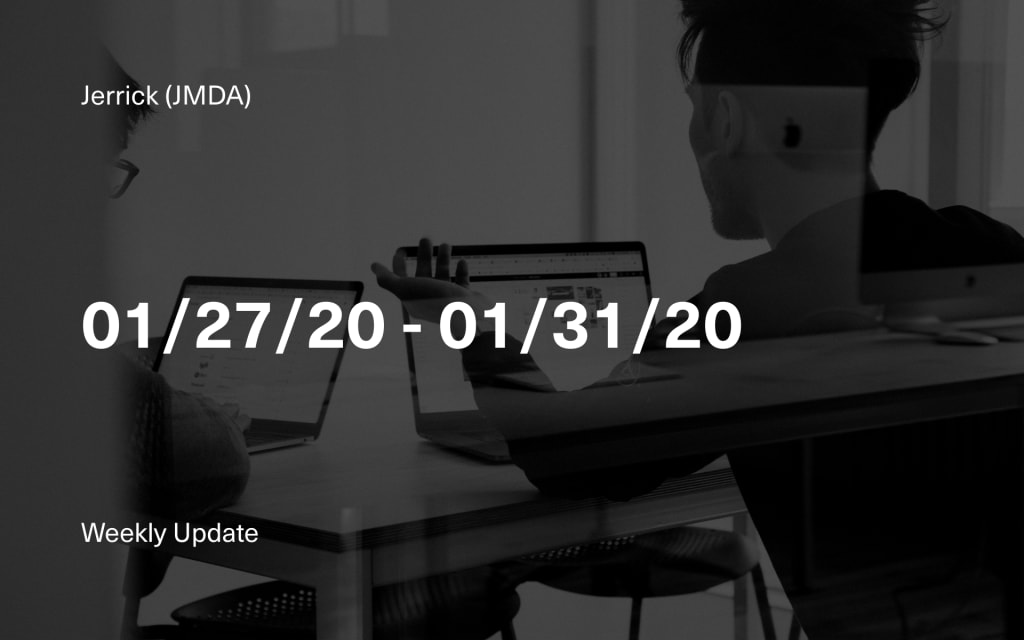 The Team is the Thing
We are always looking to expand our talented team. The collective group is unequivocally the biggest contributing factor to our success thus far. By the same token, not having the right team in place is the primary thing that can stand in our way in the future. The search for talent never stops. This process requires scouting and hiring for core positions at least two, sometimes three months in advance of their required fill dates, because an employee often requires nearly 90 days just to acclimate to the culture and undergo specific training for the tools required for success in any particular role. The team is always analyzing and evolving itself within the Agile framework I have discussed previously.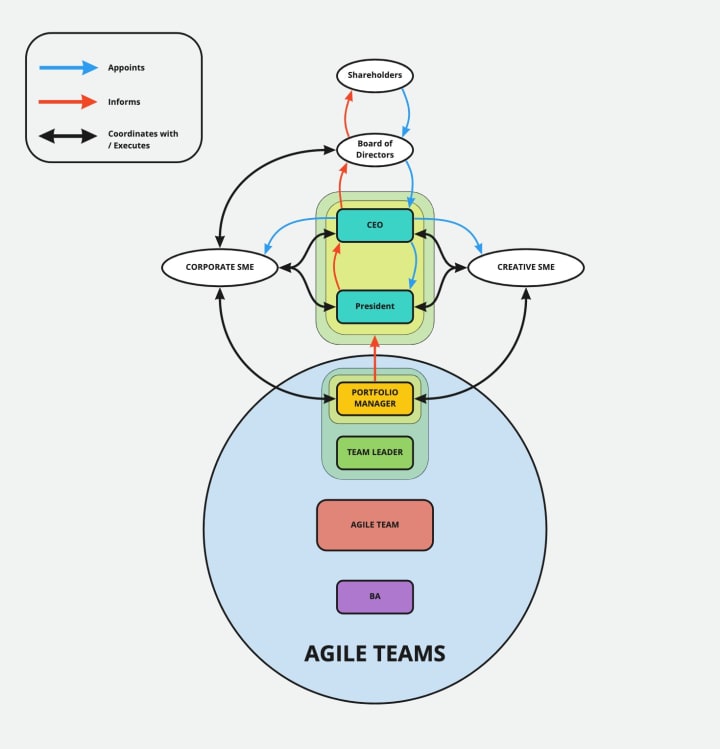 Hiring
One of the roles we are constantly looking to fill is for a business analyst (BA). We tend to fill this role with people who are 'green'—who have had minimal exposure to other corporate cultures—and start them at an associate level. The business analysts that succeed at Jerrick are ones that have a knack for learning new technology platforms and can think abstractly when applying them. We look at the interests, passions, and books that a given candidate is reading just as much as we do their GPA and field of study. Learning to continuously improve in the role and how to take risk are part of what tends to be a 9-12 month growth period following the initial 90 day training period. In fact, we tell employees on their first day that management does not expect them to contribute any material value for at least three months, and instruct them to focus their efforts during this time on getting strong and educated. At that point the best analysts are often given their first opportunity at a digital portfolio (i.e. a responsibility or business line that can produce revenues) and, more importantly, to take on risk for the company. As I have mentioned on a number of occasions, our company is a hybrid of a Wall Street trading floor and a technology development firm. The uniquely designed framework can rapidly advance individuals with identifiable talent. This can, of course, be a double edged sword; patience is an important key to advancement in our corporate culture. The BA role is a great opportunity to learn how a company runs from the ground up and to grow to become part of the revenue production of the company.
In addition to the BA search, we are currently looking for a copy editor. In particular, we are looking for someone who is skilled at connecting with creators, someone with a detail-oriented mindset and one who is consistently up to date on the creative community and its dynamic culture. Vocal is still a relatively new platform and the ongoing process of moderation, communication and customer support requires that our moderators have a technical editor skill set as well as an ability to process and help design protocol. With an expanding number of Vocal communities and a variety of products and services for creators, a copy editor can find a multitude of verticals to potentially specialize in or move more horizontally across product features like challenges and branded content.
Tapping into candidates for either opportunity by posting on LinkedIn or Indeed is a constant part of the recruitment process. But unfortunately, we've found that over time these sites have become somewhat congested and less reliable in identifying qualified individuals. Personally I think Microsoft is missing a big opportunity with LinkedIn, but for now finding the right people is about reaching directly into the network as I do weekly for support and insight. The best way to suggest individuals to us would be to send an email to [email protected] or have them apply via the form fields below.
Business Operations Associate:
Copy Editor:
Outsourcing
Any conversation on filling new seats in 2020 must first start with a basic question: Hire in-house or outsource? We face a similar decision in design and development. Much thought is put into every decision regarding building particular components in-house or utilizing an external service provider. Early on in our company's evolution we made a crucial decision to structure the framework of our company to adapt quickly to the technology platform space and the general movement toward collective behavior. We have formed a series of excellent relationships with external segment specialists while at all times being sure to understand when to move in-house, and what the process would entail to do so. Scaling is about understanding the data. We often work with multiple segment specialists in the same space to hedge business risk. Most importantly, our business analysts stay on top of any important new companies offering more efficient and next generation tools.
In addition, we may believe the segment specialist is best brought in-house themselves. For example, with Seller's Choice, we opted to bring the entire agency in-house. The operational savings we were able to achieve made the acquisition attractive and created a nice margin, with minimal disruption to our ability to generate revenues. With Seller's Choice's rebranded website, lead generation strategy and general upgrade of product offerings, we have reached a point where revenues can begin to scale without adding unnecessary staff.
One of my favorite books over the last few years was Yuval Noah Harari's Sapiens: A Brief History of Humankind. In it, Harari postulates that a culture can be maintained at a particular level of intensity based on the amount of people core to the process of sustaining and driving it forward. A study of early tribes and societies as far back as the initial appearance of Homo sapiens indicates that ranges of 25 to 50 people can build communities, solve problems and thrive as a collective. Others theorized that hundreds could achieve these feats, but it required expansive clan or guild structures that protected the collective's interests. Jerrick can accomplish many amazing things with less than 40 internal people and perhaps as few as 25 external segment specialists. This allows us to focus on margins, and continuing to lower customer acquisition cost while raising revenues vertically and horizontally. Similar to the agile framework methodology I have previously discussed, leveraging outsourced relationships or components is as important to a company as sharpening its internal staff. In an age where technology cycles are continuing to shrink, an organization's efficient operational framework is as important as a scalable revenue model. Investors want to understand a path to profitability. Our flagship product Vocal and our business operations model are fine examples of the kind of components of a successful, next generation company.
JMDA OTC Weekly Report
OTC Markets Group Inc. (OTCQX: OTCM), is a financial market based in New York which provides price and liquidity information for almost 10,000 over-the-counter securities. The OTC operates three distinct groups upon which OTC securities trade: the OTCQX, OTCQB and Pink markets, the former of which being the top-tier market. OTC Markets recently announced the '2019 OTCQX Best 50,' a ranking of the top-performing companies on the OTCQX last year. The companies featured on this list include 50 US and international companies and were ranked according to their performance in 2018 on the basis of both their one-year total return and average daily dollar volume growth.
When it comes to JMDA, which trades on the OTCQB, we again saw lackluster equity performance this past week in the face of a number of announcements. This pattern only further highlights the difficulty we face in generating investor awareness in a space where there has rarely been a successful tech story. Of the 50 top OTCQX stocks on the aforementioned 'Best 50' list, none were a digital platform company. In fact, there was just one authentic tech company featured, Computer Services, Inc. (CSVI) which provides a suite of digital banking services including managed services, processing, distribution, and regulatory compliance solutions to financial institutions and corporations.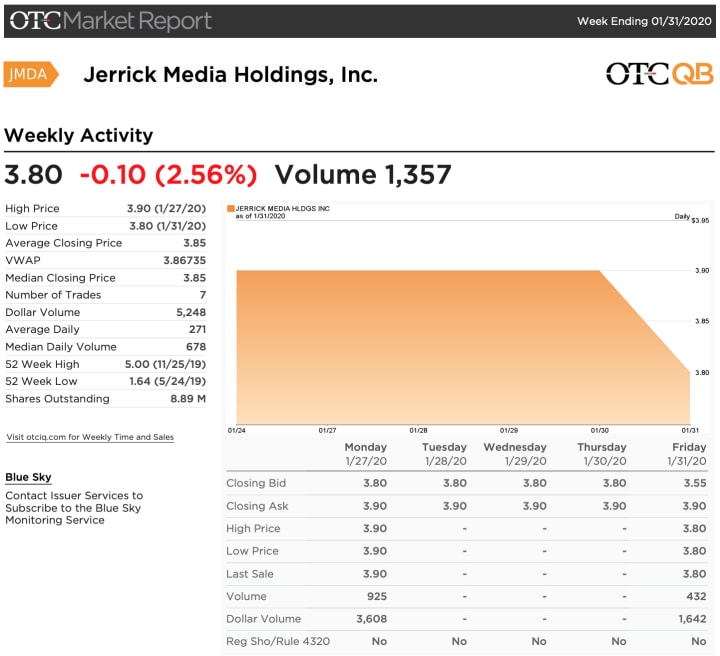 Stock Watch / Special Situations
This week was spent focused on internal operational reviews and the continued preparation of our 10-K filing. I did not dedicate as much time to following individual stocks or acquisition targets as I normally would. What I have noticed, though, is the growing spread between the countries' bifurcated culture and socio-political spheres. Due to this factor and others, this year is setting up to be a difficult one for individual stock picking as well as trying to predict the overall direction of the market. Exogenous events like the coronavirus are exposing long-forgotten risks to business models that are part of a global marketplace, making market predictions all the more confusing in an election year.
While not exactly a virtue, 'too big to fail' has also become a more regularly discussed phenomenon in the tech space. This will invite regulators and a newly mobilized political force that arguably has an anti-capitalist agenda. I am confident there is value to unlock in technology stocks in the future. This is a time for very specialized investments in companies that can uniquely offer a legitimate path to profitability and scalability. The companies that meet this criteria are few and far between.
Vocal For Brands
Following the recent Seller's Choice redesign, we have revamped the Vocal for Brands site and marketing materials to account for the newly added features and prepare for the higher caliber brand leads that are flowing into our orbit. It is worth emphasizing that Vocal for Brands is not simply a stand-alone offering that Jerrick put in place to generate revenues. Vocal for Brands is an essential piece of the Vocal puzzle and grounded in the same principles as is 'Vocal for Creators', partnering with brands that share Vocal's core values of promoting authenticity and rewarding creativity. As such, the new site does a good job at articulating Vocal for Brands' value propositions in terms of its relationship to the larger Vocal platform. In other words, unlike a typical marketing agency, it's not the talented creatives that give us our edge (though we have that too). Instead, Vocal for Brands' true value is its unique ability to borrow insights from a platform ecosystem that not only services that brand's target audience, but deeply understands them. Case in point, here are success stories from some of our notable brand partners:
Seller's Choice
As we continue to elevate Seller's Choice and its website, we have added an invaluable resource to the site that not only has organic traction, but provides key information to sellers within the e-commerce space, specifically regarding the Amazon marketplace. These resources provide insightful information surrounding the world of Amazon selling—the inner workings of this e-commerce space that are so essential to fully understanding Seller's Choice as an agency service. We believe that providing relevant information like this in an upfront and honest way is one of the most important parts of operating a successful business, which makes this piece such an asset to those seeking out our professional selling services. Providing front-end information like this for those who are at the beginning of their journey not only allows us to effectively run our business by detailing the overarching points of Amazon marketplace, but it serves as SEO content that helps us capture e-commerce sellers as they seek out solution providers to tackle their pain points.
Vocal Creators
We've seen an 11.7% increase in overall submissions from this week to the last, making January 2020 the month with the highest submission rate since the re-platforming of Vocal, with a total increase of 46.7% on a 30-day trailing basis. This fact is likely connected to our observation that new Vocal+ creators seem to understand our platform intrinsically, creating stories that have averaged out to around 2,000 words, and that are more soundly constructed, more SEO-optimized and populated with hyperlinks, images and other rich media throughout. Despite these growing trends, it's always interesting to see the unique ways creators use the platform, such as how Scott Hawver had his 60,000 word novel published to the platform or how Jord Tury put himself on our radar by being the first creator to publish on each of Vocal's 34 communities. Additionally, as the theme of 2020 New Years Resolutions has now subsided, the submission queue has predictably moved away from being skewed toward Motivation and Longevity stories, and is back to a more typical distribution across communities. That, coupled with the recent release of Challenges (which currently feature both photography-focused and music-focused story contests), Beat and Photography have also received a surge of submissions compared to months prior. What is perhaps most encouraging is that new creators seem to be excited to capitalize on Vocal's latest monetization offering, as Challenge submissions have accounted for about 25% of total submissions since the feature launched last month.
Additionally, one of the beautiful things about a user generated content community like Vocal's is that the concerns of the day are often reflected in the submissions we receive. Unsurprisingly, we had many creators this week pay tribute to NBA legend Kobe Bryant after his tragic loss of life last Sunday. Vocal creator Jonathan Reed shared a particularly touching story honoring him as much more than an iconic basketball player. Like Jonathan mentions, "he was loved for the quality of his convictions, the essence of his character." This Staff Pick resonated with our entire community and brought creators together in grieving the loss of their idol. Read the story below:
Website Ranking
As we implemented a series of new marketing and growth tactics this week, we saw the expected pause in our march to a new record on Alexa.com. During the strategic transition of marketing geared toward the release of Challenges, our US rank dipped back to 1,650 before beginning to recover, while our Global rank maintained its growth (our current Global rank being 5,611). Given our growth pattern, we are in good shape to make a run for a sub-1,000 ranking before the end of 2020.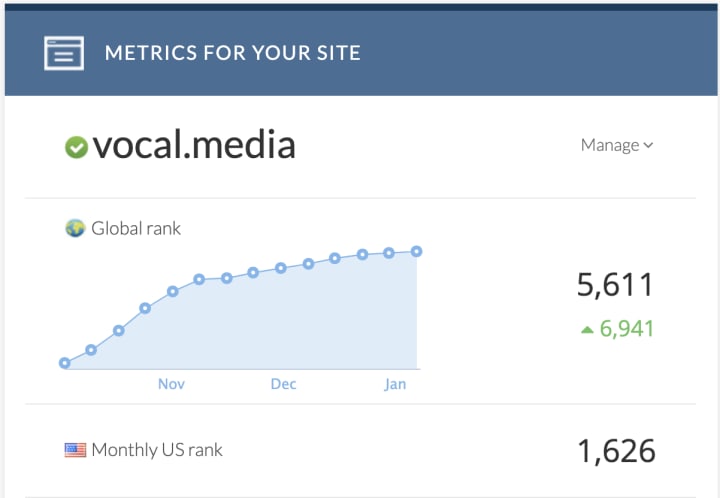 With the heavy emphasis our team puts on Vocal's website ranking, we are constantly looking for ways to improve it, and as such, rely on tools that help us do so. I want to introduce you to another important tool we regularly use for self-assessment. Moz is considered the leading authority in search engine optimization technology, and is a hugely important tool for us in gaining insights into Vocal's domain authority and page authority, which are two scores that Moz developed to quantify a given website's 'rankability' on search engines. Moz's domain and page authority calculations involve, among other things, an algorithmic assessment of linking domains, which refers to the volume and quality of the other websites that link back to us. If Vocal is linked out to from a website that is strong and trusted (say, for example, nyt.com) it signals to Google that Vocal is a quality site that deserves to rank well. Think of this concept as Moz's way of valuing a given website based on positive endorsements by existing, trusted sites. It won't surprise you that Moz's list of the 500 most popular websites has tremendous overlap with Alexa's, as both measure website popularity utilizing slightly differing but still complementary data.
Industry News
Further validation of the platform space and the type of value that can be created came with the sale of Barstool to Penn Gaming. Beyond the valuation data, it is almost a fait accompli that if a company is not moving toward the digital platform space, they are fundamentally disadvantaged. Digital distribution is now part of the fundamental business model and not restricted to industry or space.
"Penn National will pay $163 million for a 36 percent stake in Barstool in the deal valuing the website at about $450 million, the gaming firm said. The company will also have exclusive rights to slap Barstool's brand on its online and retail sports betting products."
Recommended Reading
Last week, I discussed the podcast StartUp and its likeness to The Messy Middle, so it only seemed fitting to follow it up with Scott Belsky's text. The Messy Middle narrates Belsky's journey as he developed Behance—a social media platform that allows users to showcase and discover creative work—into its eventual acquisition by Adobe to the tune of $150 million in December 2012. Belsky recounts his experiences of his positive sloping success, and continuously highlights that it was not in fact a straight line, but a bumpy journey that required long periods of endurance and optimization.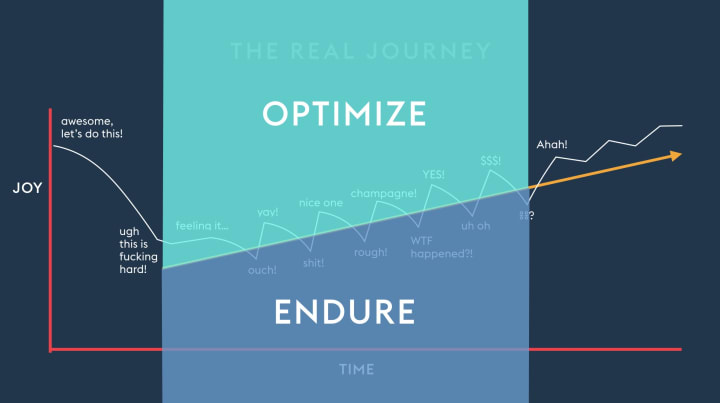 Belsky is a storyteller—he beautifully articulates what so many before him have struggled to do. His narrative is captivating, engaging and, more importantly, transparent. This no-holds-barred dictation of events is not unique in conceptualization, but one of a kind in terms of its execution. Ultimately, that is what tells companies apart: those who can delicately weave their stories into a larger contextual ideation (that must also be a reality) are the ones that survive and grow into the thought leaders that exist today.
Throughout, Belsky highlights one of his keys to success as his ability to manage expectations and norms that often did not overly-celebrate successes within his company. Much like every other company, our communication channels are used to disseminate updates on our milestones and goals (like our progression through the 'Alexa charts,' as I often report here). Frame of reference is particularly helpful in allowing us to suspend current situational successes as to not let them inflate ego.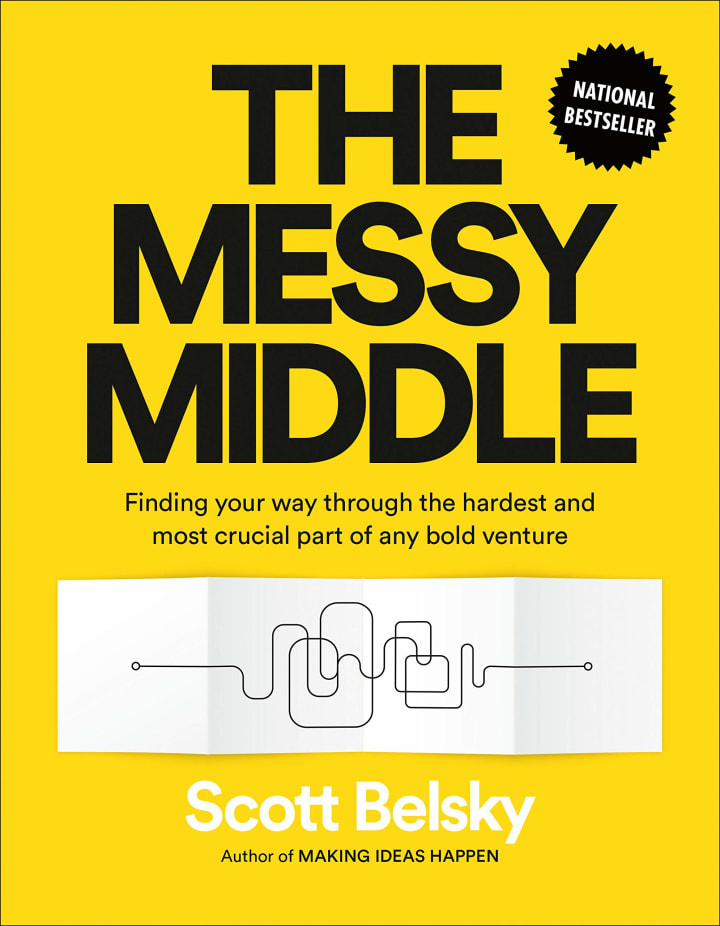 We must continuously consider the impacts of our daily actions and the ways they then affect growth make moments of achievement less about celebration and more about crucial data points we can leverage to achieve more short term goals and upward growth. This whole ideology goes hand-in-hand with Belsky's views on the importance of short term goals that promote upward projections, in that we must do what is in front of us, adapting and synthesizing what we have to even begin to achieve long term success.
As we move through our own messy middle, I hope to continue utilizing the recounted journeys of companies who have trailed the path before us. As always, for regular updates please follow me on LinkedIn as well as the company's other social pages:
Jerrick
LinkedIn: https://www.linkedin.com/company/jerrick-media
Twitter: https://twitter.com/JerrickMedia
Facebook: https://www.facebook.com/JerrickMedia/
Vocal
Instagram: https://www.instagram.com/vocal_creators/
Facebook: https://www.facebook.com/VocalCreators/
Twitter: https://twitter.com/Vocal_Creators
LinkedIn: https://www.linkedin.com/company/vocal
Reader insights
Be the first to share your insights about this piece.
Add your insights