I Bought Online Hobbies and They Paid for Themselves
I even earned extra money
The start of the pandemic gave birth to my new hobby - blogging. I've always wanted to express my thoughts online, but I didn't know where to start. For a tech-challenged mom like me who only knows how to use basic Microsoft Word and Google search, starting a website is too much to handle. But my determination to blog grew stronger.
Capitalizing on what I know, I went to Google and searched for free blogging sites. It yielded so many results. Most were promising, but one stood out and it was Medium.com. It started my online hobbies.
My 3 Online Hobbies
1. Medium.com - reading great contents and [testing] blog writing at $5.00 per month
On Medium, you write and get paid based on the number of people who will read your stories. Signing up as a non-paying member would suffice to write and get paid, but you can only read limited stories per month. I paid. The monthly membership fee of $5.00 is too cheap for a hobby. All additional information that I get to learn from reading unlimited stories can never be quantified.
Writing my thoughts has been very therapeutic. I've been on their platform for 6 months and gained not only blog writing experience but friends, as well. And yes, I earned money from my stories.
My problem with Medium is that I wasn't able to connect to my true audience - the people who would greatly benefit if I'll write what I know and what I do best. Later, by consuming contents, it led me somewhere.
Good things lead to better. On Medium, I learned about Vocal.
2. Vocal.media - reading authentic personal stories, writing what I want, and challenging my writing potential at $9.99 per month
I've always silently expressed my gratitude for Vocal. They appreciated my writing and made me feel it has a place in this world wide web. They housed my articles, which would seem dull to most but have been helpful to a certain group.
I've been writing for the Philippine law students and aspiring lawyers who are preparing for their bar examinations. With Vocal, I'll write the story, they publish it, and I'm ready to share the link to people I care for. On top of that, I get paid with the reads.
This is my 3rd month on Vocal and so far I got $34.37 from reads and $12.00 from tips. They credited my first $5.00 tip directly to my Stripe account.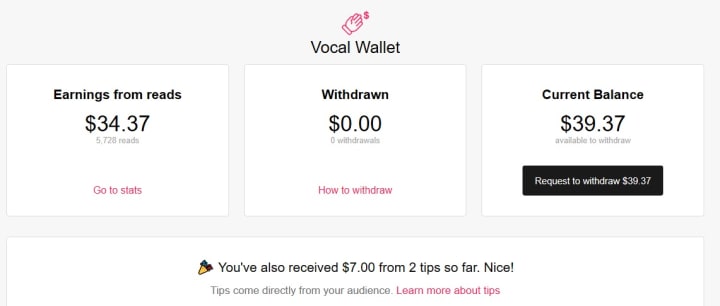 The amount that I earned would be enough for 4 months of subscription fees. But wait, there's more! I've paid no subscription fee since day 1. I got a free trial in my 1st month. Then before my trial ended, they emailed me to give another 3 months of staying as Vocal+ member for free. So I get to pocket the $46.37 for anything I wish.
3. Scribd - unlimited reading of ebooks and listening to audiobooks at $8.99 per month
Having a Scribd subscription is cheaper than buying ebooks one by one. They have an array of collections on any topic. I can read or listen depending on my mood. I can also use the site for research and when I need templates on some documents. The site helped me with my work while effectively supporting my reading hobby.
It's $8.99 per month, but I don't have to shell out any money. How? I share my takeaways with the ebooks that I read on Medium, then share them also on Vocal. And I earn from it. In my first month, I've shared what I learned by reading the ebook Money Secrets of the Amish andThe 30-Day Money Cleanse and earned more than what I have to pay for my 2nd month subscription. Plus, those are classified as evergreen content that can be a search query even years after I have written the story.
I got to read, practice my blogging skills, and earn from it for FREE. How good is that?
---
And those are my worthy splurges because of the social media raves on blogging for profit. No second thoughts on putting them on my cart and allowing payment via debit cards. Those are purchases I made willingly for me to do something new. They were worth it and more.
I enjoyed the hobby, and I earned extra money.