How Hospitality Experts Can Use Social Media to Their Advantage
Jon Farzam shares how hospitality experts can use social media to help their business.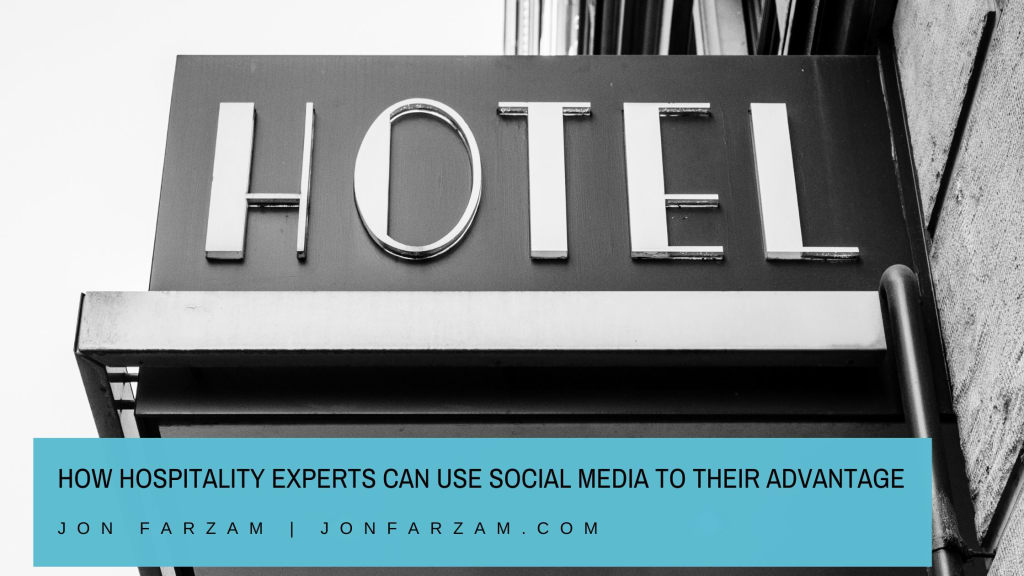 https://jonfarzam.com/how-hospitality-experts-can-use-social-media-to-their-advantage/
Social media platforms have revolutionized how people interact with one another and with businesses. Proper knowledge about social media is vital for hospitality organizations as it allows them to reach out to their target customers and improve their performance. Here are ways hospitality experts can use social media to their advantage.
Visual Benefits
To create a portfolio that will stand out from the crowd on Instagram, choose photos that are designed to show the most basic details of what you're about. While the quality of the images you choose should be important, try adding humorous captions or short stories that will catch your audience's attention.
One of the most effective ways to promote your business on Pinterest is by sharing details about what's happening at your establishment, such as the staff's smiles and mouthwatering creations.
Superior Service
The superior service concept can also promote a business on social media. It involves answering the questions that customers have. One of the most valuable platforms for addressing customer questions is Twitter. People rely on this platform to quickly resolve their issues, so your solutions must be fast and effective.
A customer may leave a company due to the quality of its service. Successful businesses know how to use social media to their advantage. They can learn how to handle the negative and positive aspects of the platform, which will enhance their brand.
Easy Bookings
Providing an easy-to-use experience for customers is very important. Those who encounter issues may feel discouraged and drop their efforts. Making a reservation starts with the booking process in the hospitality industry. The easiest way to start is by placing a large, bright button on your page under your cover image.
Booking should be as effortless as possible and take little time to fill out or get slow. To ensure a smooth experience, try conducting a thorough test drive to eliminate potential issues.
Online Reviews
A positive review can help a customer choose a hotel or event. Many people rely on social proof when making travel plans, and almost a hundred percent of them cite testimonials as the reason for their decision.
Even negative feedback can be turned into an opportunity to improve your image and attract more potential customers. You can defuse negative feedback and keep your followers entertained by responding humorously.
ABOUT JON FARZAM
Jon Farzam is the Vice President of The Shore Hotel, a family-operated and earth-friendly boutique hotel based in Santa Monica, California. While his family has been in the hospitality business for years, his decision to stay in the industry is based on his love for the team effort it takes to create an incredible guest experience. Jon possesses a Bachelors of Science in Hospitality Management, where he serves on the Alumni Board and is a member of the International Hospitality and Tourism Management Honor Society.
While he is no stranger to hospitality, Jon and his family knew that they needed to help shake up the industry. As such, Jon Farzam and his team at The Shore Hotel are committed to providing an eco-conscious yet luxury experience. They have obtained the Santa Monica Green Certification, the LEED Gold Certification, and the California Green Lodging Program's Environmentalist level.
Jon Farzam is grateful to be part of a team. He often finds himself inspired by his employees and the lives they lead. As such, he is a big proponent of work/life balance, both in his own life and in the lives of those he employs. Jon understands that someone's professional and personal life are inextricably linked, no matter what you do. He encourages a healthy work and life balance as it ensures his employees bring their A-game both in and out of work.
About the Creator
Jon Farzam and his team at The Shore Hotel are committed to providing an eco-conscious yet luxury experience for every guest.
Reader insights
Be the first to share your insights about this piece.
Add your insights