Funny Sells, Now Shut Up and Laugh
Transcription from Lindsay Rae Brown's latest seminar on how to be awesome and profit from it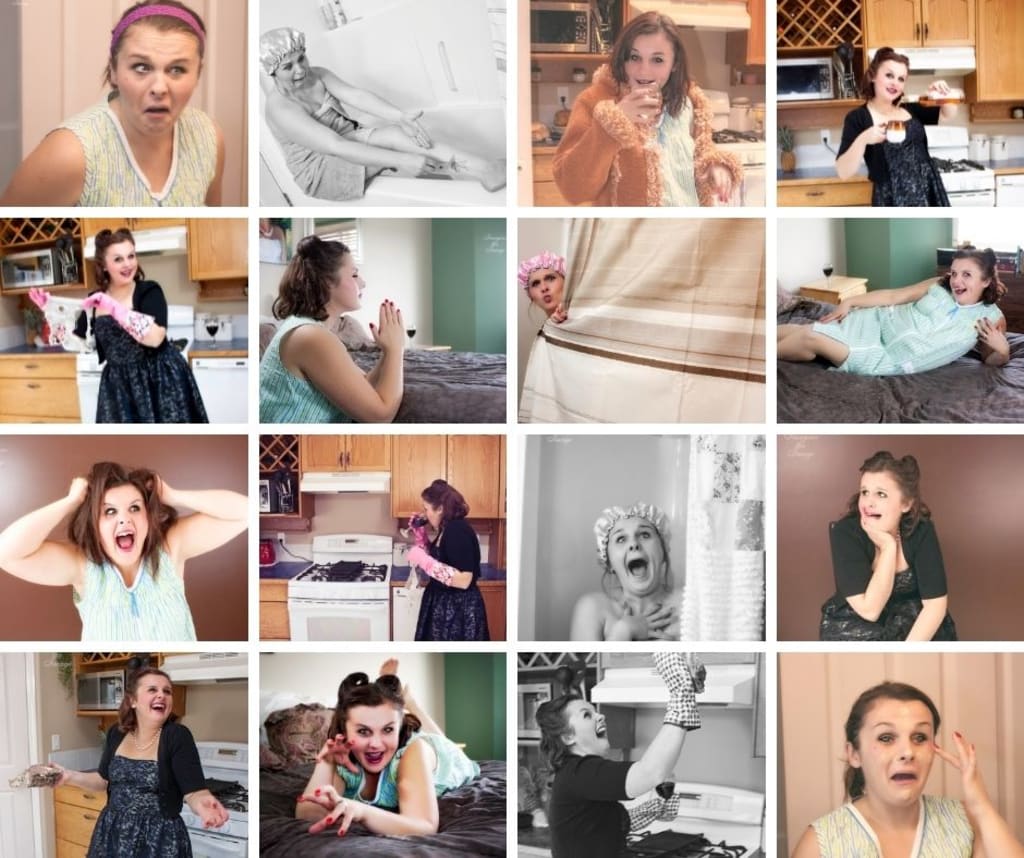 Just a few of the author's AHHHHMAZING photo samples. She has SO MANY looks! (Imagine the Image Photography).
Hello and welcome, welcome, welcome!
I am so excited to see all of your beautiful faces gathered here today.
There is no greater pleasure for me than standing in front of a group of admirers and letting them in on the secrets to my extraordinarily successful and wildly fulfilled life.
Well, except that one time I was getting frisky with myself while high on ecstasy, and the neighbours from three doors down could hear my cries of euphoria—not going to lie, that was pretty pleasurable too.
And actually, my many excursions into the world of self-pleasure is the entire reason I stand here before you today.
For you see, I haven't always been this confident, hilarious, extremely beautiful in my own way (I don't care what you say, Chelsea Bakers from 11th grade—your words can't hurt me anymore!) human being.
There was a time when I was a shy and homely sort of girl. Yes! Me! Can you believe that!? I'd hide away in my home, avoiding human contact. Hence the self-pleasuring. And I'd wonder if life would ever get any easier. I wanted to make a name for myself, but I couldn't figure out how.
The thing is, I've always been relatively good at humour. It's my traumatic response to all the shit things that have happened in my life. Like that time, I was going down on a guy, and he patted my head and proclaimed in an encouraging voice, "Good girl. You're such a good girl." Not unlike the way one does when giving positive feedback to their dog.
That shit sticks with you forever. It burns deep.
It was times like these that led me to take on the incredibly healthy coping mechanism of just making my entire life into one enormous joke. Rather than allowing these discouraging life moments to get me down, I needed to grow from them. Laugh at them. Become one with them.
I started writing funny stories highlighting the hilarity that is my existence. Then after gaining a bit of traction on these tales of trauma, I decided that I needed to monetize the shit out of them.
For what is happiness if you're not making bank off of it? - That's your pull quote, folks.
Nothing, that's what.
But how? What platform of the many venues on this great wide interweb should I grace with the great good luck to hold my significant and relevant life stories?
I didn't have to think long because ole Zuckerberg was listening in on my private thoughts and slid one of Vocal Media's very truthful and transparent ads into my Facebook feed.
"THANK THE GOOD HEAVENS ABOVE," I shouted enthusiastically once seeing the ad and pulling my pants back up.
Now I was ready. Ready to capitalize on the stories that would eventually shape me into the cringy and slightly evil person you all know and love.
To be honest, I don't know why creators get so worked up about not making money on Vocal Media. It's actually quite simple.
Write the stories. That's the easy part, you guys. Just write. It doesn't have to be good—God knows my stuff isn't. The trick is to imprint onto your reader's memory. And what's the easiest way to do that? Tell them something incredibly personal and humiliating. Simple.
Once that's done, stuff the shame and regret of telling such stories into the deepest, darkest crevice of your soul. Easy. Forget about that feeling. It will be of no use to you ever again. Just forget it!
Befriend a bunch of fellow writers. Because one must be a little evil to carry out this specific plan, you must go in, thinking that the "friendship" thing is just a ruse to get reads on your work. Unfortunately (or fortunately, depending on how deep your blackened soul is), these "friends" actually become real friends. Dammit! Now you've gone and done it—allowing these people to wriggle their way into your crusty old heart-sack and begin feeling all the feelings for them. Ugh.
Okay, so you've made some friends on the internet that you are now madly and deeply in love with. Try not to allow these new BFFs to consume every minute of your waking thoughts. You have more important things to worry about, like the next step, which is wooing Vocal. You must begin your quest of getting Top Stories continuously. Then win a few challenges because everyone knows that's, like, a super easy thing to do.
Finally, once you've written the terrible stories, regrettably fallen in love with a group of fellow writers, received your Top Story spots and Challenge wins, then all you have to continue to do is brag the hell out of your accomplishments.
I'm going to let you in on a little secret that no other influencer will ever tell you.
The more you brag about how great you are, the more popular you become! That's just basic psychology right there. Tell people you're hot. You're now super hot. Tell people you're a genius, yup, you're the smartest person in the world now. Tell people you're funny, and they will laugh at everything you say.
That's a fact. A hard, throbbing, pulsating—
(just excuse me for one minute here…)
...
Fact. Just a cold hard fact.
Ahem.
So again, friends and loyal followers, I just want to thank you so so so deeply for joining me today to learn about how you too can make a three-digit (this includes a decimal point) income by sharing your humiliating stories with the world.
And if you aren't ready for that, I recommend you continue to read, heart and share all of my hilarious tales. Study my work studiously. Hell, watch me from afar. I'm not opposed to stalkers—they make me feel really good about myself!
And then, when you're ready, write your words down and hit the submit button!
But please, whatever you do, don't reach out to me on social media, in person or otherwise to ask my advice. I don't do private sessions (except on myself, of course).
I'm just far too important for that sort of thing.
About the Creator
Lindsay Brown is a freelance writer who loves to give people a chuckle with relatable stories about everyday life.
Reader insights
Outstanding
Excellent work. Looking forward to reading more!
Top insights
Compelling and original writing

Creative use of language & vocab

Easy to read and follow

Well-structured & engaging content

Excellent storytelling

Original narrative & well developed characters
Expert insights and opinions

Arguments were carefully researched and presented

Eye opening

Niche topic & fresh perspectives

Heartfelt and relatable

The story invoked strong personal emotions

On-point and relevant

Writing reflected the title & theme
Add your insights