Flashes of Brilliance and How to Make More Money Online
St Elmo's Fire from Recent Online Research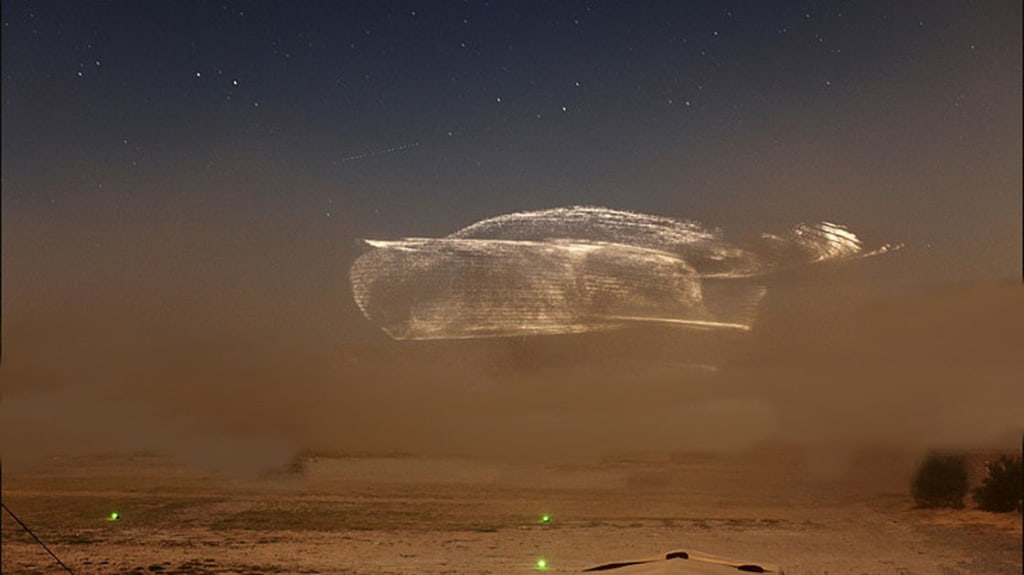 Helicopter landing at night in Afghanistan (Image © Michael Yon)
We know a lot more now about St Elmo's fire than the ancient sailors who named the phenomenon. According to the American Heritage Dictionary St Elmo's Fire is "A visible and sometimes audible electric discharge projecting from a pointed object, such as the mast of a ship or the wing of an airplane, during an electrical storm. First identified as an electrical phenomenon by Benjamin Franklin in 1749, St. Elmo's fire is a bluish-white plasma caused by the release of electrons in a strong electric field (200 or more volts per cm); the electrons have enough energy to ionize atoms in the air and cause them to glow. The phenomenon appears near pointed objects because electrical fields generated by charged surfaces are strongest where curves are sharpest. It is named after St. Elmo, the patron saint of mariners, as the phenomenon was often observed by sailors during thunderstorms at sea."
Today the bluish-white plasma glow has been observed on ships at sea, around the nose and wings of airplanes, around helicopter blades, and in neon signs. When St Elmo's fire is created in the atmosphere it's a signal of approaching thunderstorms showing that the air has an electrical charge. In neon tubes the phenomenon lights our way to various establishments and serves as a beacon or guide.
In this respect the latest research about how to generate income or build a business online serves the same purpose. The highlights from the research provide the "light" or illumination we need to be more successful. It's with that purpose or spirit that these summaries will provide you specific directions on how to make a lot more money online. The charts are intended to be those points of light or St Elmo's fire we can use to guide our internet marketing efforts.
1. Forecasts of Advertising Spending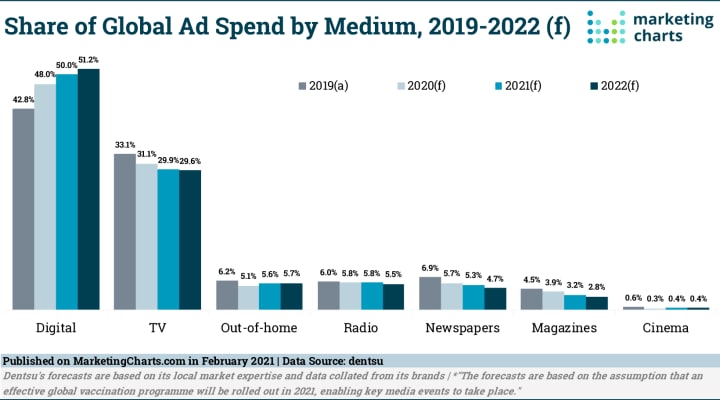 According to a recent study by Dentsu, digital or internet marketing reached over half of total advertising budgets worldwide. At a predicted level of 51.2% by the end of 2022 internet marketing will command the largest portion of ad budgets. As internet marketing has grown traditional advertising media have declined. TV advertising remains the next biggest category compared to internet marketing but will have fallen below 30% by the end of 2022.
So as you work online and build your business with internet marketing there are a lot more competitors now than there were a few years ago. Part of the impact of the recent pandemic has been to shift consumer activities to the internet to take advantage of online and ecommerce. That naturally results in more advertising spending online.
2. Types of Internet Marketing
What do we mean when we refer to digital marketing or internet marketing?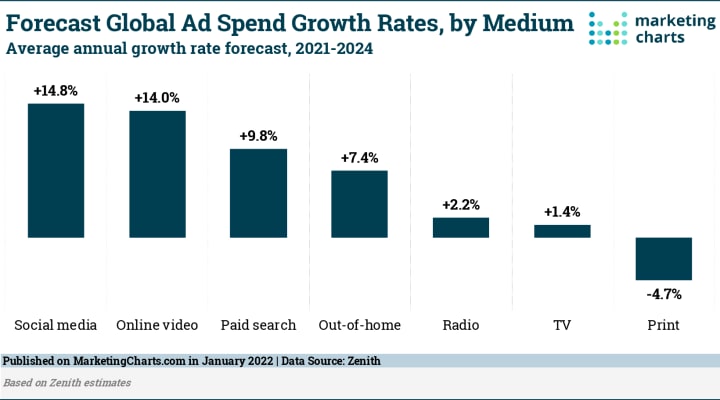 Generally 3 categories are used as in this latest research from Zenith. Social media, online video, and paid search constitute digital marketing. As of January 2022, social media and online video are expected to have the highest annual growth rates (between 14% and 15%) with paid search somewhat lower (at close to 10%). Traditional media types like TV, radio and out-of-home (billboards) will still grow but at much slower rates.
3. Social Media Channels
For this article, let's take a closer look at the Social Media used in digital or internet marketing. Subsequent articles will cover Online Video and Paid Search.
When you think of Social Media Marketing the most popular social channels like Facebook and Instagram usually come to mind. But in fact, several of the other channels are gaining in importance.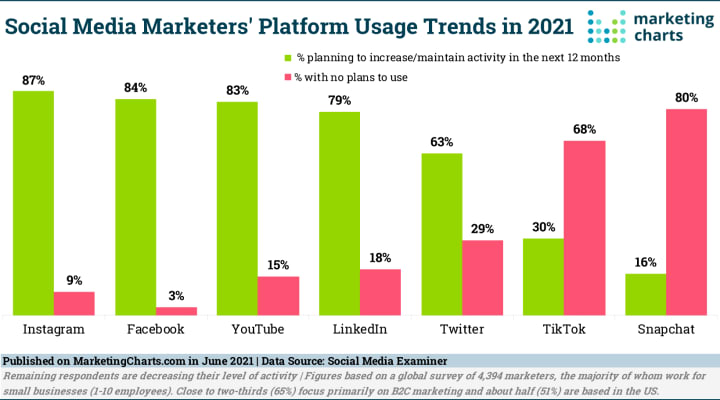 According to recent research from Social Media Examiner based on a global survey of marketers over 80% plan to increase their usage of Instagram, Facebook and YouTube. Following closely 79% reported they plan to increase their use of LinkedIn and 63% plan more use of Twitter. It's worth noting too that given its recent popularity, the 30% planning more use of TikTok may be understated.
It's also worth noting that YouTube continues to be a special case. The whole purpose of the platform is to publish videos. The term video marketing is most closely tied to the YouTube platform and specific brand channels on YouTube.
Your marketing budget and your internet marketing can focus on these same channels. From the latest insight you know that your competition will be using them.
4. How to Use Social Media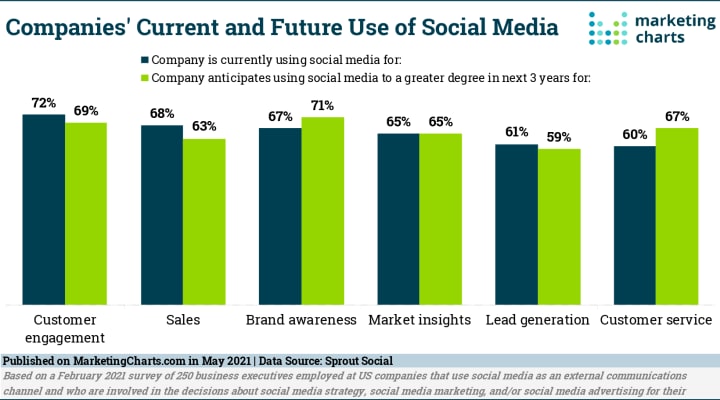 As you think about your marketing programs and strategies, the latest research from Sprout Social indicates that there are a variety of ways you can make more money online. Top uses include Customer Engagement, Brand Awareness, Customer Service and Sales. Your Social Media marketing campaigns and ads can target many of these same areas.
5. How Customers Use Social Media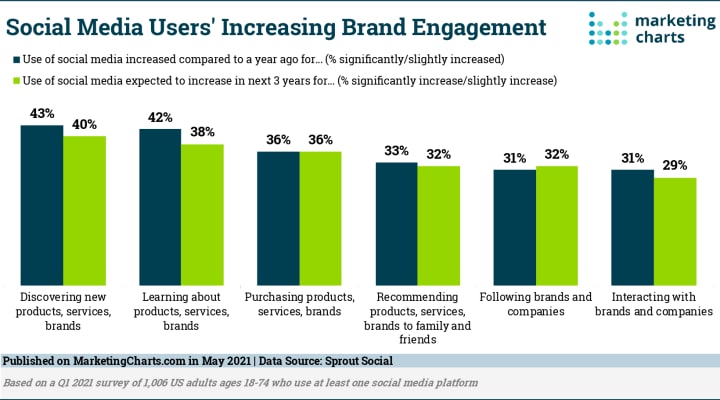 Within the Brand Engagement bucket – which includes Brand Awareness, Customer Engagement, and Sales – the latest research shows your customers have specific uses for the channel. Discovery, learning and purchasing are the top three mentions. The implication of this insight for your social media campaigns shows you'll get the highest level of engagement with your target customers by covering these three aspects. Your Instagram, Facebook and YouTube ads should help your customers find out more about your brand or offer, show them how to use it or what value it brings to them, and finally help them make the actual purchase.
To learn more about how to use social media in your internet marketing we've developed several courses that you can purchase online. The materials are digital and you'll receive immediate access when your purchase clears. We cover the top channels – Instagram, Facebook, YouTube, and LinkedIn – so you know what to do. All of our courses are easy to follow and give you step-by-step instructions. You'll also get supporting materials such as a cheat sheet, mindmap and resource guide. These you can use to track your progress and document your learning.
These courses are specifically designed to explain to you exactly what to do. Instead of leaving you with the insight from the latest research -- " Use more Social Media Marketing in your online business"-- we thought it's important to show you specifically what to do and how to do it. With each course you'll have a step-by-step guide that walks you through each tactical step. All you have to do is follow the guide.
And once you've mastered these course materials we also have detailed video courses. The videos provide an advanced perspective so you can continue to grow your social media marketing and make more money online.
Go to Social Media Marketing Course to learn more about the courses available.

Get started today! Your competition already has.
To help you decide, here is sample content from our Instagram Marketing course:
This training is comprised of 20 training chapters, ready to show you the latest Instagram Marketing strategies.
This is exactly what you are going to learn:
• Chapter 1- What Is Instagram Marketing All About?
• Chapter 2- Optimizing Your Instagram Profile For Doing Business
• Chapter 3- Researching The Best Hashtags And Topics For Your Instagram Campaigns
• Chapter 4- Creating A Basic Instagram Marketing Post Or Product Teaser
• Chapter 5- Promoting An Instagram Post From The App
• Chapter 6- Using Instagram Stories To Raise Product Awareness
• Chapter 7- Repurposing Your Instagram Content For Other Platforms
• Chapter 8- Using Instagram Live For A Product Reveal
• Chapter 9- Promoting A Facebook Post On Your Instagram Account
• Chapter 10- Running A Facebook Video Ad On Your Instagram Profile
• Chapter 11- Running A Product Catalog Ad On Instagram
• Chapter 12- Instagram Marketing Tips For Brands And Businesses
• Chapter 13- Creating The Type Of Instagram Content That Customers Love
• Chapter 14- Tips For Capturing And Editing The Perfect Instagram Photo
• Chapter 15- Using And Understanding Instagram Insights To Track Your Performance
• Chapter 16- Proven Instagram Marketing Strategies To Try
• Chapter 17- Instagram Marketing Do's And Don'ts
• Chapter 18- Instagram Marketing Premium Tools And Services To Consider
• Chapter 19- Instagram Marketing Success Stories
• Chapter 20- Instagram Marketing Frequently Asked Questions
We're sure you'll get a lot of value from each course. Our advice would be to start with courses in order of importance shown in the latest research.
• Instagram Marketing
(Carpe Digitas Instagram Marketing)
• Facebook Marketing
(Carpe Digitas Facebook Marketing)
• YouTube Marketing
(Carpe Digitas Video Marketing)
• LinkedIn Marketing
(Carpe Digitas LinkedIn Marketing)
Finally as an alternative if you want to purchase both the digital marketing materials AND the video marketing course at the same time for one social media topic, we have a special offer at this webpage:
Carpe Digitas Digital Marketing University
(about half-way down on the right-hand side… the option that says "One Complete Marketing Course.")
Good hunting! And may your internet marketing be more successful.
The next update Online Video Marketing is now available.
We'll dig deeper into the topic of Search Marketing next. Our recent experiences online and the growth in SEO, SEM and Paid Search Marketing over the past year provides you with a rich set of insights that will help you make more money online this year.
You can subscribe to our article feed and be notified when the next update becomes available. Simply click the Subscribe button below and enter your best email address. The Vocal system will automatically let you know when the details for Online Video Marketing are published.
About the Creator
Dale started writing and proofreading at a very young age, after school in his parents newspaper. Corporate career, numerous awards and recognition followed. Dale writes now to inform, uplift and entertain.
Reader insights
Be the first to share your insights about this piece.
Add your insights