Flashes of Brilliance - Online Video Marketing
Beyond YouTube and How to Make Money Online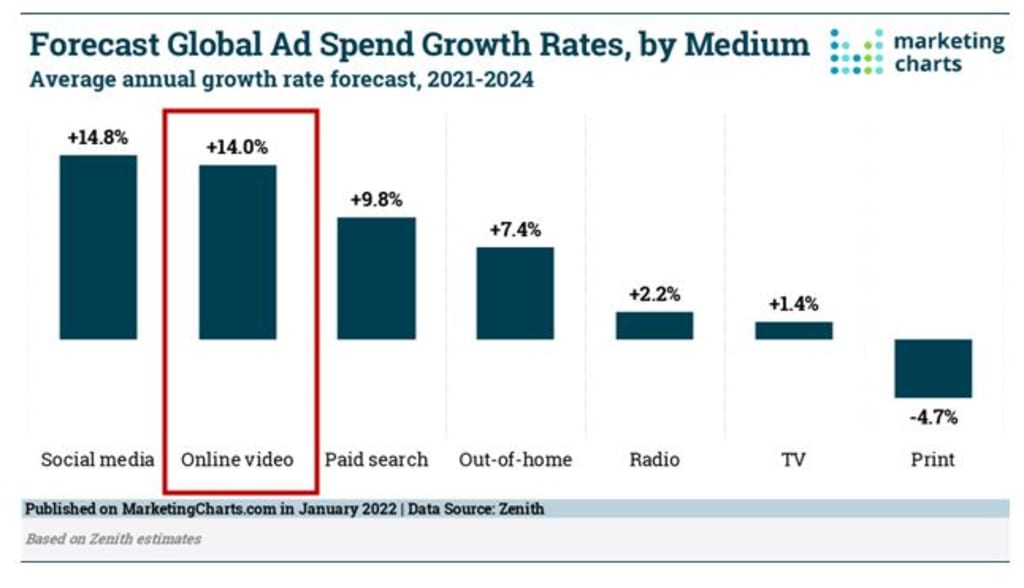 Online video marketing expected to grow 14% per year
To continue on our journey through the top internet marketing tools and tactics, this article looks at Online Video Marketing. To refresh from our last post, this is often mentioned as the second among the top 3 types of digital and internet marketing. And in practice videos and video advertising have branched out beyond YouTube. You will see video ads now on almost every major social media platform.
So let's take a deeper look at online videos and how they are used in internet marketing.
1. Number One Growth Tactic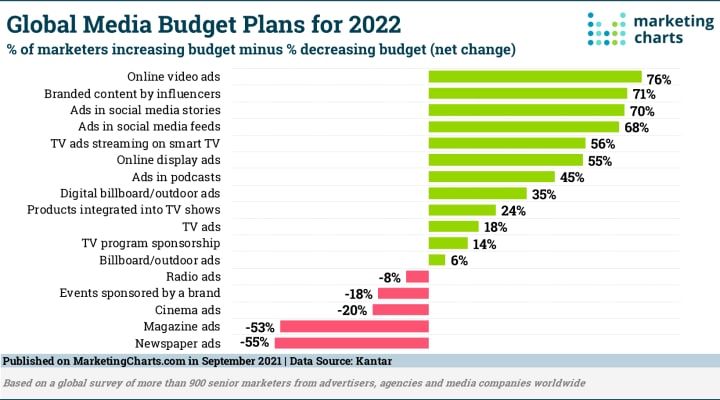 According to this recent study by Kantar, video ads ranked the highest among all online tactics for the percentage of marketers planning to increase spending. Over three-fourths of senior marketers plan to grow their online video ad budgets in 2022. The survey results among 900 senior-level marketers in medium-to-large companies show:
• Online video ads – the "infomercial" of the online world – will be growing next year. Over three-fourths of agencies and advertisers (net) reported expected increases in these budgets. Importantly, in the article about the survey results Kantar points out that the online video ad space exhibits increased clutter at the same time. During the pandemic, more online activity inundated online users. But consumers and business customers remain skeptical. So online video ads need to be carefully created to maximize impact without irritating viewers.
o Action Item: Use online video ads to create more awareness and sales but use the highest level of professionalism and creativity possible.
o Create your online videos to maximize appeal and minimize irritation.
o Follow a step-by-step approach to getting your videos seen.
Additionally, HubSpot's 2021 State of Marketing Report reveals that video is the top content marketing strategy used by brands while social media is ranked as the top marketing channel.
With data like that -- and all the growing social media video platforms out there -- it's become obvious that social media marketing and video content go hand in hand.
2. Types of Online Video Content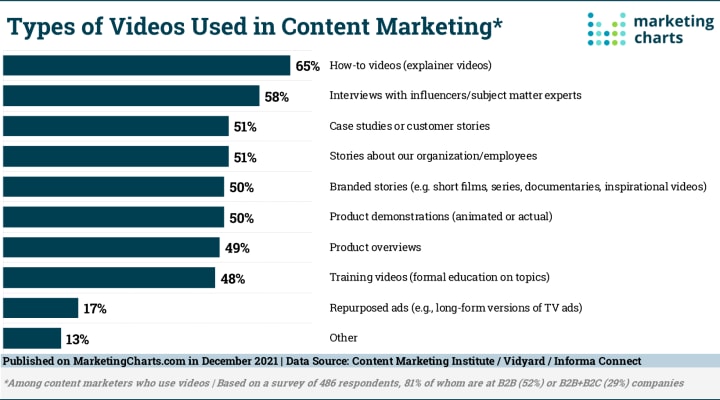 Nearly two-thirds of video marketing includes some type of how to or explainer content. Influencer interviews and recommendations follow in over half (58%) of video content. Case studies and stories about brands and customers along with product demonstrations are included in about half of video content.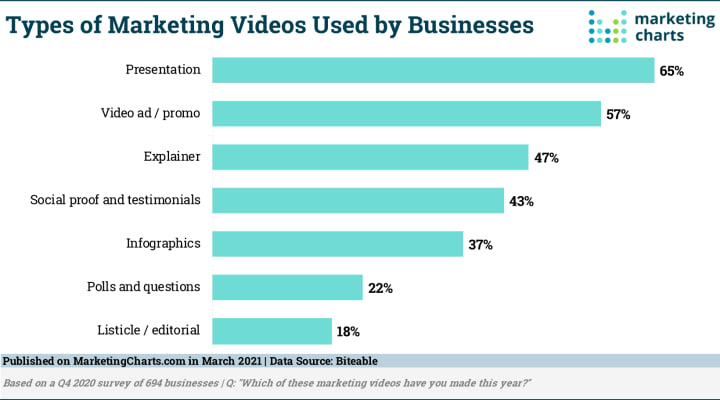 Similar to customer-oriented content marketing, businesses plan to use explainer, proof and testimonials in their online video campaigns. Presentations and promotions are also heavily used, especially within an overall business context.
To get your message across with online videos the content needs to focus on how to or why your brand and product brings value to your customers. At least half of your competition is using brand stories, company stories, product demonstrations, customer stories, influencer interviews and how to videos. You have a number of options on the type of video you use in your marketing programs.
3. What Do Customers Look For in Videos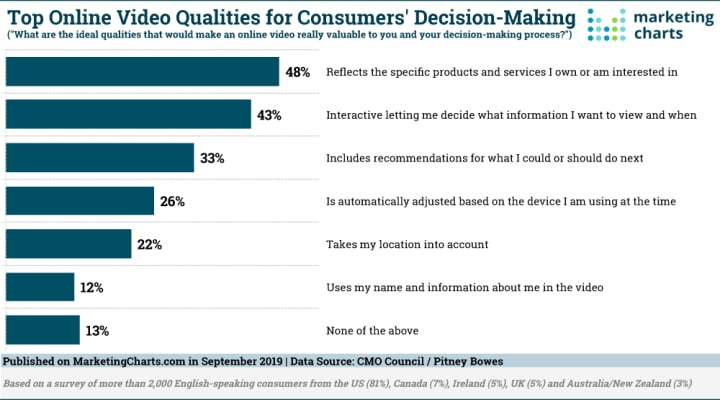 Your customers and target audiences see value in the products or services they already own and use. The more familiar you can make your online video messages the better. Recommendations for customer behavior are also valued. And there are automation aspects to online videos that customers expect to see.
4. Video Formats Used in Online Video Marketing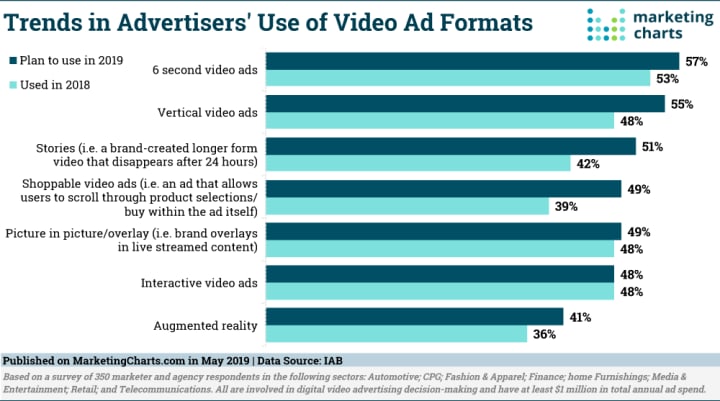 Planned use of video shorts (57%) and verticals (55%) is on the increase. Also note that brand stories to create awareness and shopping videos that allow viewers to review product selections and purchase directly within the ad are being used by about half of all online video advertisers.
You can read more about short-form videos and how best to use them at our blog post here:
6-short-form-video-trends-online-marketers-should-watch-in-2022
5. Social Media Platforms Heavily Used in Online Videos
Video marketing is more popular than ever: 86% of businesses now say they now use video for marketing purposes, up from 63% in 2017.
It's also in demand with audiences: 85% of Internet users say they would like to see more video content from businesses.
An infographic (below) from Depositphotos explores those insights and the state of video marketing in 2021. From the infographic you can see that the use of online videos and online video advertising goes well beyond YouTube and now includes Facebook, TikTok and Instagram.

6. How to Learn Advanced Video Marketing
Given the number of social platforms and the different types of videos used in today's online marketing we put together a course you can use to learn. This training is comprised of 20 training chapters ready to show you the latest video marketing strategies.
This is exactly what you are going to learn:
Chapter 1: What Is Video Marketing All About?
Chapter 2: Planning A Successful Video Marketing Strategy
Chapter 3: Creating Your Marketing Video Step by Step
Chapter 4: Uploading Your Video To the Right Places
Chapter 5: Advertising Your Videos The Free Way
Chapter 6: Advertising Your Videos The Paid Way
Chapter 7: Running a Successful Video Marketing Campaign with YouTube
Chapter 8: Running a Successful Video Marketing Campaign with Facebook
Chapter 9: Running a Successful Video Marketing Campaign with Twitter
Chapter 10: Running a Successful Video Marketing Campaign with Instagram
Chapter 11: Advanced Video SEO For Your Video Marketing Efforts
Chapter 12: Going Live Like A Pro
Chapter 13: Popular Video Metrics You Should Track
Chapter 14: Using The Flywheel Model In Your Video Marketing
Chapter 15: Advanced Video Marketing On Social Media
Chapter 16: Outsourcing Your Video Marketing The Right Way
Chapter 17: Video Marketing Do's And Don'ts
Chapter 18: Video Marketing Premium Tools And Services To Consider
Chapter 19: Video Marketing Success Stories
Chapter 20: Video Marketing Frequently Asked Questions
In addition to the step-by-step training guide these additional materials are included to help you walk through the training.
Cheat Sheet
This cheat sheet is a handy Advanced Video Marketing checklist that you can print out and use to easily take action at every step of the process.
It breaks up the whole training into easy-to-follow steps so you can make sure you follow every single piece of advice taught in the training. This helps you to track your progress and will help you to reach your goals.
Mind Map
This is a really cool mind map outlining the complete Advanced Video Marketing Training. It gives you an overview of every step you are going to apply. You can print it out as well for better handling.
Top Resources Report
Here you will have access to a complete and top Video Marketing Niche Report regarding the market potential of this amazing topic: videos, tools, training courses, blogs, forums, affiliates programs, webinars, infographics, case studies, and facts.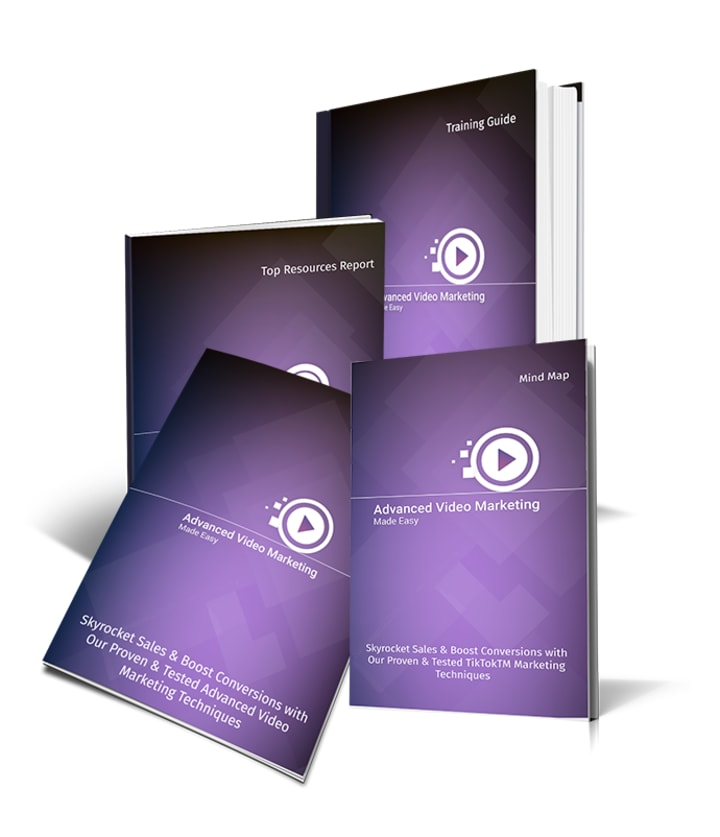 The course and training are available now here:
Carpe Digitas Advanced Video Marketing
Good hunting! And may your internet marketing be more successful.
The next update we provide will dig deeper into the topic of Paid Search marketing, the third important tactic in Digital Marketing. Our recent experiences online and the growth in Paid Search Marketing over the past year provides you with a rich set of insights that will help you make more money online this year.
You can subscribe to our article feed and be notified when the next update becomes available. Simply click the Subscribe button below and enter your best email address. The Vocal system will automatically let you know when the details for Paid Search Marketing are published.
how to
About the author
Dale started writing and proofreading at a very young age, after school in his parents newspaper. Corporate career, numerous awards and recognition followed. Dale writes now to inform, uplift and entertain.
Reader insights
Be the first to share your insights about this piece.
Add your insights