Flashes of Brilliance - Paid Search
AI Content Marketing Online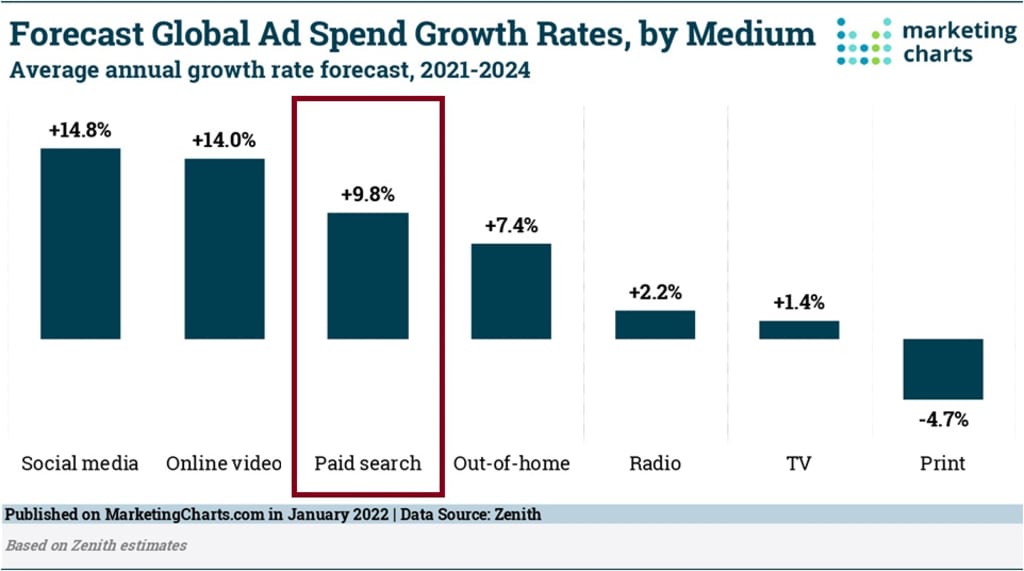 Paid search third among online marketing priorities
We've covered Social Media and Online Video marketing in previous articles. This is the third in a set of three articles designed to help you with your online marketing. Paid Search is the third priority in marketing budgets for the next 2-3 years. In this article we'll explain what Paid Search is and how to use it.
After social media marketing and online videos the marketing priority becomes paid search. According to a recent survey from Zenith paid search grows about 10% per year over the next 3-4 years. So what is paid search and how do you use it?
A recent ebook from Hubspot defines paid search as "paying a fee to have your website displayed on the search engine results page (SERP) when someone types in specific keywords or phrases to the search engine." In other words you can pay – typically either pay per click or pay per view – to have you website ranked in search engine results.
(Definition note: the term SERP as it's used in the above paragraph means the first page or top 10 websites ranked for a specific search keyword or phrase. More often SERPs refer to several pages of results. However, it's still true that about 90% of search engine users never get past the first page of results. Hubspot prefers to use the term SERP to mean only the first page of results – top 10 organic results plus paid positions.)
The typical SEO or search engine optimization approach to getting results utilizes a website's design, internal links and content. Experts in SEO can boost a website's rank for specific search terms, keywords or phrases by working on the website design. The SEO process typically takes a long time and depends on how search engines (such as Google, Bing, etc.) use algorithms to identify top websites to display.
Rather than spend the time and resources to generate organic or SEO-based search results many companies and businesses use the paid search option. And according to Hubspot research about 30% of search engine users click on paid ads on the first page of results. The next picture shows a typical layout for how paid search gets implemented.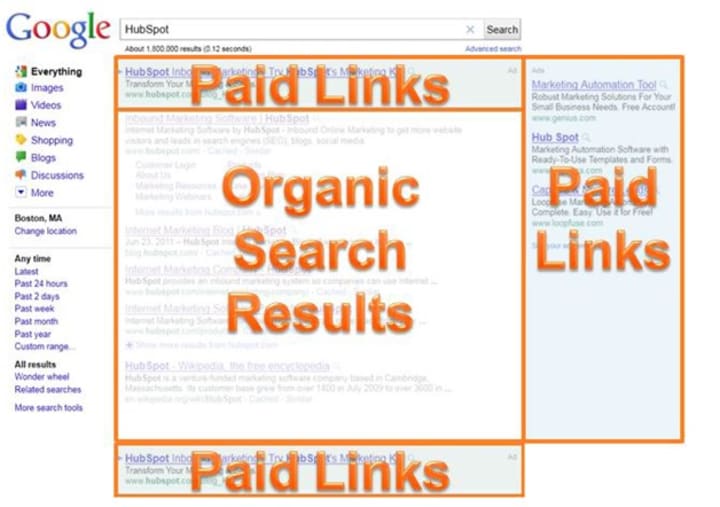 And Google represents one example. Similar layouts result from search engines like Bing, Yahoo!, Baidu, AOL, DuckDuckGo and others. A recent article on Inspire.com describes the top 12 search engines in the world.
There are several important uses for paid search that you might not be aware of. For most companies that use it, it's not a replacement for anything but instead a way to test, verify or get faster results. In other words you can't necessarily use paid search as a replacement for SEO work in the long term. But if you aren't seeing the results you want from organic search results you can use paid search to test alternatives, verify that your website and content are working, or see if your customers respond they way you thought they would.
Search engines will help you get better results from your paid search. In turn you can use these results to shore up your organic or SEO results. For example, Google Adwords provides a keyword report from all of your paid search programs. New keywords where your paid ads were displayed can help you expand or grow your SEO work.
In addition your competitors might be using paid search to put their listings above yours for a given keyword. With a little competitive research you can get a better picture of how paid research can help expand your business.
Differences between paid search and organic results
How do paid search results differ from SEO or organic results? The aim is the same – to target potential customers and get them to your website. It's useful to understand what goes into a paid search campaign and compare that to what goes into organic work.
For example, if you look at a tag cloud you can see there's a different orientation among paid search results. The Dictionary defines a tag cloud as "a visual depiction of user-generated tags attached to online content, typically using color and font size to represent the prominence or frequency of the tags depicted." Tags are keyword or search terms attached to specific content on your website. An article or blog post might have tags attached that refer to specific keywords. Often cited as hashtags these terms are used as input for search engine algorithms.
We took a detailed look at the search term "internet marketing" and used several AI tools to analyze SERP (first page) results delivered by Google. Next we can classify paid search vs. SEO (organic) and see what differences pop out.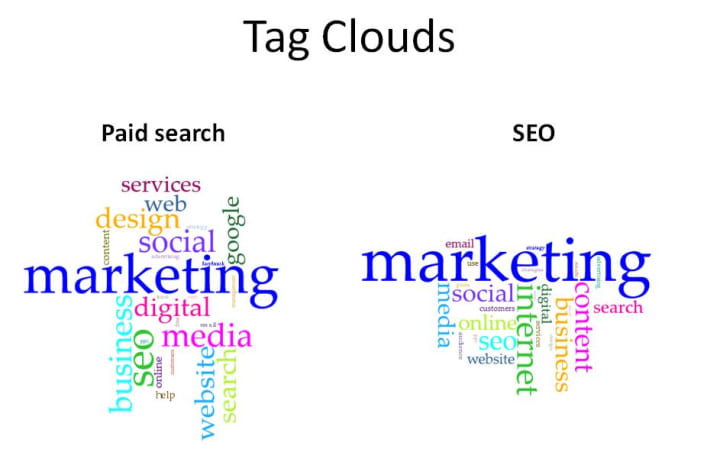 The "internet marketing" keyword and our analysis shows some important differences between paid search and SEO. On the SEO side both the words marketing and internet show up as important in the tag cloud. But on the paid search side only the word marketing appears. Otherwise on the paid search side you see the importance of many of the "what" terms important in internet marketing. For example, services, web, design, media, website, digital and so on get included in the cloud. On the SEO side, tags are more oriented toward the "how" of internet marketing with terms like content, email, SEO and so forth.
There are some similarities between paid search and SEO from terms like social, business, SEO, etc. But based on a look at these tag clouds, paid search ads focus on services and specific company attributes whereas SEO or organic listings focus on tactics. So when you run paid ads, if you differentiate your company or offer from your competitors by what you do, that would be consistent with the results we've seen – at least for the term "internet marketing".
In terms of how the specific results can be used to help you design better ads, take a look at the link diagrams below. The blue boxes are the most important or top words used and the orange boxes represent secondary or complementary words.
On the organic side the phrase "internet marketing content" appears to help drive search results. Alternative phrases from these links might be something like:
• Internet marketing types
• Internet marketing strategy
• Internet content strategies
• Marketing media
• Marketing social content
• Internet content seo
On the paid search side key phrases include:
• Social marketing
• SEO marketing
• Social marketing management
• Social marketing services
• Marketing (on) Amazon
• Social marketing media
From the link perspective differences between paid and organic SERP listings become more apparent.
When you design paid search ads (sometimes referred to as PPC ads) for the keyword term "internet marketing" keep your focus on what you do – in other words the business side of internet marketing, with special emphasis on social media. If you include these items in your paid search ads you will be competitive with paid ads currently in use.
Within the SERP results terms or words take on an importance based on relative position with the SERP listings. There were 6 paid ad listings for the term "internet marketing" and the top 10 descriptions on the organic or SEO side. When you look at the density or relative frequency of the top 5 terms on each side, you can more clearly see differences.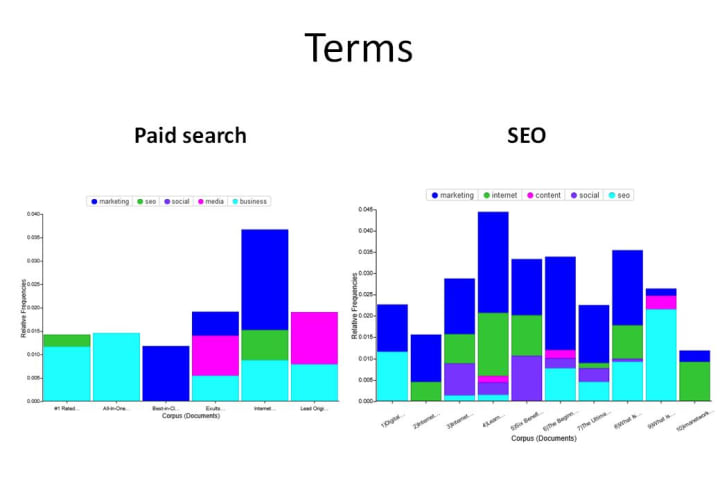 (Please note that the colors for each term or word are different between the two charts. Apologies for the difference, it makes it a bit more difficult to compare the two.)
Here are the highlights of the terms comparison:
• On the paid search side there is a clear focus on "business" (light blue). This term does not appear on the organic side.
• The term "marketing" (dark blue) shows up on both paid search and SEO results. But on the SEO side it has a higher density across the top 8 search listings. On the paid search side it's not used in the top 2 positions.
• "Media" and "SEO" are the other top terms with "media" having a higher frequency on the paid search side.
• On the organic side, the term "internet" (green) has relatively higher density than other terms, followed by "SEO" (light blue) and "social" (purple).
Terms and their density on paid search listings confirm the focus on "business" that we saw in the tag cloud and link charts. And also show a more diverse concentration of terms on the organic side – including marketing, internet, seo and social.
Paid search compliments your other online marketing
As you figure out how to use paid search keep in mind that it can reinforce or complement your other online marketing work. Writing paid search ads that focus on your business and "what" you do to serve your customers will add to your other efforts. Paid search can be more direct and help your customers understand your business.
Note: We are in the middle of developing an AI app that you can use to generate comparisons for any keyword or search term to support your content marketing. The results will be contained in tag clouds, link diagrams and term charts like the ones we used for "internet marketing". If you are interested in a pre-release version of the AI app or we can generate results for you for ANY keyword term, send us your contact information and the keywords you're interested in on our Contact Us form.
About the Creator
Dale started writing and proofreading at a very young age, after school in his parents newspaper. Corporate career, numerous awards and recognition followed. Dale writes now to inform, uplift and entertain.
Reader insights
Be the first to share your insights about this piece.
Add your insights