Finding Peace
Om Sweet Om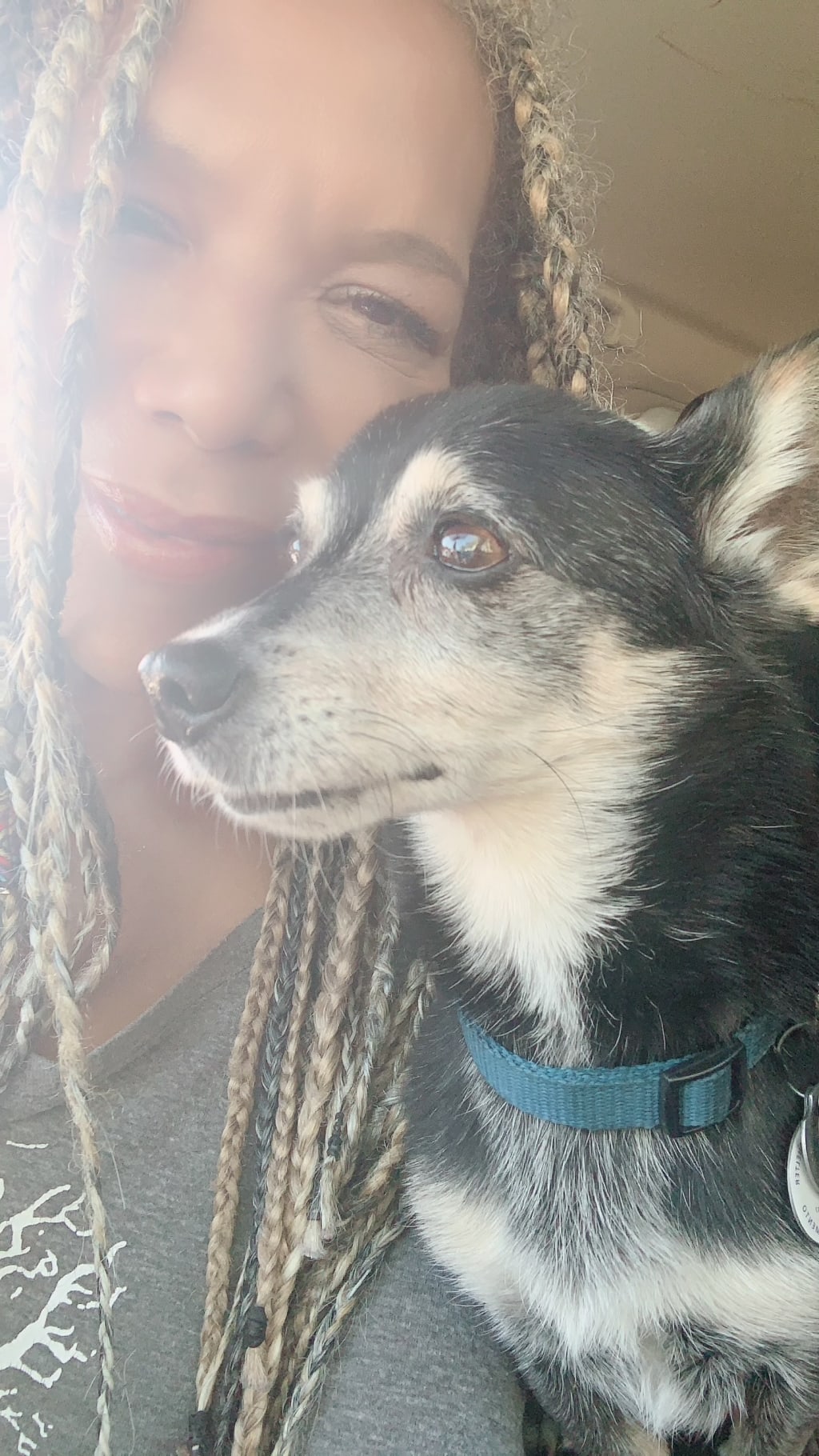 Shanti and I
I heard her tiny body hit the wall before he slammed shut the bathroom door, and a cry that sounded more like that of a child, then that of an 8 pound dog. It pierced through the wall that separated us, and through my heart which was beating out of sync and out of tune; beating a rhythm of terror and despair, ancient, formidable, daunting. My stalker was now in my home, raping me. And all I could hear was my heart beat, his rancid breathing, and my little dog's sudden silence.
I was bleeding like an ancient temple sacrifice and a man in the killing fields from places on my body I could no longer feel; drinking the metallic flow of the substance of my life escaping. She was whimpering, in the soft delicate way she had whimpered when we first met.
Her over-sized ears dragging pebble and dust as she strained to make asphalt and concrete a place of comfort for a needed, and brutally authorized, rest. I rescued her from the colorful alleyways of Venice Beach, on a Sunday evening vibrant with music, laughter, and the sounds of discontent that orchestrate Los Angeles after dark. She was curled up in a shadowy corner, laying randomly atop discarded debris and broken glass; forgotten, ignored and alone. I didn't recognize her to be a dog. From a short distance she resembled a hefty rodent; but it was her huge ears that drew my curiosity, and drew me closer in to investigate her further. She was trembling from festering infection in open lesions, unbridled torment, an infestation of active worms that invaded her otherwise empty belly, and the wounds from stray people and stray animals that released their aggression on her fragility, and at their whim. Had I not found her when I did she would have died right there in the rat-infested sepulcher where artists inspire spray-painted cries for social change, and where dreams of stardom come to drown with sand castles at high tide. Had I not found her when I did, I would have died too- of sadness, self-loathing, and the bondage of memory that kept me prisoner. It was destiny. We were waiting to find each other.
After she was made healthy by my local vet, she was introduced to the place we would both call home. The first few months were challenging. She hid exclusively beneath my bedroom dresser, never allowing me to touch or cuddle her in any way. So, I simply slipped a bowl of water and kibble in front of her hiding place each morning, and opened the French doors that led to my gated yard for her to relieve herself. I was content to know that she was merely safe. It was enough that she had a home, that she was loved, and that she had given me both a challenge and a purpose. She was a mirror to my brokenness. I understood her lack of trusting. I had stopped trusting too. When I walked in on my husband naked in the bathtub with the babysitter, I hid from intimacy in darker places than she could ever squeeze her tiny body into.
But one day, after months of hiding, I awakened to find her on the pillow next to my own. From that day forward, we were inseparable, until my rapist ripped us apart.
He had a tattoo on his hand of an OM. Ironic, because I had named her OM SHANTI. OM is a vibration often defined as the sound of creation. And SHANTI means peace.
For years we clung to one another. She was my very best friend. She was the only living being who truly saw me, and still cared, without pretense, when I walked into a room. She was the pulsating-with-life reflection of God that I trusted with all of me. She was the wag at the door that welcomed me after long days; the smile on the end of the leash that reminded me that life was unfolding outside of my home and outside of my head. She was the friend who licked my tears when life demanded more than I had to give.
When the ambulance arrived, Shanti was freed from the bathroom. The policeman who found her said she was too swift, he tried to catch her but could not. The front door had been left opened, and My OM SHANTI was last seen chasing behind the ambulance that carried me away on the busy streets of Los Angeles.
When I finally was released from the hospital I spent each waking moment posting signs outside and on-line in search of my best friend. I couldn't breathe without her, couldn't heal, and couldn't sleep.
A month or so went by and I had given up hope on ever seeing her again. I was pulled from a sedated sleep when the phone rang. It was a woman from Boston, 3000 miles away, who just so happened to be going through missing pet announcements when she read my story. She said the image of this poor rescued dog chasing an ambulance led her to call and that she felt compelled to help me search; compelled to give me closure. Her name, she said, was Angel.
One week later Angel called again. "I don't know if it's your Shanti", she said, but there is a dog with the same huge ears in the red collar you described, but without any tags in a kennel in the city of Downey." Downey was 150 miles from my home. Although I knew it was an impossibility, there was something in the spirit of her voice that gave me hope-that restored a semblance of my faith and propelled me to drive the distance despite.
I walked into the kennel shaking and handed the flier and pictures of Shanti to the woman behind the desk.
"There's a dog here that fits this description", she said. "A nurse from a hospital in Los Angeles found her hiding under a bush. But apparently she was headed out here that night, so she brought the dog with her and dropped her off the next morning. If you'll follow me, I can take you back to where she is being held. I do hope she's yours. The poor thing is scheduled to be put down by end of day."
As I turned the corner I heard her yelping with excitement. It was her. It was Shanti. I had found her150 miles from home. She jumped into my arms and I fell onto the floor. She was climbing on my head, wagging every part of her body, and I was laughing and crying at the very same time. We had rescued each other again. And we had both survived to love another day.
The drive home was the very first time I truly exhaled since the trauma. I cried out in gratitude and awe to God until I reached my front door. I immediately ran to the phone to call Angel. When I dialed her number the automated response said, "the number you have dialed is a non-working number, please check the number and dial again."