File Management Made Easy
Everyone says it's worth it!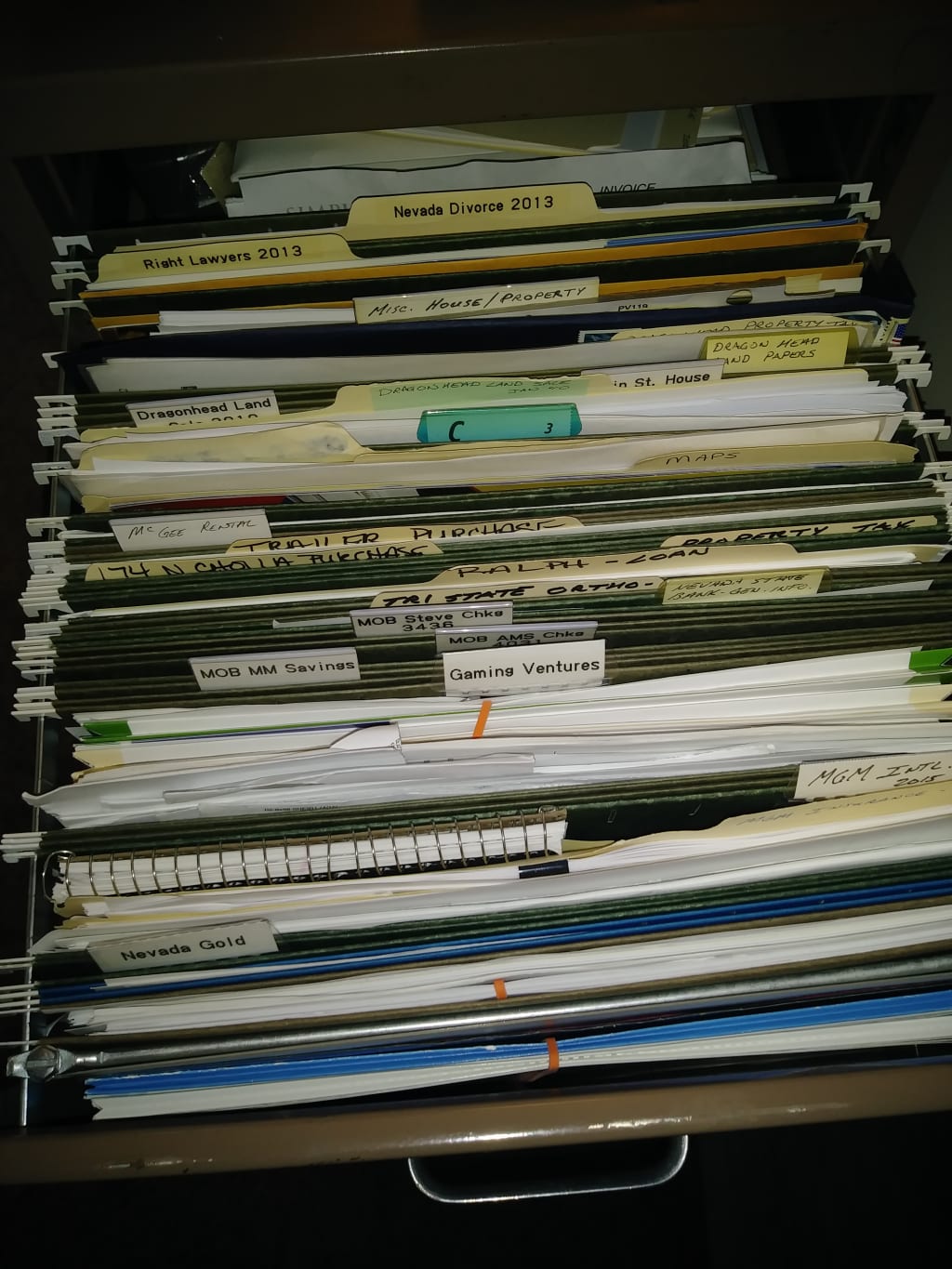 The File Management System You Have Been Looking For
I've organized a lot of offices throughout my career. The number one problem I hear is
"It takes forever for employees to find some of the files. Companies change names, employees come and go. New files are made for the most recent invoice because they cannot find the file they need and then someone else cannot find the newest invoice because they locate the original folder. It's a mess. I just want it organized in a way that we aren't dealing with this frustration anymore."
This is where I come in. The first time I used this system was in my early twenties. It wasn't something I had learned from anyone else. It was just something that made sense to me. I have since learned that others are doing it in some fashion close to my method and I am not surprised. It's logical and it's easy to maintain going forward. You can also set the inventory of your files up electronically and on paper in a binder. I usually give my clients both so they have a choice. This has proven helpful for those rare times when the computer system is down.
Begin by assigning a letter to each cabinet drawer, beginning with A. If you go through the alphabet move to double letters (AA). Place a label or sticker on the outside front of each drawer to identify the letter you have assigned that drawer. Preferably in the lower corner.
Be sure all of the files are filed that should be filed.
Next, begin with drawer A and write down or log into an electronic spreadsheet on a tablet, and write down the name of each folder in that drawer. Beginning with the first file in the front. Be sure you are writing them down in the order that they are in within the drawer from front to back. Go to your desk and type the names of the folders in a spreadsheet if you did not do that with a tablet at the drawer already. The list should be numbered by default and should then correspond with the location of the file in the drawer by default. Let's assume you have about 100 files in Drawer A. The file that corresponds with number 50 in your spreadsheet should, by default, be located in the middle of the drawer. File 98, you would automatically know, will be at the back of the drawer.
Do this for each drawer. A, B, C, and so on.
Creating this in Excel: Create one file named File Inventory. Then within that one file, name one tab (called Sheets in Excel) for each drawer: ALL, Drawer A, Drawer B, etc, and the folder names within Drawer A should be what is in Drawer A. You can then share this electronic file with everyone in the office that needs it.
It is important to create the first sheet as the ALL tab. It will have all of the file names listed, in order. Your first column (default column) will be the number, the second column (A) is the name of the file, for example Acme Car Insurance, the third column (B) is for any comments or notes, and in the ALL tab, or sheet, you will have a fourth column (C) which will be the Drawer that file resides. Say, Drawer B.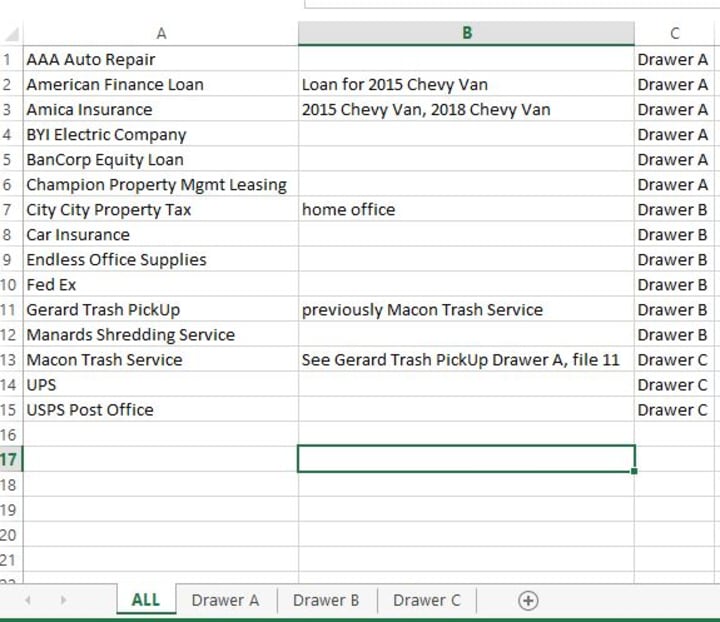 I always print a copy and place it in a binder on top of the filing cabinet. Files that we use frequently, of course we know exactly where they are. However, every now and then you need to find a folder that you have perhaps never pulled or only reference once a year. You can do a quick search in your spreadsheet and know that the company car title folder is in Drawer L, Folder 28. If that drawer has 39 folders then you know folder 28 is about three quarters of the way back. Or you can quick reference the hard copy in the binder. On the binder copy I always include a sort of synopsis of what each drawer includes. Perhaps Drawer B is where you file all of the vendor invoices. Drawer M might be employee files. That short description will also go a long way to cutting down on how much time it takes to find a file. Especially for new employees or an employee who does not frequently fetch folders.
Take note in the example pictured above. When this company changed its name from Macon Trash to Gerard Trash Pick-up it was noted in the file. Now, the Macon Trash Service File is still there with the message on the tab in red sharpie: "SEE GERARD TRASH: DRAWER A, FILE 11"
Other ways the File Inventory can be helpful is to write comments about the contents. If you have different insurance companies covering different company vehicles and you are not sure which one covers the 2015 Chevy Van, a quick look at the inventory sheet can point you to the correct file and save you time finding, pulling out and looking inside six different files.
Maintaining your File Inventory (adding new folders, etc) is quite easy using the electronic inventory created in an excel spreadsheet and you can do this yourself but the initial File Inventory can be a bit time consuming. I have been offering this service for years; sometimes on site and other times remotely with a little help from someone in your office. I have suspended on-site work until 2021 for obvious reasons but still offer remote services.
To find out more about my services I invite you to check out my site: