Enhance Your Experience with Vocal Media
Happy writing to you all!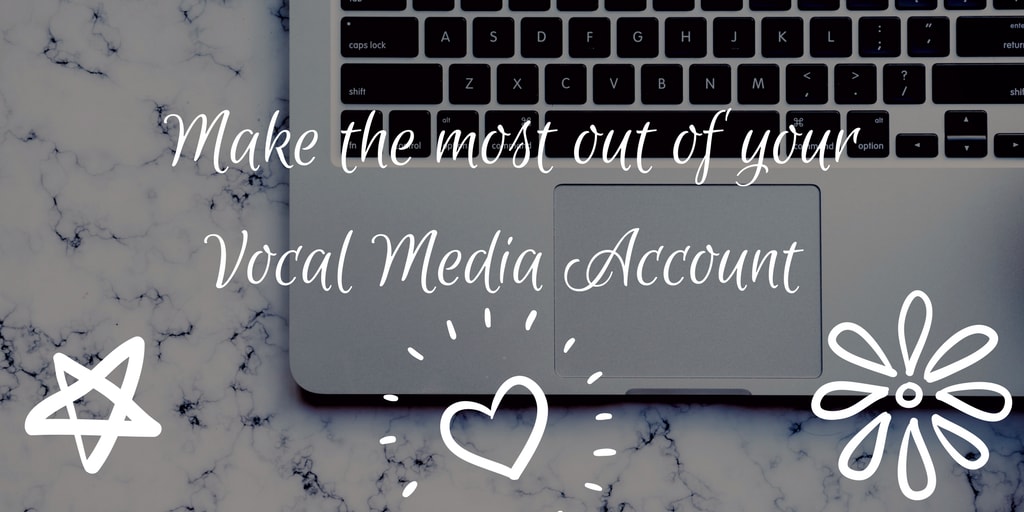 Vocal Media in their own words.
Vocal is a publishing platform and long form social network that allows creators to share their work with an engaged audience and get paid! Users have the ability to submit content to any one of our genre-specific communities.
Vocal Media is a growing website with an umbrella of little niche websites. With its growing communities and expanding categories, it can be very overwhelming to members both new and old who haven't been on in a while. One of the best things about this site is that you can write about almost anything so long as it fits in with their standards and categories. Anybody over the age of 13, wherever you are in the world, you are welcome to join our fantastic community of writers. Not only can you get your articles monetized, but you get the chance to read and share other articles too.
If you haven't already check out some of the guides and faqs that have been written by the Vocal Staff. They're concise, detailed and contain plenty of screenshots that will help you navigate through the site.
So what happens if you get stuck?
See the black circle with a white speech tag with a smile on the bottom right corner of your screen? Click it. It will give you direct access to the help centre and you will also get the option to send a message. The staff will try and answer your message as soon as possible. In my experience, they've been quick to reply.
Share What You've Done
At the moment, you can share links instantly through Twitter and Facebook. But you don't have to just put it on your Facebook wall or Twitter feed. If you use other social media websites, you can still post your links through those as well. If you have a Tumblr account, posting a link it will also generate your article's logo so it looks neat and professional.
If you've written an article about fishing, and you're in a fishing group, you can share it with your group. It could be a Discord server, or wherever you can share links online, you could do it. I posted an article about the Sugababes and shared it with a facebook group dedicated to the Sugababes and it's now one of my most viewed articles so far.
You also leave readers the opportunity to leave comments on your work which at this moment, Vocal doesn't do directly.
Editing & Proofreading
To make sure that your work is spot on, you need to make sure that it's as error-free as possible. But the naked eye cannot spot every single mistake. You can have somebody look it through for you before you publish. You can either write the article first on your regular word processor with built-in spell check or you can install on as you type your article into Vocal. I recommend using GrYmmarly as it's free and easy to use. Once you've done with that, you also need to make sure that your work fits within the guidelines. Make sure it's over 600 words, (100 words for poetry). And as far as I know, there is no maximum limit.
Beautify Your Article
Make your article appealing to the reader with either a video or a fancy graphic. You don't always need Photoshop either. If you are on a budget, you can use freeware like GIMP and online graphics makers like Canva have plenty of images you can use for free. And there's also stock images as well. And if you're good with the camera, you can use them too.
Enjoy What You Do
Write about something you love. We are all good at something and have skills that are unique to us, sharing that could help people in more ways than you think. Pretty much everything has a place with Vocal. I've read various articles here about nostalgia, work experiences, reviews and I've even shared some of my short stories and poetry on this site. Top ten lists, guides and reviews generally do quite well here.
Talk to Staff
Remember the black circle I was talking about earlier?
Well, there will come a time where things in your article either go out of date or there's something you want to change in your article. In most cases, you can email the staff and they can get it done for you. If it needs a major rewrite just tell the staff and they can move it back to drafts so you can go through it.
All articles have to go through checks with the staff before they can be published and they will tell you what needs changing so it can be resubmitted. If you don't understand, you can ask the staff again and they will give you a personal reply.
Write and Read Often
Reading a lot and writing a lot is advice that writers get a lot. When Ciao and Dooyoo were active, it was an unwritten code that reviewers would return their reads and rates. It helped keep Ciao and Dooyoo an active and bubbly community until both sites stopped paying and eventually closed. (RIP, you were both great sites). Keep the love going.
advice
Healthcare worker from Oxfordshire. Author of ten books including Drinking Poetry and Game of Mass Destruction. Travelled to over 20 countries.
Receive stories by Chloe Gilholy in

your feed