Vocal FAQ
Here is your go-to source for the most frequently asked questions about Vocal.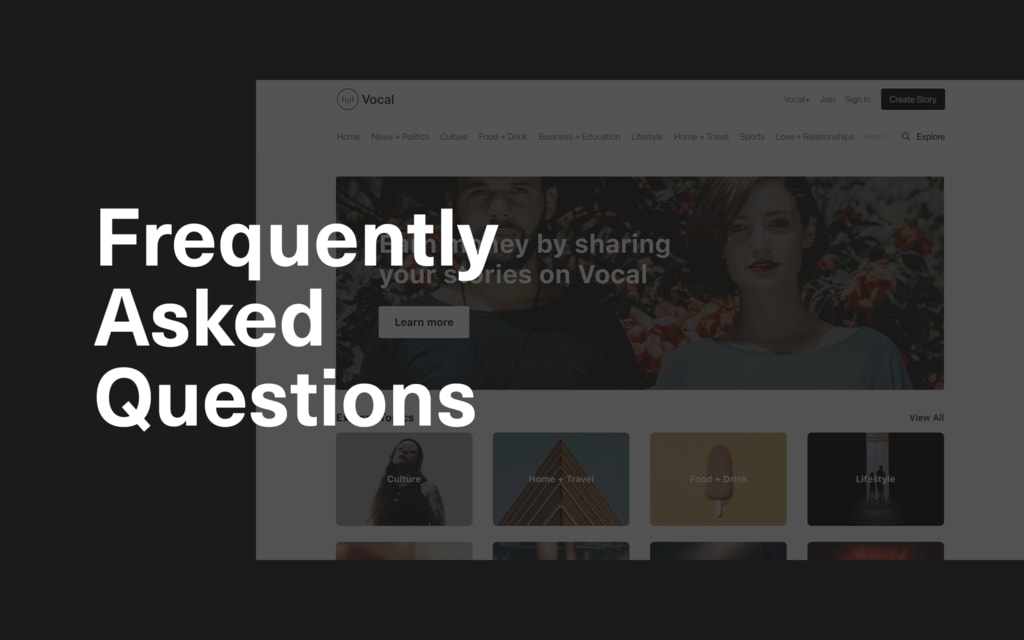 Welcome to Vocal! We know you have a ton of questions, like 'How does Vocal work?' and 'How do I make money?'
You've come to the right place to have those questions answered! Read on to find out more:
What is Vocal?
Vocal is a platform for supporting, discovering, and rewarding creators. Vocal provides the storytelling tools and engaged communities for writers, musicians, filmmakers, artists, and all types of creatives to get discovered, and fund their creativity.
You can learn more about what Vocal is, and what creators can do on Vocal in our Creator 101 resource section.
Is Vocal free?
There are two different account options for creators. Vocal will always offer a free account option, which allows creators to publish their stories on our communities, monetize on the engagement they receive, and collect tips from fans—at no cost.
We've also introduced Vocal+, which is an optional paid membership for creators that gives you access to additional benefits, like higher monetization, early access to new features, and more—but, any creator who would rather have a free account is able to do so, and has the option to upgrade at any time. You can learn more about becoming a Vocal+ Founding Member, or upgrade to Vocal+, here.
Who owns my story once it's published?
You keep all the rights of your stories once they're published—the copyright always stays with the creator. For all content published on our platform, Vocal also gets a limited license to do things like promote your story or share it on our social media, commonly known as "Universal Rights." We'll never share your story without crediting you properly, and we'll never sell your work, or share the rights with anyone else, without your explicit written permission to do so.
How do I get paid?
Vocal helps you earn in a few different ways. First, Vocal pays creators based on the amount of "reads" their stories receive.
For Vocal creators, we pay $3.80 / 1000 reads.
For Vocal+ creators, we pay $6.00 / 1000 reads.
Vocal also facilitates tips from your fans. Tipping allows your readers to pay you directly for your stories, with micropayments that go straight into your Stripe account.
Who can be a creator?
Anyone age 13 and over can be a Vocal creator! There are no other requirements to meet, and you can join Vocal from anywhere in the world.
What can I submit?
All of our communities accept fiction, creative nonfiction, op-eds, reviews, and more! As long as the story fits on any of the communities in our network, it can be accepted. To learn more about what we do and do not accept, please take a look at our Community Guidelines.
How are my reads calculated?
Reads are calculated by Vocal's read algorithm, which takes into account things like time spent on the page, as well as how far down the page is scrolled. This is to make sure that your readers are actually reading your story, so that you're earning on real engagement from your fans.
What do the moderators do?
Our moderation team reviews every submission to Vocal. They'll first ensure that your story meets all of our Community Guidelines, and if it doesn't, they'll send it back to you letting you know exactly what needs to be edited in order for your story to be published. If it does meet all of our guidelines, they'll copy edit your story, checking for things like punctuation, grammar, and typos. Then, they'll publish your story on the community where it fits best.
How long will it take for my story to get published?
Our moderation team will always review your story, and either publish it or send it back to you for edits, within 24 hours. If it's been over 24 hours and you don't know where your story is, check your email, or log back in to Vocal. You'll receive an email update as soon as your story has been reviewed, but you can also see the status of your story when you view the draft. You'll see a bar at the top, either letting you know that the story's been approved, or detailing the edits that you need to make.
What if my story isn't accepted?
It's no problem! Our goal is to help you make your stories the best they can be, while keeping our communities engaging and safe for readers—never to prevent you from sharing your story. We tell you what edits should be made, because we want you to resubmit and get your story published. So, once you've made the edits, try again! And as always, if you have any questions about your feedback, or need a little clarification, just reach out to our team at [email protected], and we'll help you out.
Can I edit my story after it's been published?
Yes! If you want to edit a story that's been published, just reach out to us at [email protected], and we can help you there.
How do I get started?
It's easy! You can sign up for a Vocal account here, and then find everything you need to get started on your Vocal journey here.