Vocal FAQ
Here is your go-to source for the most frequently asked questions about Vocal.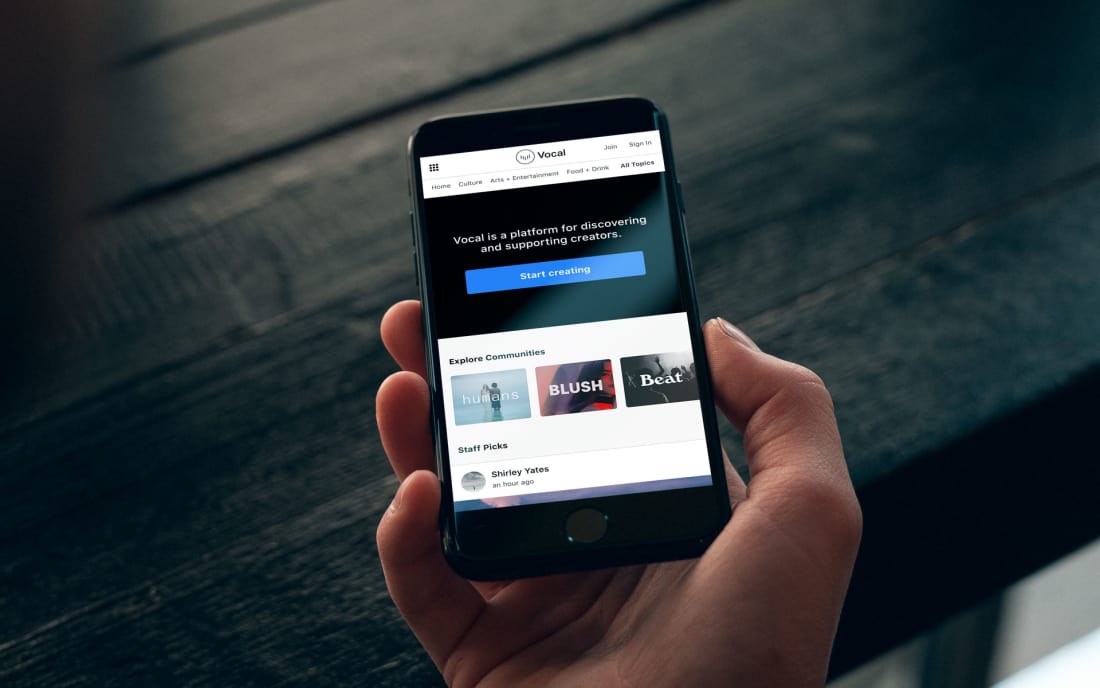 Welcome to Vocal! We know you have a ton of questions, like "How does Vocal work?" "How do I make money?" and "How old do you have to be?" You've come to the right place to have those questions answered! Read on to find out more:
What is Vocal?
Vocal is a long-form social publishing platform that helps creators get their voice heard and make money from their content.

Why did you build Vocal?
Where do we begin? Vocal was built to solve two major problems facing content creators on today's noisy Internet:
How do I get my work seen?

How do I get paid for it?
Those two questions drive everything we do. How? As for getting your work seen, our technology puts search engine optimization (SEO) at the forefront. If you haven't heard that term before, check out this resource article (https://vocal.media/resources/best-seo-practices-for-writing).
Our team gives you the tools to create content that search engines, and your audience, will love (https://vocal.media/resources). By building our niche communities with best practice SEO and social tactics in mind, Vocal gives you a built-in audience, the tools to publish quality content, and the ability to reap the benefits today, next week, and next decade.
As for the second question, "How do I get paid?" We created a proprietary algorithm that tracks engagement in your story and assigns it a value. You can also monetize with our Tipping feature, which allows you to accept micropayments directly into your account. 
Is Vocal open to everyone?
Yes! To create a Vocal account, you must:
be over the age of 13

have a valid email address, Facebook, Twitter, or Google account

You can review our Terms of Use for the fine print here: https://vocal.media/terms-of-use
Can I use Vocal if I'm outside the United States?
Sure! Anyone can use Vocal, but we currently only accept English written content. 
Can I write under a pseudonym?
Yep! Your author name can be adjusted in your account settings, and your email address will remain visible only to you! However, we ask that you only create one account, as multiple accounts per user is against of Terms of Service.
Is Vocal free to use?
Yes, Vocal is free to join and use!
How will submitting content to Vocal get me paid?
How do you transfer funds?
Vocal uses a third party banking application called Stripe to send you your earnings. We won't ask you for any of your personal banking information–Stripe handles all of that! When you're ready to withdraw the money in your Vocal account, Stripe will deposit it directly into your bank account.

Why Stripe?
Because we love Stripe! If Stripe is good enough for companies like Facebook, Squarespace, and Pinterest, it's good enough for us. https://stripe.com/gb/customers
Does Stripe work outside of the United States?
What do I do if my country isn't on that list, or I don't have a bank account?
What sort of content are you looking for?
Everything from non-fiction, op-eds, fiction series, interviews, product reviews, poems, and more. Vocal is catered to content creators of all kinds. Our community consists of creators from various professional and non-professional backgrounds, from book authors to bloggers, filmmakers, entrepreneurs, musicians, and beyond. That's why we let you choose the format and style of your content—if the subject matter fits, you can submit. 
Do you publish everything that's submitted?
What happens to my story after I submit?
Does Vocal own everything I publish?
You retain ownership and the copyright of the content you create on Vocal, and you share that with us as well. You can learn more in our TOS found here: https://vocal.media/terms-of-use
What happens if my content is not accepted?
If at first you don't succeed, try again! If your content needs some tweaking, our moderators will list the reason/s they did not publish your submission, and what to fix so that next time, they can! 
Can I edit a story after it's been published?
We can do it for you! If you need some changes made, just send an email to [email protected] with the email address associated with your account, the name of the story in question, and the exact changes you'd like. We'll let you know when it's done!
I'm sold—what do I do now?