Earn Money Online without Investments for Students
Earn Money Online for Students
earn money online for students
Being a student is often a very important phase in a person's life. However, studying is a full-time occupation, and so students who are looking to earn a bit of money start searching for part-time jobs that don't affect their studies.
Other concerns for students are how to earn money online without making a large investment, or finding jobs that require minimal experience.
And here's the good news. There are actually a number of online part-time jobs for students, where they can earn money at home.
What Are The Best Ways to Earn Money Online as a Student?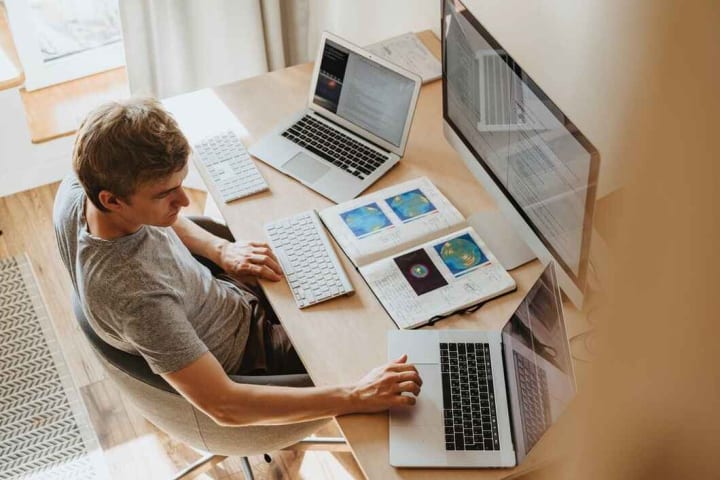 1. Sell Insurance as a POSP
Becoming a POSP, or Point of Salesperson, and selling insurance can be a lucrative part-time job for students. A POSP is an insurance agent who works with an insurance company to sell their insurance products online.
*What are the requirements? - You must be over 18 years of age and should have completed Class 10. You also need to complete a 15-hour compulsory training offered by the IRDAI.
*How much can you earn? - Your income would depend on the number of policies you sell. Thus, the more policies you sell, the more income you will earn.
*Can you continue this job? - Yes, if you have an aptitude for selling, you can continue this later as a full-time job.
2. Take Up Freelancing
If you are someone who is good at writing, programming, editing, photography, designing, or any other such skills, you can earn money online as a freelancer. You just need to register yourself as a freelancer on portals like Upwork, Fiverr, or Truelancer. Then you can start marketing your skills to potential clients.
*What are the requirements? - As long as you have a marketable skill, you can register on a freelancing portal, though this may require a small fee.
*How much can you earn? - Your income will be based on the kind of work you offer and how much work you have time to do.
*Can you continue this job? - Yes, based on the kind of work you offer, you can continue to work full-time as a freelancer.
3. Start Tutoring Online
Students are constantly learning new things, so one easy way to earn money online is to share some of this knowledge. Whether you want to tutor school children or provide courses for adults who want to learn something new, all you need is access to a fast internet connection.
*You can either sign up with a virtual tutoring platform like Udemy, SkillShare, or Coursera, or simply reach out on social media to friends and relative circles to broadcast your online tutoring classes.
*What are the requirements? - There is very little monetary investment involved, though you will need to brush up on some teaching skills.
*How much can you earn? - Based on your level of expertise and the subject matter, you can earn up to ₹200–500 per hour.
*Can you continue this job? - While tutoring might not be a viable full-time job, you can either continue to do this part-time or if you show an aptitude for the same, look into teaching jobs in your area of study.
4. Find Data Entry Jobs
Another option for students looking to earn money online without investment is data entry jobs. Since it offers flexibility, this can be a good option for part-time work.
All you need to do is register at a trusted website like Freelancer, Data Plus, Axion Data Entry Services or Guru, and you can start accepting data entry jobs from companies worldwide. However, remember to check their legitimacy before transferring your account details.
*What are the requirements? - You need to have access to a computer, as well as a good working knowledge of Excel and other Microsoft tools.
*How much can you earn? - With a data entry job, you can earn ₹300 to ₹1,500 per hour.
*Can you continue this job? - Data entry jobs are usually done part-time.
5. Beta Testing Apps and Websites
Since almost every student has access to a smartphone or a computer these days, one good option to earn money part-time for students is by testing out apps and websites. When companies and app developers create a new app or website, they hire users to do what is called 'Beta Testing'. You just need to test out their sites or apps and report your user experience, and identify any bugs or problems, before they go live to the public.
You can sign up to do these jobs at sites like BetaTesting, Tester Work, Test.io, or TryMyUI.
*What are the requirements? - You don't need any special knowledge but based on the product you are testing, you might need to have an up-to-date Android, iOS, or Windows operating system.
*How much can you earn? - Depending on the beta testing process, and your experience with the process, you can earn about ₹1000 to ₹3000.
*Can you continue this job? - App and website testing is usually done part-time, but if you have experience with programming or software development, you can use this experience in your future career.
So, students who are looking to earn money online can easily do so by spending a little bit of their free time in a more productive way. Just be careful to avoid fake agencies, scams, and frauds by doing the following:
---Researching any site thoroughly and checking their reviews before signing up.
---Be careful of any site that asks for your personal information.
---Look out for websites that have a lot of work involved, but won't pay you much as compensation.
---Read any contract thoroughly before signing.
And once you have taken these precautions, you can follow these easy and time-friendly ways to make money without any investments.
Reader insights
Be the first to share your insights about this piece.
Add your insights