Creatd, Inc. Q3 2020 Webcast Recap
Recording & transcript of Creatd, Inc.'s Q3 2020 earnings report and shareholder update.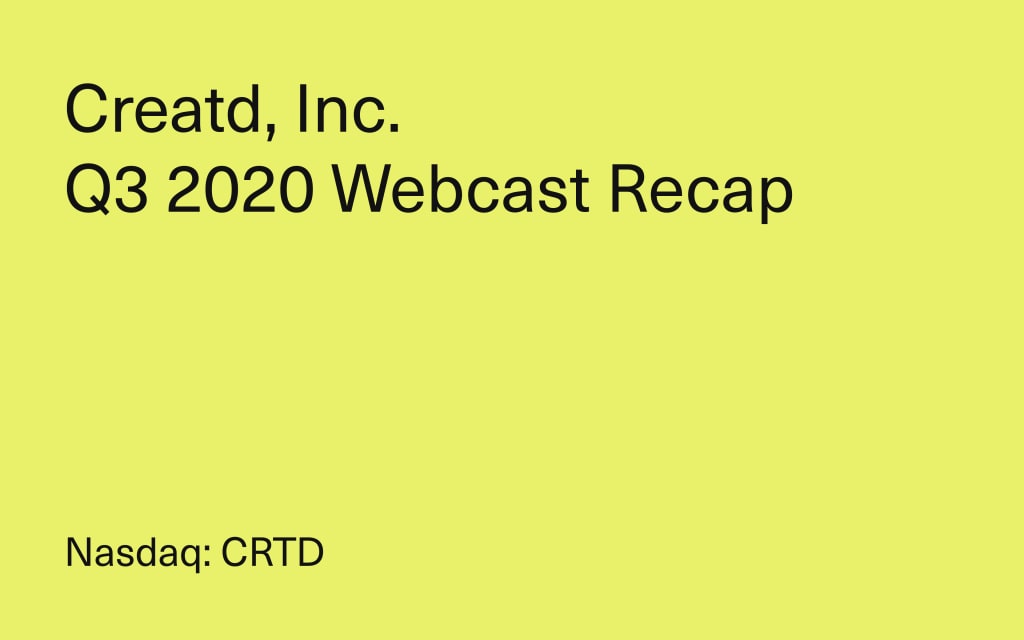 Rachel David Head of Investor Relations
Good morning and thank you for joining us for Creatd's third quarter, 2020 financial results webcast – Creatd's first quarterly call as a Nasdaq listed company.
Our third quarter 2020 financial results and press release were issued yesterday, November 16th. The press release is available under the news and events tab of Creatd's website. Before we begin, I'd like to cover the safe harbor. During this presentation, we will be making certain forward looking statements, including projections and estimates about future events and results. These forward looking statements are subject to risks and uncertainties, and actual results may materially differ. You can find further information about that on our website, or in reports filed with the SEC.
We will start today with opening comments from Jeremy Frommer, founder and CEO of Creatd, followed by Chelsea Pullano, Creatd's CFO, who will review our third quarter and nine-month 2020 financials. After Chelsea's financial review, you will hear from Laurie Weisberg, our COO, and Justin Maury, Creatd's president and Head of Creative, to provide an overall business update. Following these remarks, there will be a question and answer period. If you'd like to submit a question, you can do so from the submission box located on the webcast page. Now, I would like to turn the call over to Creatd's founder and CEO, Jeremy Frommer.
Thank you, Rachel, and thank you all for joining us this morning.
I would like to break from the traditional conference call protocol and say a few words before turning this over to Chelsea.
First, I want to thank each of you who have believed, and continue to believe, in our company. With your support, we have accelerated our strategic plans. Our technology is stronger than it has ever been and in particular, I would like to thank our development partners, Thinkmill; together with my founding partner, Justin, and his team, they have not only improved the foundation of our flagship product Vocal, but created a best-in-class development and design process that is now six years in the making. Justin and I have been able to focus on our core strengths as our new COO, Laurie Weisberg, elevates the business operations, improves the sales process and in general classes up the place. I am thankful, Laurie, for the spark you have ignited within the company and look forward to the opportunities ahead. Of all the milestones we have accomplished as a management team, our uplist to the Nasdaq and its associated equity funding and debt conversions could not have been completed without the tireless effort of our CFO, Chelsea Pullano.
For the first time in a very long time, our company has less than $3.5 million in total liabilities, and the working capital to reach our key milestones. We have attracted a powerful board of directors: Mark Standish, former Co-CEO of RBC Capital Markets, has joined as chairman and chair of our audit committee. Mark Patterson, co-founder of MatlinPatterson Global Advisors, a multibillion dollar private equity fund, is now a member of the board and chairs our compensation committee. Laurie Weisberg, previous CSO of Intent and CRO for Arianna Huffington's Thrive Global, joined not only as a board member, but, as I previously said, is now our Chief Operating Officer. And our most recent addition, LaBrena Jones Martin, a highly seasoned corporate and securities attorney, previously with the S.E.C., E.F. Hutton, Shearson Lehman and RBC, now chairs our governance and nomination committees. With myself and former chairman Leonard Schiller, we collectively have established an independent board and anticipate adding one additional member in the near future.
It is a rare occasion when companies are uplisted to a major market, bypassing the venture capital and private equity world altogether, particularly technology companies like ours. We are humbled and proud to have achieved this corporate milestone. Listing on the Nasdaq has increased the trading volume of our stock, broadened our shareholder base and enhanced our visibility in the marketplace.
Thank you, Jeremy. Good morning everyone
Third quarter 2020 revenues totaled $425,000 – a four-fold increase from the same period last year and a 32% increase from our last quarter. Our revenue increase is attributed, in part, to what you heard from Jeremy earlier – we have been experiencing a steady and continuous growth of creators upgrading to Vocal+ paid subscriptions, who pay either $9.99 per month or $99 for the full year. In fact, we're seeing more and more Vocal+ members opting for a full-year plan as opposed to renewing monthly, which has yielded an increase in deferred revenues related to subscriptions, from $5,000 last quarter, to $37,000 this quarter.
We have projected that we expect to reach 10,000 Vocal+ paid subscribers by year-end and – if the growth in subscriber pace continues at the current level – we are on target to exceed that plan.
The second contributor to this quarter's revenue growth was Vocal for Brands, our in-house branded content studio. Vocal for Brands generated approximately 39% of our total revenue this quarter. Notably, since the second quarter, we achieved a 30% price increase for both renewed and new client contracts.
With our newly expanded sales team now in place, we anticipate meaningful growth for Vocal for Brands going forward, which Laurie will elaborate on later in this presentation.
Our third revenue source is Managed Services, more commonly known as our Seller's Choice agency. Seller's Choice is a full-service e-commerce marketing agency for direct-to-consumer brands.This business line contributed approximately $183,000 to the quarter's revenue, and secured several new clients during the last few days of the quarter. In other words, while there was no growth during the third quarter itself, with these new contracts in place, Seller's Choice is well positioned to report strong growth in the fourth quarter of 2020. Laurie will be discussing this further.
Creatd reported a comprehensive loss for the third quarter of 2020 of approximately $(13.6) million, inclusive of approximately $11 million of non-cash charges, the majority of which is non-recurring. This compares to a comprehensive loss of $(1.9) million for the prior year third quarter and a comparable comprehensive loss of $(4.2) million for the second quarter 2020.
The Company's operating expenses during the third quarter of 2020 totaled approximately $7.4 million, an increase of roughly $5.7 million from the prior year's third quarter and about a $3.6 million increase over the current year's second quarter. This year, in preparation for the Nasdaq up-listing which required a restructuring of our balance sheet that culminated with the closing of a $7.8 million equity round, our expenses were impacted by a number of non-recurring charges totaling about $1.2 million.
In addition, we granted 400,000 performance-based stock options to management, since none had been granted over the last three years – these catch-up options are due to vest in April 2021. This action yielded a non-cash charge of $3.6 million. Going forward, we expect our costs to more closely mirror last year's expenses. Although we are actively hiring professionals and support staff to handle our growth, much of this added cost will be offset by a significant reduction to outside advisory services.
It is our goal to closely manage costs relative to revenue growth with the expectation of achieving the utmost cost efficiencies and promoting maximum operating margins.
In addition, the company incurred other non-operational expenses totaling approximately $6.6 million during the quarter. This expense is predominantly non-cash, and is attributable to a total debt conversion of approximately $10 million, as well as non-recurring expenses related to the equity offering during the quarter.
Interest expense during the third quarter of 2020 totaled $513,000, much of which has been eliminated going forward.
For the nine months ended September 30, 2020, Creatd revenues were $1 million compared to $133,000 for the comparable period in 2019.
The comprehensive loss during the nine-month period totaled $(20.7) million, as compared to $(5.4) million in the same period last year. This year's increased loss can primarily be attributed to the following charges:
$6.7 million in non-cash charges related to debt conversion to equity
An approximately $1.8 million increase in legal, accounting, consulting fees, and other one-time expenses related to the NASDAQ up-listing and the simultaneous financing and debt conversions
$1.4 million non-cash charge related to employee option exchange for stock during the second quarter
$3.6 million charge for performance-based catch-up stock options granted to management during the third quarter.
Importantly, net cash used in operating activities during the first nine months of 2020 totaled $5 million, an increase of approximately $325,000 compared to the same period in 2019. During the first nine months of 2020, our average monthly cash burn–the amount of cash used for operations–was approximately $559,000 per month, in line with previous years.
At September 30, 2020, the Company had cash and marketable securities of $3.1 million, and accounts receivable of $90,000. Total assets during the first nine months of 2020 increased approximately $3.2 million to $5.7 million.
The Company's total liabilities decreased by approximately $7.9 million from December 31, 2019 to September 30, 2020, with an even more dramatic reduction of $12.3 million from the current year's second quarter.
What is particularly noteworthy is that the bulk of our debt was short term in nature, with approximately $11.9 million converting simultaneously with the timing of the September equity offering. In addition, the company used approximately $3.6 million in cash from the proceeds of the offering towards payables and short-term notes. The remaining total liabilities as of September 30th were $3.3 million, of which $412,000 is a Government PPP loan and $105,000 is in deferred revenue and unrecognized tax benefits.
A quick note, Creatd has established a strong relationship with Facebook, who has increased its marketing line with the Company up to $1.5 million. We view this as a mark of confidence in our business – Facebook does not offer the lines easily, particularly at this large level.
The number of shares of common stock outstanding as of September 30, 2020, was 8.7 million, an increase of approximately 5.4 million shares during the quarter as a result of the significant conversion of debt and the $7.8 million equity financing.
The Company's fully-diluted share count at September 30, 2020 totaled 12.4 million, an increase of approximately 8.1 million shares from the prior quarter, reflecting 5.3 million in additional common stock, 1.7 million in warrants issued in conjunction with the stock offering, 900,000 warrants issued in conjunction with the debt conversion, and 400,000 in performance-based stock options granted to management.
While all options and warrants are currently out-of-the-money, should they all be exercised for cash, the company would receive an additional $17.5 million in capital. To further discuss our business opportunities and, importantly, our revenue strategy, it is my pleasure to introduce you to Laurie Weisberg, who recently joined our Board of Directors in July and then, on September 30, also accepted the position as our new Chief Operating Officer.
Laurie has spent over 25 years focused on strategic planning, marketing and sales leadership. She has built and scaled sales teams for some of the world's leading technology and data-focused companies and has already made significant contributions to many facets of Creatd's sales strategy and operations.
Thank you Chelsea.
I am delighted to be here. I spent several years in the digital media/data industry helping big companies leverage online data to better understand consumers buying habits and motivations. During those years, I learned a lot about digital marketing, which has become my passion.
Before I speak to Creatd's revenue growth strategy and sales expansion, I want to start by sharing a few of the key insights I've taken from my relatively short time since joining the team as COO.
1. The ultimate addressable market is huge. There are over 4.5 billion internet users, of which an estimated 83% publish some form of content on a regular basis–be it writing, photography, music, videos–and about 3.8 billion of them are active on social media. Virtually anyone who creates, can easily create on Vocal.
2. The Vocal platform is in the most interesting and vibrant side of the market. I like to say, "We are not about news, we are about experiences." Vocal is a platform where every creator has a voice and a means to tell their story in an open and candid way. It's where people from any background, from novice, to professional, to expert, can come together to post stories, music, podcasts, poetry, videos, and much more in a long-form format.
3. Since its inception, Vocal was designed to be equitable for all creators and enable them to get tangible benefit from their stories. Vocal offers multiple opportunities for creators to get paid, and in fact, we judge our own success by how much they earn. It's a win-win system by design.
4. Data is the lifeblood of many companies, but is that company data-driven or data-informed? At Vocal, we use the first-party data that we collect to only enhance user experience and success. In a digital landscape focused on data and algorithms, Vocal is building an experience that puts creators first.
Considering all of these insights, and having closely observed the media space evolve over nearly 20 years, I am of the firm belief that Vocal represents a disruptive force to the media industry as we know it today. More to the point, the platform is transforming the role and impact creators have on content and storytelling.
Now more than ever, people are seeking authenticity, personal connection, and depth in their conversations. Vocal is the only platform that offers not only those advantages, but also provides both the acceptance and safety so necessary for those conversations to take shape.
So now, as mentioned earlier, let me provide some perspective on our growth strategy, and how we're going to scale. I have had the privilege to be on the executive team of several early stage companies, through their growth phase and ultimate acquisition. As I consider all the facets of Creatd–its platform, business model, team and the activity seen most recently on Vocal, I believe this company has forged a unique opportunity that is farther along its path towards success than even some of the most successful start-ups I have encountered in the past.
Having recently uplisted Creatd to the NASDAQ and successfully completed a meaningful capital raise, the company is now in a solid position to achieve profitability. We owe this to all our shareholders. My objective today is to update you on our revenue strategy and current position in pursuing our addressable markets.
My mantra is to be proactive rather than reactive. To that end, I have done an extensive analysis of each of our business lines and our customers and formulated a clear plan on how to get to our revenue target. I have begun to organize our business lines as individual entities, to accommodate each of their unique offerings and customer needs. Ultimately, each business line will be distinct, but complementary to the others, and can feed each other with cross-selling opportunities.
I have instituted some tangible changes in the last 5 weeks since taking on the COO role:
Firstly, I have quadrupled the sales team to what is now an eight-person dedicated team, which is performance-based and solely focused on bringing in new clients into Creatd's ecosystem and, in turn, developing long-standing relationships across a diversity of brands. Specific to Vocal for Brands, I have hired two senior sales professionals with an average of 15-year experience. Specific to Seller's Choice, I have brought in two senior and two junior salespeople. Our focus will be shifting to higher-margin opportunities.
Secondly, we are also expanding our focus to include larger companies. While there is great opportunity with smaller business accounts, our proven track record driving value and revenue for brands is increasingly opening the door for opportunities with well-known companies with larger advertising budgets. Many of those larger companies, like Procter & Gamble or Mars, have an innovation budget, and as such, are actively seeking new ways to reach their consumers.
In fact, early feedback I have personally received from one of these big-name companies has shown Vocal for Brands to represent an extraordinarily unique form of advertising, one that is filling a gap in the market today.
Finally, the Vocal platform crossing 10 million monthly unique visitors, coupled with a more focused, more accountable sales strategy, I am enthusiastic about our ability to increase our average contract price and the number of brands that will engage our services.
Later on, Jeremy will be sharing specific revenue guidance expectations, so I'll close with this:
I see a clear path to significant growth from all three business lines. The Vocal+ subscription program is on target to cross 10,000 paid members by year-end, and ten-times that in 2021. At roughly $100 per subscriber, this line is set to be a significant contributor to our go-forward revenues.
Vocal for Brands already has, and will only continue, to increase the caliber and contract size across its diverse client portfolio. And, finally, Seller's Choice is well on the path to securing larger-scale, and more profitable accounts.
I would now like to turn the call over to our President & Head of Creative Justin Maury who developed the vision, design and architecture for the Vocal Platform.
Thank you, Laurie.
Technology has always been our core focus at Creatd. That's why we have allocated $2 million of proceeds of our recent equity financing to research and development, an amount equal to what was allocated to the marketing and sales focus you just heard about from our COO.
I'd like to take a few moments to discuss Vocal, our flagship product, built on Creatd's proprietary technology.
Vocal is a platform for supporting, discovering and rewarding creators.
It provides creators of all shapes and sizes, from bloggers and writers, to musicians and podcasters, video creators and photographers, with best-in-class storytelling tools, engaged, topic-specific communities, and multiple monetization opportunities.
Because the market we are addressing is really anyone who creates content online, our total addressable market is vast, so there is naturally some competition.
But what makes Vocal's value proposition for creators unique rests in the features and principles of our core technology:
We provide creators with multiple monetization opportunities.
We spent years building and refining the content creation user experience, making it easier and simpler than our competitors.
We moderate every story to protect our creators, their audiences, and our shareholders.
We don't sell our users data.
We don't annoy our creators or readers with annoying advertisements.
These value propositions for creators can be attributed to our second mover advantage. Our agile design and development process allows us to quickly build features that creators want, based on trends in creator and consumer behavior that we identify from our competitive landscape.
So, while on initial glance Vocal may seem to have similar characteristics to what you may see in other platforms, there is far more there than meets the eye.
For example, let's take a deeper look at Vocal's multiple monetization features: Creators on Vocal have the opportunity to earn money every time their story is read, from tips, which are micro-transactions from their fans, and by participating in creator challenges for a chance to win cash prizes.
Some platforms, such as YouTube or Spotify, pay creators based only on views or streams, similar to one of Vocal's monetization features. But because our platform offers creators the ability to easily embed their already published YouTube videos or Spotify songs into their stories, they have the opportunity to earn from both Vocal and the original hosted platform. This provides creators with additional revenue to support their passions.
But not all platforms offer creators the ability to earn money from their content. Take Instagram for example; unless you are an influencer, there are very limited ways to monetize your content. We built Vocal and the multiple monetization features to appeal to creators like this, to help them fund their creativity and find value in their content.
We give all types of creators, from writers to photographers to podcasters, the tools to share their content, regardless of their medium. Other platforms only allow creators to upload one kind of rich-media–such as a video or song–without the ability to integrate all rich-media types simultaneously to create a rich storytelling experience.
Almost every content creator platform on the market today is medium-specific, so they offer limited content creation tools. For example, on YouTube, you can only upload a video; you can't upload pictures or embed a playlist. So that's why we developed the best-in-class content creation editor that allows content creators to put anything into their story. Most importantly, we designed this experience to be as simple and frictionless as possible.
Much of our competition is highly dependent on advertising revenue models, which creates a poor user experience. Because our core revenue is generated from creator subscriptions, we are able to offer our audiences 100% moderated user-generated content, free of disruptive, annoying ads, paywalls, or popups. Other platforms bombard users with ads, or force them to pay to access content.
Vocal for Brands, our internal content studio, provides brands with the opportunity to connect with their audiences in a more meaningful way through branded content. By pairing brands with thought leading creators, we are able to help brands reach their audiences while building trust, affinity, and conversions.
It's very hard for creators to get discovered on many of the legacy platforms in the market because of content congestion. We aim to solve that through our topic-specific communities that naturally promote the discovery of the creators' content. Additionally, many of these legacy platforms weren't built for search engine optimization. They are short form in nature. We believe that through our long-form storytelling platform, we provide a more optimized experience for discovery on search engines and increase the lifetime value of our creators' content.
Finally, our proprietary moderation process uses a combination of technologies to automatically identify nefarious content, such as content that includes copyright infringement, hate speech, and nudity. We then humanize this process by having moderators ensure the content complies with our community guidelines, while also curating high quality content to be promoted throughout our network.
Lets quickly summarize Vocal's core value propositions for creators:
There's no interruptive or display advertising
It's fast and easy to integrate all rich-media types to create robust, compelling content
Best-in-class, open-canvas content creation editor
Safe and curated environment with an active moderation process
Topic-specific communities that help creators connect and grow
Beautiful, mobile-first interface
Multiple monetization opportunities
So, how do we offer all these features?
The core foundation that powers Creatd's technology allows us to utilize modern frameworks, such as GraphQL and Next.js, which are open-source frameworks that are used by Shopify, Airbnb, and Twitter, and that allows us to rapidly scale products without exponentially increasing design and development costs.
Without going too deep into our trade secrets, over the last four years, we have been closely partnered with Thinkmill, an internationally recognized design & development consultancy based in Sydney, Australia. This has allowed us to create a best-in-class, scalable platform based on today's bleeding edge technology.
It has taken us over five years and roughly $30 million to build our technology, and grow Vocal to where it is today. While the time and money involved creates somewhat of a barrier to entry, the fact is, we were really cost-effective. Similar companies in our space, such as Patreon, have raised over $255M to create comparable technology.
In addition to development costs and time, we have also worked to protect our Company's intellectual property. We submitted two provisional patent applications with the United States Patent Office, and we are in the process of upgrading them into utility patents, further protecting the method in which we manage our internet properties.
Our proprietary, unique, trade secrets focus on the structure of our architecture: user experience, optimization and performance, ultimately creating a rich, community-organized, long form platform.
From a revenue standpoint, we've spent the last quarter optimizing the user experience, particularly around our subscription model Vocal, plus putting the groundwork in place to handle significant growth expected over the next several quarters. As we look ahead into the fourth quarter and future updates and enhancements, we're excited to introduce a new front end experience for our Vocal users, which will enhance the user experience with the goal of increasing engagement and increasing lifetime value for our paying subscribers.
For those who ask, is the core platform completed? Let me tell you a little but about what our creator network has to look forward to:
We believe that the core foundation of our technology is in a very strong place with the added benefit that we have designed our technology to easily absorb distressed digital and legacy digital media assets that are accretive to our Creatd ecosystem. From a revenue standpoint, we have spent the last quarter optimizing the user experience, particularly around our subscription model, Vocal+ - putting the ground-work in place to handle significant growth expected over the next several quarters.
As we look ahead into the fourth quarter and future updates and enhancements, we are excited to introduce a new front-end experience for Vocal users, which will enhance our users' experience with the goal of increasing engagement and lifetime value for our paying subscribers.
Additionally, we have continued to optimize and refine our moderation system to support our growth and protect our community, and will continue to do so over the next two quarters.
During 2021 we have a number of additional unique features planned, and in order to accomplish this, we anticipate hiring an additional 2 to 3 product and UX designers. I have begun the process and am extremely excited about the high level of interested talent.
I would now like to turn the call back over to our CEO, Jeremy Frommer, for concluding comments and thoughts on guidance before we open this call up for questions.
Thanks, Justin.
One of the key takeaways when you look at our company's operations over the last four years is the incredible consistency of our operating budget. It has, as Chelsea mentioned earlier, been approximately $1.8 million per quarter. This average of $600,000 of operational monthly spend includes some variable marketing, development expenses, as well as SG&A for between 30 to 40 individuals.
Vocal has attracted over 800,000 freemium subscribers, growing by over 1,000 new accounts daily. We expect to be adding upwards of 1,500 freemium subscribers daily by the end of Q1 2021 and expect to cross over 1.5 million freemium subscribers on Vocal before year-end 2021. Our Vocal+ premium subscription regularly onboards over 100 new accounts daily, and we are on target to exceed our guidance of 10,000 paying Vocal+ subscribers by fiscal year-end 2020. As of today, we have onboarded 7,500 paying Vocal+ subscribers, and our churn has held steady between 10 and 15 percent.
As Chelsea mentioned, we have been extended credit from third party marketing platforms such as Facebook. We would expect to further finance our marketing spend in the first quarter of 2021. We are discussing revenue factoring opportunities with a number of structured product groups. With the exception of financing opportunities tied specific to revenue growth, or specifically to that increased marketing spend with other platforms, I do not expect our operational budget of $600,000 monthly or $1.8 million a quarter to increase more than 10 to 20 percent over the next two or three quarters.
The cost to acquire a creator has come down from well over $1,000 a year ago to a recent low of $175. The average lifetime value of a creator is estimated at over $300 and further, we expect the creator acquisition cost to drop to $150 in the fourth quarter of 2020. I have long commented that we anticipate generating approximately $550,000 to $650,000 in revenues for fourth quarter 2020. We are on track to accomplish that. For next year, I expect to achieve a material increase in revenue growth and believe that we should generate at least $6 million in revenues in 2021 compared to $1.5 million this year.
Given our greatly improved balance sheet, I expect to hit breakeven and profitability during the year.
With the success I am seeing in our branded content and managed services divisions, I expect that in the first quarter of 2021, Creatd will generate between $850,000 and $1,000,000 dollars in revenues.
By the end of Q1, we also should be crossing 25,000 creators, paying a total of $250,000 in Vocal+ monthly subscription fees. While the company may continue to use financing opportunities to significantly scale marketing spend with third party data providers towards creator acquisition in Q2 2021, we organically expect nearly $1 million in subscriber revenues in that quarter alone, without that marketing spend.
Once we hit that 100,000 threshold projected in late 2021, that single revenue stream would generate over $1 million per month in recurring revenues, let alone accreting tens of thousands of new freemium creators monthly.
I want to reiterate how thankful our Creatd team is for the continued support of our network and shareholders, and we look forward to hitting all of our future key metrics discussed on today's call.
To learn more about Creatd, please visit: