Creatd, Inc. Q3 2020 Webcast - Justin Maury, President
Justin Maury, President and Head of Product and Creative, discusses Creatd's (Nasdaq: CRTD) Vocal technology.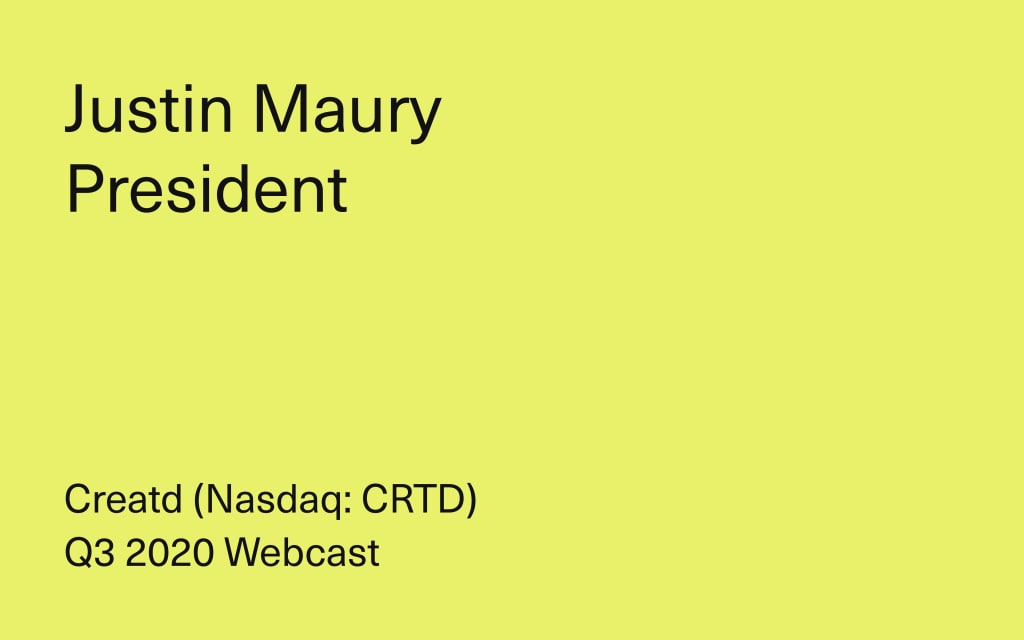 This transcript is an excerpt from Creatd's Q3 2020 Webcast.
Technology has always been our core focus at Creatd. That's why we have allocated $2 million of proceeds of our recent equity financing to research and development, an amount equal to what was allocated to the marketing and sales focus you just heard about from our COO.
I'd like to take a few moments to discuss Vocal, our flagship product, built on Creatd's proprietary technology.
Vocal is a platform for supporting, discovering and rewarding creators.
It provides creators of all shapes and sizes, from bloggers and writers, to musicians and podcasters, video creators and photographers, with best-in-class storytelling tools, engaged, topic-specific communities, and multiple monetization opportunities.
Because the market we are addressing is really anyone who creates content online, our total addressable market is vast, so there is naturally some competition.
But what makes Vocal's value proposition for creators unique rests in the features and principles of our core technology:
We provide creators with multiple monetization opportunities.
We spent years building and refining the content creation user experience, making it easier and simpler than our competitors.
We moderate every story to protect our creators, their audiences, and our shareholders.
We don't sell our users data.
We don't annoy our creators or readers with annoying advertisements.
These value propositions for creators can be attributed to our second mover advantage. Our agile design and development process allows us to quickly build features that creators want, based on trends in creator and consumer behavior that we identify from our competitive landscape.
So, while on initial glance Vocal may seem to have similar characteristics to what you may see in other platforms, there is far more there than meets the eye.
For example, let's take a deeper look at Vocal's multiple monetization features: Creators on Vocal have the opportunity to earn money every time their story is read, from tips, which are micro-transactions from their fans, and by participating in creator challenges for a chance to win cash prizes.
Some platforms, such as YouTube or Spotify, pay creators based only on views or streams, similar to one of Vocal's monetization features. But because our platform offers creators the ability to easily embed their already published YouTube videos or Spotify songs into their stories, they have the opportunity to earn from both Vocal and the original hosted platform. This provides creators with additional revenue to support their passions.
But not all platforms offer creators the ability to earn money from their content. Take Instagram for example; unless you are an influencer, there are very limited ways to monetize your content. We built Vocal and the multiple monetization features to appeal to creators like this, to help them fund their creativity and find value in their content.
We give all types of creators, from writers to photographers to podcasters, the tools to share their content, regardless of their medium. Other platforms only allow creators to upload one kind of rich-media–such as a video or song–without the ability to integrate all rich-media types simultaneously to create a rich storytelling experience.
Almost every content creator platform on the market today is medium-specific, so they offer limited content creation tools. For example, on YouTube, you can only upload a video; you can't upload pictures or embed a playlist. So that's why we developed the best-in-class content creation editor that allows content creators to put anything into their story. Most importantly, we designed this experience to be as simple and frictionless as possible.
Much of our competition is highly dependent on advertising revenue models, which creates a poor user experience. Because our core revenue is generated from creator subscriptions, we are able to offer our audiences 100% moderated user-generated content, free of disruptive, annoying ads, paywalls, or popups. Other platforms bombard users with ads, or force them to pay to access content.
Vocal for Brands, our internal content studio, provides brands with the opportunity to connect with their audiences in a more meaningful way through branded content. By pairing brands with thought leading creators, we are able to help brands reach their audiences while building trust, affinity, and conversions.
It's very hard for creators to get discovered on many of the legacy platforms in the market because of content congestion. We aim to solve that through our topic-specific communities that naturally promote the discovery of the creators' content. Additionally, many of these legacy platforms weren't built for search engine optimization. They are short form in nature. We believe that through our long-form storytelling platform, we provide a more optimized experience for discovery on search engines and increase the lifetime value of our creators' content.
Finally, our proprietary moderation process uses a combination of technologies to automatically identify nefarious content, such as content that includes copyright infringement, hate speech, and nudity. We then humanize this process by having moderators ensure the content complies with our community guidelines, while also curating high quality content to be promoted throughout our network.
Lets quickly summarize Vocal's core value propositions for creators:
There's no interruptive or display advertising
It's fast and easy to integrate all rich-media types to create robust, compelling content
Best-in-class, open-canvas content creation editor
Safe and curated environment with an active moderation process
Topic-specific communities that help creators connect and grow
Beautiful, mobile-first interface
Multiple monetization opportunities
So, how do we offer all these features?
The core foundation that powers Creatd's technology allows us to utilize modern frameworks, such as GraphQL and Next.js, which are open-source frameworks that are used by Shopify, Airbnb, and Twitter, and that allows us to rapidly scale products without exponentially increasing design and development costs.
Without going too deep into our trade secrets, over the last four years, we have been closely partnered with Thinkmill, an internationally recognized design & development consultancy based in Sydney, Australia. This has allowed us to create a best-in-class, scalable platform based on today's bleeding edge technology.
It has taken us over five years and roughly $30 million to build our technology, and grow Vocal to where it is today. While the time and money involved creates somewhat of a barrier to entry, the fact is, we were really cost-effective. Similar companies in our space, such as Patreon, have raised over $255M to create comparable technology.
In addition to development costs and time, we have also worked to protect our Company's intellectual property. We submitted two provisional patent applications with the United States Patent Office, and we are in the process of upgrading them into utility patents, further protecting the method in which we manage our internet properties.
Our proprietary, unique, trade secrets focus on the structure of our architecture: user experience, optimization and performance, ultimately creating a rich, community-organized, long form platform.
From a revenue standpoint, we've spent the last quarter optimizing the user experience, particularly around our subscription model Vocal, plus putting the groundwork in place to handle significant growth expected over the next several quarters. As we look ahead into the fourth quarter and future updates and enhancements, we're excited to introduce a new front end experience for our Vocal users, which will enhance the user experience with the goal of increasing engagement and increasing lifetime value for our paying subscribers.
For those who ask, is the core platform completed? Let me tell you a little but about what our creator network has to look forward to:
We believe that the core foundation of our technology is in a very strong place with the added benefit that we have designed our technology to easily absorb distressed digital and legacy digital media assets that are accretive to our Creatd ecosystem. From a revenue standpoint, we have spent the last quarter optimizing the user experience, particularly around our subscription model, Vocal+ - putting the ground-work in place to handle significant growth expected over the next several quarters.
As we look ahead into the fourth quarter and future updates and enhancements, we are excited to introduce a new front-end experience for Vocal users, which will enhance our users' experience with the goal of increasing engagement and lifetime value for our paying subscribers.
Additionally, we have continued to optimize and refine our moderation system to support our growth and protect our community, and will continue to do so over the next two quarters.
During 2021 we have a number of additional unique features planned, and in order to accomplish this, we anticipate hiring an additional 2 to 3 product and UX designers. I have begun the process and am extremely excited about the high level of interested talent.
I would now like to turn the call back over to our CEO, Jeremy Frommer, for concluding comments and thoughts on guidance before we open this call up for questions.
View the full transcript from Creatd's Q3 2020 Webcast here: