Creatd, Inc. Q3 2020 Webcast - Jeremy Frommer, CEO
Jeremy Frommer, Founder and CEO, discusses Creatd's (Nasdaq: CRTD) future.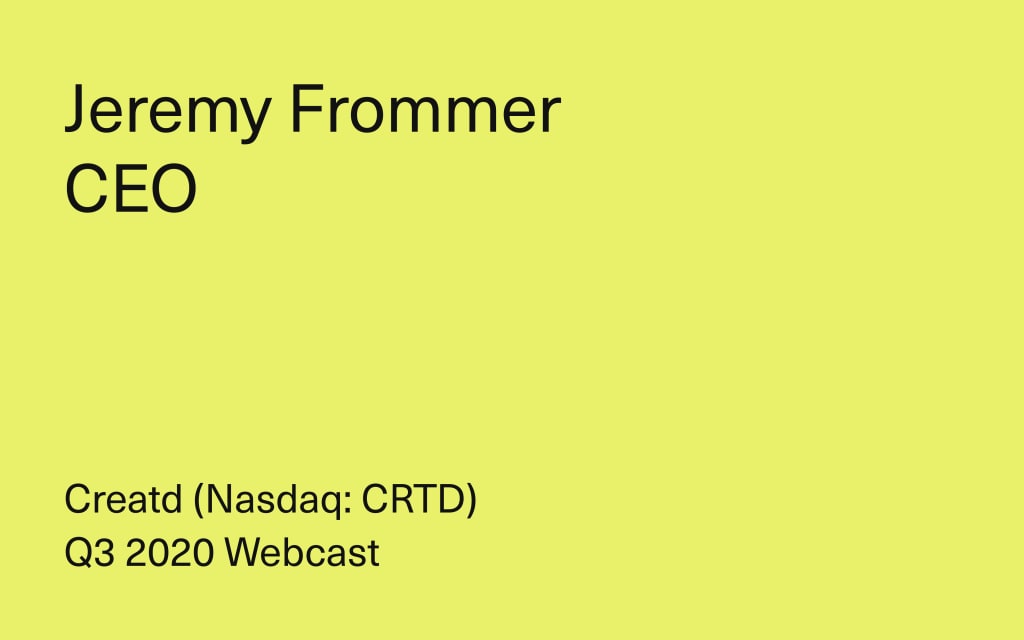 This transcript is an excerpt from Creatd's Q3 2020 Webcast.
Thank you, Rachel, and thank you all for joining us this morning.
I would like to break from the traditional conference call protocol and say a few words before turning this over to Chelsea.
First, I want to thank each of you who have believed, and continue to believe, in our company. With your support, we have accelerated our strategic plans. Our technology is stronger than it has ever been and in particular, I would like to thank our development partners, Thinkmill; together with my founding partner, Justin, and his team, they have not only improved the foundation of our flagship product Vocal, but created a best-in-class development and design process that is now six years in the making. Justin and I have been able to focus on our core strengths as our new COO, Laurie Weisberg, elevates the business operations, improves the sales process and in general classes up the place. I am thankful, Laurie, for the spark you have ignited within the company and look forward to the opportunities ahead. Of all the milestones we have accomplished as a management team, our uplist to the Nasdaq and its associated equity funding and debt conversions could not have been completed without the tireless effort of our CFO, Chelsea Pullano.
For the first time in a very long time, our company has less than $3.5 million in total liabilities, and the working capital to reach our key milestones. We have attracted a powerful board of directors: Mark Standish, former Co-CEO of RBC Capital Markets, has joined as chairman and chair of our audit committee. Mark Patterson, co-founder of MatlinPatterson Global Advisors, a multibillion dollar private equity fund, is now a member of the board and chairs our compensation committee. Laurie Weisberg, previous CSO of Intent and CRO for Arianna Huffington's Thrive Global, joined not only as a board member, but, as I previously said, is now our Chief Operating Officer. And our most recent addition, LaBrena Jones Martin, a highly seasoned corporate and securities attorney, previously with the S.E.C., E.F. Hutton, Shearson Lehman and RBC, now chairs our governance and nomination committees. With myself and former chairman Leonard Schiller, we collectively have established an independent board and anticipate adding one additional member in the near future.
It is a rare occasion when companies are uplisted to a major market, bypassing the venture capital and private equity world altogether, particularly technology companies like ours. We are humbled and proud to have achieved this corporate milestone. Listing on the Nasdaq has increased the trading volume of our stock, broadened our shareholder base and enhanced our visibility in the marketplace.
One of the key takeaways when you look at our company's operations over the last four years is the incredible consistency of our operating budget. It has, as Chelsea mentioned earlier, been approximately $1.8 million per quarter. This average of $600,000 of operational monthly spend includes some variable marketing, development expenses, as well as SG&A for between 30 to 40 individuals.
Vocal has attracted over 800,000 freemium subscribers, growing by over 1,000 new accounts daily. We expect to be adding upwards of 1,500 freemium subscribers daily by the end of Q1 2021 and expect to cross over 1.5 million freemium subscribers on Vocal before year-end 2021. Our Vocal+ premium subscription regularly onboards over 100 new accounts daily, and we are on target to exceed our guidance of 10,000 paying Vocal+ subscribers by fiscal year-end 2020. As of today, we have onboarded 7,500 paying Vocal+ subscribers, and our churn has held steady between 10 and 15 percent.
As Chelsea mentioned, we have been extended credit from third party marketing platforms such as Facebook. We would expect to further finance our marketing spend in the first quarter of 2021. We are discussing revenue factoring opportunities with a number of structured product groups. With the exception of financing opportunities tied specific to revenue growth, or specifically to that increased marketing spend with other platforms, I do not expect our operational budget of $600,000 monthly or $1.8 million a quarter to increase more than 10 to 20 percent over the next two or three quarters.
The cost to acquire a creator has come down from well over $1,000 a year ago to a recent low of $175. The average lifetime value of a creator is estimated at over $300 and further, we expect the creator acquisition cost to drop to $150 in the fourth quarter of 2020. I have long commented that we anticipate generating approximately $550,000 to $650,000 in revenues for fourth quarter 2020. We are on track to accomplish that. For next year, I expect to achieve a material increase in revenue growth and believe that we should generate at least $6 million in revenues in 2021 compared to $1.5 million this year.
Given our greatly improved balance sheet, I expect to hit breakeven and profitability during the year.
With the success I am seeing in our branded content and managed services divisions, I expect that in the first quarter of 2021, Creatd will generate between $850,000 and $1,000,000 dollars in revenues.
By the end of Q1, we also should be crossing 25,000 creators, paying a total of $250,000 in Vocal+ monthly subscription fees. While the company may continue to use financing opportunities to significantly scale marketing spend with third party data providers towards creator acquisition in Q2 2021, we organically expect nearly $1 million in subscriber revenues in that quarter alone, without that marketing spend.
Once we hit that 100,000 threshold projected in late 2021, that single revenue stream would generate over $1 million per month in recurring revenues, let alone accreting tens of thousands of new freemium creators monthly.
I want to reiterate how thankful our Creatd team is for the continued support of our network and shareholders, and we look forward to hitting all of our future key metrics discussed on today's call. With that, I would like to open it up to Q&A.
View the full transcript from Creatd's Q3 2020 Webcast here: