Creatd, Inc. Q3 2020 Webcast - Chelsea Pullano, CFO
Chelsea Pullano, CFO, discusses Creatd's (Nasdaq: CRTD) earnings.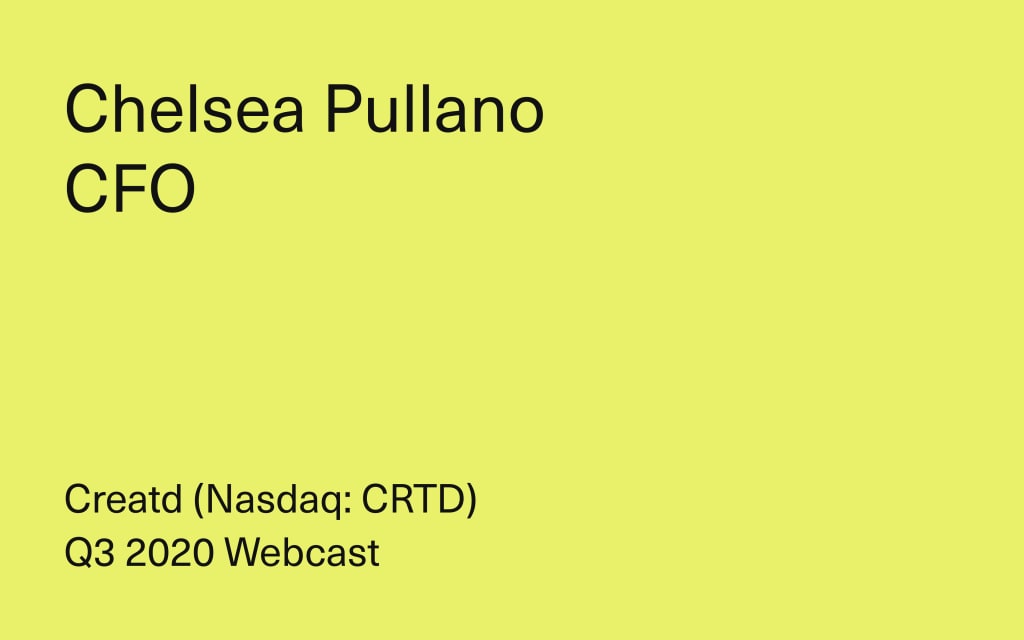 This transcript is an excerpt from Creatd's Q3 2020 Webcast.
Thank you, Jeremy. Good morning everyone
Third quarter 2020 revenues totaled $425,000 – a four-fold increase from the same period last year and a 32% increase from our last quarter. Our revenue increase is attributed, in part, to what you heard from Jeremy earlier – we have been experiencing a steady and continuous growth of creators upgrading to Vocal+ paid subscriptions, who pay either $9.99 per month or $99 for the full year. In fact, we're seeing more and more Vocal+ members opting for a full-year plan as opposed to renewing monthly, which has yielded an increase in deferred revenues related to sub, from $5,000 last quarter, to $37,000 this quarter.
We have projected that we expect to reach 10,000 Vocal+ paid subscribers by year-end and – if the growth in subscriber pace continues at the current level – we are on target to exceed that plan.
The second contributor to this quarter's revenue growth was Vocal for Brands, our in-house branded content studio. Vocal for Brands generated approximately 39% of our total revenue this quarter. Notably, since the second quarter, we achieved a 30% price increase for both renewed and new client contracts.
With our newly expanded sales team now in place, we anticipate meaningful growth for Vocal for Brands going forward which Laurie will elaborate on later in this presentation.
Our third revenue source is Managed Services, more commonly known as our Seller's Choice agency. Seller's Choice is a full-service e-commerce marketing agency for direct-to-consumer brands.This business line contributed approximately $183,000 to the quarter's revenue, and secured several new clients during the last few days of the quarter. In other words, while there was no growth during the third quarter itself, with these new contracts in place, Seller's Choice is well positioned to report strong growth in the fourth quarter of 2020. Laurie will be discussing this further.
Creatd reported a comprehensive loss for the third quarter of 2020 of approximately $(13.6) million, inclusive of approximately $11.0 million of non-cash charges, the majority of which is non-recurring. This compares to a comprehensive loss of $(1.9) million for the prior year third quarter and a comparable comprehensive loss of $(4.2) million for the second quarter 2020.
The Company's operating expenses during the third quarter of 2020 totaled approximately $7.4 million, an increase of roughly $5.7 million from the prior year's third quarter and about a $3.6 million increase over the current year's second quarter. This year, in preparation for the NASDAQ up-listing which required a restructuring of our balance sheet that culminated with the closing of a $7.8 million equity round, our expenses were impacted by a number of non-recurring charges totaling about $1.2 million.
In addition, we granted 400,000 performance-based stock options to management since none had been granted over the last three years – these catch-up options are due to vest in April 2021 – this action yielded a non-cash charge of $3.6 million. Going forward, we expect our costs to more closely mirror last year's expenses. Although we are actively hiring professionals and support staff to handle our growth, much of this added cost will be offset by a significant reduction to outside advisory services.
It is our goal to closely manage costs relative to revenue growth with the expectation of achieving the utmost cost efficiencies and promoting maximum operating margins.
In addition, the company incurred other NON-operational expenses totaling approximately $6.6 million during the quarter. This expense is predominantly non-cash and is attributable to a total debt conversion of approximately $10 million, as well as non-recurring expenses related to the equity offering during the quarter.
Interest expense during the third quarter of 2020 totaled $513,000, much of which has been eliminated going forward.
For the nine months ended September 30, 2020, Creatd revenues were $1 million compared to $133,000 for the comparable period in 2019.
The comprehensive loss during the nine-month period totaled $(20.7) million, as compared to $(5.4) million in the same period last year. This year's increased loss can primarily be attributed to the following charges: $6.7 million in non-cash charges related to debt conversion to equity an approximately $1.8 million increase in legal, accounting, consulting fees, and other one-time expenses related to the NASDAQ up-listing and the simultaneous financing and debt conversions a $1.4 million non-cash charge related to employee option exchange for stock during the second quarter and $3.6 million charge for performance-based catch-up stock options granted to management during the third quarter.
Importantly, net cash used in operating activities during the first nine months of 2020 totaled $5.0 million, an increase of approximately $325,000 compared to the same period in 2019. During the first nine months of 2020, our average monthly cash burn–the amount of cash used for operations–was approximately $559,000 per month, in line with previous years.
At September 30, 2020, the Company had cash and marketable securities of $3.1 million, and accounts receivable of $90,000. Total assets during the first nine months of 2020 increased approximately $3.2 million to $5.7 million.
The Company's total liabilities decreased by approximately $7.9 million from December 31, 2019 to September 30, 2020, with an even more dramatic reduction of $12.3 million from the current year second quarter.
What is particularly noteworthy is that the bulk of our debt was short term in nature with approximately $11.9 million converting simultaneously with the timing of the September equity offering. In addition, the company used approximately $3.6 million in cash from the proceeds of the offering towards payables and short-term notes. The remaining total liabilities as of September 30th were $3.3 million of which $412,000 is a Government PPP loan and $105,000 is in deferred revenue and unrecognized tax benefits.
A quick note, Creatd has established a strong relationship with Facebook who has increased its marketing line with the Company up to $1.5 million. We view this as a mark of confidence in our business – Facebook does not offer the lines easily, particularly at this large level.
The number of shares of common stock outstanding as of September 30, 2020, was 8.7 million, an increase of approximately 5.4 million shares during the quarter as a result of the significant conversion of debt and the $7.8 million equity financing.
The Company's fully-diluted share count at September 30, 2020 totaled 12.4 million, an increase of approximately 8.1 million shares from the prior quarter reflecting 5.3 million in additional common stock, 1.7 million in warrants issued in conjunction with the stock offering, 900,000 warrants issued in conjunction with the debt conversion, and 400,000 in performance-based stock options granted to management.
While all options and warrants are currently out-of-the-money, should they all be exercised for cash, the company would receive an additional $17.5 million in capital. To further discuss our business opportunities and importantly our revenue strategy, it is my pleasure to introduce you to Laurie Weisberg who recently joined our Board of Directors in July and then, on September 30, also accepted the position as our new Chief Operating Officer.
Laurie has spent over 25 years focused on strategic planning, marketing and sales leadership. She has built and scaled sales teams for some of the world's leading technology and data-focused companies and has already made significant contributions to many facets of Creatd's sales strategy and operations. Laurie?
View the full transcript from Creatd's Q3 2020 Webcast here: