Creatd, Inc. Q3 2020 Webcast - Laurie Weisberg, COO
Laurie Weisberg, COO, discusses Creatd's (Nasdaq: CRTD) revenue strategy.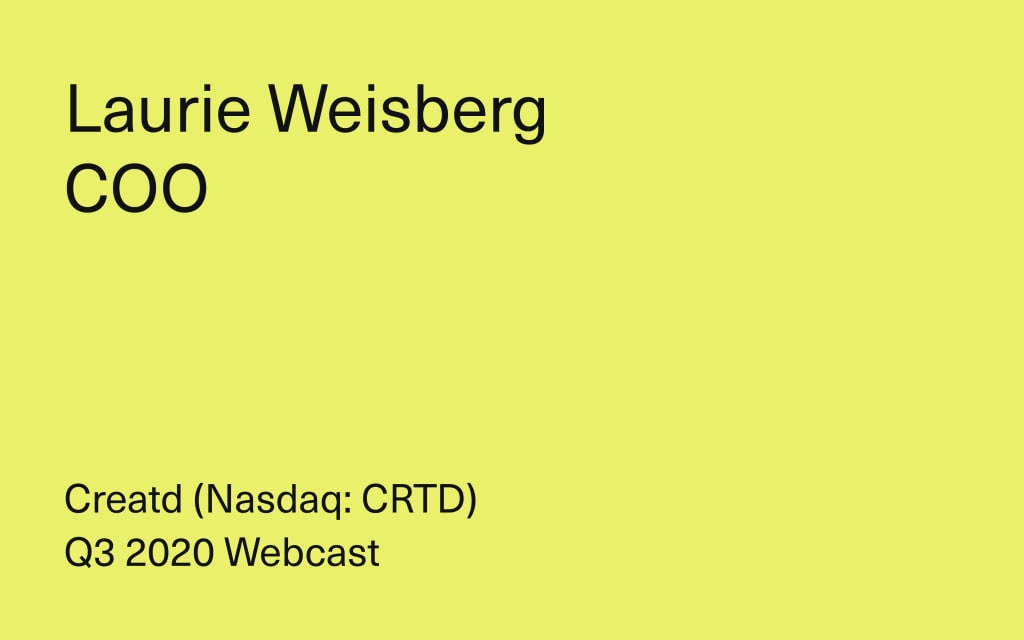 This transcript is an excerpt from Creatd's Q3 2020 Webcast.
About Laurie Weisberg, Creatd's Chief Operating Officer:
Previously served as the Chief Sales Officer at Intent, a leading data science company for global e-commerce brands, and prior to that held senior leadership positions at numerous technology companies, including as Chief Revenue Officer at Arianna Huffington's Thrive Global, and as part of the executive leadership team at Datalogix leading up to its acquisition by Oracle in 2015. Additionally, Laurie holds a seat on Creatd's Board of Directors and the advisory board of Crowdsmart.
I am delighted to be here. I spent several years in the digital media data industry helping big companies leverage online data to better understand consumers buying habits and motivations. During those years, I learned a lot about digital marketing, which has become my passion. Before I speak to create its revenue growth strategy and sales expansion, I want to start by sharing a few of the key insights I've taken from my relatively short time since joining the team as the Chief Operating Officer.
Number one, the ultimate addressable market for creative and Vocal is huge. There are over four point five billion Internet users, of which an estimated 83% published some form of content on a regular basis. Be it writing, photography, music and videos, and about three point eight billion of them are active on social media. Virtually anyone who creates can easily create on Vocal.
Number two, the Vocal platform is in the most interesting and vibrant side of the market. I like to say we are not about news, we are about experiences. Vocal is a platform where every creator has a voice and a means to tell that story in an open and candid way. It's where people from any background, from novice to professional to expert, can come together to post stories, music, podcasts, poetry videos and much more in a long form format.
Number three, since its inception, Vocal was designed to be equitable for all creators and enable them to get tangible benefit from their stories. Vocal offers multiple opportunities for creators to get paid, and in fact, we judge our own success by how much they earn.
It's a win win system by design.
Number four, and finally, data is the lifeblood of many companies, but if that company is data driven or data informed at Vocal, we use the first party data that we collect to only enhance user experience and success. In a digital landscape focused on data and algorithms, Vocal is building an experience that puts creators first.
Considering all of these insights and having closely observed the media space evolve over nearly 20 years. I am of the firm belief that Vocal represents a disruptive force to the media industry as we know it today. More to the point, the platform is transforming the role and impact creators have on content and storytelling. Now, more than ever, people are seeking authenticity, personal connection and depth in their conversations. Vocal is the only platform that offers not only those advantages, but also provides both the acceptance and safety so necessary for those conversations to take shape.
So now, as I mentioned earlier, let me provide some perspective on our growth strategy and how we're going to scale. I have had the privilege to be on the executive team of several early stage companies through their growth phase and ultimate acquisition. As I consider all the facets of Creatd its platform, business model, team and the activity seen most recently on Vocal, I believe this company has forged a unique opportunity that is farther along its path towards success than even some of the most successful startups I have encountered in the past.
Having recently uplisted Creatd to the Nasdaq and successfully completed a meaningful capital raise, the company is now in a solid position to achieve profitability. We owe this to all our shareholders. My objective today is to update you on our revenue strategy and current position in pursuing our addressable markets. My mantra is to be proactive rather than reactive. To that end, I have done an extensive analysis of each of our business lines and our customers and formulated a clear plan on how to get to our revenue target. I have begun to organize our business lines as individual entities to accommodate each of their unique offerings and customer needs. Ultimately, each business line will be distinct but complementary to the others and can feed each other with cross-selling opportunities.
I have instituted some tangible changes in the last five to six weeks since taking on the COO role. Firstly, I have quadrupled the sales team to what is now an eight person dedicated team, which is performance based and solely focused on bringing in new clients into Creatd's ecosystem and in turn developing long standing relationships across a diversity of brands. Specific to Vocal for brands, I have had two senior sales professionals with an average of 15 years experience. Specific to Sellers Choice, I have brought in two senior and twojunior salespeople, our focus will be shifting to higher margin opportunities. Secondly, we are also expanding our focus to include larger companies, while there is a great opportunity with smaller business accounts, our proven track record driving value and revenue for brands is increasingly opening the door for opportunities with well-known companies with larger advertising budgets.
Many of those larger companies, like Procter and Gamble or Mars, have innovation budgets and as such are actively seeking new ways to reach their consumers.
In fact, early feedback I personally received from one of these big name companies has shown Vocal for Brands to represent an extraordinarily unique form of advertising, one that is filling a gap in the market today. Finally, the Vocal platform crossing 10 million monthly unique visitors, coupled with a more focused, more accountable sales strategy, I am enthusiastic about our ability to increase our average contract price and also increase the number of brands that will engage our services. Later on, Jeremy will be sharing specific revenue guidance expectations, so I'll close with this, I see a clear path to significant growth from all three business lines. The Vocal+ subscription program is on target to cross 10,000 paid members by year end and 10 times that in 2021 at roughly $100 dollars per subscriber. This line is set to be a significant contributor to our go forward revenues.
Vocal for brands already has and will only continue to increase the caliber and contract size across its diverse client portfolio. And finally, Seller's Choice is well on the path to securing larger scale and more profitable accounts. I would now like to turn the call over to our president and head of creative, Justin Maury, who developed the vision, design and architecture for the Vocal platform.
View the full transcript from Creatd's Q3 2020 Webcast here: