Best Grocery Delivery Softwares in 2021-22
The best Grocery Delivery Softwares that enable you to build an online grocery marketplace!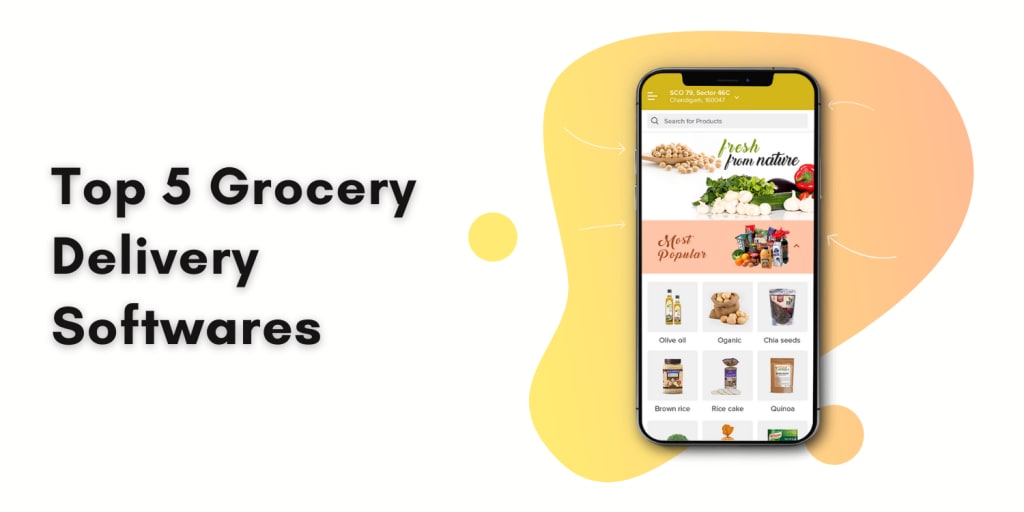 Introduction
The long-forecast online grocery boom happened all at once in 2020 due to the pandemic. This is what David Bishop (the partner at Brick Meets Click) said about the e-commerce boom from late March to early April, "It's the equivalent of five years' growth within a matter of the month."
To make the best out of this opportunity, grocery retailers need to make bold moves now. They need the right grocery delivery software to set up a profitable online grocery store or marketplace. It is also important to make sure that the solution offers all the necessary features to enhance the performance of the online grocery website & mobile app.
Let's explore some of the top grocery delivery softwares that can help you launch your own online grocery marketplace or store.
Top 5 Grocery Delivery Softwares
1. Growcer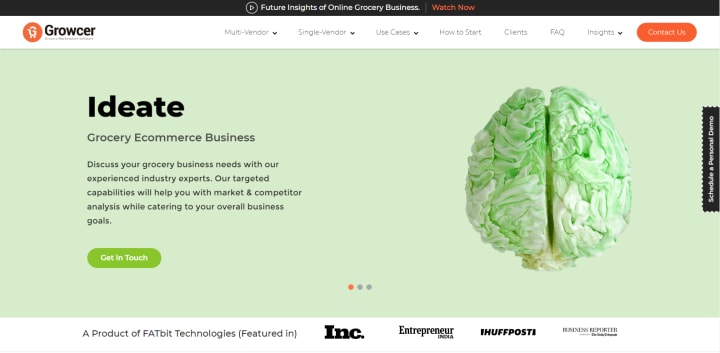 Growcer is a grocery delivery software developed by FATbit Technologies that enables anyone to launch an online grocery marketplace, grocery mobile apps (buyer app & delivery boy app), or single-seller online store.
Since grocery delivery businesses follow the hyperlocal business model, this unique platform comes with all the features required for a hyperlocal grocery marketplace. Let's take a look:
Admin Features
Product Catalogue System
Advanced Reports And Statistics
Seller Approval And Management
Commission Management
Delivery Staff Management
Multiple Revenue Channels
Tax Management
Subscription Packages Management
Multiple Level Of Administrative Access
Vendors/Sellers Features
Banner Ads
Delivery Slots Management
Vendor Dashboard
Bulk Import/Export
Reports
Pin Shop On The Map
Order Cancellation Requests Management
Order Refund Requests Management
Subscription Plans
Delivery Staff App Features
Define Radius
Accept Or Reject The Order
Click And Call To Sellers And Buyers
Delivery Order Management
Dashboards
Route Navigation To Sellers' And Buyers' Location
Convenience Of Operating
Order Cancellation At Anytime
Push Notifications
Buyer Web/App Features
Auto-Detect User Location
Product Search
Multi-Cart Functionality
Guest User Checkout
Order Substitution
Single Item Cancellation
Order Tracking
Progressive Web Apps
Multicurrency Functionality
Growcer's clientele includes Pravasicart (USA), Superlivery (Brazil), EazyBuy (Canada), My Home Grocers (USA), and many more.
Visit Website: https://www.yogrowcer.com/
Try Demo: https://demo.yogrowcer.com/
2. Yo!Kart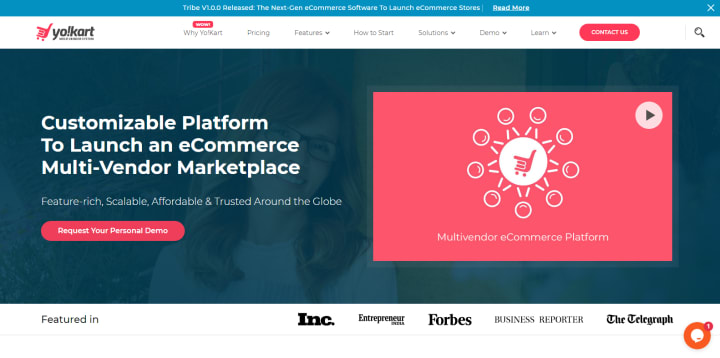 Yo!Kart is a multi-vendor eCommerce platform that is fully customizable and highly scalable. It is suitable platform for launching an online grocery marketplace because it is a feature-rich solution recognized globally by esteem publications like Inc., Forbes, The Telegraphic, and many more.
Features that make Yo!Kart an optimum eCommerce multi-vendor marketplace platform are:
Product Catalog System
Import/Export Features
Inventory Tracking
MSN Language Translator
RTL Functionality
Upselling & Cross-Selling Features
Separate Vendor Store
Product Reviews & Ratings
New Payment Gateways
Advanced Search Module
Cart Abandonment Alerts
Easy Checkout Process
Multiple Payment Options
Shipping & Tax Management
20+ Pre-Integrated Payment Gateways
Advanced Order Management
eWallet Management
Self Pickup Module
ElasticSearch
Smart Recommendations
Refund/Return Management
Social Media Sharing
Robust Reporting & Statistics
Discount Coupon & Offers
PWA compliance
Facebook Pixel
Stripe connect
Behaviour Analytics via HotJar
Invoicing Module
Location-Based Product Sorting
Yo!Kart's clientele includes Farmedtoday (Netherlands), Iupyy (Brazil), Dijualcepat (Indonesia), and many more.
Visit Wevbsite: https://www.yo-kart.com/
Try Demo: https://v9.demo.yo-kart.com/
3. Yelo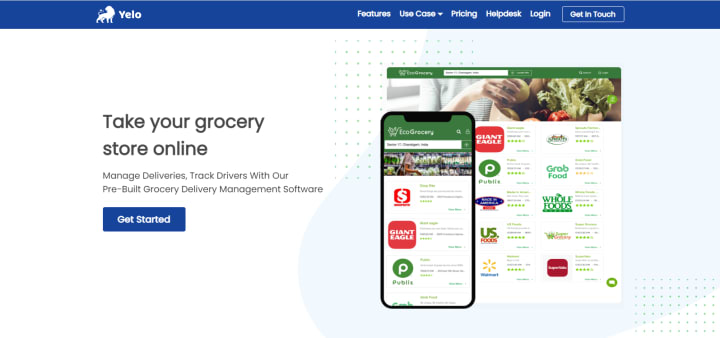 Yelo is an online ordering system developed by Jungleworks to create and launch online grocery stores of any size. They help you build an app and website customized especially for your brand. Using this platform, you can build standalone stores, grocery marketplaces, or even grocery chains.
The top features provided by Yelo are:
Marketplace Features
Web Apps
Access Control
Merchant Apps
Unlimited Transactions
Multiple Marketplace Types
Private Marketplace
Ordering Features
Advanced Search & Filters
Offerings catalogue
Business Categories
Customer accounts
Conceirge orders
Order fulfillment
Fulfilment and delivery
Notifications & Alerts
Automate Logistics
Powerful Analytics
Optimized Routes
Proof of Delivery
Payments
100+ payment gateways
Real time settlement
Cash on delivery
Side Orders
App Wallet
Yelo's clientele includes Fatafat, RunnerMyRun, etc.
Visit Website: https://jungleworks.com/yelo/
Try Demo: https://jungleworks.com/yelo/live-demo-yelo/preview-grocery/
4. Ced Commerce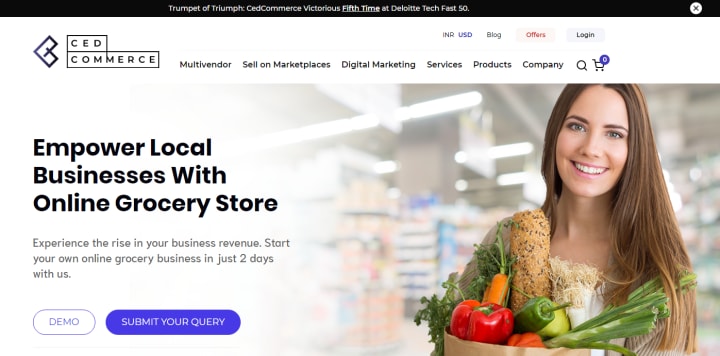 CedCommerce is an eCommerce tech solution company that aims at making online selling easy, advanced, and automated. CedCommerce offers multiple solutions ranging from marketplaces to multichannel integrations to mobile app development. This solution can help you empower your local grocery business by launching an online store.
The set of features offered by CedCommerce are:
Vendor Features
Responsive Vendor Panel
Add Delivery Locations
Bulk product creation
Easy Return and Refund management
Manage Order
Vendor Social login
Vendor Product Management
Advance Vendor Dashboard
Payment request
Frontend Features
Multilingual support
Locate Nearby Store
Secure payments and checkout
Review and Ratings
Return and Refund
Compare products
Order history
Refer A Friend
SMS Notification
Admin Features
Full control on sellers
Add and manage products
Flexible Commission Management
Attribute management
Delivery Boy management
Multiple payment gateways
Manage store Functionality
Deals and Offers
Return and Refund management
CedCommerce's clientele includes Wyoming Deliveries, Ekprice, The Inkamall Store, etc.
Visit Website: https://cedcommerce.com/
Try Demo: https://demo.cedcommerce.com/magento2.3/grocery-store-pro/
5. Shuup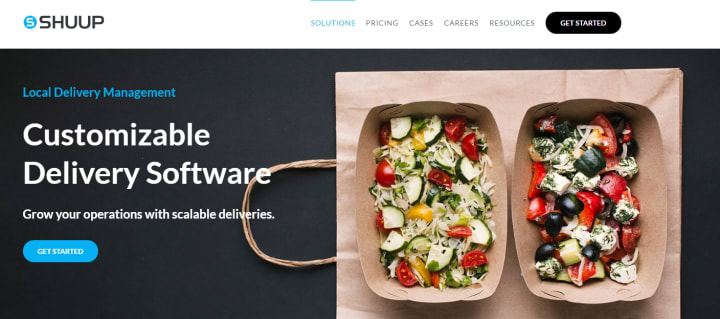 Shuup is a Multivendor Marketplace Ecommerce Software that lets vendors sell products, services, rentals, and digital goods through your eCommerce marketplace.
The major features offered by Shuup are:
Driver Management
Control and dispatch drivers with custom 3rd party software integrations.
Let them sign on at any time.
Develop custom mobile driver apps.
Track drivers in real-time with custom 3rd party software integrations.
Menu and Catalog Management
Adding new products is easy for your restaurants or vendors.
Sell products, food, and services.
Bulk Product Editing
Import/Export Products, Customers, and Data
Vendor Management
Separate vendor dashboards.
Adaptive commissions.
Easy vendor and driver signup.
Product and vendor approval system.
Visit Website: https://www.shuup.com/
Request a Demo: https://www.shuup.com/request-a-software-demo/
Wrap Up
All the above-mentioned grocery delivery software are popular in the eCommerce industry. Every solution has its own Pros & Cons. So, to make the best choice, it is suggested to visit the website, check the features, try the demo and compare the pricing of the solution.