Becoming ABW
What It Took for Me to Become a Successful Blog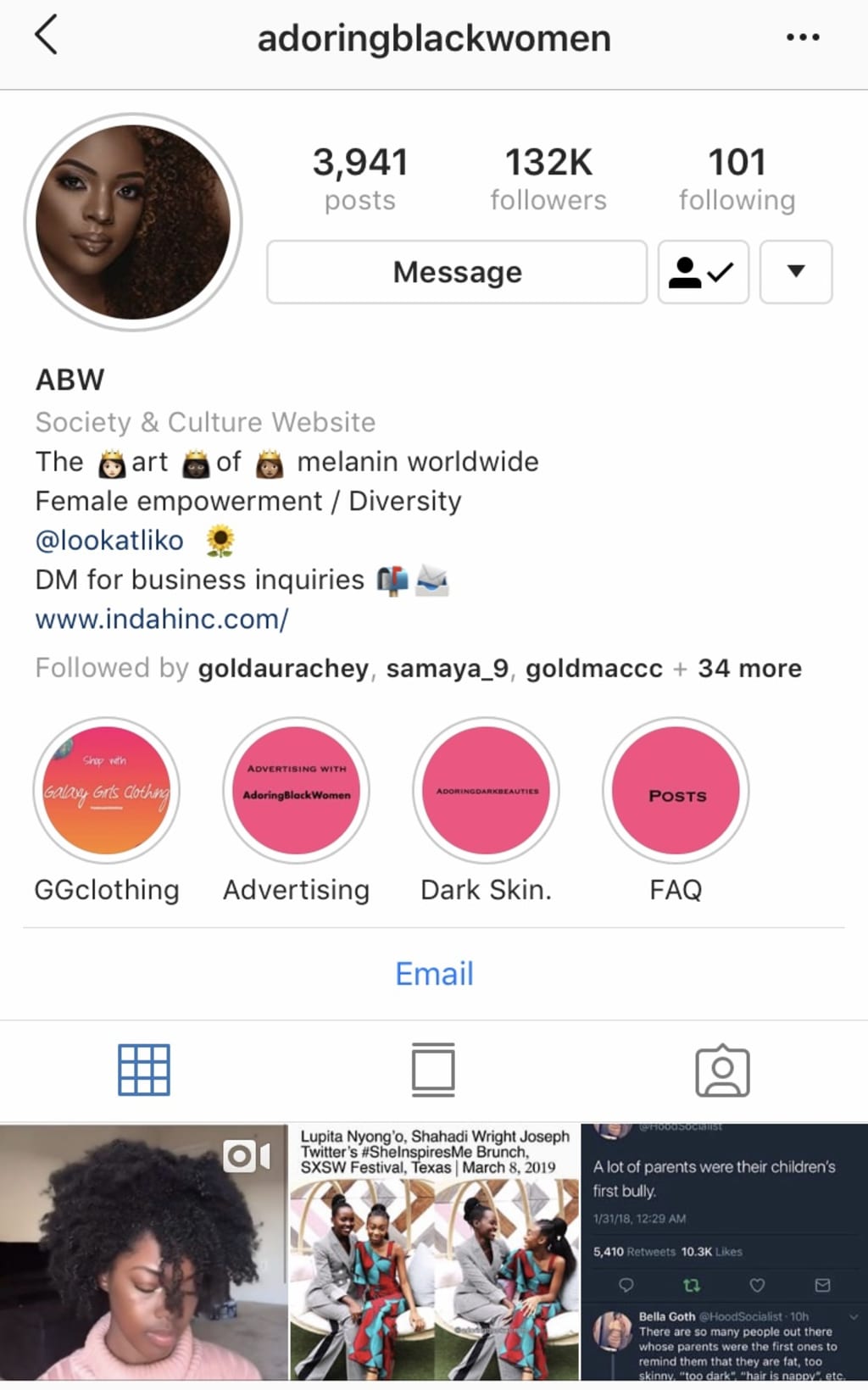 As of 3/30/2019
I started this blog when I was 16. I was a sophomore in college and decided it was time to make an account that focused on what interested me. Since there was really no representation for Black Women, or dark-skin women, I took the time to upload one post per day. I did not think much of it. The number of my followers grew, but I did not pay much attention to it.
I made the page for aesthetics at first. There were no memes, just pretty clothes and pretty girls. My followers expressed their love for there finally being a page that celebrates Black Women and our diversity. In my bio, I state "celebrating melanin worldwide," which means that I occasionally may post a dark-skinned Asian/Arab/Native-American ETC.
It is very important to me that while I am blogging, that I am also being informative and educating people on what they aren't educated in. Even though sometimes my followers are upset at me including other races, I do my best to inform that we can celebrate others and not be bitter about not getting it in return. You don't have to be aggressive/angry towards others just because they don't celebrate you. Majority of the human population are ignorant towards topics like races/ethnicities. Being educated in this topic is very important... if you aren't then you are basically playing with fire and can come off as very ignorant.
A lot of different ethnicities from around the world follow me, some have been following me since I first started. I have even made good friends.
Being a blogger is not easy. You have to take time from your everyday life to post something that is relatable to your audience and maintain keeping your best foot forward. You don't want to post anything that will offend a certain group or person. Today, there seems to be a reason for offending anyone and anything—so be careful with this choice.
I am a student and I have a part-time job. Posting every day is not an option for me. Some days I am bummed out from LIFE in general. But I really care and believe that my blog can change a lot of what is going on in the world and how people feel about themselves. When I post, I make sure to ask myself "Is this relatable? Is this positive?" Before you post, make sure to have questions as such.
Since my blog is centered around Black Women, I love to post news about the Black Community, things that are overlooked, and beauty tips. Blogging about Black-Owned businesses has become a necessity for me. The stronger you stand with others, the stronger and resilient you are.
I still struggle with maintaining a certain crowd. I am still learning as a blogger and plan to reach more people and inspire as well.
My blog has grown into such a huge part of my life. I use it for the good and only put out good energy. I hope that one day I could start touching lives with it!
My Advice
Becoming a blogger is a tough gig, there are A LOT of blogs out there.
Having great content is a must. Relating to others is how you get your audience. Even though my blog is "Adoring Black Women," I still make sure that I relate to other women as well!
Remember, it is YOUR blog. Whatever you want to post, that is YOUR choice. Your audience influences you too but if you are interested in pushing a cause/point, then I say go for it.
Always make sure you are positive. Even if you are highlighting Everyday Issues, no one who is following you wants to see bad things all of the time.
Part of being a blogger is having your own flair and style. Don't copy others. Plagiarism is a no-no. Put your own personality out there.
Have fun with it. Don't get stressed or work yourself up.
Make connections. In everything, you learn so much and even get great ideas from other bloggers. Which could lead you both in the chance of collaborating!