Advanced Tips To Triple Your Results By Hiring Social Media Consulting Services
Social media is the only marketing channel that is always evolving. Every day, new trends, tools, and app updates appear. It's difficult to deny the influence of social media on our daily life.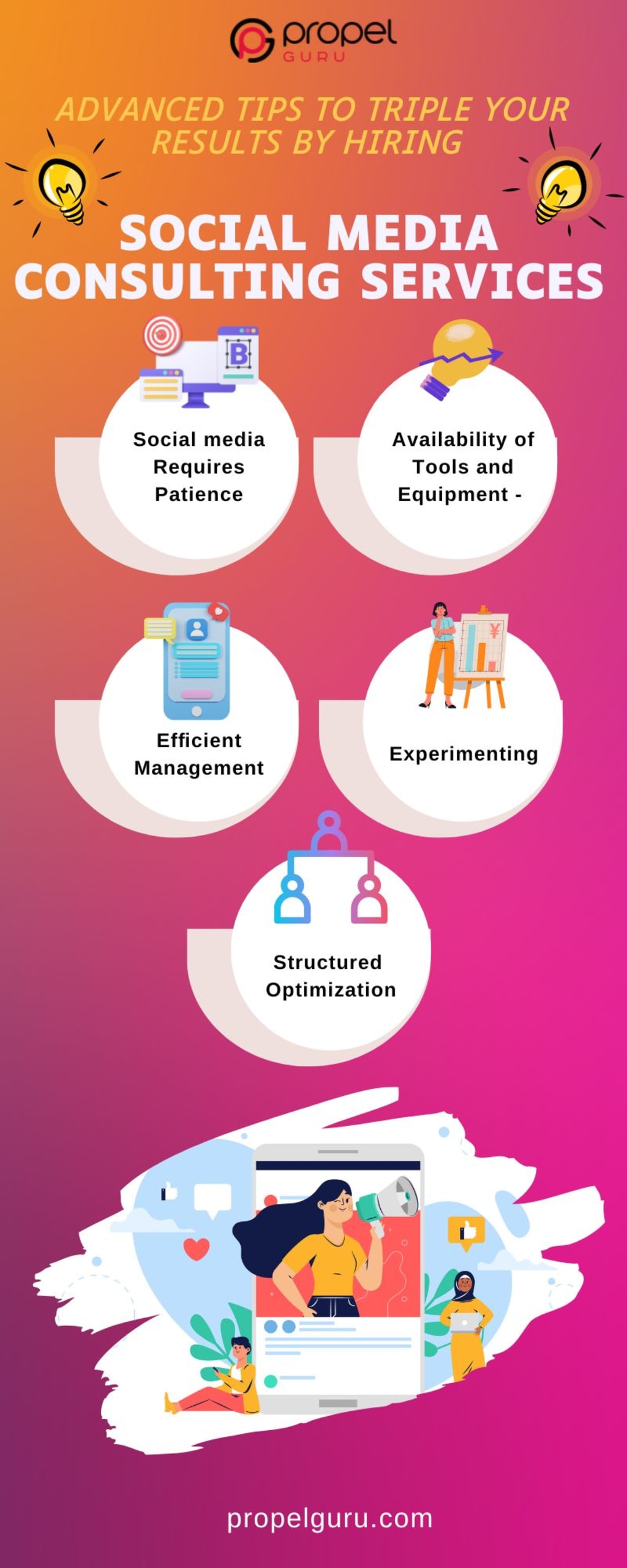 Tips To Hire Social Media Consulting Services
Social media marketing requires some learning. It requires a lot of effort and experimentation before you can succeed at understanding it.
Social media is the only marketing channel that is always evolving. Every day, new trends, tools, and app updates appear. It's difficult to deny the influence of social media on our daily life.
You trust a social media marketing agency with your goals and objectives when you hire them.
Working with an agency gives you access to a team of people with various expertise. Images are produced by graphic designers using ideas. Professional writers are brought in to assist create engaging captions and attention-grabbing CTAs. You hire expert social media marketers to plan and run your ad campaigns.
The Work That Social Media Agencies Do?
Advertising campaigns are developed across social media platforms by social media marketing agencies. You can accomplish the following goals with their assistance:
Brand awareness
Audience Interactions
Bringing Quality leads
Potential Paid and Organic Traffic
Remarketing
More Video Views etc...
Why Choose a Social Media Company?
When you hire an agency, you don't just hire one person. You're bringing on board a full squad of experts in their respective fields. Here are a few of the main advantages of hiring a social media consulting agency.
The Expertise of Social Media Agencies:
Businesses have observed and are implementing social media into their marketing strategies. Companies specializing in social media marketing have a lot of experience running campaigns and know where to focus their time and efforts.
In addition to being significantly more cost-effective than adding another internal social media specialist, a seasoned social media marketing business can assist you in achieving your objectives.
Availability of Tools and Equipment:
If you hire a social media agency, all of your advertising needs will be taken care of under one roof. There is no need to purchase new equipment or subscribe to new software services. They'll have everything.
Efficient Management:
Increasing efficiency is perhaps the most significant advantage of partnering with social media marketing companies. Every business owner's ultimate goal is to increase revenue. Social media advertising is a useful instrument to boost sales in the modern world.
Experimenting:
Social media marketers constantly explore new strategies in order to be as successful as possible.
Agencies are constantly looking for ways to improve campaigns, whether it be minor chores like adding captions to a video campaign or bigger initiatives like which creative best complements an awareness campaign.
Structured  Optimization:
The majority of social media marketing services work with a wide range of different companies, and they are constantly coming up with new strategies to optimize campaigns and boost effectiveness.
Choosing the best social media marketing agency can help you succeed. They can create unique tactics, handle daily responsibilities, and eventually use social media to produce leads and sales. However, it's up to you to pick a partner who comprehends both your company and social media.
A social media agency has your best interests in mind since losing clients is at risk if they do not perform well. Therefore, they'll keep you informed about your progress and social media results. The key metrics that indicate how effectively your social media marketing is boosting your company will be properly stated in this report.
The success of your company depends on the job that social media marketing experts are always doing.
Our Propel Guru social media professionals have freely shared their top advice on identifying and working with the top Social Media Consulting Services agency. They excel at acquiring and converting perfect leads. We'd be happy to check out your existing position and assess the growth possibilities in your sector.