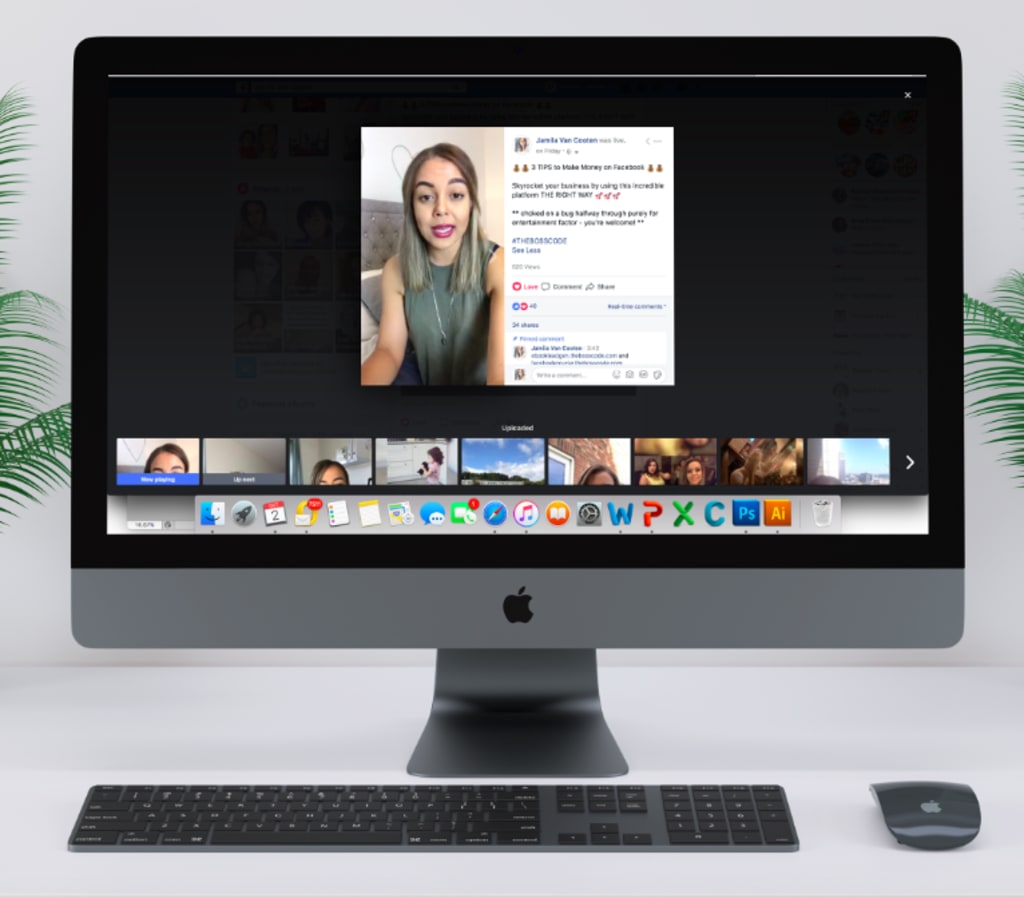 Facebook Lives are unparalleled! 
In case you don't already know, your organic reach is the amount of people who see your content without you paying to boost posts or place ads.
This is important for business owners and entrepreneurs who are just starting out and want to keep costs low or those who don't have a large marketing budget. It's also good for those who don't (yet) have a Facebook page and are using their own profile to build their business(es).
So here are 9 Ways to Increase your Organic Reach on Facebook!
I. Facebook Doesn't Like Promotional Content
Links, obvious ads, hard sales posts = a big fat X from Facebook!
As I always say...it's social media not selling media, don't abuse it to spam sales posts.
II. Build Your Authority
When you position yourself as a leader, it helps build your influence level — how well you can influence your audience to action; just make sure you are attracting the right audience who are likely to be willing to take this action.
Don't forget to entertain and inspire as well as educate!
It is also important to nurture your market and the leads you generate from it.
III. Persuade to Take Action
Use persuasion techniques to encourage engagement:
Ask questions.
Keep it short, so your audience doesn't lose interest and just not bother responding.
Give your audience a clear Call To Action so they know exactly what you are wanting them to do
Try not to say things like, "like if you agree" or "comment if you agree"
IV. Follow Facebook's Engagement Guide
Here is a list of what Facebook considers before showing you any posts in your news feed. Work backwards and ensure that you can fulfill these with your posts:
How recent the post is
How often the user posts
Current interaction on the post
Usefulness of the post
The likelihood of you commenting
Your relevance score with the poster
V. Strong Brand Presence
Reinforce your brand to your audience consistently. It is so important that they understand that you're not just "another marketer" or "another salesperson."
You are a BRAND — Show it off! Be proud!
Make sure it sticks in people's minds and they recognise it as soon as they see it! Also use Facebook as a way to cross-promote other parts of your brand such as other social media platforms, products, blogs etc.
VI. Timeless Content
Try to publish as much timeless content as you can, this way it will stay engageable (made-up word?) and show up in people's newsfeeds for longer.
VII. Weekly Facebook Checker
Each week, go through all of your posts from that week and note down the content of the posts, how many reactions, comments, shares, etc. you got and see if you are able to re-purpose the most popular ones to build more engagement in the future.
You can also curate other people's content (this does NOT mean copy and paste!). Look at topics and subjects that others are having a lot of engagement on and note them down as something to revisit in a week or two. Do your own research and use your own wording to come up with something new and unique!
VIII. Keep Your Email List Updated
Tell your email list when you publish a post that you would like a lot of engagement and interaction on.
IX. Go Live
Go live (or second best — post a video). Make sure it is packed with value and content that your target audience would find educational and interesting. You can then (after checking the rules of each) share this video into groups and generate organic leads that aren't in your friends list.
These are just a few of the ways that you can expand your organic reach online and attract more of your target audience!
If you enjoyed this, you should also check out our Attract Leads and Make Money on Facebook three-part video course, which is at 37% off right now! [see below]
To your success,
The Boss Code 🖤
About the Creator
Business Success Coach helping Entrepreneurs and Business Owners Build, Develop, Launch and Succeed in their Businesses and Create Opportunities to Generate an Income From Home Alongside Current Commitments.
Reader insights
Be the first to share your insights about this piece.
Add your insights