Fantasy/Sci-Fi Focus: Interview
Part 1 of 3
Here's the transcript to this portion of the interview:
Hello, good evening, everyone. I am really excited to be here. So welcome to the fantasy sci fi focus Facebook Live. Thank you so much, Michael for inviting me here tonight. And I get to take over this group for the next level.
So who am I? My name is Jeffrey Kippel. I am the author of a book called The ridiculous Adventures of Superman. It's kind of a blend between the Hitchhiker's Guide to the Galaxy Monty Python Family Guy with some Star Wars thrown into it.
I'm also the ambassador for something called the rethink faith initiative, which is a mission really to empower people to see that being fit goes beyond just strength and appearance. That's about mental and emotional and social and functional and spiritual. health too. And I do that by mentoring and guiding people who want to empower others to really love better how they think feel Apple can dream. My book is an amplification of that message, as throughout the comedy within it and all the laugh out loud moments. It's layered with all kinds of empowerment messages and messages of self growth.
So what's going to happen during this time that I've taken over this Facebook Live? I'm going to answer some of the questions that were sent over to me as part of the interview. I'm going to play a little bit of the audio book so you can hear a few minutes about the opening scene. I'm going to go back to some of the other interview questions. I'm going to do a little reading myself and answer any other questions that are coming up.
So let me start with the first question that was sent to me here. And that question is tell us about the first project you worked on. And when you knew you wanted to be a writer?
Well, the first projects I did were really writing poetry and I guess what I would call is just stream of consciousness. Another way of going, Okay, I saw a message pop up. So I you know, I, my first projects were really biting poetry, and writing sort of just the thoughts that were coming out of my head and putting that into some sort of stories. But it really was when I read the book, The Hitchhiker's Guide to the Galaxy. That is when I realized that there was something really cool about being able to read a book that makes you laugh, and makes you laugh out loud. And when I finished reading that entire series, I wanted more of it, and there wasn't more so I decided to write my own. And that's what I've been doing throughout my life. I started writing that when I was in my teens, and I went on pause every so often. And I came back to it throughout my life and actually finished it during the lockdown period. What was interesting is that when I started in my teens, I was able to take that as this project and make it a project that has been a lifelong journey and project. And what I mean by that is now I had all the different lived experiences and lessons I've had along the way, and that allowed the storyline to be perfected to have a different message divided than what I started out when I was in iTunes. So I thought before I really get into more of the questions, I'm gonna play a few minutes of the audio book because it's going to give you some framing and give you a feel as to what this whole book is about. And where my mind's at so you can understand the answers I'm going to give to some of the questions. So I'm going to put it on here and enjoy
Unknown 4:22
Okay guys, so that is from the audiobook Alan Irving is the voice actor and narrator and it was awesome sort of taking it from that initial project, but was in my head got translated into words on a sheet, you know, and then onto a computer and then took it to another level by adding that extra energy to extend his interpretation of how the characters would sound, which is very, very close to what I thought when I first wrote. So let me get back to some of the interview questions.
The next question I had was, Do you have a favorite character to write?
Well, for me in this book, serve an end and gene. Those are the two main characters and they're both based around experiences. I had, you know, when I was a kid, or when I was hanging out with my friends or things in my life, however, they have the ability to have twists and turns and all kinds of cool things that you can't really do in real life, at least not right now. So those are the characters that I really enjoy writing it's, you know, fun, adventurous, silly, that kind of mentality. They go with your flow and kind of see where things go and enjoy the ride.
The next question I have here is, what can you do when you're not motivated to write?
Well, to me, it's writing to me is more of that ability to tap into that flow that's just coming in that creative flow process. So I find that I get motivated as I'm in the energy of having a download on something really cool. That needs to come out of the ether and into the pages. If I if I get that and I don't feel motivated. It's a matter of meditating or getting outside getting into nature and doing something just to ground myself. Or laughing You know, finding something to laugh and enjoy so that I can get out of that because it all is just a mental thing. About the motivation level. Where else are how you're looking at the situation. And then a matter of being able to reframe that, as saying that I like is when you change the way you look at things, the things you look at change
Stay tuned to part 2 of this interview :)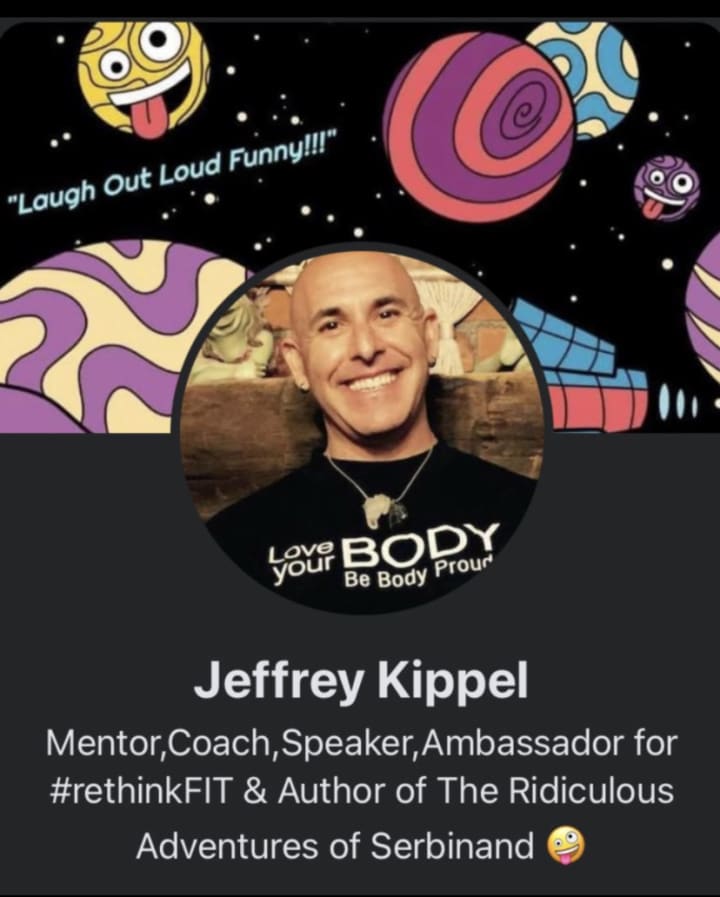 About the Creator
Helping raise social consciousness with laughter, wellness & empowerment; with my comedy book, as a talk show host & as an ambassador for rethinkFIT.
www.jeffreykippel.com
Reader insights
Be the first to share your insights about this piece.
Add your insights