Inteview on Books Charming
India's Top Book Blog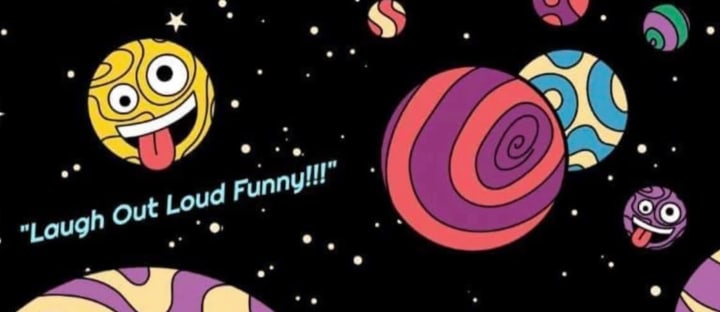 He helped pioneer the natural bodybuilding industry and fitness model culture. Today he is a Choose Your Life Adventure coach, and also the author. Borrowing from the style of humor in The Hitchhiker's Guide to the Galaxy, Monty Python, and Family Guy (with some Star Wars thrown in), Jeffrey's book also serves as a mental health break.
Jeffrey currently lives in the Muskoka Lakes region of Ontario, Canada together with his exceptional wife, Mindy Blackstien, and their cat, Oracle Spirit Spirit who is better known as "Aura". He developed a passion for writing back in his high school days.
Q.1 Tell us something about yourself not many people know?
A. I really enjoy cooking. Since the world shifted about 2 years ago I realized that if I was going to enjoy the foods I like, I have to take time to really put my attention and focus on creating them, healthfully. In fact, last night, I was so happy because, in my eyes, I made the perfect dish. I mean it was really, really, yummy! I made it exactly how I wanted it. I chose each ingredient, with specificity, which I believe made it taste even better since it doubled as an act of self-love! Plus, I was really in the mood for it. Bonus.
Q.2 When should we expect your next book? What will it be about?
A. That's a great question. Although my next 4 books are already imagined (part on paper and part in my head), I don't have a defined date. I am still allowing the rest of the story to "download" before I weave it all together. Plus, I learned from my first book that "book years" can kinda be like "dog years" as far as time acceleration (meaning, although in print my words seem to continuously flow, in my world that flow was actually a separation that lasted almost 30 years!
As for the plot… Well, all 4 books are part of The Ridiculous Adventures of Serbinand series. Each one allows the characters to share important life pearls of wisdom that may not be taught in earth school. Without giving too much away, in book #2, Godfried, the ship's computer, seems to have taken control of, well… everything (including the title...The Ridiculous Adventures of Serbinand: Godfried's Turn!).
Q.3 What made you write The Ridiculous Adventures of Serbinand?
A. When I was in my teens I loved the book series Hitchhiker's Guide to the Galaxy. The fact that I was laughing, out loud, from a book was so cool (although I realized I could no longer do that in school). So, when the series ended, I wanted more of that type of humor. So… I started writing it. I knew I was on the right track when I would laugh out loud to myself just envisioning the scenes beforehand, and then again after seeing them appear as words on paper. When my friends also laughed I knew I was onto something so I continued writing.
Q.4 How do you develop your plots and characters? Do you use any set formula?
A. Well, my life's favorite person - my wife, Mindy - happens to be really intuitive and good at seeing the bigger picture. So she helps me add depth and layer in-jokes, all of which made writing the book so much easier for me, lol. So typically I just let the story flow….from imagination to screen!
Being a story about ridiculous adventures has given us the flexibility to embed lessons of self-discovery in such a way that unsuspecting readers may not even be aware of the seeds of empowerment that were planted and watered. One day, they'll just awake to a new awareness or recognize something I wrote has shifted their mindset, and now they feel good. That's our hope, anyway. As far as a formula… I ask myself, is it helpful? Is it funny? Is it worth the read?
Q.5 What do you love most about writing stories for children?
A. I love helping to spark people's imagination. As children (and adults) it's so valuable to learn how to be in the moment, to always stay playful, and to imagine more. I also love that my book helps people of all ages rediscover the child in them and their sense of adventure.
Q.6 Why do you think it is essential for children to develop a love of reading?
A. It helps guide them into their own world of imagination. While writers give a description of scenes and characters, without photographs it is up to the child's imagination. So when a child dives into a book and really gets absorbed in it, visualizing the scenes as they are reading, that child is actually co-creating that experience with the author. In addition to being fun, it can lead to a valuable skillset that lasts a lifetime.
Q.7 What's your writing schedule while you're working?
A. Rather than a specific schedule, I typically am guided by inspiration. Meaning I write as things become clear to me or download to my head. Sometimes that is very often, and sometimes there are l o n g breaks. Lately, I have been more consistent, and have been writing on a regular basis, sometimes as early as 5AM or as late as 5AM.
Q.8 To what extent can science fiction effect or improve the developments in science and technology in human life? Is it right to say that science fiction can change what human life looks like in the future?
A. The biggest way is by expanding people's notion of "what's possible". Science Fiction allows the audience to see past what is currently in existence to help them shift their awareness to something new. So many innovations first made their appearances on the pages of sci-fi books, scripts, and comics. I think sci-fi is intertwined with the future and is constantly and consistently impacting it. It also seems effective as a way to fast-track people's acceptance of new technologies prior to their release.
Q.9 Which children's book most inspired you as a child?
A. Hitchhiker's Guide to the Galaxy, and all books in that series… I also loved the silliness of The Cat in the Hat and according to my mom, Harriet the Hippopotamus.
Q.10 How do you select the name of your characters?
A. Some came to me, some were significant. Serbinand just popped into my head. Godfried made sense as a name for someone determined to become the Ultimate Being. Jime is actually in memory of a close childhood friend who completed suicide. Orville just sounded right. And Free is the actual nickname I have for my wife who the character Free is loosely based upon… Well, in some scenes lol.
Q.11 Do you have any advice for aspiring children's book authors?
A. Be playful. Be guided by your imagination instead of your analytical mind.
Q.12 Do you believe in writer's block? If yes, how do you deal with it?
A. I believe that people may use that term to describe a moment in time when they are trapped in their "thinking" mind and blocking the creative flow process. It's another word for "fear". I know from my role as a Life Coach and Metaphysical Minister that when someone is in a state of fear, the body diverts its energy from where it's actually needed to fight the "danger". This means the creative flow doesn't have the available resources to focus on.
In my opinion, the quickest way to deal with that is to change the thinking that preceded it. The best is to find a coach, mentor, peer partner, or friend to talk it through with. Often just speaking it through helps to alleviate the fear, and often mentors and coaches can see solutions that are directly in front of you. I also like to take a pause during which I meditate, move my body or do something fun… anything to get out of the fear/stress state.
Q.13 Do you read your book reviews? How do you deal with good or bad ones?
A. I love reading how other people experienced the book. Everyone is reading or listening to it from their own view of the world, with their own filters that may delete, distort and change the meaning or context of the words. This means some people are going to love it and some may have a different opinion, lol.
One of the best things about reviews is that it provides honest feedback. While it would be amazing to only receive positive reviews, sometimes gems of insight are available in the less-than-positive ones. Accepting all reviews, good or bad, provides authors with insights on how to improve the next time.
To do so we must keep the ego and its emotions out of the discussion. Meaning, if our intent is to find value behind the information, generally we will. I also like the mantra "Some will like it, some won't, so what… You can't please everyone! Who you can please though is yourself!"
Q.14 Do you have any unique and quirky writing habits?
A. I sometimes rewrite the same sentence over and over, with or without adding or subtracting words. That may be a thing that everyone does, lol. I also like to let my words flow out even if they turn into run-on sentences that often don't even make sense or sound great in the first pass, but I continue going and going and going and going and then I just let more energy flow through me and then go back and read, rewrite, read again, rewrite again, and continue typing out long unending sentences….. until my wife steps in, lol.
Q.15 Outside of your family members, name one entity supporting your commitment to becoming a published author?
A. I am part of a network of people - specialists, healers, innovators, artists, athletes, coaches & thought leaders - who have come together to help themselves, each other, and their communities to love better how they think, feel, function, look and dream. It is all part of an initiative called the Rethink FIT movement which helps people expand their ability to truly be FIT… mentally, emotionally, socially, spiritually, financially, and functionally too. Just as I am supporting the initiative as an Ambassador spreading the message through my book, they too are supporting me. In fact, it was just confirmed that Rethink FIT Wellness Retreats around the world are able to feature my book.
Q.16 How will you describe your life before and after getting published?
A. What a great feeling to actually complete a passion project! It felt so fulfilling to me to finally finish the story, especially after all the years I spent on hiatus!
With the audiobook, Mindy and I had auditioned almost 100 narrators until we found Alan Irving. His rendition of the voices, tonality, pitch, cadence, etc were so close to how I imagined it would be. So hearing his final version was like a dream come true. I felt like I was listening to a 4-hour comedy skit...that I imagined!! It is such a feeling of accomplishment and joy, a truly proud moment.
Q.17 What three things should readers expect from your books?
A. 1. Laughter (including unintentionally LOUD laugh-out-loud moments).
2. Ability to escape into a ridiculous world of imagination.
3. Uplifted moods and feel-good feelings.
Q.18 Which famous person, living or dead, would you like to meet and why?
A. Well… it would be cool to meet the creator of this "game", matrix, Virtual Reality, hologram, 5-D… whatever it is called, that we are living in. That sure would be an enlightening conversation.
In the publishing world though I think it would be awesome to sit with Douglas Adams, J.K. Rowling, and Stephen King. I would ask Stephen for guidance on how to hook readers the way he does. I think it would be fantastic to speak to J.K. about her mindset when she realized her book was about to be a hit. I also hope she'd share tips with me so I can do something similar on my own. And with Douglas, I'd love to thank him for being my inspiration.
Q.19 What is your favorite book (apart from children's ones) and why?
A. Hitchhiker's Guide to the Galaxy because it is wacky, playful, fun, imaginative, funny and it opened my eyes to what is possible.
Q.20 Share the experience of your journey so far?
A. I guess I will characterize my journey as one that is ever-evolving. I am on a pathway to reach my human potential, fully expressing my unique talents and abilities, and be in service to others. I love that my book provides an opportunity for someone to step out of their current state and feel childlike and play… to step into the world of imagination, laugh, escape and have a dose of one of the best medicines around…laughter!
You can get the book today on Amazon, Kindle, Apple Books and Audible: https://amzn.to/3kMijJi
Find me on social media: 🤪
Twitter - https://twitter.com/jeffreykippel
Facebook - https://www.facebook.com/JeffreyKippel
LinkedIn - https://www.linkedin.com/in/jeffreykippel
YouTube - https://youtube.com/channel/UCH2UWsNqcSO1XABf319Jefw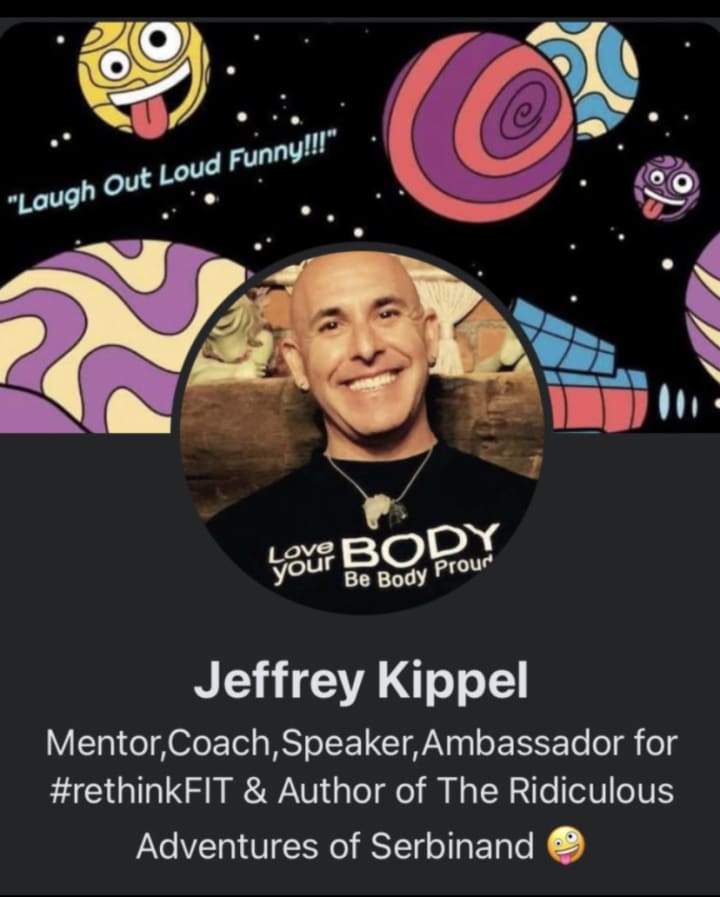 About the Creator
Helping raise social consciousness with laughter, wellness & empowerment; with my comedy book, as a talk show host & as an ambassador for rethinkFIT.
www.jeffreykippel.com
Reader insights
Be the first to share your insights about this piece.
Add your insights