Writing Through the Pain
Chat With Les: An interview with Nick Cavuoti October 2021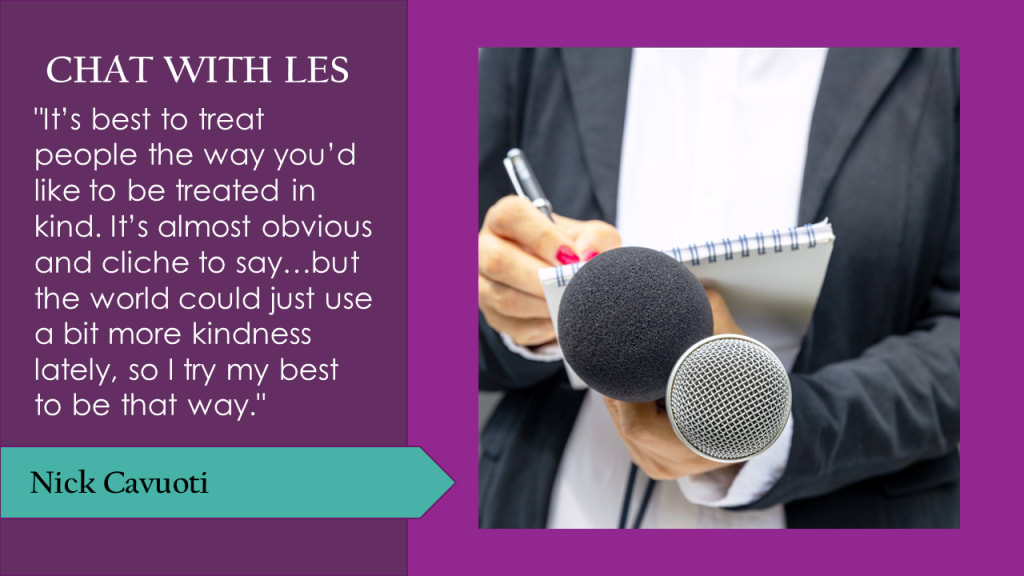 This interview is part of a series of interviews collected for the ongoing column "Chat with Les" by Vocal Media author Call Me Les in the new Vocal Creators Chronicle. The Vocal Creators Chronicle is a free, online magazine that is comprised of authors from 5 continents and 8 countries. Les is both a columnist and a co-founder. Her column presents candid interviews with people from all backgrounds, and aims to examine the finer points in the lives of those around us, such as the gentle soul & Vocal Social Society (VSS) moderator, Nick Cavuoti.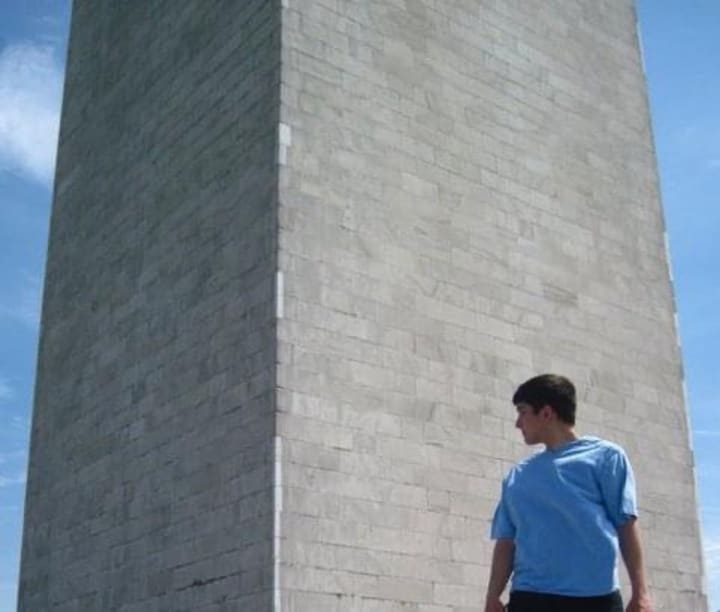 If you're a fellow Creator, perhaps you know of Nick's creations and have already read some of his fictions. Nick's very first story, "Living Dolls" is a great read for Halloween and reminds me a bit of the movie Running Scared with its 'out of the frying pan and into the fire' plot.
His most recent work, however, is from a community we know and love: Geeks! Nick has a wide selection of movie reviews to choose from. He recommends "Midnight Mass".
Les, ever the hopeless romantic, loves his fiction, "Acceptance" for the following quote:
"She joined him in the laughter as the two walked into the living room and cuddled up together on their couch and began to enjoy each other's company. Day turned to night, and night to day. The two had passed out on the couch bringing forth a new day. Jim had woken up before his wife and slowly moved out from the couch while being ever so careful to not wake her. He motioned toward a blanket to cover her and tucked her in. He leaned in once more to leave a kiss on her forehead."
Interview
Q1: What is an average day like for you?
A: I wish I could write something exciting, or even inspiring, here, but the truth of the matter is rather boring. I wake up and lay in bed, trying to quickly gauge how the day may be right off the bat. Will it be a good day? Or will it be a bad day? Sometimes it can be rather arduous just to get out of bed due to a decade worth of autoimmune issues ranging from arthritis, hypothyroidism, Crohn's disease and an impending bilateral hip replacement. After gauging how I feel, my daily activities range from gaming with friends, relaxing, watching movies or plotting another story.
Q2: What or who inspires you?
A: This is an easy one. The person that inspires me most on a day-to-day basis would have to be my mother. She's sacrificed so much and been a beacon through plenty of dark times over the years, even as some of it may have chipped away at her and things that she may have wanted to pursue in her life. Her strength, endless positive attitude has made me hope to be the same over my years. Back in 2013, my life changed significantly after my left knee became septic. For the most part, I have been recovering still as it set off a string of other issues with my arthritis, damaged joints, and Crohn's disease. Balancing different medications and how they may affect me has been difficult. Yet, through all the hospitalizations, various treatments, she has also been there by my side, making anything seem okay and lifting my spirits as much as she can. I know it has taken a toll on her personally and professionally, but she'd never let it show, and she'd never change a thing. That's what a mother should be; that's what a loved one should be, and I hope that I can be as strong as she is as I continue to grow.
Q3: Do you feel called to a cause of action? If so, what should readers know about it?
A: I'd have to say more acknowledgement toward those that deal with invisible illnesses—for instance, my battle with arthritis and other autoimmune disorders. Most days as of late, thankfully, have been better, but over the years, I have put on a good face and a smile through it all while dealing with some horrible pain and even mental anguish. Putting on a good face can make a lot of that anguish invisible to others, and I am not by any means looking for pity, but in my experience, those that have been close to me have questioned my illnesses. My father, my brother, and even people who I thought were close friends have, but you never know what someone is going through unless you yourself are in that person's shoes. I'm not saying my plight is the worst of it—far from it, in fact, but those that have been through worse and don't show it are true warriors. They should be celebrated and lifted up because they are trying their hardest.
Q4: What's the most interesting thing you've read or seen lately?
A: I recently got an Apple TV subscription, and it is absolutely phenomenal. In a time filled with so many streaming applications, Apple TV stands out above the rest with shows like Ted Lasso, which has been a good time through the tough times that COVID-19 has put us all through. The streaming app has a lot of good options, but Ted Lasso continually stands out to me from their library. Jason Sudeikis, Brandon Hunt, Brett Goldstein and Hannah Widdingham deserved all of the Emmys they recently won. Midnight Mass on Netflix was also excellent, but I enjoy Mike Flanagan's work.
Q5: Why do you write?
A: It all started back in high school, but if I am being honest with myself, I have always been obsessed with reading and telling stories. High school is when I first started to write, as it helped me get through the times when I was first struggling with Crohn's disease. In my junior year, I lost a lot of weight and was admitted into hospitals quite a few times, including being treated at John Hopkins. I'd have to keep up with my school work, and my English class said I had to write a story. I didn't have any kind of requirements or anything, so I ended up writing hundreds of pages of a horribly written story that was all over the place; the tone would go from uplifting to horribly depressing from page to page, but that was my start. It was a tough time, and my escape was on the page. That escape became something that I absolutely adore even all these years later.
Q6. What is your best Vocal creation?
A: My favourite piece that I have written on Vocal is a tie between Living Dolls (see above), which was a short horror story I wrote years back and The Woman in White as a part of the recent Summer Fiction Series contest.
Both were a bit of a horror variety but tackled very relatable feelings and struggles. "Living Dolls", in particular, I feel as if I used my old childhood home as a basis for the house as it was set deep into the woods, and there was one house on the street that just looked like a gothic mansion of some sort. I don't even remember ever seeing people go inside or come out from it. "The Woman in White" was slightly inspired by a television show called Supernatural. It even shares the same name as one of the characters, but inspirations stop there. The core of that story is about guilt, and that's something along the lines of any one person's life they experience.
Q7: What is your greatest achievement personally?
A: Personally, the big thing that has to stand out to me is my battle with my health. The last few months have been some of the best I have felt since 2013, when my health took a turn for the worst. New doctors and a new medicine regime have been the difference, and it has certainly made me hopeful. So I am proud of it and looking forward to the future more as opposed to being a bit more dour.
Q8: How do you pick yourself up after a failure?
A: It's not easy, sometimes it can be easier than others, but I try to remember it is always temporary. It is cheesy, but the old adage from The Crow, "It can't rain all the time," sticks out. Even in the darkest times, light still will eventually shine through. Any kind of failure will eventually break, and I will grow from it. You've just got to pick yourself up, learn from it, and move on even if it takes time. Things always can get worse, or even better, and they will. It's the ebb and flow of life, you've just gotta ride the waves, and the good times that come along will always outshine the bad or failures. I've had to pick myself back up after many failures, misdiagnoses and even misplacing my hope into a new medication that could put me on the right track, but didn't. I cannot even tell you how many biological drugs my old doctor put me on in hopes of getting my arthritis treated, only to see it fail or make other issues worse. I'd have so much hope that this new medicine would put me back on a path toward being a "normal" human being again, only to see that hope just go up in smoke, and for a moment, I would lose a part of myself once more. I'd get depressed, wondering if it would just be a part of my new-normal life, but in the end, I always managed to pick myself up and just keep going. I never felt as if it would do me any good just to sulk and curse the heavens. Eventually, everything has to balance out.
Q9: What quotes get you through the hard times?
A: A doctor from a long time ago once said to me that your eyes are facing forward to look toward the future. I had some difficult times with that doctor, and she didn't do much to help, but that quote has stuck out to me. Indeed the past can inform the future, but it's best not to live in the past.
From Nick to Les while chatting:
"It's best to treat people the way you'd like to be treated in kind. It's almost obvious and cliche to say…but the world could just use a bit more kindness lately, so I try my best to be that way." -Nick Cavuoti
Q10: What would you like to have remembered about you?
A: I wouldn't like to be remembered for my deeds, but more so who I am as a person and the people I have touched and bettered along the way. In a more direct response, I would want to be remembered most by those closest to me. Life is tough and can be unbearable at times, however it is always the good people that can really turn around the bad times. The closest of friends, family are those people.
Q11: If you could have a superpower, what would you choose and why?
A: I feel like most people would say flight; it would be cool but realistically difficult. What if you fly too high and breathing becomes too difficult, and you plummet down to Earth? Things happen! Regenerative healing or invulnerability also brings up immortality, which is sad; all good things have to come to an end. I realize I am thinking about this way too realistically, but super-speed would be fun. Everything becomes a breeze: cleaning the house, groceries—you know, very pragmatic things. Even for food, "Oh, I am craving a Philly cheesesteak!" Bam, go to Philly and get one. You want something barbecue? Kansas City. I'm there. So, I am sure people that love food and all the different states' specialties will enjoy this answer.
Q12: What is one message or piece of advice you would give to your fellow humans?
A: Never stop. Never stop learning; never stop growing. Life and even storytelling are about the journey, so you should enjoy every moment, the good and the bad. There is always something to take away from everything you endure. Not to be preachy by any stretch, but it is a small miracle that we all exist. So we should enjoy all of our journeys wherever they take us, no matter how small or how large.
Trivia
Pet Peeves: Negativity & an over usage of crude language.
Music: I swear I am an old soul. I am in my early thirties, and I cannot stand most of the music today. I love classic rock like Led Zeppelin, Queen, The Doors. All of the music from that era.
Hobbies: Video games have always been a safe haven for me, like Final Fantasy.
Sports: Basketball was always a big passion of mine and even through my health issues that love has endured.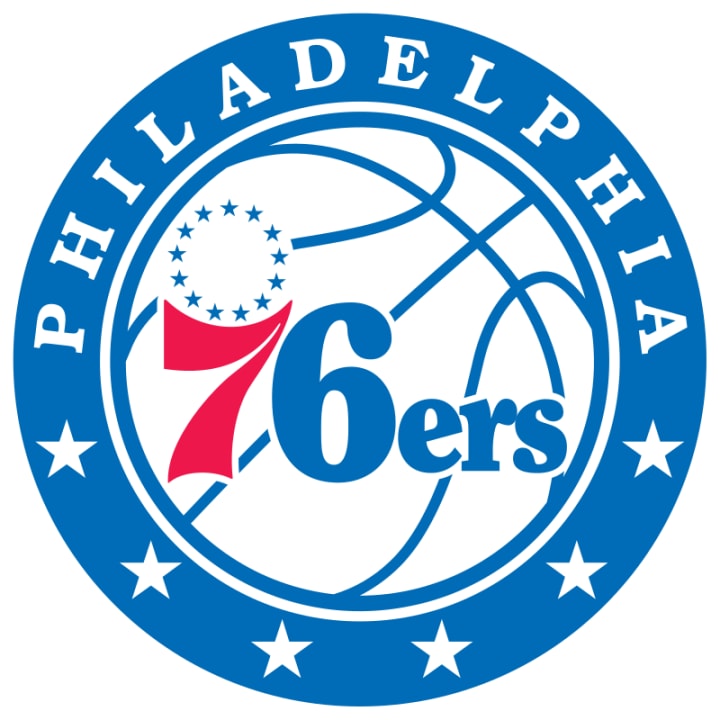 Snack: It might be boring, but lately I have been really enjoying a little provolone along with pretzels.
Bad habits: I hate admitting this but I do have a tendency to procrastinate things that I really shouldn't.
Night owl/early bird: There is something peaceful at times when it comes to being a night owl.
Finally:
Q: If you had a theme song that played when you entered the room what would it be and why? First one that pops into your head.*
A: "Don't Worry Be Happy"
First thing that pops into my head is the song that I was told over and over when I was born. It feels applicable here due to the overall tone of this whole interview. Don't Worry be Happy. I was told a bunch when I was growing up that song played and was on the radio a lot around the time of my birth.
And on this high note, Les concludes her interview of the charming, kind and poetic Nick Cavuoti.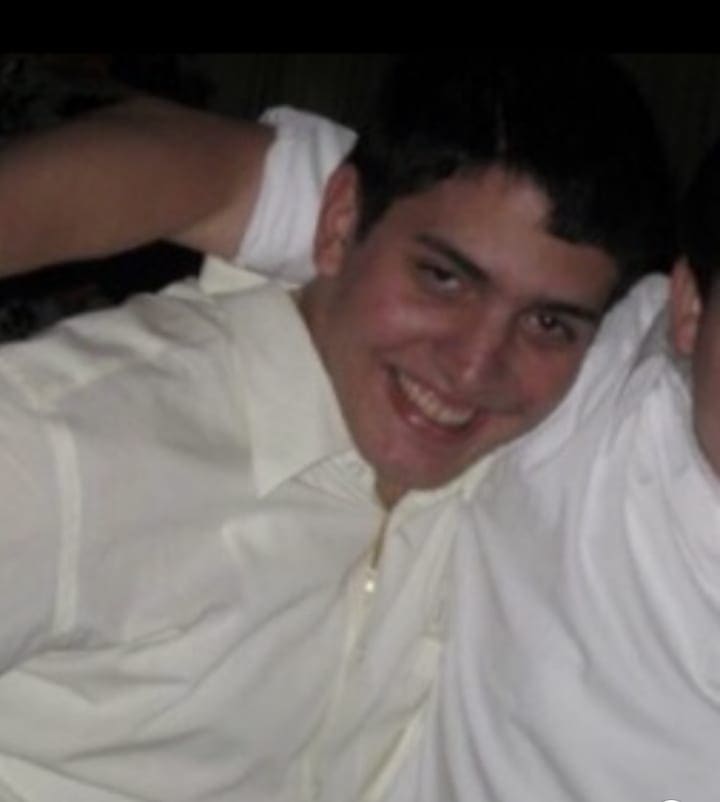 We at The Chronicle are so pleased to tell his story, and we hope that you, dear readers, found the walk in Nick's shoes as eye-opening as we did. Nick's favourite charity is St. Jude Children's Research Hospital. To find out more about them and how you can help or to make a donation, visit their website below.
Previous interview in this series:
About Les & Why She Writes Her Column
"Understanding each other is the foundation for many of the great causes in the world. I can't champion them all, but, like Dr. Roshdy states, I can make a difference by starting with one. Telling one person's story, starting small by bringing their passions, frailty, hopes and humor into the world, is a way I can make a difference to many." -Call Me Les
~We are better together~
*This question is dedicated to the memory of Les' writing partner, the lateTom Bradbury.
First Published October, 2021 by Call Me Les for The Vocal Creators Chronicle.
*Important note: The Vocal Creators Chronicle is not part of the company Vocal Media and we neither represent them nor answer questions on their behalf. We are an independent, Vocal-passionate, writing collective.
interview
About the author
She/her | Cat enthusiast | "Word-Nerd" | Fueled by buttertarts
~&~
Reader insights
Be the first to share your insights about this piece.
Add your insights