Who wants to live forever?
Not me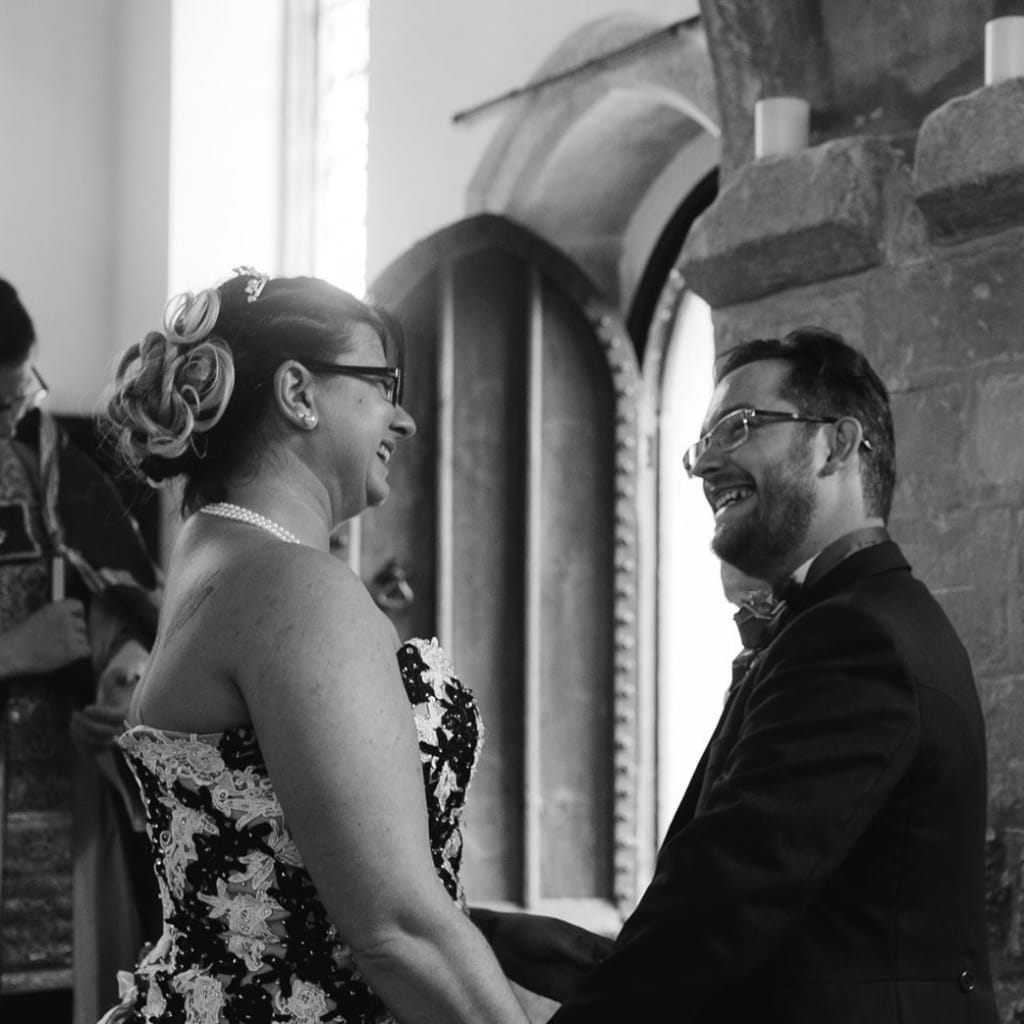 But if I had to,he would be why.
There's so many cliches in the world about relationships and how they are,how they should be and what to expect,I've heard so many of them that they just go in one ear and out the other,the one that drives me crazy is the ride or die one, and the harlequin and joker concept of a relationship. It's laughable. Everyone expects that their relationship will be this whole piece almost like a fruit,complete,unblemished,well rounded,when in actual fact its more like a kit car.After years and years of neglect and abuse at the age of 25 I figured I was never going to find anyone that would want me for me. I had a lot of emotional and mental baggage and felt completely broken. I didn't want someone that was going to put me back together for me to break when they walked away, I wanted someone that would stand beside me while I built myself back up and felt more like a person again.
All that changed when I met my now husband. Working closely alongside each other we developed a friendship that was so solid I knew I could trust him to just be there for me in the capacity of a friend. It didn't take long for me to realise how much he would sacrifice for me and my children. As time went on things changed as they tend to do and I found myself recovering a little bit at a time,being able to talk openly about my sins and discrepancies,my faults and my wishes helped us to get so close that we ended up becoming strong together,we supported each other we held each others hands through the scary times and in present climate we still do.
I'm not one for the mushy stuff,in fact the picture with this is probably one of the very few of me looking remotely feminine,but he still loves me for me. I can't tell you why it works the way it does but it just does and if there was one person in the world that I can turn to I know that he will be there waiting. I have never wanted to reach old age as my body is slowly disintergrating and in my 30's I am already bed ridden most days or struggling to move about. So on my rare good days I find I go a little nuts and do everything I have been meaning to do for ages and not gotten round to. Then things get on top of me and i'm back at square one, this where I fell that the definition for love comes through for me, i'm not judged on any of this. I get berated when i'm in the wrong but not belittled, I'm shown the way my actions affect those around me. By the age of 37 you would think this is obvious, my informative years were full of fear violence and neglect at the hands of those that should have been teaching me how to be a person in my own right and it was something that was never instilled in me, I catch up now with old mates and remember how reckless I was growing up and how I never cared for myself,I wouldn't think twice about putting myself at risk for other people as I could never care about what or how I might end up, even having children didn't change this for. I think love is about being a teacher, a support worker, and of course a friend. Without sounding too mushy this man literally helped turn my life around he has been my kite string and has allowed me to soar as high as I want without fear of being carried off and the reason I'm writing this, isn't to gloat about my relationship over those of others,it's to show this man how truly I appreciate him and how thankful I am to be around him. And if I had no choice but to live forever, as long as he is beside me, I know I could.
love
About the author
I'm 35 and on a mission in my life, not for me but for future generations,to try and stem the need of people for things and replace it with love for people again,to try and show compassion where it is needed and help others like myself
Reader insights
Be the first to share your insights about this piece.
Add your insights