What 'Emily in Paris' Teaches Us About Modern Romance
Is monogamy considered 'ringard' in 2020? Article contains spoilers for 'Emily in Paris' and 'Sex and The City'.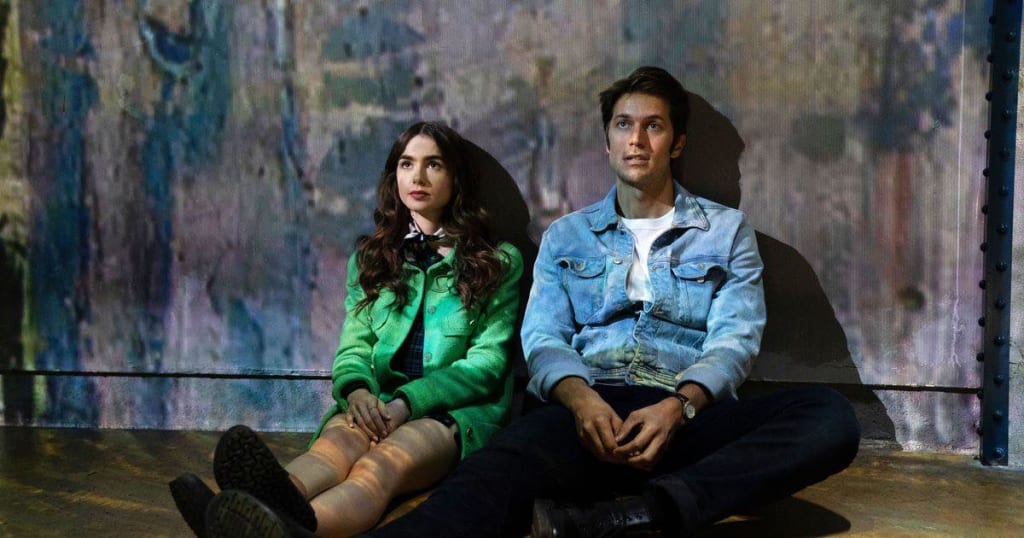 Image: Netflix
Emily in Paris is here and it is quickly making its mark. Darren Star brings his Sex and The City themes and makes them more accessible to the twenty-something year old that is longing to be the Carrie, (or any of the other girls) of her group. While column writing has been replaced by the uprise of the influencer and New York has been replaced by Paris, one element remains just as glamorous as it did then: the Affair.
Affairs aren't strangers to our screens. We have seen some of the greatest love affairs play out before our very eyes, both fictional and real. From The Great Gatsby, to Carrie and Big and even in non-fiction shows as seen in recent years of Keeping Up With The Kardashians and off screen lovers Brad Pitt and Angelina Jolie, they are animal and they are fascinating - but are they glamorous? Darren Star may think so.
Most recently, we have watched two variations of affairs unfold in the Netflix series starring Lily Collins. Firstly we are introduced to the 'power' affair. Similar to Sex and The City's Samantha, Sylvie is also a leading lady in the media world. While Samantha owned her own Public Relations firm, in the first season of the show she admits to loving that she is not her lover's wife. Sylvie, too is a strong and respectable working woman in the world of media. Managing the French marketing firm 'Savoir', she also engages in an affair with a married man. As she said, "I don't want 100% of anyone and I don't want anyone to have 100% of me", while dashing Emily's idea of romance to a basic fairytale. However, that brings us to our second affair of the series, the not-so-traditional fairytale of Emily and Gabriel. Emily knowingly engages in raunchy kisses with Gabrielle and admits to her friends that she is obsessed with him albeit behind her close friend Camille's back, who also happens to be Gabrielle's girlfriend. We rooted for this coupling at times, didn't at others, much like the Carrie and Big love-mess, but nonetheless the affair paid off and both content creators succeeded in their mission. In 1998, Carrie questioned if 'three is a crowd' in regards to three-somes, perhaps the answer to that is an affair.
'Ringard', or basic, is what we are told is achievable but commendable; similar to Emily's attempts to recreate the fashion from Gossip Girl. In the fashion world, which let's face it, Emily in Paris is largely based in, couture and glamour go hand in hand. Couture is the design of [accessories] to a clients specific requirements, and what is a more captivating accessory than an undeclared love interest? An affair isn't just cheating, it fits more requirements than that. Affairs are more than sex, they are expensive, require your attention and must fit around your pre-existing standard of life. The Collins English Dictionary states that to describe something as glamorous, they are 'more interesting than ordinary people', something that seems inexplicably unachievable to the regular person, and far from 'basic'. If monogamous relationships are seen to be the basis of western society, then they become ordinary. So, does that make affairs glamorous?
Emily In Paris made me stop and ponder this over quite a few coffee breaks and filled my shower thoughts, to the point that I even asked some of my girlfriends. I soon learned that the show, and its predecessor, had made others rethink the value of the affair too. Are we taught, as a society built on monogamy and the patriarchy, that an affair is illicit? Society said that marriage was the greatest deal that women ever made, but has feminism taught us enough about balance? Is there a reason that these shows only portrayed the women who beat to their own drums in these affairs? All of these infamous affairs were built and maintained around the needs of the leading ladies and for that reason alone I believe we still have a lot to learn from Carrie and Samantha's Sex and the City days and from Emily, Sylvie and even Antoine's wife's lives in Paris. After all, each of them got exactly what they were looking for.