Tom Bradbury: No Words Left Unspoken Part 2
The voices that remain and how we are healing.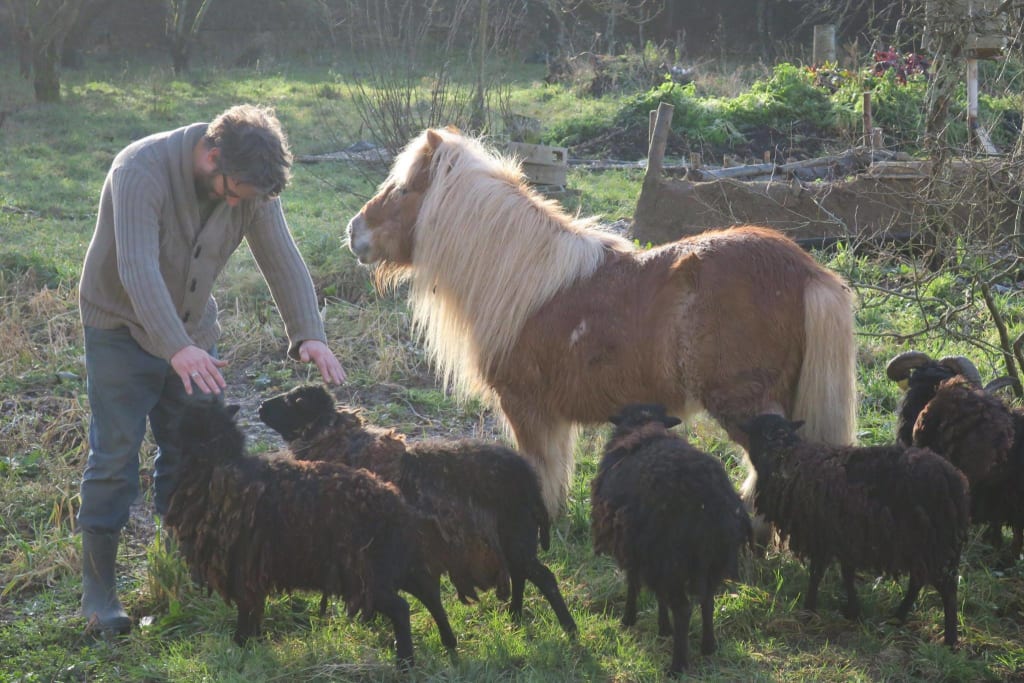 The Accidental Shepherd
When news of Tom's passing reached the Vocal Facebook groups, it reverberated for days. For some of us, it's not even begun to dim. Almost in unison, Creators flocked to their blank pages in search of healing, resolution and support. Many of you collectively sought refuge, answers and a place to place your words. I've done my very best to capture everyone's voice that had something to contribute. If you wrote something and I missed it, please write me through The Vocal Creators Chronicle's website or Facebook page.
This is the official document that will be handed directly to Tom's family & friends. Part 1 is here:
As with part 1, proceeds from part 2 will be put towards publishing Tom's Fiction Anthology.
Note to readers: when we embed the hyperlinks for these works, the layout is set by the dimensions of the photo. Size and style of each entry is not indicative of importance. Also, order hasn't been applied, only subcategories of content. All voices are equal here and each of us hopes our words bring you peace and comfort in the long days of grieving ahead.
Poetry
By: Jan Portugal
By: Casey Promise Thompson
By: Scott Wade
By: Julia Blanker
By: Rachel MJ
By: Kent Brindley
By: Kelli Sheckler-Amsden
By: Matthew Mccahey
By: Melissa Ingoldsby
By: Mariann Carroll
By: Babs Iverson
By: Dawn Salois
By: Ali Sp
By: Yolanda Olivia Anderson
By: Literature Hut
By: The Dani Writer
By: Linda Rivenbark
By: Angela Derscha
Eulogies
By: Call Me Les (Lesley Leatherdale)
By: Paula Shablo
By: Julianne McKenna
By: Eric Anderson
By: Arpad Nagy
By: Sarah St. Erth
By: Catherine Donnelly (Maria Calderoni)
By: Hamish Alexander
Grief Support & Healing
By: Caitlin Mccoll
Literary Remembrances & Tributes
By: Natasja Rose (Note-Natasja is donating the first month of her latest book's sales to Andy's Man in Tom's name. You can redirect to purchase her book through her piece.)
Compilation Edited by: Judey Kalchik
By: Chloe Gilholy
By: Jessie Waddell
By: Pam Reeder
By: Emily Keeler
By: J. Lee
By: Carol Townend
Dedicated Works
By: Lori Melton
Fiction
By: Julie Lacksonen
By: Trevor Wells
By: Jason Basaraba
From Vocal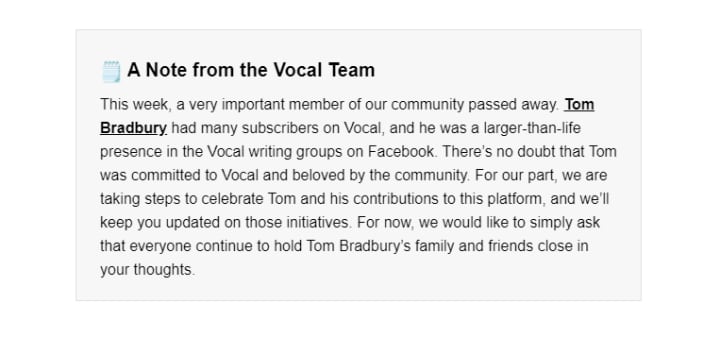 From Facebook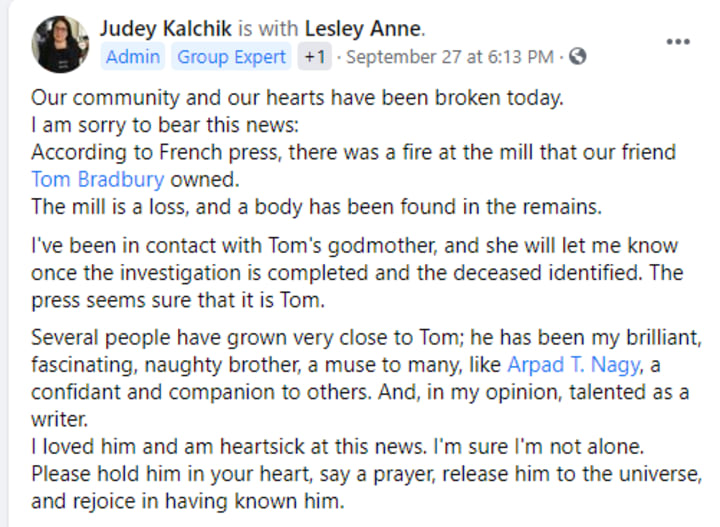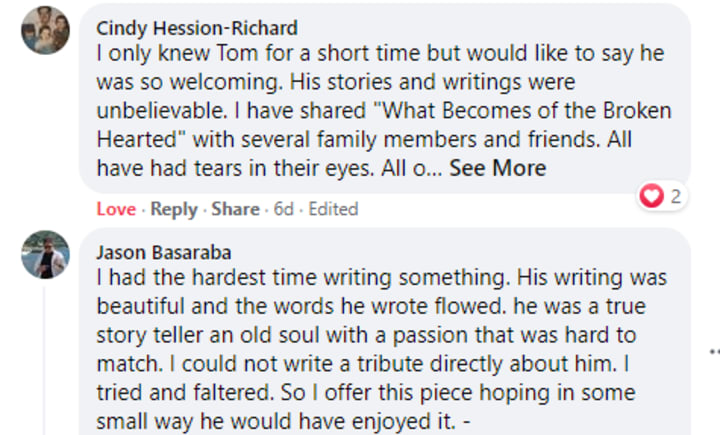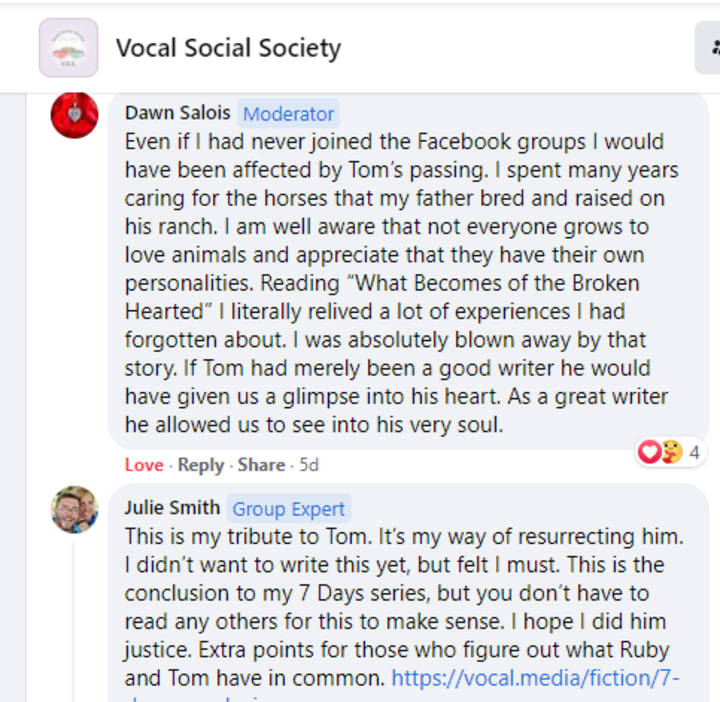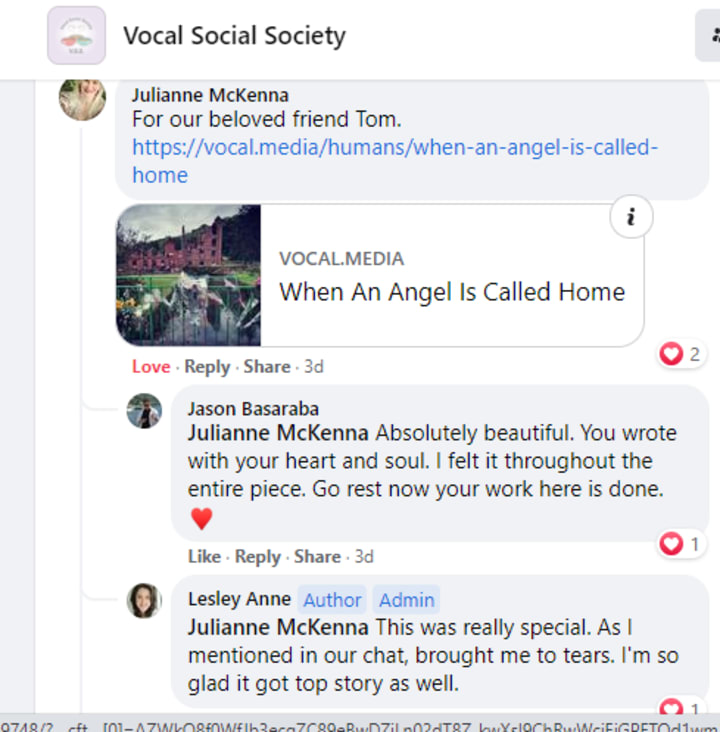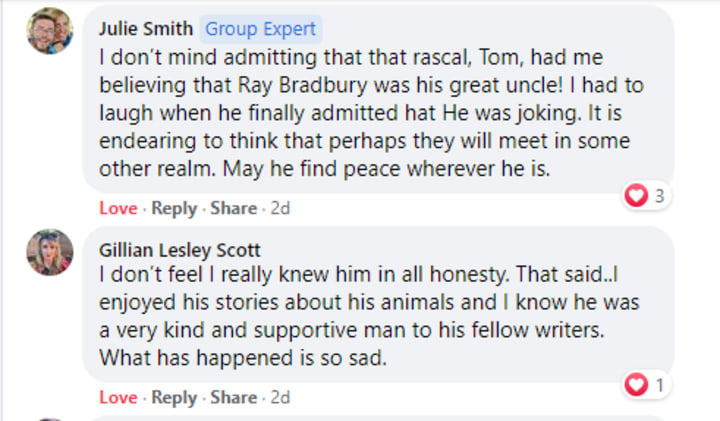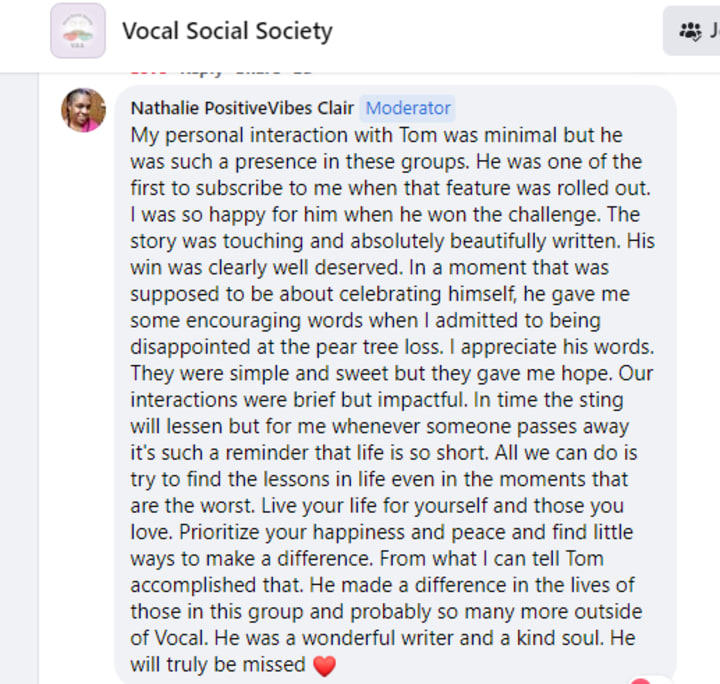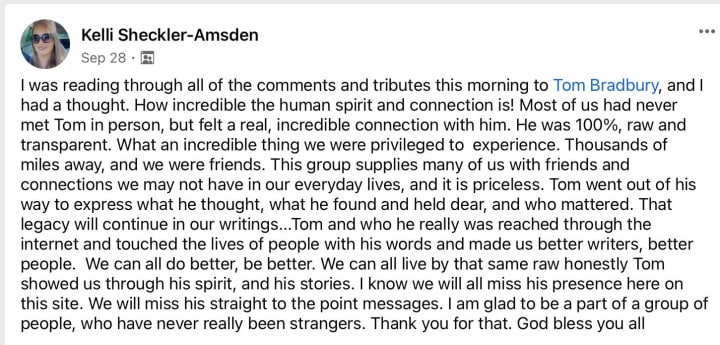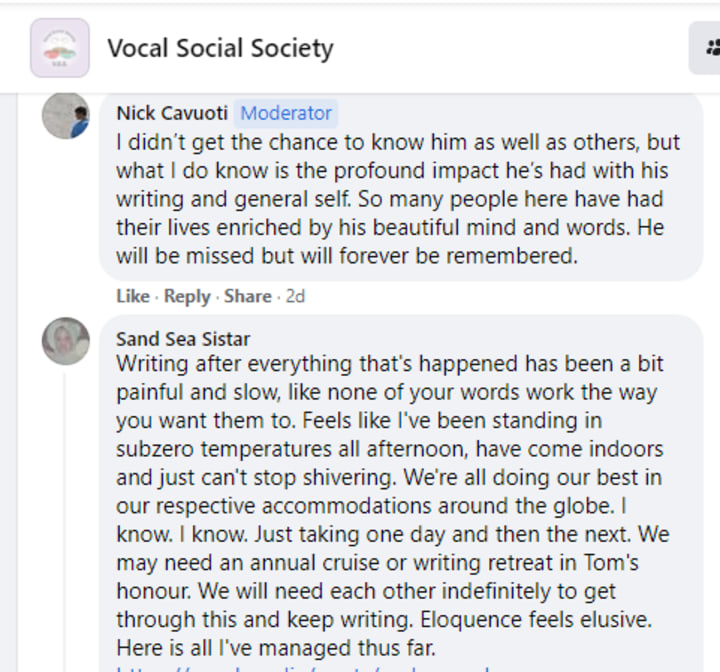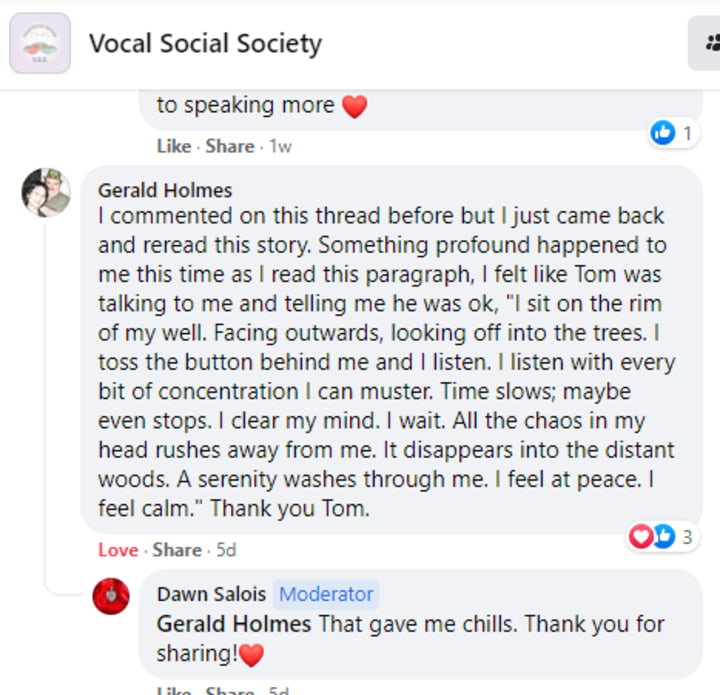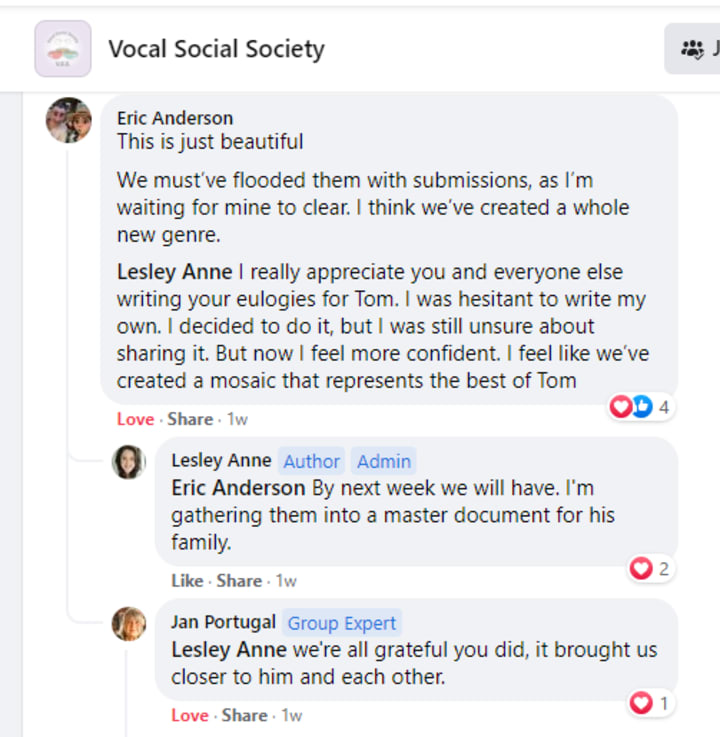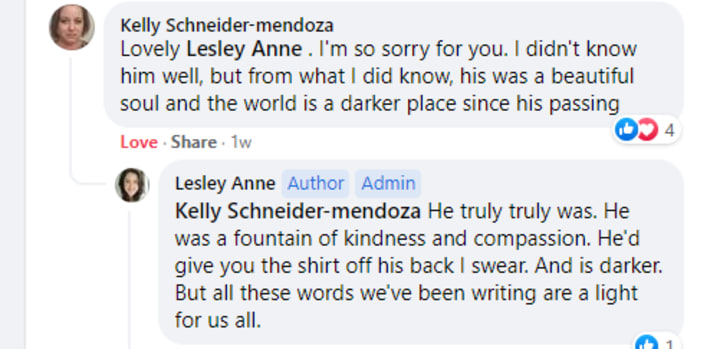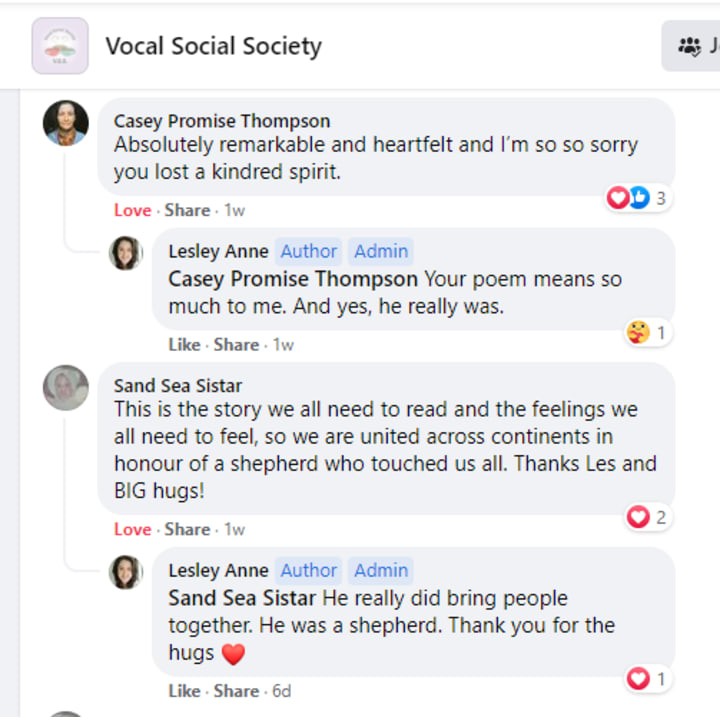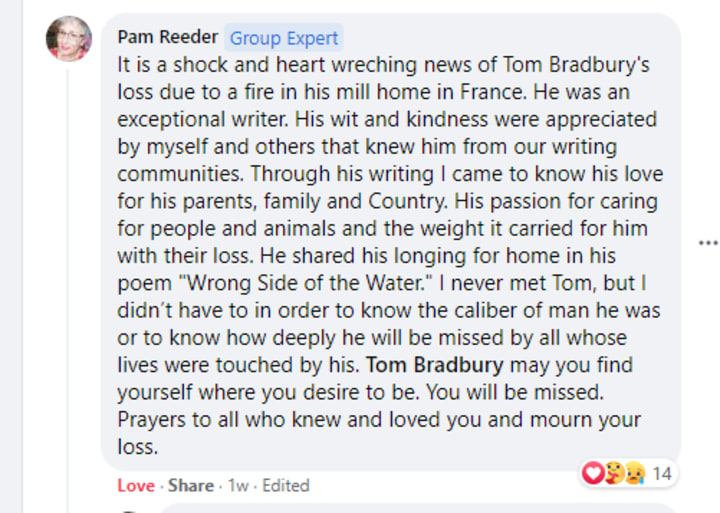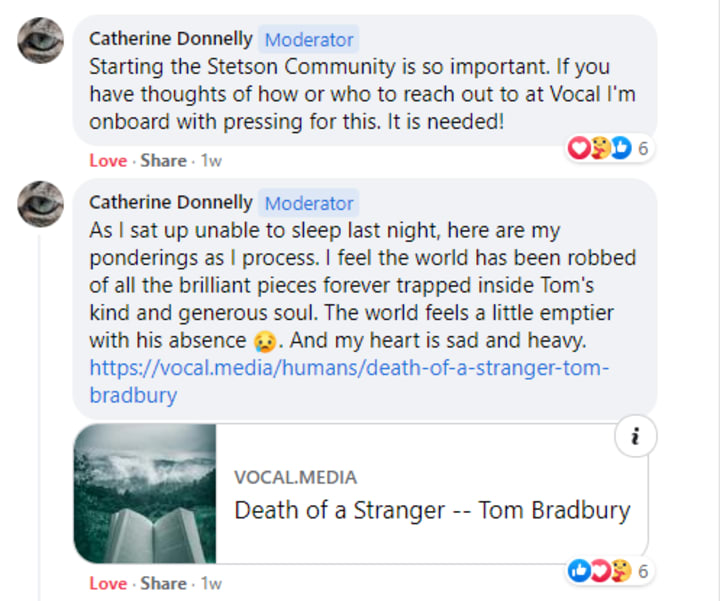 Thoughts on Stetson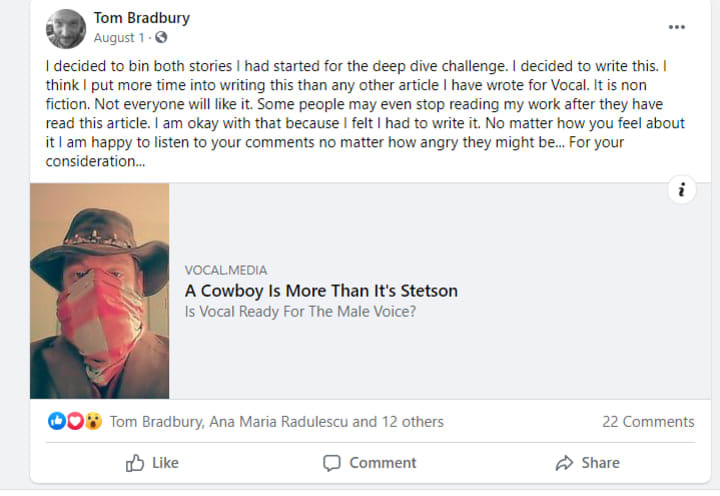 (Or a community with the same theme but alternate name)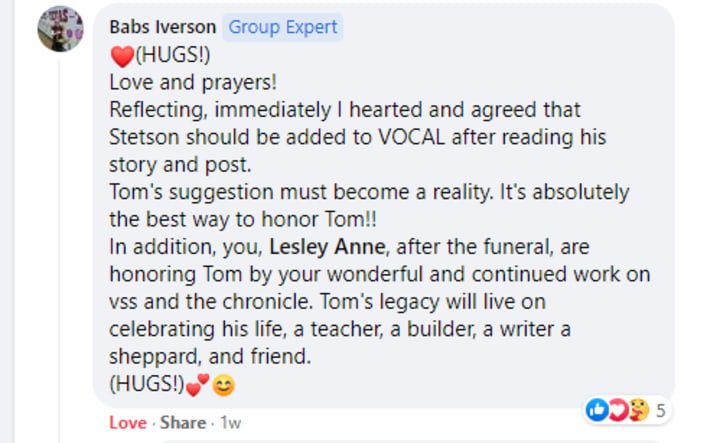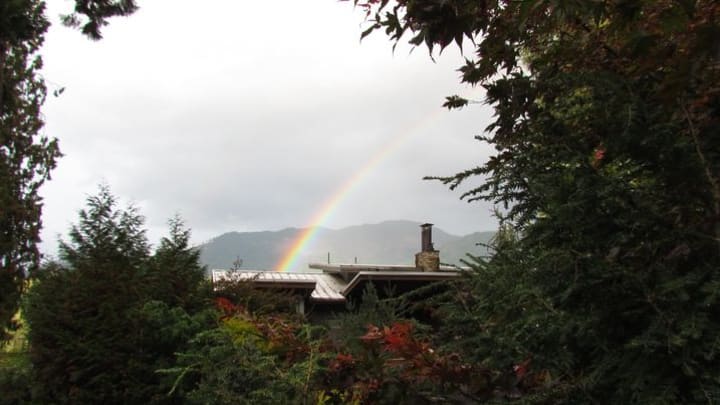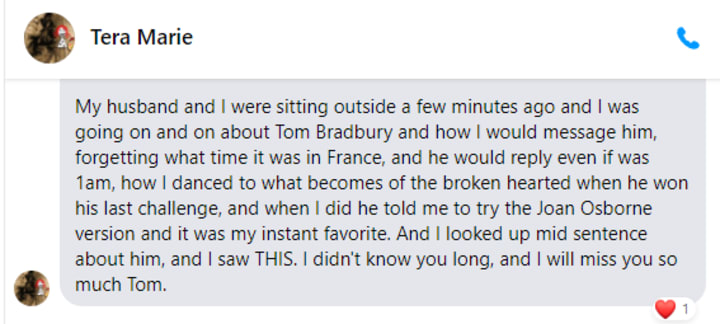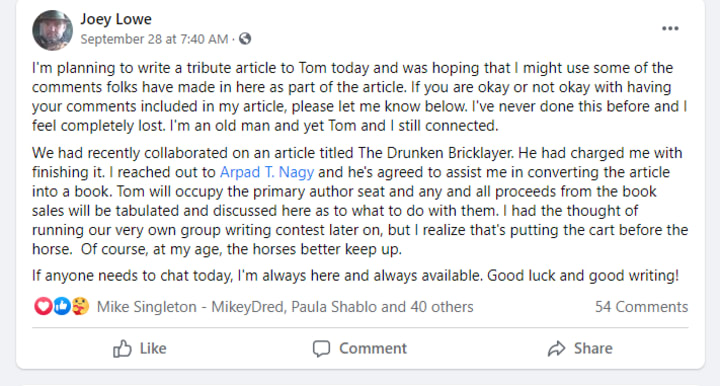 Some Happier Moments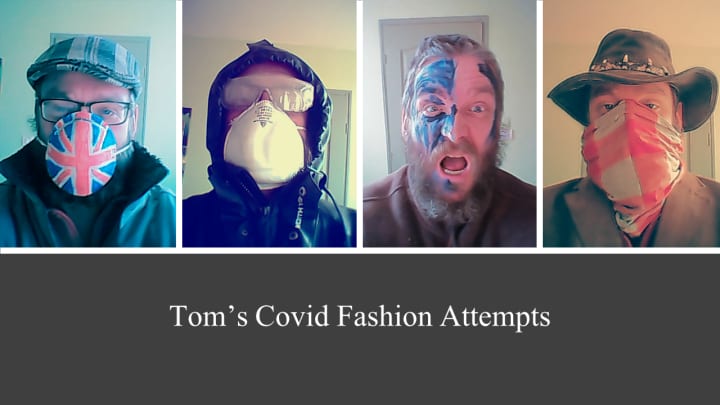 When The Chronicle Put a Gossip Column Together...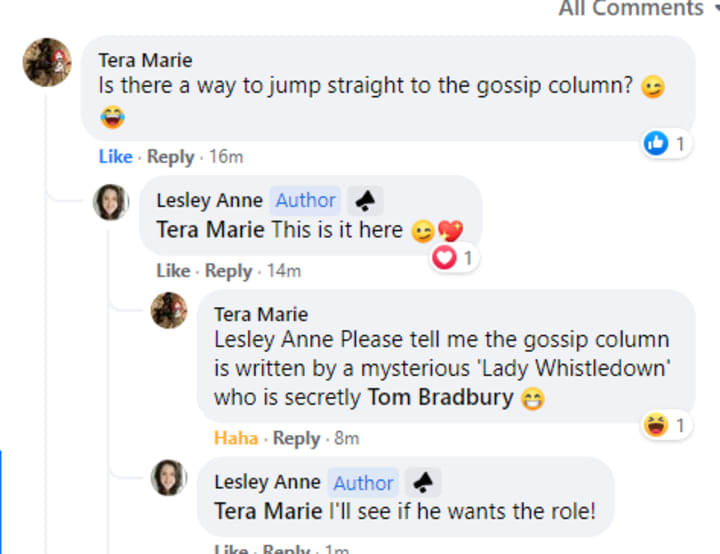 Yes, he made it in more than once! I think if he hadn't he'd have been "shirty"...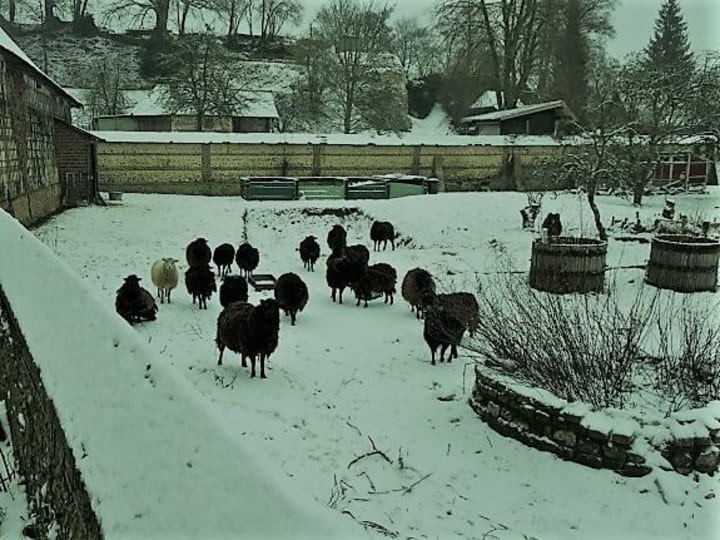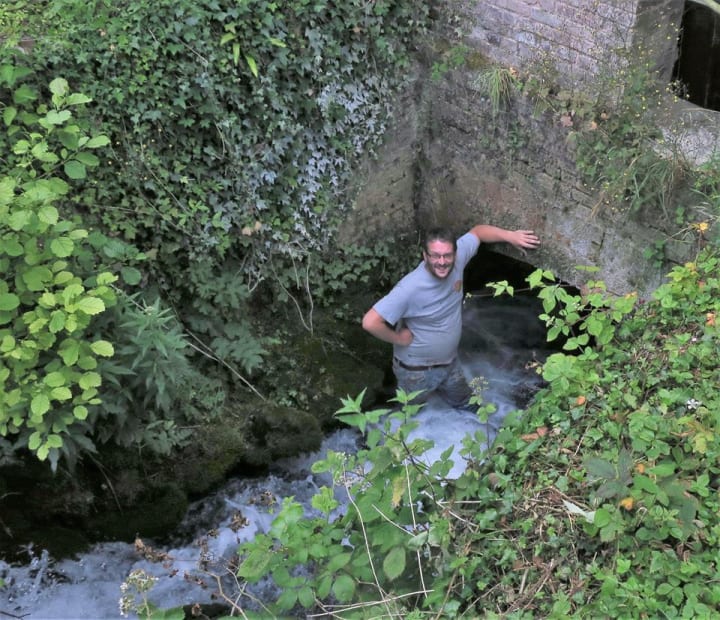 In His Words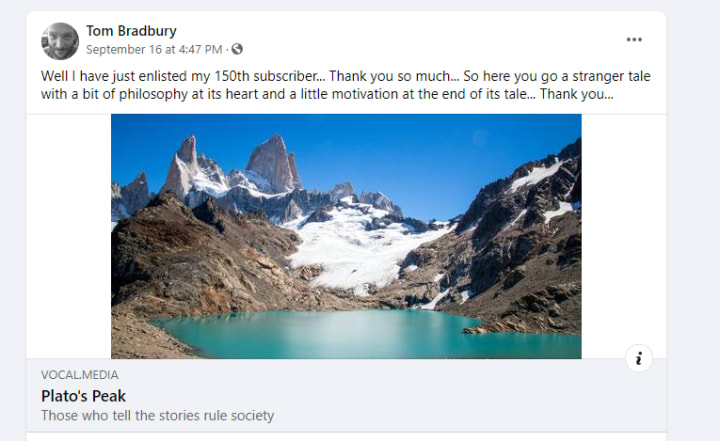 Always Encouraging Us

Read this one for Halloween!

FYI: The editor choked on her tea on her first read through of Cooper. Oh Tom...
Another Laugh From His Dear Friend Arpad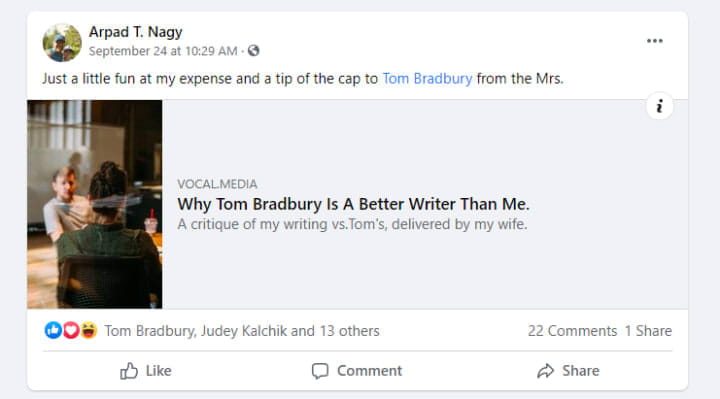 Release of Hypoxia with the 'mystery editor' ;)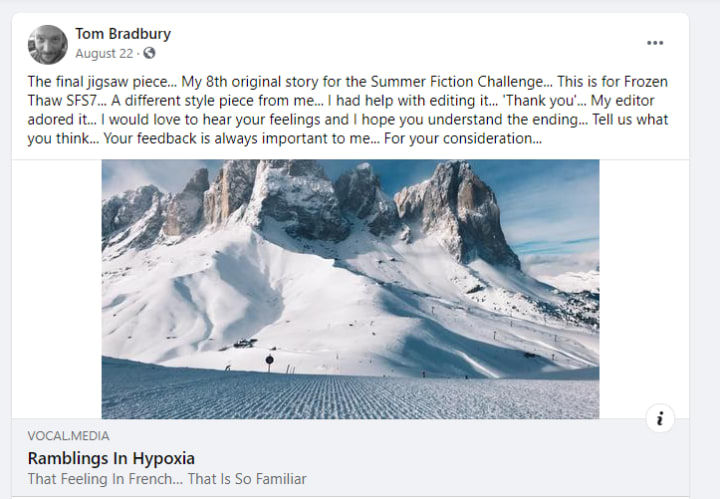 Parting words: Tom's Homecoming Poem
Home is bangers and mash with a ketchup squirt,

Or brushing the sausage roll crumbs off of your shirt.

It is the scent of the firework that fifth night in November,

And the waft of smoked bacon cooked upon glowing embers.

Home is a cacophony of voices, speaking in the round.

Or rhythmic dance beats with that new vocal sound.

Black Puddin' for breakfast and hot custard for afters.

The real home of language and a place full of laughter.

It is, the richest tapestry of accents fighting to be heard.

And songs from the terraces, sung together word for word.

Home is the smell in the air just before the big rainfall slips.

Or, that malt vinegar aroma steaming off chunky chips

It's the land of the double decker bus and black Hackney taxi.

Also, the police don't have guns but can still play quite roughly.

It is a hot buttered crumpet alongside a cup of tea.

And eating fish and chips out of paper in the rain by the sea.

It is the land of the lion but they only live in the zoo.

The home of King Arthur but he is long gone too.

My home is an island and I am on the wrong side of the water.

I look from a distance but I just feel like her stalker.

A short drive and a ferry or a train under the sea,

It used to take half a day and was so simple for me.

It is now being two long years since I set foot over there.

My passage is now blocked by papers and a vaccines affair.

My next trip home might mean two weeks in quarantine.

A strange hotel stay served by gaolers in governmental green.

An unwelcome home, no bienvenue, my invites retracted.

The drawbridge is up, the guard is out and has overreacted.

I wonder if like me, while apart home has changed

Will it recognise me or will we both feel estranged?

What if home has gone and no longer rests over that sea.

Will I now be lost and left to wander about free.

These thoughts keep me awake and do, oh so trouble me.

I stand at my door but I just can't find my key.
We know you're home now Tom. Be at peace.
~~~
Grief doesn't work according to a deadline. If you have something to contribute at a later date, message me directly through either VSS or The Chronicle. If I've missed something you wrote, sincerest apologies. Send it to me directly and I'll update it immediately. The "funeral guest book" post is pinned to VSS announcements. It's not too late to add a comment. Just tag me and I'll update you into this memorial.
Thank you sincerely to all Creators who contributed. I hope together this helps us heal. As painful as it was for me to put it together, it's also brought me some catharsis. Words heal wounds. Stay tuned for a special tribute from Vocal themselves.
Much Love,
Les
CLICK HERE TO RETURN TO MAGAZINE
First published on Vocal Media October 8, 2021 by Call Me Les
friendship
About the author
She/her | Cat enthusiast | "Word-Nerd" | Fueled by buttertarts
~&~
Reader insights
Outstanding
Excellent work. Looking forward to reading more!
Top insights
Compelling and original writing

Creative use of language & vocab

Easy to read and follow

Well-structured & engaging content

Heartfelt and relatable

The story invoked strong personal emotions
On-point and relevant

Writing reflected the title & theme
Add your insights