The problem with promoting yourself: It feels weird and so think others, too.
Here are 5 steps to do it better immediately!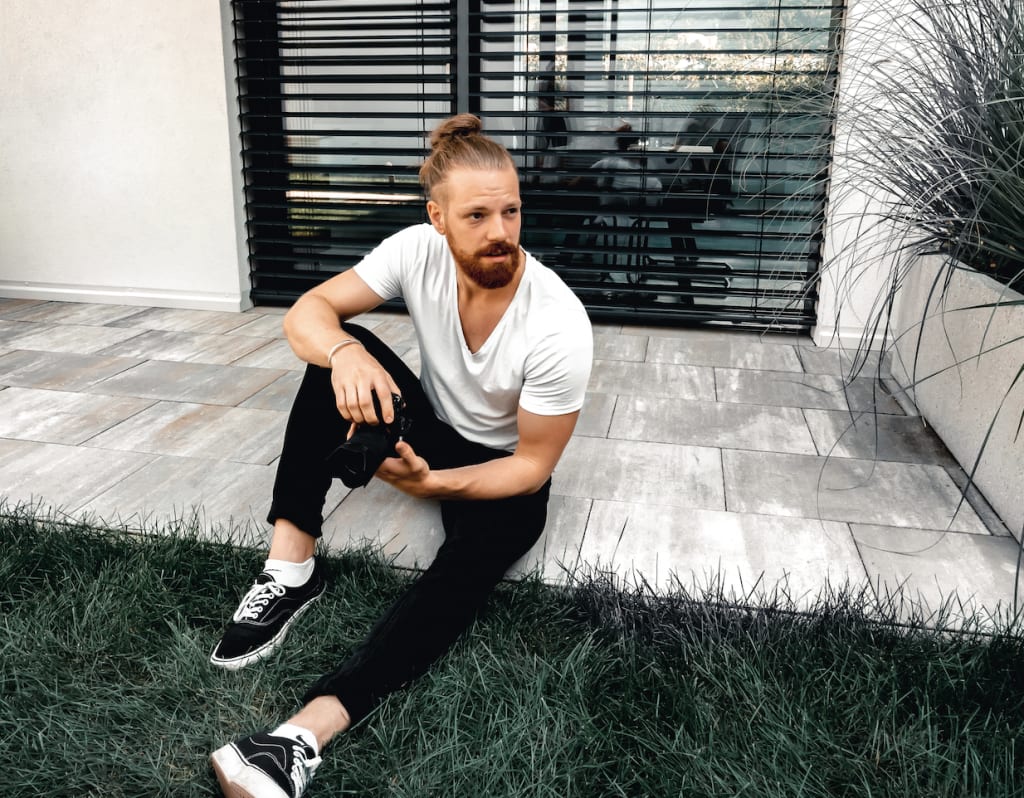 @moritzxbauer
Why is it that if you say nice things about somebody else it feels great but if you talk about yourself and what you are good at, it can feel a bit awkward or even wrong?
"Nobody likes a show-off!", is what my mother used to say. And she was right. We all know the feeling of talking to a person who goes on and on about what they have achieved or the great things they can do. URGH.
Often, what happens after a conversation like this is that we either end up feeling smaller or we are simply annoyed by the person who made us feel this way.
____________________________________________________
Hi, I am Moritz Bauer, Creative Director and Filmmaker from Hamburg, Germany and I help companies and brands develop their story and produce digital content.
____________________________________________________
How can I make people notice what I have to offer without coming off "douchy"?
If we want to go pro at something or have a real career that pays our rent, sooner or later, we will have to rely on other people to notice us.
An athlete needs a sponsor or a team, an artist needs an audience, a lawyer needs clients. Of course, we could try to sit it out, hoping that fate will knock on our door to tell us that we've been "discovered". It happens all the time, right? Not really! The lucky few who rise to the ranks of the group who are being called an overnight success, often really spent years working on their craft before anybody ever noticed them.
Ergo? We need to take control of our luck, grab the steering wheel of our career, throw our hat in the ring. We need to go out there and tell the universe: "Here I am!" and get someone to listen, to watch, and to give us a real chance to prove ourselves.
In other words: We need to promote ourselves!
1. Listen actively
One of the best ways to start promoting ourselves is by learning how to listen. Everybody loves talking about themselves, so let them. The easiest way to control a conversation is by asking questions instead.
Whatever you do, most likely it involves solving a problem for a certain group of people, and what better way is there to learn where it hurts by actually talking to your target group.
Get to know their struggles. Is there a common issue? What experience did they have trying to solve that issue on their own? Or one of my favorite topics: Get to know their passions. What are they excited about? What makes them come alive and why? These are the juicy topics where things get genuinely interesting.
Being able to relate to the people you want to impress helps a lot with addressing your clients' problems when promoting your services. After all, why should they pay attention to you if you didn't put in the effort to talk their "language"?
2. Talk well about others
I've set the rule for myself to either talk well about a person or not talk about that person at all. Despite the fact that it's not a very respectful thing to talk ill behind someone's back, it also shines a bad light on you.
But what does this have to do with promoting myself, you ask? Let me put it this way: I am in the lucky position to book other creatives and teams for my projects every now and then. I've learned that the people I work the best with have certain things in common: They are all reliable, optimistic and generally positive.
People may not remember every word you said but they certainly remember how you made them feel. So this second step could also be called e.g. "2. Your attitude matters".
In order to promote yourself and your service, you improve the chances of someone wanting to work with you (or recommend you) if you had a good time together.
(This of course should not mean to only fart butterflies and ride a unicorn 24/7 but rather to make an effort to actually enjoy the conversation!)
3. Stick to what makes you YOU!
Here is a little game: Set a timer for 1 minute and try to describe why you love what you do without actually naming what you do.
If it felt a little bumpy that's alright. It definitely involves repetition and practice to verbalize these things. You will see, with time it will not only get easier but also help others to relate to you. There is nothing more enticing than someone talking about their passion in an authentic way.
Here are a few questions that could help you get the ball rolling:
What was it like to see how your service transformed even a small part of your customer's life?
What part of the process do you enjoy the most?
When do you feel the most inspired?
It's time to pull the plug on stiff marketing phrases that promise the world! I'd much rather have someone talk to me about things they are genuinely interested in and that make them a 3-dimensional person to me. Promoting yourself is much more about putting yourself out there as the complex person you are instead of limiting yourself to one specific service or product.
If you are in a sales pitch, however, I recommend focusing on a niche and simplifying your message as much as possible. This article is rather focused on promoting yourself in general and creating a personal brand.
4. Fans vs. Followers
People who watched one of the webinars I did in the past heard me talk about this point a lot. Nowadays, everything seems easier with a lot of followers on social media. That might be the case to some extent but let's take a closer look. More specifically, let's talk about "engagement".
Engagement is a term for how many comments, likes and shares your posts on social media get. If you look at the engagement rate of one of your favorite influencers (How to calculate my engagement rate?!) you will notice that the numbers are much lower than expected. Not alone talking about "quality engagement", so people who take the time provide constructive feedback, write proper messages and continue to do so over time.
I once read that: if you only have a small group of people that take the time out of their day to engage with your content, you have an audience. That stuck with me. Imagine a room full of 30 people engaging with your work. For me, this picture always helps me get back to a state of gratitude. It changes the way I interact and appreciate each person online or in reality.
5. Provide value
The problem with marketing on social media is that ads ask you for your money, your time, or at least your attention. Well, in times of "cancel culture" and "swipe left", it's only common sense that people become overstimulated and weary quite fast.
In the book "Jab, Jab, Jab, Right Hook" the author, Gary Vaynerchuck, introduces us to the strategy behind content marketing. In a nutshell, the philosophy revolves around giving value first before you ask for something. It is very important to understand that this is not meant as a transaction but rather as a culture of giving without asking for anything in return.
I am not telling you to work for free (at least not for anyone), it's about making sure that the people around you learn that you are the go-to person for this topic. Show what you are working on, get involved in the community, offer help, collaborate, provide valuable feedback, comment on your favorite artists' posts, engage!
If you are excited about your topic, you probably know more than the average person about it, right? Instead of treasuring up on your knowledge, like the dragon Smaug in "The Hobbit", get used to the idea of curating curiosity for this topic. It's a win-win.
The goal is to provide value on all channels in whatever way, so when the time comes that you have a specific offer you'd like to promote, your long-time fans are more than willing to check it out. No strings attached.
Summary
Listen actively
Talk well about others
Stick to what makes you YOU
Fans vs. Followers
Provide value
Getting up every morning and growing your business or career is difficult work. I know how it feels to wonder if you'll make enough money to pay rent next month. These steps are meant to reduce that stress and ultimately create a shift in your mindset. What you do is important and creates value for others!
The great thing about these steps is that they will have an immediate impact on how you think about your business and how also others perceive it. On top of that, I promise that you will notice how these steps if internalized properly, will transform your business in the long run.
Needless to say that we won't get around putting in the hours to become better at what we do, but how small is this price compared to getting to do what we love.
... Or as my mother used to say: "If it was easy, everybody would do it."
____________________________________________________
Get involved, dig deeper, start planning your year :)
Amazon Links:
Jab, Jab, Jab, Right Hook: How To Tell Your Story in a Noisy Social World
My daily planner to make sure to reach my goals
____________________________________________________
Hi, I am Moritz Bauer, Creative Director and Filmmaker from Hamburg, Germany and I help companies and brands develop their story and produce digital content (+30 international clients)
About the Creator
I am a filmmaker, actor, and writer. I am pretty active on Instagram. Usually, I don't enjoy running but I do it anyway and 10 out of 10 times I don't regret it ... It is pretty much the same with writing :)
Reader insights
Be the first to share your insights about this piece.
Add your insights