The lost roads of Morrisburg
A town is submerged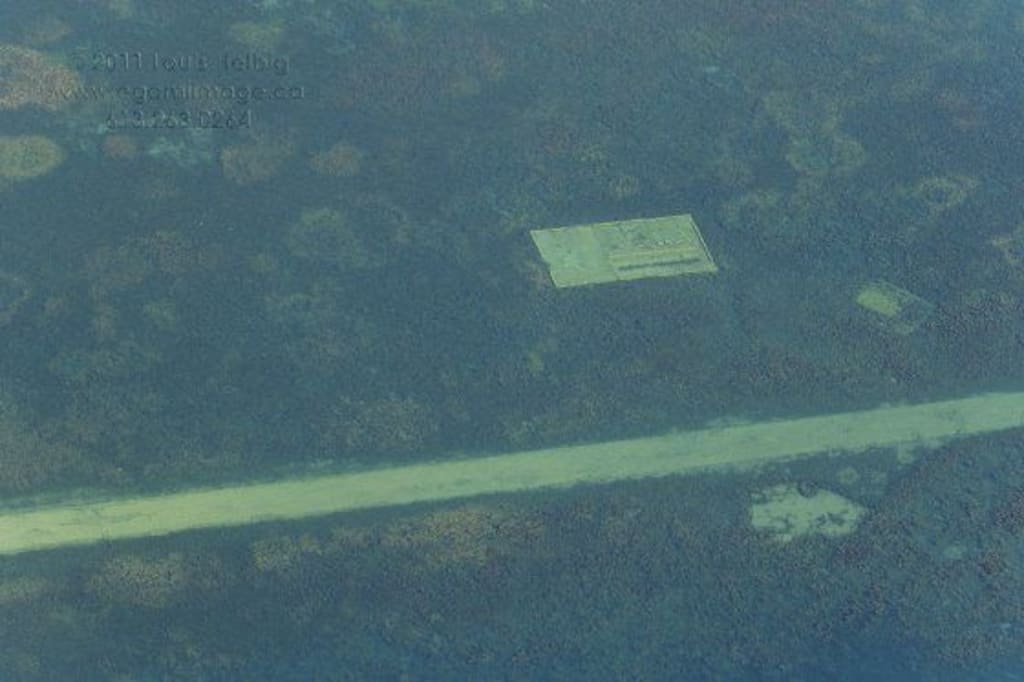 To get to Morrisburg from Toronto by train, you have to go to Cornwall. Same thing if you try to take the bus. Years ago, when I was in my teens, I could take either the train or the bus to Morrisburg, but now I can only wave at it as our train passes its boarded up station. The powerful lure of automobiles has left train and bus travel an experience limited to suburban commutes and big city links.
If you live in Ontario, you probably know Morrisburg only because it is the closest town to Upper Canada Village. You likely visited as a kid or passed by on Highway 401 on your way between Montreal and Toronto. It's your typical small southern Ontario rural town with a mixture of small manufacturing facilities, medical services and iconic small-town retail outlets such as Giant Tiger and ValuMart. And, oddly, the downtown is really just a strip mall on Highway 2.
In 1982 I was 25 and working in an office tower in downtown Toronto that held as many people in it as the entire population of Morrisburg. The reason I was making the trek to Morrisburg was to be the Master of Ceremonies at my cousin Doug's wedding. Doug had met a woman in a bar and judging from their engagement they seemed to have hit it off. Meeting that way is a formula that works in that branch of the family, as Doug and Kathy are still married after 30 years. Plus, their daughter met her betrothed the same way.
Doug is a couple of years older than me, which I make sure he is regularly reminded of. We have always been close and have shared adventures that usually involved sports and alcohol -- and in one instance U.S. border guards. At one point we even hatched the foolish idea of opening a pub or an inn. Doug had studied hospitality at college and I had worked in a few bars and was toying with the idea of attending Cornell's chef school, so it wasn't an entirely ridiculous idea. Fortunately, before money got involved, it dawned on us that we wanted the pub to be a place for us to relax, not somewhere we'd have to do the work and deal with sorts like us.
When I arrived at the Cornwall train station I was expecting to see Doug, but instead it was my Uncle Clare who greeted me. Simple explanation -- the groom was busy with wedding preparations and Clare's job was to keep me out of Doug's newly coiffed hair until the rehearsal that evening.
I didn't mind. Clare had played a big role in my growing up. He and my Aunt Mary had a dairy farm near Finch (oh, come on, you know where it is -- where North Stormont township roads 43 & 12 intersect?). I'm related to Clare through my Mother's older sister Mary. They had 48 Holstein dairy cows on 50 acres. Plus another 50 acres that they rented to grow the crops needed to feed the herd. Clare was a third-generation farmer. He inherited the farm while his brother John went off and peddled hard liquor for a living at Hiram Walker. Clare is a quiet person and always had time for me as a kid -- I would hang out with him while he worked on the farm. Years on, in the late 1960s he gave up the stress and crappy pay of farming and ended up working at the Kraft cheese plant in Ingleside (just off the 401 -- east of Morrisburg -- so you have to know it!).
Now his only son was about to get married. Clare was 54 and still solidly built from a lifetime of physical work, and his hair still had the pale ginger colouring that he shares with his brother John. An important note, if you have a beer with him, he likes Labatt Blue.
After shaking hands, we bustled over to his pickup truck. Clare doesn't stroll, he walks with purpose. His strides aren't long, but they are frequent! Off we went with the short explanation that to keep me busy he thought I'd be interested in some local history. We ended up at the St. Lawrence River just east of Morrisburg. At that time Clare and Mary lived in a little community called Riverside composed of about 20 homes on a single access road strung out beside old Highway 2 and across from a provincial campground. They had a small above-ground pool that was the focal point for family and friends all summer long and a faulty septic tank that Doug pretended to throw me into one time. Needless to say, a darker time in our friendship.
We pulled off Highway 2 to a boat launch where Clare had his aluminum fishing skiff already in the water. Clare loved to fish. He enjoyed the quiet reflective time it offered. Back then, I remember, he liked to know what was going on around him. Knowing the lay of the land was always important to him as a farmer. I think it's an interest that is bred in the bone for him. We clambered into the boat and he treated me to a bit of background on the trip over the high-pitched mechanical hum of the little outboard motor. When the St Lawrence Seaway was created in the 1950s, he told me, the goal was to allow larger freighters to go the entire length of the waterway from Montreal all the way to Thunder Bay at the west end of Lake Superior. That involved having to build dams to provide the depth and breadth needed for navigation. So a dam was installed in Cornwall, leaving a part of Morrisburg and six smaller villages sitting exactly where the dam reservoir was intended to go.
Clare slowed the boat down to a crawl and beckoned me to look over the side. I wasn't sure what I was looking for but then I saw it. A road. It lay a few feet underwater, complete with centre line markings. As I looked over the side, the occasional fish swam languidly above the pavement. From what I could see, there was almost no damage to a road that had been buried underwater at that point for almost 30 years.
Clare could see my confusion and explained that the Seaway Commission had moved 90 of Morrisburg's homes and most of it's businesses north to higher ground and then, on July 1, 1958, simply let the newly dammed-up St Lawrence river waters flood over a few of Morrisburg's streets. Not only had a number of roads been flooded over, but so was the older and much smaller Morrisburg Lock #23. Six other villages and one Native community completely disappeared underwater.
The river -- for those in the crowd who need to know -- is now navigable for ships 740 ft. (225.6 m) long, 78 ft. (23.8 m) wide, and 26.5 ft. (8.1 m) deep. Smaller ships had been navigating the St Lawrence for a couple of centuries, and rafts and canoes for many centuries before that. This stretch of the St. Lawrence River is fairly narrow, and freighters need to pay careful attention to what their navigation systems are telling them. Mind you, if those systems fail, as happened in 2018 with a freighter called the Chem Norma, then a big vessel will find itself beached pretty quick, or in this case jammed up on the sunken walls of the former Lock #23. You'll be glad to know that freighters need to be double-hulled, which reduces the chances of spillage when they run aground.
On that particular 2018 morning when the Chem Norma lost her way, Doug and the rest of Morrisburg walked out of their homes to see the huge vessel looming over their waterfront. It sat there for a few days before a couple of tugs big enough could make their way up from Montreal to dislodge it. The last time something as big happened to Morrisburg was about 15 years earlier, when a train wreck happened just a short distance from the town's now-closed railway station. That involved a railcar full of booze tipping over. All I'm going to say is that sales at the local liquor store dropped dramatically for a few months.
Heading back to shore with my uncle, I knew I'd had a cool experience, but the impact of seeing those roads underwater wasn't readily apparent to me. Soon I was swept up in the fun and joy of one of my favourite people getting married to the woman he loves. Dancing, speeches, drinking -- oh and the matrimonial ceremony as well. But all these years later, from time to time the memory returns to me, not only because of the way it connected me more deeply to the town and to My Uncle Clare's branch of the family. That little boat ride revealed one mystery and solved another: finally I understood why Morrisburg has a strip mall for a downtown. That's where all of the businesses were moved to make room for the Seaway.
Post Script - You can see the sunken roads if you use Google Earth.