Soulful Revival: The Shalenda Gunnels Story
Filmmaker Roger Suggs profiles the success story of treat maker Shalenda Gunnels and her "Soul Sweets by the Cake Lady" brand.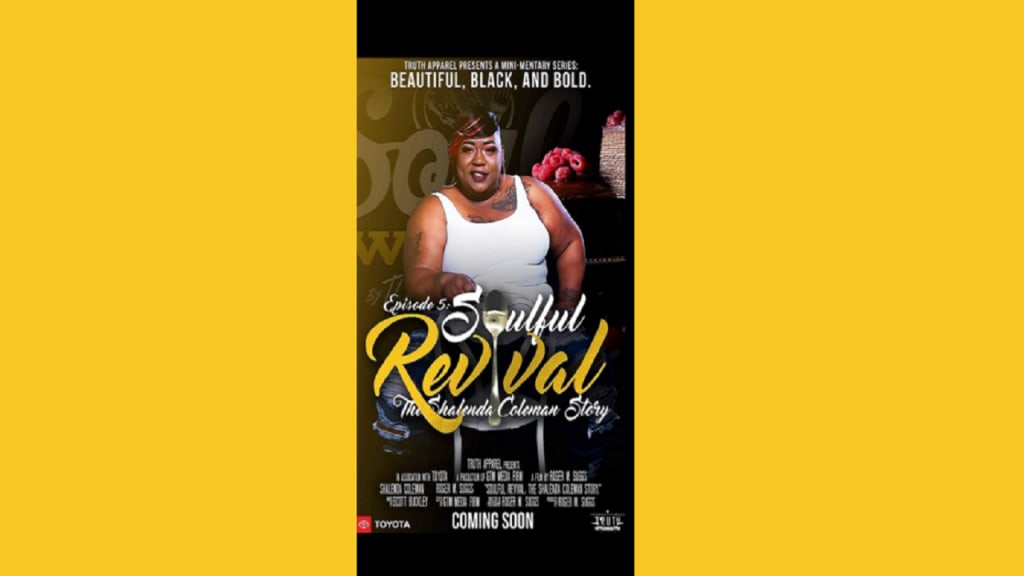 TOYOTA/T.R.U.T.H. Apparel
Rising From the Ashes
The idiom "rise from the ashes" tell the story of a fictitious bird from Greek mythology called "the Phoenix." However, the bird's Greek name (Phoenix) derives from an ancient Egyptian (Kemetic) legend about "the bird of the sun god."
According to legend, at the end of its ruinous, adverse, and morale-breaking 500-year life cycle, the Phoenix experiences a rebirth – in the lap of luxury, peace, and tranquility. In part, Idioms.Online summarizes this mythical story as follows:
"In summary, at the end of the bird's 500-year life-cycle, it made a nest made of spices (frankincense and casia) and, at the stroke of dawn, begins singing a beautiful song. Then, when the sun rises and its rays hit the nest, it catches fire, and the Phoenix begins to sing its own funeral hymn, while it burns.
All that is left of the Phoenix is a white worm from inside its body. This worm, in three days, grows into a new Phoenix. The Phoenix takes the ashes of the old Phoenix to the sacred Egyptian [Kemetic] city [the Greeks called] Heliopolis (the City of the Sun), where its funeral rites take place. Then the new Phoenix flies to Paradise, where it lives alone for another five-hundred years."
Like the Phoenix bird that flies through a 500-year hell in its first life, some of the most successful people in the history of America's business world and popular culture have had to "rise from the ashes." Some of them have been fortunate enough to endure their real-life crashing and burning under the protective cloak of privacy.
However, others (such as billionaire Kanye West and his estranged wife, socialite Kim Kardashian) have not had the lucky opportunity to privately endure some of their most turbulent personal struggles. Nearly every odd and end that has epitomized their personal struggles have disastrously unraveled in a very public fashion.
During her rise to popularity and professional independence, a culinary artist and decorator from the Kansas City Metro Area went through a personal struggle, which was comparable to the latter example.
Becoming the Cake Lady
Shalenda Gunnels (pictured) is a trailblazing figure in the treat-making industry – in a way that will soon transcend her residency in the bi-state Kansas City Metro Area (also known as "the Mo-Kan"). Gunnels (formerly known as Shalenda Coleman) is the founder of Souls Sweets by the Cake Lady.
This is a premium dessert-catering brand she first conceptualized as a division of her family's former dining business.
Kansas City, Kansas-based film director, and executive producer Roger M. Suggs profiles Gunnels in his five-part "Beautiful. Black & Bold" film project, which caps off the second season of Suggs' "T.R.U.T.H. Apparel Mini-mentary Series (presented by Toyota). The instant on-camera chemistry between Suggs and Gunnels is evident when the dessert maven appropriately says: "Let's go places."
After the beginning credits of Episode #5 cinematically dissipate, the director and new documentary film star do just that: Go places. Gunnels starts off her episode with discussions about the public tumult she went through in the years prior to her "Soul Sweets" vision coming to fruition.
"I was in a marriage that wasn't really good…people were sending me messages and it [negatively] became a spiral thing. It was all over social media…it was really public," Gunnels says during her interview with Suggs.
The culinary artist (known affectionately as "the Cake Lady") also says that she experienced a financial downward spiral, which went neck-and-neck with the other personal troubles that were taking shape in her life. However, a familial connection intervened and made some moves to help put the pieces back together.
"After an ordeal with a spare tire shortly afterward, Shalenda still found herself on a downward spiral – but she would soon get a hand up from a trusted family member," Suggs wrote in a scripted, on-screen narration for the Gunnels episode.
Soulful Revival: The Shalenda Gunnels Story
Gunnels story of resilience is very inspiring. Those who know her best understand that both supporters AND saboteurs can come from one's own family. However, as Gunnels flashes her warm and inviting smile throughout her film debut, she epitomizes the power of what happens when one maintains a positive attitude.
Gunnels also shows the power of collective economics by proving that shining light on another major trailblazer in her industry does nothing to dim the light of Soul Sweets by the Cake Lady.
"One of my mottos is that I'm not going to worry about who's not for me. I'm going to worry about those that are [and keep working]. Haters have a job to do and I'm not going to worry about them doing theirs either," Gunnels said confidently.
"Sugah Rush (Tameca Lash, founder of Sugah Rush Berries) is my girl! I call her Sugah and she calls me Cake. I meet her through social media…I love her, support her, and we have a dope bond, you know what I mean?" she says toward the closing of her episode.
Watch the amazing story of Shalenda Gunnels TODAY by purchasing it right here at TruthTheReason.com.
Reference
Site editors. (2021) Rise from the ashes. Idioms Online. https://www.idioms.online/rise-from-the-ashes/
About the Creator
Mr. Trammell is a digital media producer, freelance journalist, and author. He is currently a Chief Contributor at the Black Then History Network (BlackThen.com). Formerly, he wrote national radio content for the Michael Baisden Show.
Reader insights
Be the first to share your insights about this piece.
Add your insights