Belief Beyond Belief: The Tameca Lash Story
Filmmaker Roger Suggs profiles the success story of treat maker Tameca Lash and her SugahRush Berries brand.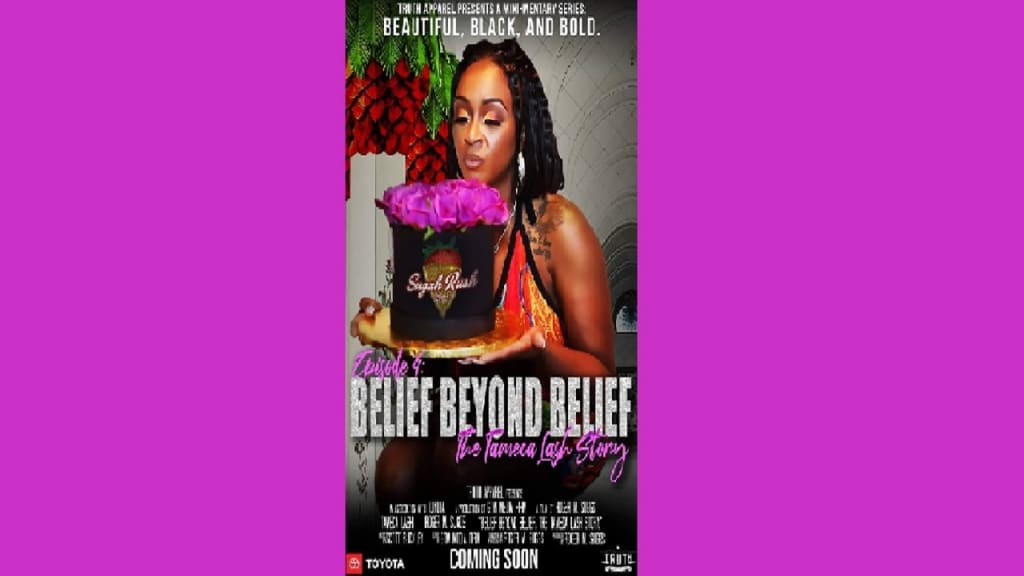 Photo credits: TOYOTA/T.R.U.T.H. Apparel
The Art of Starting Small
Many years ago, some of the biggest retail chains and product brands in the world today started off the same way - through a visionary who had a great business idea.
Apple Inc. is one of the biggest product brands ever assembled in world for consumer electronics, digital services, and computer software. Founded in 1976, Apple started off as a vision inside the mind of the late Steve Jobs and two other friends his - when they were all still in their late teens. Before the trillion-dollar company went public in 1980, beginnings were humble.
Jobs and his two friends were literally running the company out of their parents' garages. However, through hard work, belief in their brand, and a dogged dedication to an aggressive sales campaign, Jobs and his two early business partners succeeded beyond their own wildest dreams. Today, Apple Inc. continues to make history as one of the most notable technology brands on Earth.
In 1962, the eighth-largest retail chain inside the United States was experiencing its humble beginnings as well. The Target Corporation started off as a small retail division of the Dayton Corporation's local discount stores in Minneapolis, Minnesota. However, by the early 1980s, the small discount chain became a nationwide brand after spreading like wildfires.
Today, the Target Corporation has nearly 2,000 store locations across America and has been endorsed by some of America's biggest celebrities. In 2019, the large department store chain boasted a revenue amount, which surpassed $75 billion dollars. In 2020, Target had over 368,000 employees working for its bricks and mortar department stores across the country.
However, during the months of 2018 inside a small community located in the bi-state Greater Kansas City Metro Area, a young black women's culinary idea and hobby would come together - to blaze an amazing trail towards business expansion.
Belief Beyond Belief: The Tameca Lash Story
In early 2021, the second season of filmmaker Roger Suggs' Toyota North America-sponsored "T.R.U.T.H. Apparel Mini-mentary Series" was being conceptualized.
When Toyota approved Suggs' pitch for the chronology of a second season, the dedicated film director embarked on a five-episode mission for a docuseries called "Beautiful, Black & Bold." This string of cinematic excellence covers a quintet of five black women from the Kansas City area who share their inspiring stories of entrepreneurship.
Episode #4 profiles the lovely Tameca Lash (pictured), founder of the SugahRush Berries brand.
In the beginning of the episode, which profiles her debut as a documentary film star, Lash shares stories about her upbrining with Suggs, the film's director. The culinary super star talks about her childhood years in the kitchen looking, learning, and putting her skills of desert making into action.
"I've messed with sweets and treats all my life. I grew up at home as an only child so I kind of needed to keep myself entertained," Lash said with a soft laugh and shy smile.
"I would make all kinds of cakes, sweets, and treats...Me and all my cousins would congregate over my grandmother's house. I would have them eat all of them and try different things," she continued.
However, the tone of Lash's docuseries episode started to catch fire a break-neck speed after director Roger Suggs asked the youthful new star a key question: "When did you start to make money with this?"
From that point foward, Lash's story of humble beginnings to masterminding a goldmine starts to magically unfold.
Giving Credit Where it's Due
Today, Lash sits atop a growing empire as a go-to treatmaker. She shattered gender and race barriers by obtaining two business locations at the lofty Kansas Oak Park Mall. However, during her documentary film debut, she faithfully gives thanks to the Most High who made it all possible. But she also allows light to shine on other local ladies who are great up-and-comers.
"I give so much props to everybody in my industry who's doing it. People look at us and think it just came out of nowhere...but a lot of hard work [by these ladies] goes on behind the scenes. I'm on a mission to share the wealth. There's enough money out here for all of us to get paid," Lash said.
Buy the entire "Beautiful, Black, & Bold" series, which features the incredible story of Tameca Lash right here at TruthTheReason.com.
About the Creator
Mr. Trammell is a digital media producer, freelance journalist, and author. He is currently a Chief Contributor at the Black Then History Network (BlackThen.com). Formerly, he wrote national radio content for the Michael Baisden Show.
Reader insights
Be the first to share your insights about this piece.
Add your insights