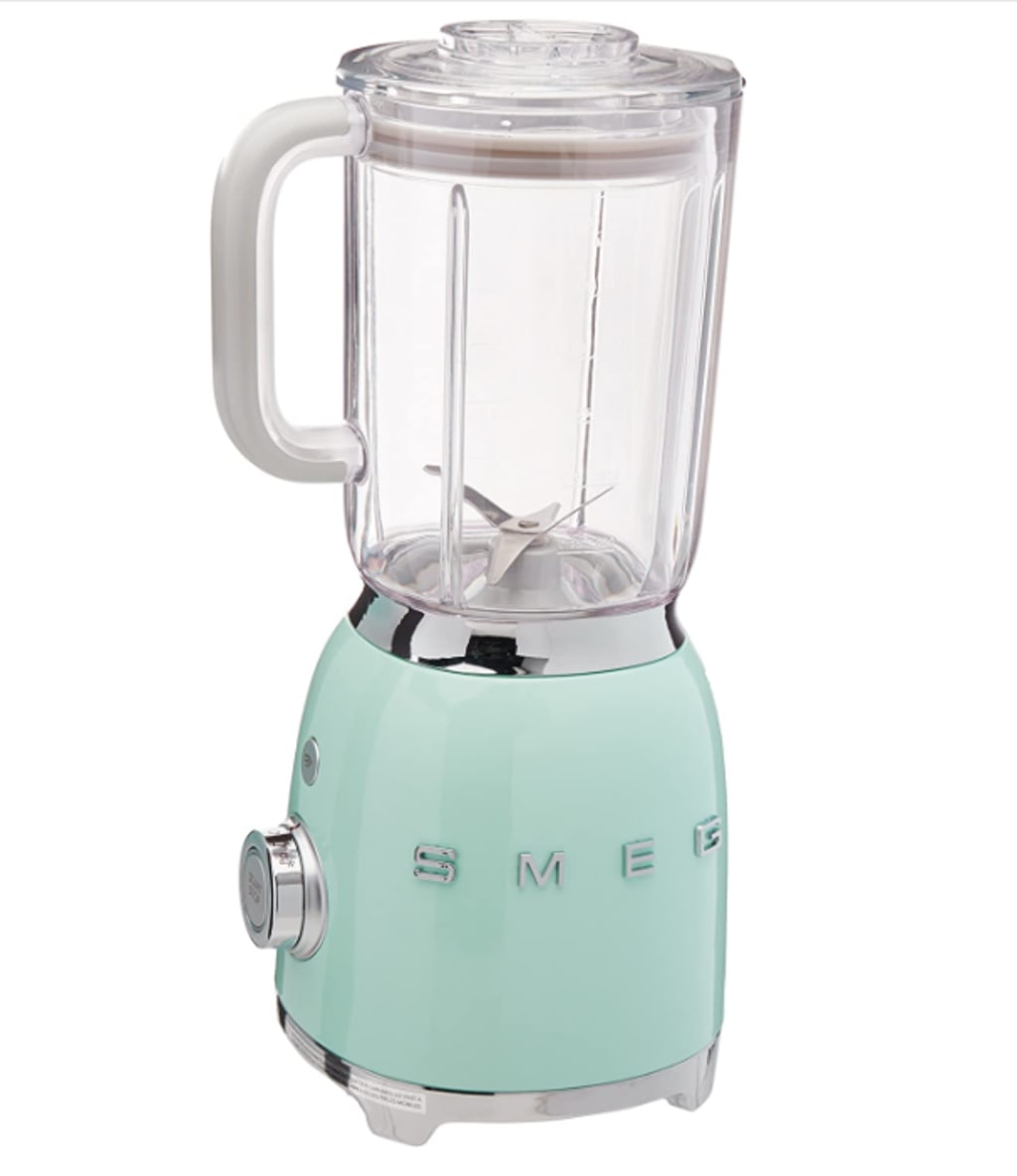 Smeg Blender Pastel Green-50s-Style
The Smeg Blender Pastel Green-50s-Style is an eye-catching kitchen appliance that boasts a retro design combined with modern functionality. This blender is a popular choice for those who want to mix style and performance. In this review, we will examine the features, performance, and design of the Smeg Blender Pastel Green-50s-Style to help you decide whether it is the right blender for your kitchen.
Features of Smeg Blender 50s Style
The Smeg Blender Pastel Green-50s-Style is a versatile kitchen appliance that offers a range of features to help you create a variety of dishes. The blender has a powerful 800-watt motor that can handle tough ingredients such as ice, frozen fruit, and nuts. It also has four speeds, including a pulse function, to give you greater control over the texture of your blends.
The blender jar has a generous 1.5-liter capacity and is made of high-quality, durable Tritan™ BPA-free plastic. The jar has a removable measuring cup lid, allowing you to easily add ingredients while blending. The jar is also dishwasher safe for easy cleaning.
The Smeg Blender Pastel Green-50s-Style comes with a range of accessories, including a stainless steel double blade, a detachable plastic measuring cup, and a tamper. The tamper is particularly useful for blending thick mixtures, as it helps to push ingredients down towards the blades.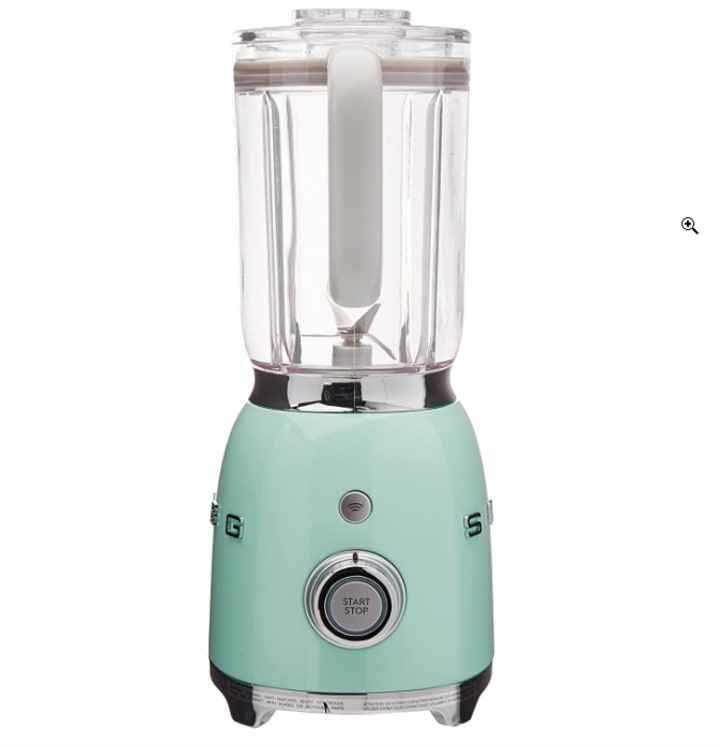 Performance
The Smeg Blender Pastel Green-50s-Style delivers impressive performance, thanks to its powerful motor and sharp blades. The blender can easily blend smoothies, milkshakes, soups, and more. The four-speed settings, including the pulse function, provide a range of options to help you achieve the desired texture for your blend.
The blender is particularly adept at crushing ice, making it an excellent choice for frozen drinks such as smoothies and cocktails. The tamper also helps to ensure that all ingredients are blended thoroughly.
Design
The Smeg Blender Pastel Green-50s-Style is a standout appliance that will add a touch of retro style to any kitchen. The blender has a pastel green finish that is reminiscent of the 1950s, making it a perfect choice for those who love vintage-inspired designs. The blender also features a sleek, curved shape and a silver Smeg logo on the front.
The blender's compact size makes it ideal for small kitchens or those with limited counter space. The blender measures 16.3 x 19.7 x 39.7 cm and weighs just 4.4 kg.
Ease of Use
One of the standout features of the Smeg Blender is its ease of use. It comes with a simple one-button control panel, making it easy to operate even for those who are not particularly tech-savvy. The blending jar is also easy to remove and clean, which makes it convenient to switch between different recipes. The blender also has a safety lock system that prevents the motor from running until the jug is properly locked into place. This is an important safety feature that ensures that the blender doesn't start accidentally and cause any mishaps.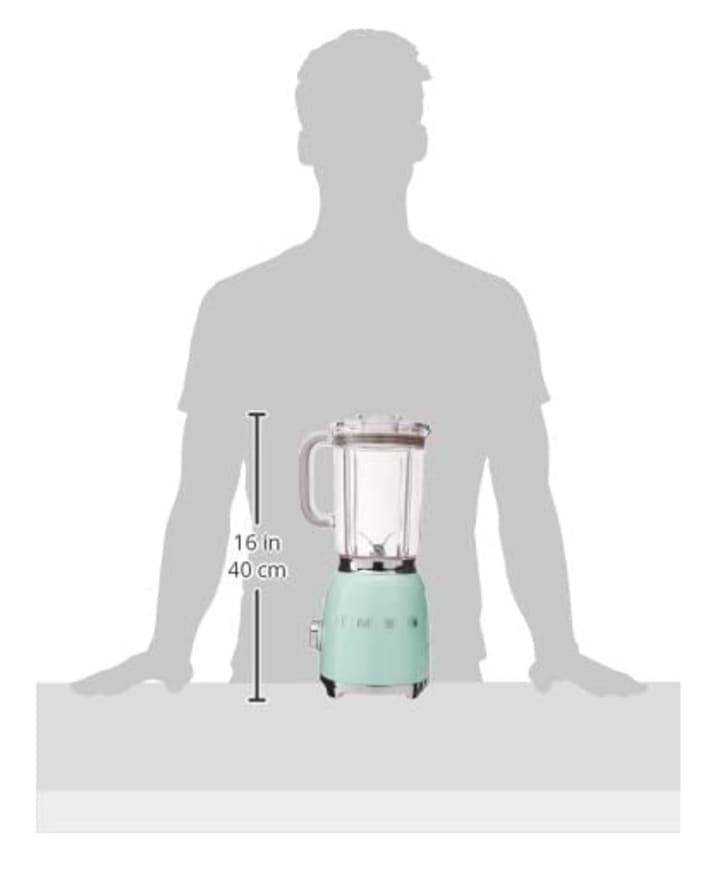 Another useful feature is the pulse function, which allows you to easily blend ingredients to the desired consistency. Whether you want a smooth puree or a chunky sauce, the pulse function gives you full control over the blending process. Additionally, the Smeg Blender has a built-in cord wrap that keeps the power cord neatly stored away when not in use. This helps to keep your kitchen counters clutter-free and organized.
Final Conclusion on Smeg Blender 50s-Style
The Smeg Blender Pastel Green-50s-Style is an excellent choice for those who want a blender that combines style and functionality. The blender's powerful motor, sharp blades, and versatile range of speeds make it capable of handling a variety of blending tasks. The blender's retro design, compact size, and easy-to-use controls make it a standout appliance that will add a touch of vintage charm to any kitchen. Overall, we highly recommend the Smeg Blender Pastel.
Read more about The Smeg Blender Pastel Green-50s-Style and get the lowest price here
Reader insights
Be the first to share your insights about this piece.
Add your insights