Race and Racial Impersonation: Three Views in Three Books
They arrive in the culture at virtually the same moment, set to arouse feelings about identity and those other pledges of allegiance we make ... without realizing it.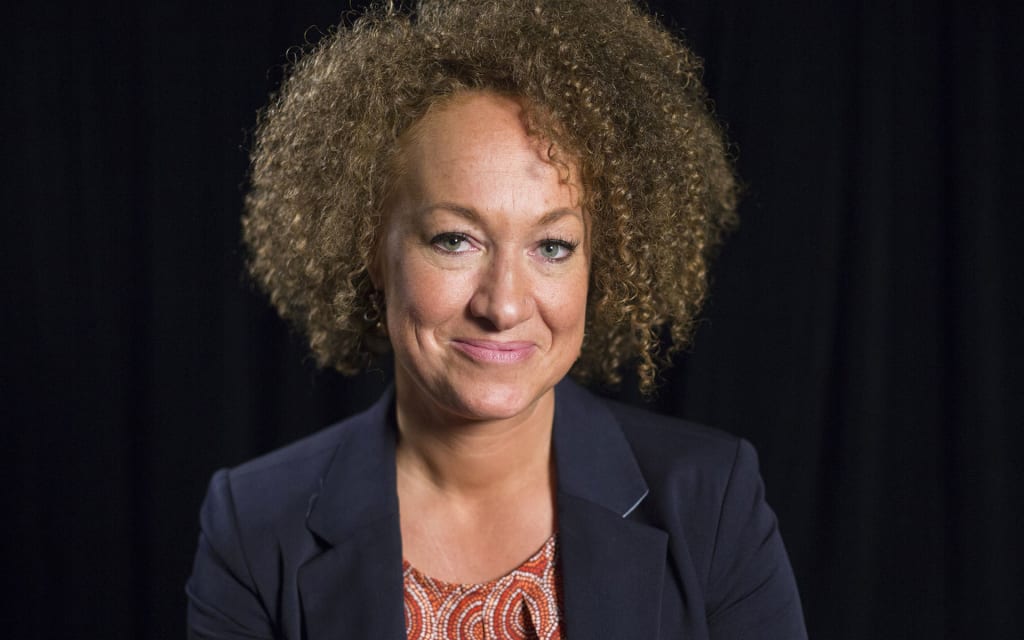 Image via NBC
The national dialogue on race, already fraught enough before the Trump presidency and even more so now, will soon feature three new books with which to settle an argument, or start one, about an intriguing variation on the topic that's still the third rail of American life.
All three books, coming out back to back to back starting at the end of March, will survey the tricky terrain of literal racial impersonation, from personal, journalistic and scholarly perspectives. Their arrival in the culture at virtually the same moment — what they say about this nation and its bandwidth for the uncomfortable — may be just a coincidence of publication schedules.
It's more likely the inevitable intersection, or collision, of viewpoints on a debate that arouses deep-seated feelings about race and identity, and those insidious pledges of allegiance, the ones we Americans take without realizing it — the ones that say, in so many words, "Stay in your lane."
◊ ◊ ◊
Rachel Dolezal didn't do that. For 10 years the woman born blonde and white to a Montana family fully assumed the identity of a black woman. Dolezal vaulted to national attention in June 2015, when she was outed by her parents as a white woman of German-Czech descent who culturally and cosmetically self-identified as African American.
Her announcement shook the nation's complacency about who fits what role in the fitful conversation about race. She became the object of scorn and ridicule for usurping black American identity (to say nothing of having found employment as a professor of Africana studies at Eastern Washington University and as a president of the NAACP chapter in Spokane, Wash.).
Her book, Full Color: Finding My Place in a Black and White World, coming March 28 from BenBella Books, is the personal chronicle of her journey, and its costs and consequences. That story implicitly calls into question the touchy subject of white privilege, its pervasiveness in American society, and its renunciation by Dolezal.
The divisiveness that's already built-in to the racial debate has divided people about the choices she's made. Her supporters will say her book's a reflection of courage; detractors will say it's an indicator of gall. But now, after her numerous interviews and television appearances, Dolezal's story is here in a book that's said to historicize her relationship with black America and black Americans, and respond in depth to her critics.
◊ ◊ ◊
Veteran journalist Bill Steigerwald weighs in next month with 30 Days a Black Man: The Forgotten Story That Exposed the Jim Crow South, a biography of Ray Sprigel, a well-known white journalist for the Pittsburgh Post-Gazette. In May and June 1948, Sprigel — who won a Pulitzer Prize 10 years earlier for revealing Supreme Court Justice Hugo Black's ties to the Ku Klux Klan — undertook an assignment to get to the heart of the conditions of black life in the Deep South.
After acquiring a deep Florida tan and shaving his head, Sprigel traveled throughout the South accompanied by John Wesley Dobbs, an Atlanta political figure and Sprigel's driver and "guide to the black world." Sprigel's 21-part Post-Gazette exposé, "I Was a Negro in the South for 30 Days," was syndicated nationally to shock and acclaim. It helped establish moral terms of engagement, and set the stage for seismic events to come, including the Supreme Court's Brown v. Board decision in 1954, the 1955 Montgomery bus boycott led by an unknown Georgia preacher named Martin Luther King ... and the social changes of the civil rights movement.
Steigerwald's book, coming April 1 from Lyons Books, explores Sprigel's rationale for undertaking the project, examines a then-racially myopic American society, and puts racial impersonation in a necessary historical light. Such identity shifts clearly didn't begin with Dolezal — or, for that matter, with John Howard Griffin, the white Texas journalist who chemically darkened his skin and later wrote Black Like Me, the 1961 book that captured the world's attention (and Hollywood's: it was made into a 1964 film starring James Whitmore).
◊ ◊ ◊
In Black for a Day: White Fantasies of Race and Empathy, author Alisha Gaines adopts a more scholarly approach — and a more comprehensive one — to racial impersonation. The book, due May 8 from the University of North Carolina Press, takes a harder look at the actions of whites who cross the color line, and uses cultural and literary studies to build a genealogy of race travelers.
"The people that I'm studying are coming from a perverted place of empathy," Gaines told USA Today in June 2015, in an interview about the book. "Rachel [Dolezal] is considered an activist. At the same time, she can take that curly wig off, which is kind of the issue I see here."
Gaines, an English professor at Florida State University, may have tipped her hand with those comments and the title of her book. Both hint at a belief that race impersonation is a frivolous exercise, something done for a drunken lark on Halloween instead of to attempt a serious, engaged examination of an under-explored perspective on race in America. The book's not out yet, but publicity from the publishers suggest that this almost punitive view will be front and center in Gaines' thesis.
Gaines seems willing to score well-intentioned whites for the fact that their racial crossover isn't permanent, but totally elective. Which would be short-sighted; their experience across the color divide may be temporary, but that doesn't mean it can't be insightful. It may not be real, but that doesn't make it fraudulent.
◊ ◊ ◊
Despite their disparate viewpoints, these books are all informed by Verstehen, a social concept developed by 19th century German sociologist Max Weber. Literally meaning "to understand," the word has myriad social and anthropological implications, but for our purposes it means "walk a mile in someone else's shoes" — to see life from their perspective.
Whether or not you agree with that, the idea has received a lot of resistance in today's superheated racial climate. Early this month, for example, Dolezal was reviled all over again when news came out that she'd changed her name to Nkechi Amare Diallo, a West African name meaning "gift of God."
The serial appearances of three books about racial impersonation seem to re-confirm it as a hot-button issue. Now like always, opinions about it differ wildly. There's agreement, at least, on what these authors have in common with the lives they write about: the courage of their convictions.
family
fact or fiction
humanity
About the author
Michael Eric Ross writes from Los Angeles on politics, race, pop culture, and other subjects. His writing has also appeared in TheWrap, Medium, PopMatters, The New York Times, Entertainment Weekly, msnbc.com, Salon, and other publications.
Reader insights
Be the first to share your insights about this piece.
Add your insights