POSTHUMOUS TRIBUTE TO MY HUSBAND ON OUR 50TH WEDDING ANNIVERSARY
A Lifetime of Love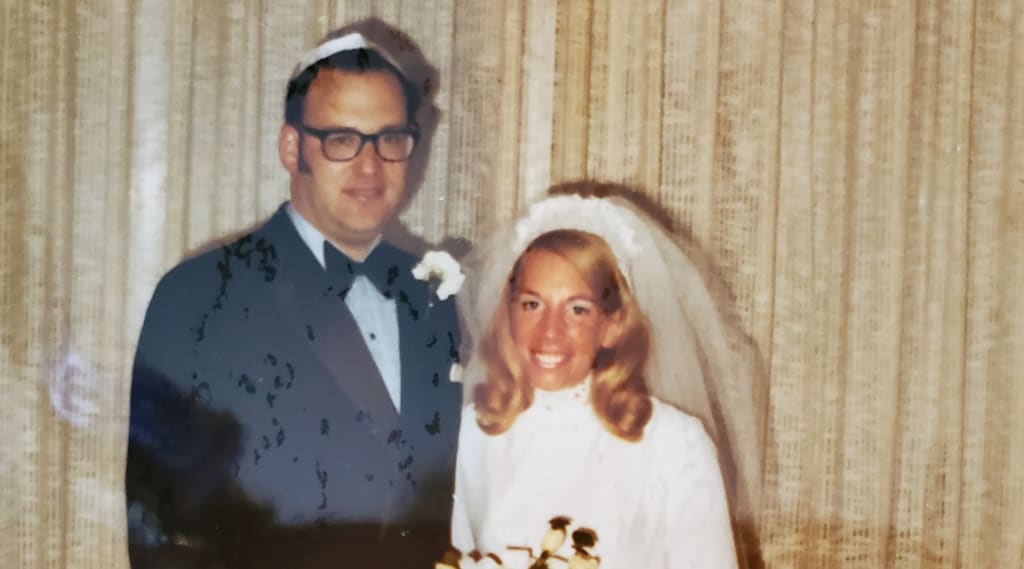 As a teenager, I often asked my mother............."How do you KNOW? How do you know that the boy you are dating is THE ONE?" How do you know, I wondered, that this person is the one you want to share your entire life with forever. At 15 years old, "entire life" was impossible for me to comprehend. It seemed interminable. How could one want to spend eternity with anyone, never mind someone you had been dating for a short time? Her frustratingly vague answer was always the same. "You'll know", she said.
And one cold November night in 1969, I knew. I knew that this giant of a young man with the softest of touches was THE ONE. I knew on that first date that I was as comfortable with him as I had never been with another human being in my 21 years of life. I knew that he was THE ONE. When I felt, on that first date, that I could trust this man with my life, I knew that I had found THE ONE. I knew.
What I did not know, could not have known then, at age 21, was the peace, contentment, and joy he would bring to my life for the next 45 years.
And then I was age 66, sitting next to his bed in Hospice House, watching the life drain from his body. 45 years seemed to have flown by in 45 seconds. I sat by his bed and remembered.
I remembered the gentle touch of those massive hands when I needed comforting.
I remembered the loving face I saw first, every time I woke up from a surgery.
I remembered the man who stood in the pouring rain holding an umbrella over our dog, so she would not get wet.
I remembered the man who attended the Boy Scout Jamboree, and slept in a leaking tent with our son during a literal monsoon.
I remembered the man who loved me unconditionally and enthusiastically told everyone so.
I remembered the man whose presence in my life made it complete.
Alzheimer's Disease stole that man from me, from life, from the rest of our future. Alzheimer's Disease stole his cognition, his abilities, and much of his memory. But nothing, not even Alzheimer's Disease, could steal our love for each other. It could not steal the love that hit us both so hard that long ago November night.
I had dug deep down into my soul the previous day and had done what the nurses and my grief counselor told me I had to do. I bent down, leaned my head toward his, and told him that I had loved him my whole life, that he had been the best husband anyone could ask for, that I would be okay, and Joel would take care of me. It was time for him to let go and rest. As I choked out the last of those words, I felt his hand grab mine with strength I did not think he possessed. He pulled it to his lips and kissed it. Alzheimer's Disease could not steal the memory of his love for me.
Today, on our 50th wedding anniversary, I pay tribute to that love; the love that exploded on that November night so long ago. I pay tribute to the man who soothed my soul; whose presence in our home made my life complete; who gave me our son; who championed every project I attempted; who made me laugh; who held me when I cried; lifted me up when I was discouraged; was my best friend; my lover; the heart and soul of my life.
He has been gone for 5 years. I love him as much today as I did on our wedding day; as much as I did throughout the 45 years of our marriage, and as much as I know I will when I join him in death.
My mother was right. I knew.
About the Creator
Retired - Speech/language therapist, Special Education Asst, English teacher
Websites: www.thealzheimerspouse.com; talktimewithjoan.com
Whimsical essays, short stories -funny, serious, and thought-provoking
Weightloss Series
Reader insights
Be the first to share your insights about this piece.
Add your insights