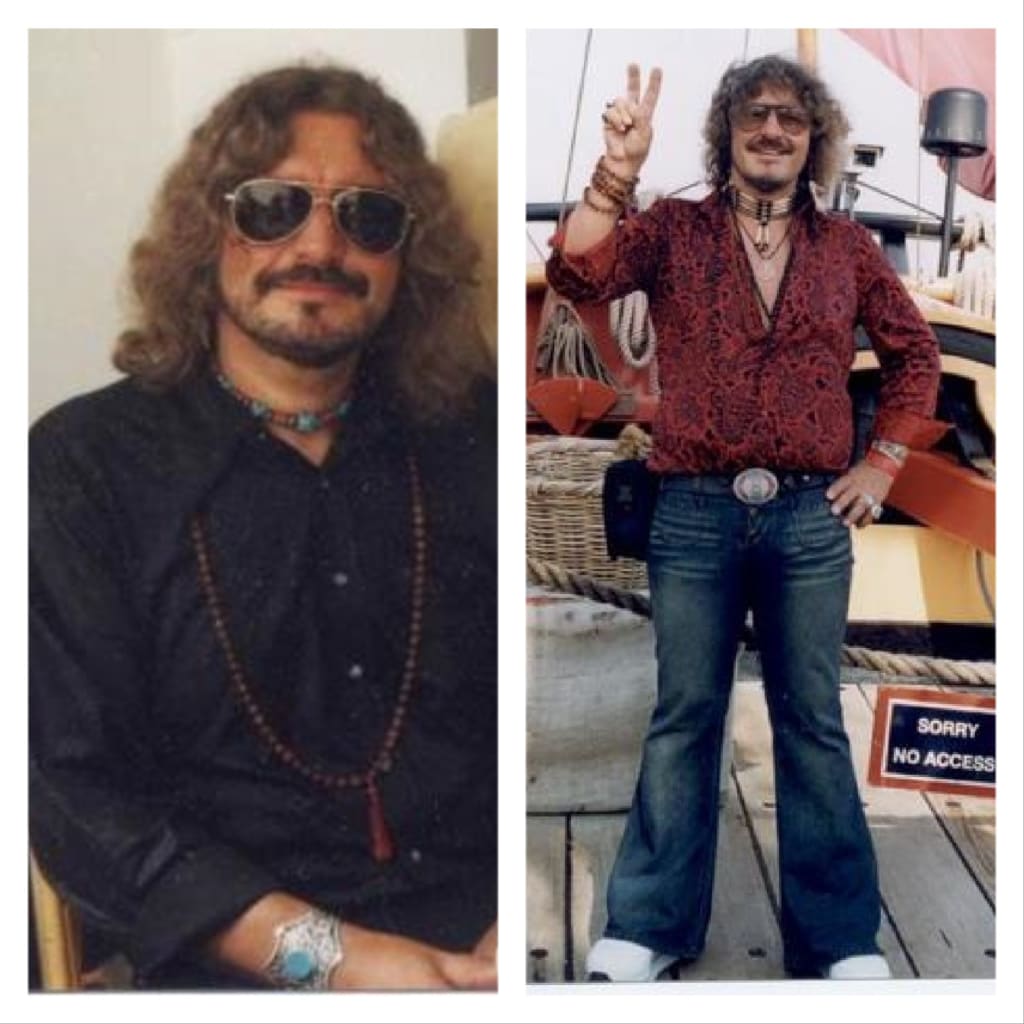 'He was a real man who wore his hair long and celebrated flowers on his jeans.'
My hero was a hippy named Rasmus. I met him in my first job and without trying to sound extreme, I couldn't imagine what my life would be like if I hadn't have met him.
I was a more than just a little shy. I wouldn't like to speak if there was someone in the room that I didn't know.
I wore black simply because I could stand the idea that someone else would see colour on me and make any kind of comment to me. At the time I had long hair and that alone took a lot for me to tie it back (outside of work).
My dad's partner had gotten me the job at the factory and there were friends of theirs that had teased me about meeting this 'Ras'.
"He will make you his pet" was said more than once.
So picture the overly timid me, one weekend at the factory. One morning while we were getting ready to set up the factory line, I look up.
I saw a man wearing platform shoes, long(ish) curly hair poorly held in a hair net, a shirt half done up and flared - flowered jeans held up with a belt and a big buckle.
This man didn't care what you thought about him.
Over time I would see the staff that hated him and I saw his reaction to them.
He smiled even wider, leaned in to tell them more crappy jokes and laughed the hardest at his own jokes.
Why?
Because he knew they hated him and he knew they would have to smile at his jokes.
He would tell me later that he knew this annoyed them even more and that make him laugh.
He would proudly tell people that he bought jeans with flowers on and stated that in his youth, people had to sow the flowers on themselves.
This man would give me off hand compliments that were mixed with suggestions to encourage me to grow. Things like, "Hey man that is a cool shirt. Thought about it in red?"
Such a simple thing but for me at that time, this was something that I wasn't getting anywhere else. This was encouragement to break out of the shell that I had put myself in.
As the years passed and as I valued him more and more as a friend - not realizing at the time that this make had become my surrogate father, I learned that this man had his demons.
This was a man who surprisingly had incredible insecurities, he struggled with depression and an alcohol and drug issues that kept coming back.
This in itself had practically destroyed his liver and yet with all of this, I can't help but admire the man even more.
As I grow older I find myself ready to admit that I do struggle with depression to. Knowing that, Ras also struggled reinforces that it doesn't need to define me or control me.
Yes of course I will have days where I call in sick to work because leaving my bed is just beyond me. I'll have times where I will curl up on the sofa and very possible ball my eyes out or just lay with my hood covering my face in the dark and quite room.
But my hero taught me that this doesn't make me weak. This doesn't make me less of a man. There is nothing that I can do that will make me less than brilliant- and while that does sound unbelievably narcissistic, what I mean is, you are amazing, because you are human and that makes us amazing.
It's not as simple to say this man taught me to be me. This man taught me how to have a core. He used lessons like music and food to teach me to be open to new things (or new to me). New ideas with new perspectives but always built on a solid foundation of caring about human life.
From the outside a man in his mid-to-late 50's spending a lot of time with a teenager would have a very negative tone to it.
I'm grateful he didn't think like this.
As I said as the start, the man I am today is because of my hero. He didn't wear a cape. He didn't fly - and we disagreed on a number of things. He had real demons that played on him and all of this is why I hold so much love for, Rasmus Weinhardt.
Three years after loosing him I am able to talk about him with tears building up.
He could never be remember in something as simple as a sentence, but instead of people remembering how we lost him, I'd rather they think of him like this; 'He was a real man who wore his hair long and celebrated flowers on his jeans.'
Reader insights
Be the first to share your insights about this piece.
Add your insights