Mrs. Wu and the special scissors
A stitch in time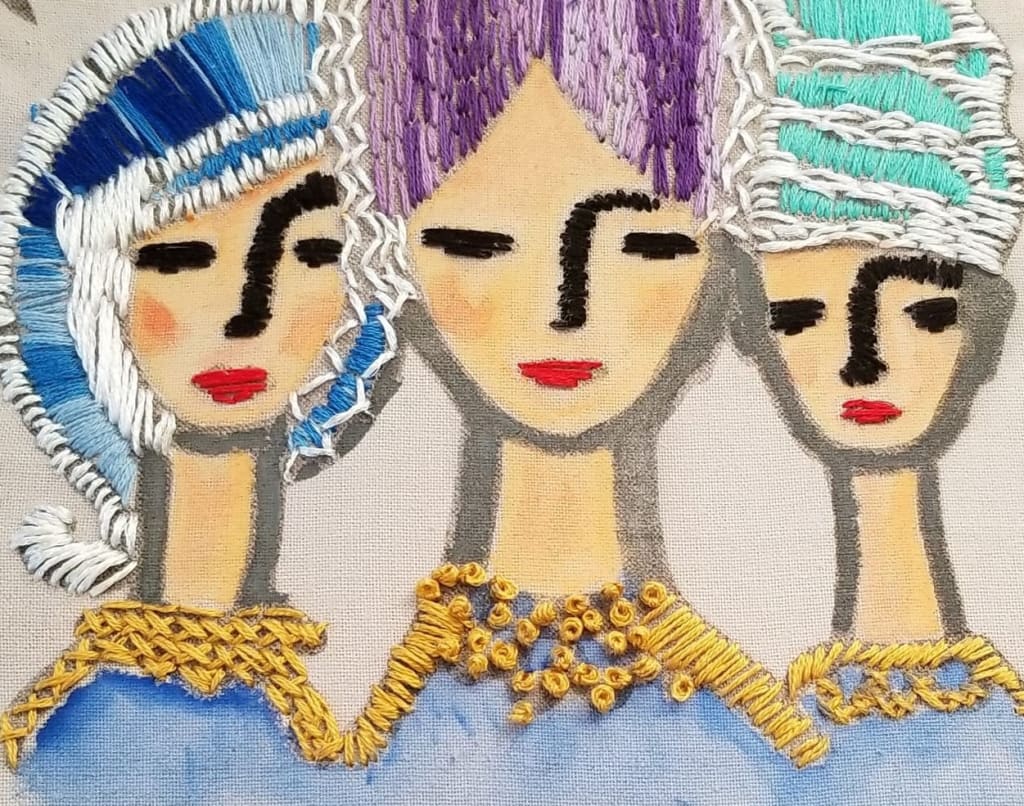 I was fortunate to have grown up on a suburban block with about 15 other kids all around the same ages. We would all ride our bikes until the sun set, play S.P.U.D. on the street and hang out at the local pool. Of course, the older kids got to hang out in the cool, teenage section, while us younger ones were relegated to always being near our parent's view.
But it was the girls that regularly got to head over to the Wu's family home and create art projects with Mrs. Wu. Yen Wu, Mom to 2 boys, was one of those parents that seemed to be so different than all the others. Of Chinese descent, Mrs. Wu's home always smelled of homemade almond cookies and incense. She perfected the messy bun, secured with chopsticks, before it was a thing. There was always exotic food being prepared and Asian art all throughout the house. She loved sewing and creating, but her boys were not exactly the audience for her to share her love of crafting.
So, we were the benefits of her patience and kindness. I remember sitting in her screened in porch and at one moment we were making sand art and the next hand sewing our own A-line skirts. Our Moms would take us to the Singer fabric store and the colors and patterns were a kaleidoscope of possibilities. Mrs. Wu said it was important to have "good scissors" for sewing. She would ceremoniously open her wicker sewing basket and produce a pair of silver scissors. "Girls", she would say, "never use these scissors for anything other than sewing". It was a serious command which I have always adhered to.
Mrs. Wu had the patience of a saint. Spilled sand art on the floor? Not an issue. Cutting through her shag carpet while trying to cut the pinned pattern to the fabric? No problem, these things happen. I remember her joy in the act of creating, mistakes and all. She was the first mentor of mine who impressed upon me the importance of art as a process. Sometimes other people would like it, but it was ultimately your own personal fulfillment that truly defined crafting as a worthwhile endeavor.
The one craft I learned at her side was crewel embroidery. I would run to the local craft store with my allowance money to pick up new kits. And it was a craft my own Mother excelled at, so it was a bonus to me. Remembering her words, I purchased a special pair of scissors, in the shape of a bird, that would only used for my embroidery projects.
I would spend time separating all the floss colors, examining all the stitches required before I pulled up the needle for the first time. My special scissors would neatly cut the floss and the feel and sound of the needle coming up, going back into the cloth was a sound I always found comforting.
As it is with life, it creeps up and then keeps going at a pace you don't even feel. High school, college, families and moving away seemed to happen more quickly than it was in reality. Our wonderful block changed as it adapted to life moving on. Slowly but surely, we lost some of our parents and some of the children we grew up with. There were new children, grandchildren and moving away to new neighborhoods to create new family memories.
For me, I went the college route, married young and threw myself headfirst into corporate America. In trying to grow into my career, and then raising our son, my crafty adventures took a natural back seat. But as time marched on, I realized how much I missed creating. Slowly, I started to get into scrapbooking and painting. In the last few years, I have been blessed to be able to focus solely on these passions and actually started a small business in the arts world.
One day during another quest for more craft supplies, I wandered down the embroidery aisle. The rows and cubbies of floss, merchandised by color, spoke to me like nothing else had for a while. I found myself grabbing up colors, needles, hoops, floss organizers and, of course, a special pair of scissors in the shape of a bird.
I spent some time reacquainting myself with stitches and realized when I started bringing the needle up and down through the taut fabric how much I missed the process. The difference I noticed now that I'm older is that the process of stitching is incredibly meditative.
In wanting to do more freehand embroidery than kits provide, I have started utilizing foam stamps, the Art Foamies brand, which is owned by a friend of mine. They have created a wonderful foundation for my stitching to roam free.
Every French Knot eases away anxiety, every daisy chain brings back childhood joy and every snip of my special scissors feel like I'm on the brink of creating something special. I found a vintage sewing box at a yard sale and this is where I keep all my tools and my scissors for each different project I undertake.
Mrs. Wu is no longer with us, but I hope she is in a place where she knows what her role in my life played. I now can confidently call myself an artist, find joy in the process of creating and always treat my special scissors with the reverence she demonstrated.